FIA Karting - Wintec on pole position for the 24 Hours Karting at Le Mans
FIA ​​Karting Endurance Championship - Qualifying Practice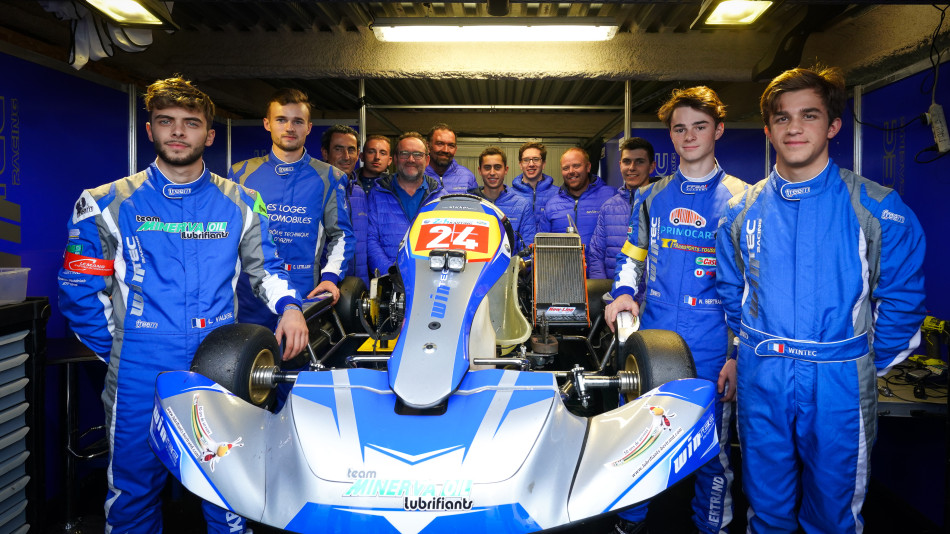 The 4th edition of the FIA ​​Karting Endurance Championship is currently taking place on the Le Mans International Karting Circuit as part of the 24 Hours Karting. It was rainy during Free Tests and at the beginning of Qualifying Practice which finished on a dry track with Pole Position for the No. 24 - Wintec team.
Equipped for the first time with MG tyres, six GP1 karts are competing in the FIA ​​Karting Endurance Championship at Le Mans (FRA) during the 24 Hours Karting, with a total of 27 karts. The winner last year, Sodikart, sports the No. 1 to defend their title against the top specialists in the discipline, used to racing in the French Endurance Championship. The Qualifying phases of the Le Mans 24 Hours Karting have the distinction of taking place over four successive sessions during which the slowest are gradually eliminated. Wintec, K50 Mag Kart and Sodikart respectively clocked fastest times in Q4, Q3 and Q2. MSA Racing (Kosmic / Vortex) did not reach Q3 and Czech Endurance Karting (CRG / Iame) was 11th overall after Q2. The other GP1 teams entered Q1.
On a dry track, the No. 24 - Wintec - Sodi / Vortex - William Bertrand (FRA) - Erwann Lettellier (FRA) - Lucas Valkre (FRA) - Evann Mallet (FRA) kart achieved the fastest lap in 53''549, followed at 34 thousandths of a second by the No. 1 - Sodikart - Sodi / TM - Anthony Abbasse (FRA) - Bas Lammers (NLD) - Adrien Renaudin (FRA) - Jean Nomblot (FRA). The No. 50 - K50 Kart Mag - Tony Kart / Vortex - Kilian Belhaire (FRA) - Tom Uzan (FRA) - Hugo Arnaud (FRA) - Thomas Imbourg (FRA) finished 3rd only 77 thousandths ahead of the No. 55 - Rouen Espace Karting - Sodi / Iame - Gauthier Becq (FRA) - Maxime Bidard (FRA) - Charles Fiault (FRA) - Kevin Petit (FRA).
During a 24-hour race, the importance of Qualifying Practice is far from the same as in sprint races. However, the results testify to the motivation of the teams to fight for the win. The race promises to be hotly contested between experienced and determined Drivers. The start will be given on Saturday, 28th September at 15:00 sharp by Felipe Massa, the President of the CIK-FIA, for a long run that may be under the influence of changeable weather and where rain will not stay away.
Forecast Timetable of the FIA ​​Karting Endurance Championship:
Saturday, 28th September
09:00 - 09:30: Warm-up
13:50 - 14:40: Grid layout and team presentation
15:00: Start of the 24 Hours given by Felipe Massa
Sunday, 29th September
15:00: Finish of the 24 Hours and podiums