FIA Karting - Qualifying intense already in Wackersdorf
In Germany, the 1190 m long Pro Kart Raceland circuit from the Qualifying sessions showed that the Wackersdorf competition was going to prove formidable. Under sunny skies but with reasonable temperatures, three polemen were rewarded on the morning of Friday 8th September: Émilien Denner (FRA) in KZ, Maksim Orlov in KZ2 and Mirko Mizzoni (ITA) in KZ2 Masters.
With the Mondokart.com FIA Karting World Championship - KZ, the FIA Karting World Cup - KZ2 and the FIA Karting International Masters Super Cup - KZ2, the line-up for the Wackersdorf event set the tone. The battle got off to a good start with perfectly orchestrated Qualifying sessions in all three categories in ideal weather conditions. The protagonists battled it out down to hundredths, even thousandths of a second on the Bavarian track, which leaves no room for the slightest inaccuracy. 240 of the 245 entrants took to the track, representing 36 nations.
LeCont is the exclusive tyre supplier for the three FIA Karting categories at Wackersdorf.
KZ: Denner marks his territory
Qualifying Practice for the Mondokart.com FIA Karting World Championship - KZ was incredibly close at Wackersdorf. The top seven drivers were separated by less than a tenth of a second. Nevertheless, Frenchman Émilien Denner took pole position with a time of 45''397 in the first serie on his fourth lap. He beat his compatriot Tom Leuillet by 24 thousandths of a second, while Italy's Paolo Ippolito took second place in the standings thanks to his best time in the second serie, just three hundredths off pole position. Danilo Albanese (ITA) secured fourth place against David Trefilov (DEU). Four makes of chassis: Sodi, KR, Tony Kart and Maranello and three engines: TM Kart, IAME and Vortex, made up the top five. Luigi Coluccio (ITA) was sixth ahead of reigning champion Viktor Gustafsson (SWE), who was seventh, 0.097" behind Denner. Senna van Walstijn (NLD), Yohan Soguel (CHE) and Lorenzo Camplese (ITA) completed the top 10.
KZ2: Orlov makes the difference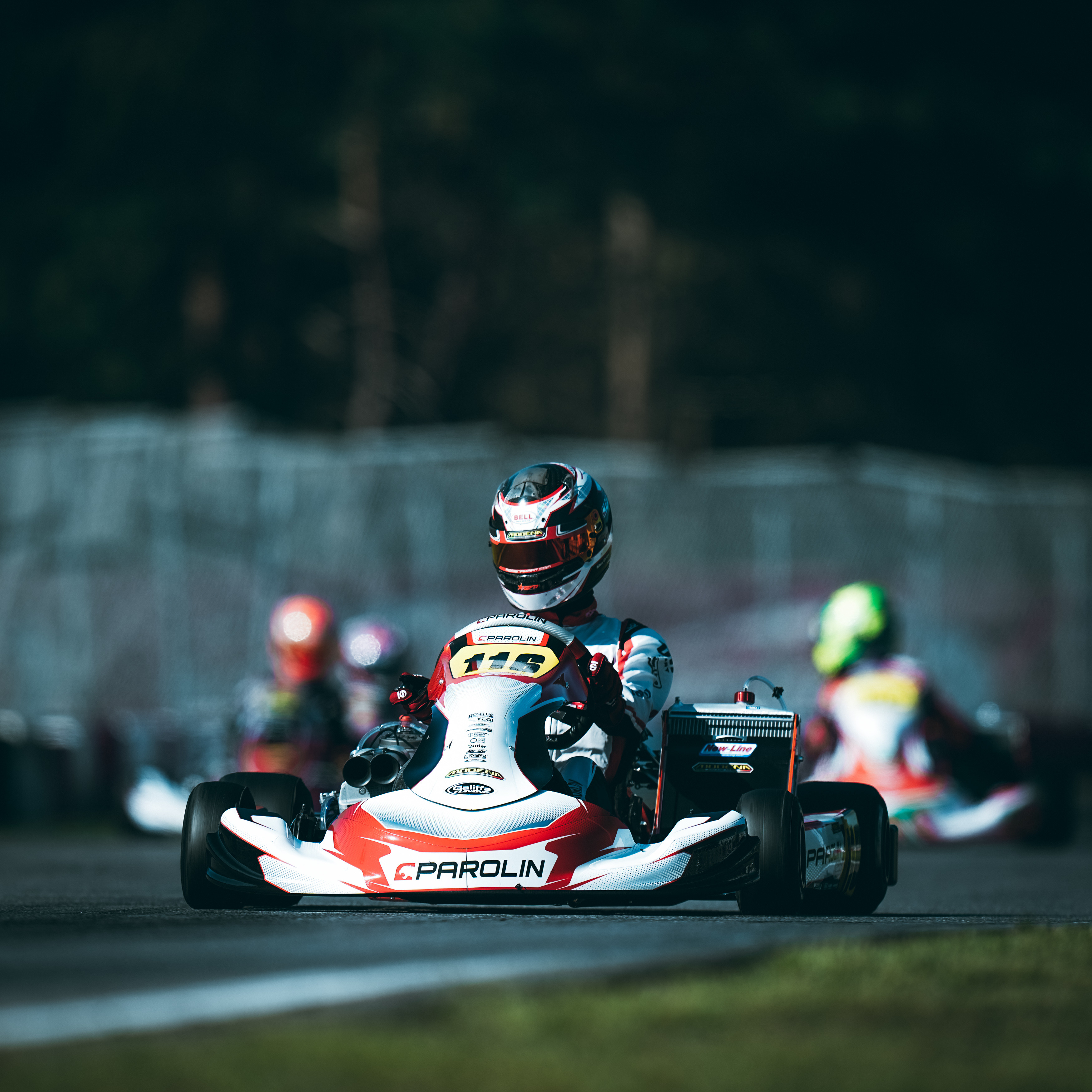 In the FIA Karting World Cup - KZ2, the fastest drivers in each serie often outdistanced their rivals quite significantly. Poleman Maksim Orlov relegated his pursuers by four tenths of a second with his fifth lap of 45''290 in Serie 3. Kean Nakamura-Berta (GBR), classified in second position and leader of Serie 2, finished 1.5 tenths ahead of Nils Tröger (DEU) and Daniel Vasile (ROU), who were on equal terms. Alex Powell (JAM) took 3rd place ahead of Genis Civico Espona (ESP) by 0.148'' in Serie 4. Matteo Spirgel (FRA) had been the fastest in Serie 1 and was fourth overall ahead of Daniel Stell (DEU), leader of Serie 5. In the end, the top ten were separated by just over four tenths. They comprised six nationalities, six chassis makes: KR, Sodi, CRG, Maranello, Parolin and Birel ART, and two engine manufacturers: IAME and TM Kart.
KZ2 Masters: Mizzoni takes on Bray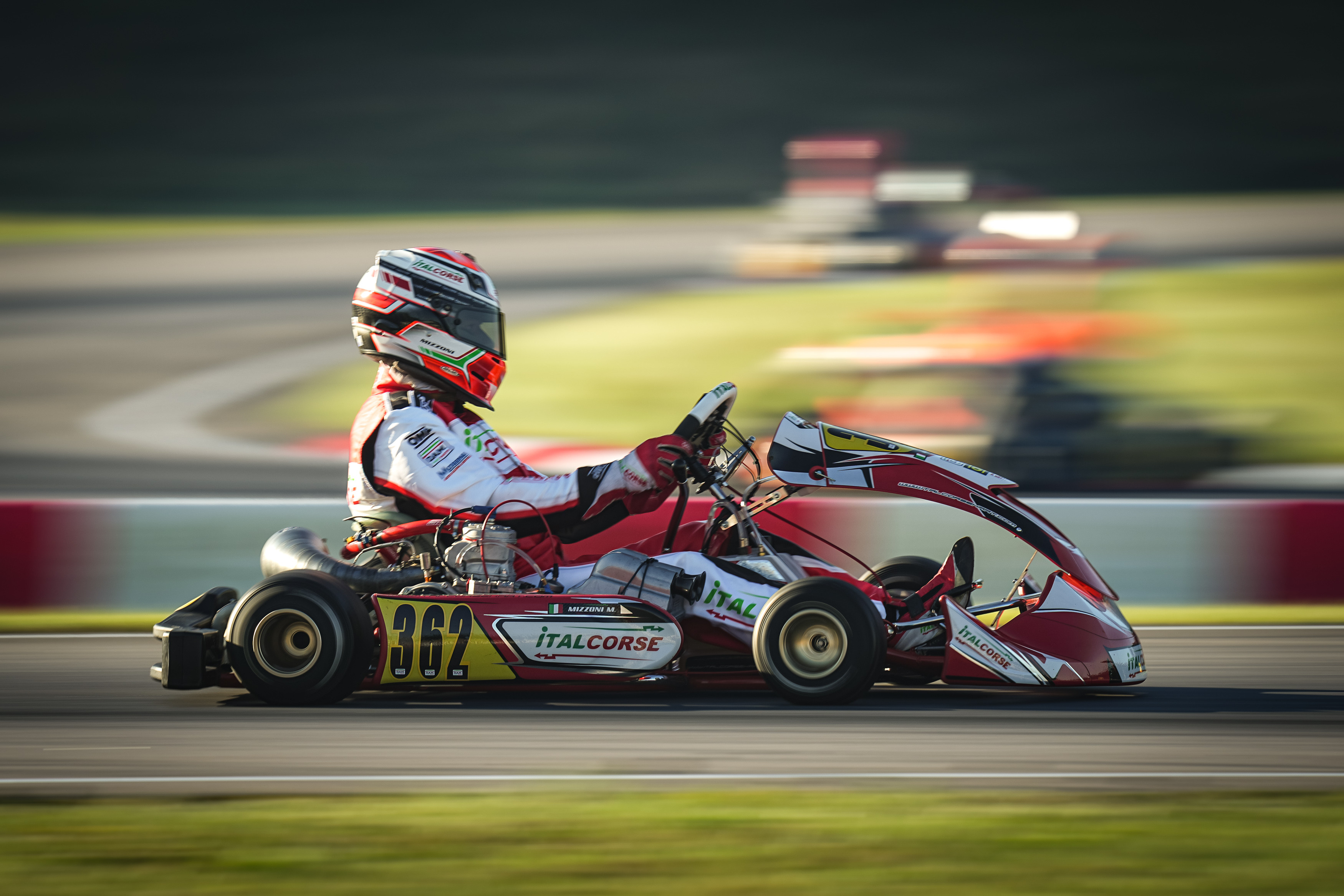 Sixth last year at Le Mans, Italy's Mirko Mizzoni started from pole position the Wackersdorf FIA Karting International Masters Super Cup - KZ2, open to drivers aged 35 and over. He set the fastest time, 46''294, on his sixth lap in Serie 2. New Zealander Daniel Bray had dominated Serie 1 with a time of 46'300, just 6 thousandths of a second between the top two. Meanwhile, Italy's Alessandro Manetti and Davide Forè were engaged in a long-distance battle, with Manetti, in third place, taking the lead over his great rival despite identical lap times. Jeroen Nos (NLD) was 5th.
40 Qualifying Heats will be contested between Friday afternoon and Saturday evening, before the final selection phase for the Super Heats gets underway on Sunday morning.
Provisional programme for the Wackersdorf event
Saturday 9th September
08.00 - 09.39: Warm-up (8')
09.45 - 19.00: Qualifying Heats
11.45 and 16.40: Historic karts demonstration (20')
Sunday 10th September
08.30 - 09.55: Warm-up (10')
10.00 - 10.20: Historic kart demonstration
10.25 - 12.50: Super Heats
12.55 - 13.15: Historic Karts demonstration
14.05 - 14.35: Presentation of the finalists on the track
14.45 - 16.55: Finals and podiums
The Wackersdorf event can be followed on the official FIA Karting Championship app for mobile devices and on the www.fiakarting.com website.