THE FIA, FORMULA E AND ACM REVEAL MONACO E-PRIX TRACK LAYOUT
The FIA, Formula E and the Automobile Club de Monaco (ACM) today revealed the track layout for the 2022 Monaco E-Prix (30 April), Round 6 of the ABB FIA Formula E World Championship.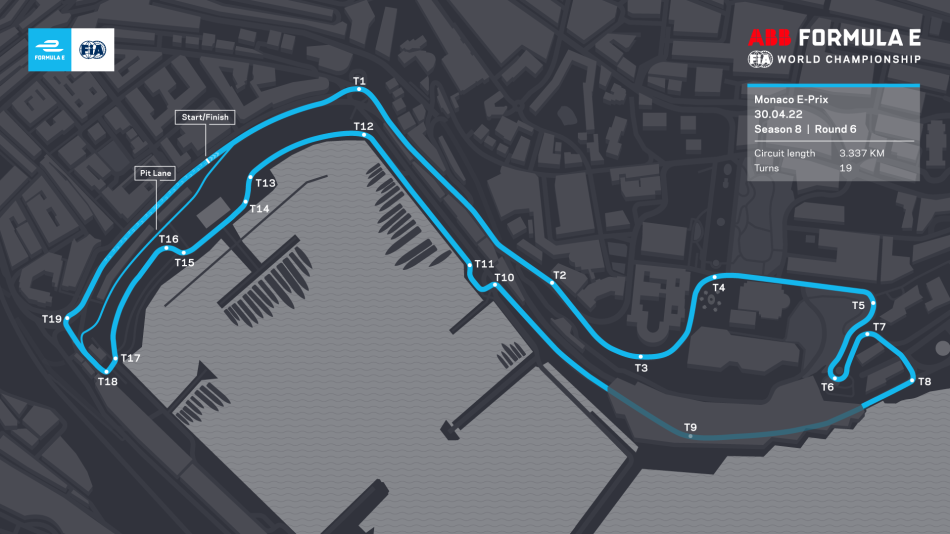 The 19-turn, 3.337 km track will see the all-electric cars climb the hill at Sainte Dévote and travel through the iconic Place du Casino, Mirabeau, Grand Hotel Hairpin and Portier sector.
DS TECHEETAH's Antonio Felix Da Costa claimed victory last season in one of the most exciting races in the history of Formula E with an audacious overtake at the exit of the tunnel on the final lap of the race.
The 2021 edition marked the inaugural outing on the full Circuit de Monaco for the ABB FIA Formula E World Championship. A race that recorded 28 overtakes between the top six runners alone. The 2021 track incorporated a modified chicane at the T11, which will disappear this year to make way for the traditional track when it comes to the best of motorsport.
This change of layout to align with the highest standards of motor sport shows once again how Formula E continues to progress.
Javier Maffioli, Formula E Head of Event Operations, FIA:
"Using the full Monaco track layout successfully last year was a major step forward for the ABB FIA Formula E World Championship. This year, we are taking the final step, removing the minor modifications that were made for Formula E, so that we can to see our drivers and cars performing on the historical layout. This is another major achievement for our discipline and we look forward to another exciting race on the streets of Monaco."
Frederic Espinos, Sporting Director, Formula E:
"The 2021 Monaco E-Prix remains one of the finest races in Formula E history with an unprecedented number of overtakes. Our drivers love driving in street circuits which is why Monaco, one of the most iconic circuits in the world that all drivers know inside out, is particularly suitable to showcase the unique style of Formula E motorsport. We can't wait to see the 2022 race and the drama that will unfold on the streets of Monaco."
Christian Tornatore, General Commissioner, ACM:
"I hope that on the occasion of this 5th Monaco E-Prix, television viewers and spectators will be able to attend a race just as competitive as last year's, which to this day remains and will remain in the annals of international motorsport."