This page contains archived information and may not display perfectly
FIA F3 European Championship powers up for the 2015 season
Another exciting season will kick off next month with the ambition to take some of the world's most talented up and coming drivers to the next level of competition as they climb the FIA's ladder towards Formula One.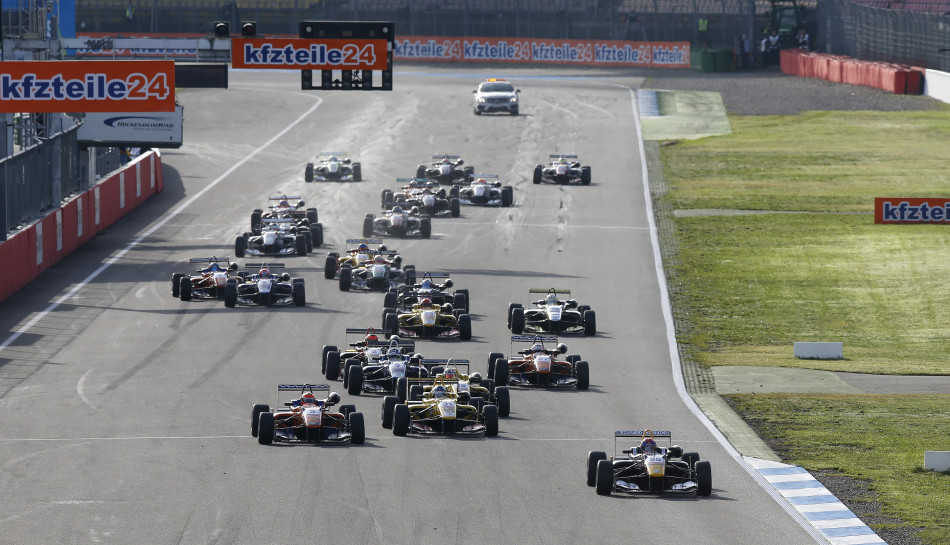 This year's 11-round Championship will feature 35 drivers, drawn from 17 countries from across Europe and as far afield as the US, Canada, Colombia, China, Malaysia, India, Hong Kong and Thailand.
This year's field once again confirms the success of the FIA's plan, outlined by outgoing Single-Seater President Commission President Gerhard Berger, to build an international platform for the best young drivers to hone their skills on their way to the top level.
Sixteen rookies will line-up for the first round of this year's competition at Silverstone on April 10-12, including Lance Stroll, who won last year's inaugural Championship of the FIA's entry-level single-seater series, Formula 4, in Italy.
The Ferrari Driver Academy member will line up for defending team champion Prema Powerteam, the squad that took Esteban Ocon to title glory last year. The competitiveness of the Championship is underlined by the presence of several other drivers' development programs such as Red Bull Junior Team – rookie Callum Ilott – and the Lotus F1 Team – rookies Alexander Albon and Dorian Boccolacci.  
Prema Powerteam's squad also features Sweden's Felix Rosenqvist, who has made the switch to the champion team from last year's third-place squad, kfzteile24 Mücke Motorsport. Briton Jake Dennis, who finished in third place in last year's rookie Championship, and French Brendon Maisano will join Rosenqvist in the Prema squad.
Last year's second–placed team Jagonya Ayam with Carlin will also field a strong line-up featuring last season's sixth-place driver Antonio Giovanizzi (ITA), US racer Gustavo Menezes (who finished 11th overall in 2014), and fellow American Ryan Tveter.
Kfzteile24 Mücke Motorsport, meanwhile, will race with American driver Santino Ferucci and Italian Michele Beretta.
2014's fourth-place team Van Amersfoort Racing will feature last year's Formula Renault ALPS runner-up Charles Leclerc (MON) and 16-year-old former karter Alessio Lorandi (ITA).
The Carlin squad will line-up on the grid with Callum Ilott and fellow Briton George Russell. The Championship's only female driver, Colombia's Tatiana Calderón, who is embarking on her third season will join them. The F1 lineage of the Championship continues (despite Max Verstappen's departure - son of former grand prix racer Jos Verstappen), in the shape of 18-year old Brazilian Pietro Fittipaldi. Fittipaldi is the grandson of double F1 champion Emerson Fittipaldi and the nephew of last year's United Sportscar Championship winner and former F1 driver Christian Fittipaldi. Pietro will race for team Fortec.
The 2015 Championship will be contested by 12 teams, with Eurointernational, Fortec, Double R Racing and Team West-Tec F3 returning alongside Prema Powerteam, Jagonya Ayam with Carlin, kfzteile24 Mücke Motorsport, Van Amersfoort Racing and Carlin to battle it out once again.
The Championship is further boosted this year with the presence of two new outfits. German squad Motopark will field German F3 champion Markus Pommer, Brazilian karting star Sergio Sette Camara and India's Mahaveer Raghunathan, who also makes the step up from the Italian Formula 4 Championship. Signature will return to the F3 competition with Albon and Boccolacci at the wheel. 
The teams will be powered by three engine manufacturers with Neil Brown Engineering joining Mercedes and Volkswagen to make the 2015 campaign even more competitive. Hankook will be the sole supplier of tires for the competitors.
The FIA F3 European Championship will be contested across 11 rounds and once again will run alongside two of motorsport's biggest championships - the FIA World Endurance Championship and Germany's DTM touring car championship. Following the opening round at Silverstone, the series will move on to Hockenheim on 01-03 May. Thereafter, it takes a standalone event in the famous Pau street circuit as well as rounds at Monza, Spa-Francorchamps, Norisring, Zandvoort, Spileberg, Moscow Raceway and the Nurburgring before climaxing with a second visit to Hockenheim.
Stefano Domenicali, President of the FIA's Single Seater Commission, said: "The Formula 3 European Championship is a great platform offering young, talented drivers the opportunity to put their skills to the test. The foundational experiences they gain in F3 offer a great springboard for further motor sport success. Given the calibre of this year's contestants, we are bound to see some great racing and this year's teams and drivers will really have to prove themselves if they are to win the 2015 Championship."
Walter Mertes promoter of the FIA F3 European Championship added "Every year the F3 Championship puts on a great show. The diverse background of the drivers will add an extra something to this year's Championship and provide excitement and close competition throughout the season for all racing fans."
The full Team and Driver line-up is as follows:
 

N°

TEAM

DRIVER

CAR

Rookie

1

Prema Powerteam

Felix Rosenqvist (SWE)

Dallara F312 – Mercedes-Benz

 

2

Prema Powerteam

Jake Dennis (GBR)

Dallara F312 – Mercedes-Benz

 

3

Jagonya Ayam with Carlin

Antonio Giovinazzi (ITA)

Dallara F312 – Volkswagen

 

4

Jagonya Ayam with Carlin

Gustavo Menezes (USA)

Dallara F312 – Volkswagen

 

5

kfzteile24 Mücke Motorsport

Santino Ferrucci (USA)

Dallara F312 – Mercedes-Benz

 

6

kfzteile24 Mücke Motorsport

Michele Beretta (ITA)

Dallara F312 – Mercedes-Benz

 

7

Van Amersfoort Racing

Charles Leclerc (MON)

Dallara F312 – Volkswagen

R

8

Van Amersfoort Racing

Alessio Lorandi (ITA)

Dallara F312 – Volkswagen

R

9

Carlin

Tatiana Calderón (COL)

Dallara F312 – Volkswagen

 

10

Carlin

George Russell (GBR)

Dallara F312 – Volkswagen

R

11

Team West-Tec F3

Fabian Schiller (GER)

Dallara F312 – Mercedes-Benz

R

12

Fortec Motorsports

Pietro Fittipaldi (BRA)

Dallara F312 – Mercedes-Benz

R

14

Fortec Motorsports

Matthew Rao (GBR)

Dallara F312 – Mercedes-Benz

 

15

Eurointernational

Nicolas Beer (DEN)

Dallara F312 – Mercedes-Benz

 

16

Eurointernational

Marvin Kirchhöfer (GER)

Dallara F312 – Mercedes-Benz

 

17

ThreeBond with T-Sport

Julio Moreno (ECU)

Dallara F312 – NBE

R

18

Double R Racing

Nicolas Pohler (GER)

Dallara F312 – Mercedes-Benz

 

19

Double R Racing

Matt Solomon (HKG)

Dallara F312 – Mercedes-Benz

R

20

Signature

Dorian Boccolacci (FRA)

Dallara F312 – Volkswagen

R

21

Signature

Alexander Albon (THA)

Dallara F312 – Volkswagen

R

22

Motopark

Nabil Jeffri (MYS)

Dallara F312 – Volkswagen

 

23

Motopark

Sérgio Sette Câmara (BRA)

Dallara F312 – Volkswagen

 

24

Prema Powerteam

Brandon Maisano (FRA)

Dallara F312 – Mercedes-Benz

 

25

Prema Powerteam

Lance Stroll (CAN)

Dallara F312 – Mercedes-Benz

R

26

Jagonya Ayam with Carlin

Ryan Tveter (USA)

Dallara F312 – Volkswagen

R

27

kfzteile24 Mücke Motorsport

Mikkel Jensen (DEN)

Dallara F312 – Mercedes-Benz

R

28

kfzteile24 Mücke Motorsport

Maximilian Günther (GER)

Dallara F312 – Mercedes-Benz

R

29

Van Amersfoort Racing

Arjun Maini (IND)

Dallara F312 – Volkswagen

R

30

Carlin

Callum Ilott (GBR)

Dallara F312 – Volkswagen

R

31

Fortec Motorsports

Hongwei Cao (CHN)

Dallara F312 – Mercedes-Benz

 

32

Fortec Motorsports

Zhi Cong Li (CHN)

Dallara F312 – Mercedes-Benz

 

33

Motopark

Mahaveer Raghunathan (IND)

Dallara F312 – Volkswagen

R 

34

Motopark

Markus Pommer (GER)

Dallara F312 – Volkswagen

 

35

kfzteile24 Mücke Motorsport

Kang Ling (CHN)

Dallara F312 – Mercedes-Benz

 

36

Motopark

Sam Macleod (GBR)

Dallara F312 – Volkswagen