FIA celebrates the motor sport community generosity to make #RaceAgainstCovid Auction a success
Today, the FIA celebrates the motor sport community generosity to make #RaceAgainstCovid online Auction a success.  Bidding for the motor sport memorabilia auction closed on Monday 22 June with almost €2 million in total raised for the International Federation of Red Cross and Red Crescent Societies (IFRC) and its global response to COVID-19.  This included a starter contribution made by the FIA Foundation of €1 million.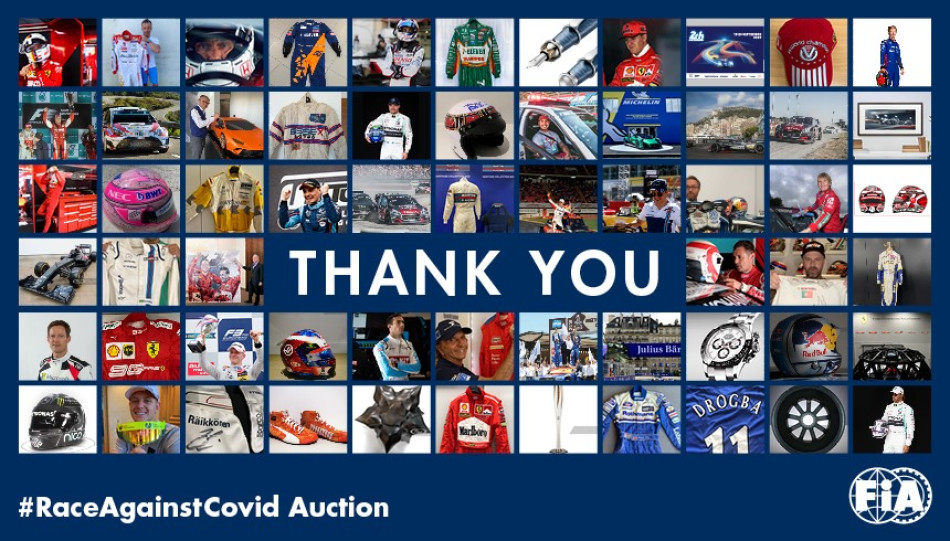 Initiated by the FIA, especially its Drivers' Commission, the auction saw a large selection of memorabilia donated by drivers, teams, manufacturers, sponsors and artists of the motor sport community. The ninety-six lots included helmets and race suits from Lewis Hamilton to Sébastien Loeb, Michael Schumacher and Tom Kristensen and also a McLaren MP4-24 show car, art pieces and exclusive event experiences for race events.  The auction was organised by RM Sotheby's, the famous car auction house which also donated all of their profits, net of cost, to the cause.
FIA President Jean Todt, said: "I thank all the motor sport community involved in the #RaceAgainstCovid Auction, who made it possible and successful.  It is a concrete proof of our unity and solidarity in the fight against COVID-19 pandemic and more broadly of our positive contribution to society." 
FIA Drivers' Commission President, Tom Kristensen, added: "We specially thank teams, promoters, manufacturers, suppliers and sponsors who all came together in a strong effort to donate valuable lots.  This auction has raised a substantial sum for a global cause that will touch lives worldwide."
The auction was also the first standout action of #PurposeDriven, the FIA's new social purpose movement for the motor sport community.  As part of this, the FIA will endeavour to act as a catalyst and a guide for the objective and ambition of the sport to responsibly accelerate its positive contribution to society in all sectors, including health, safety, economy, the environment, education, inclusion and diversity.
The proceeds from the auction will be handed over to the IFRC to be used in their global efforts to fight the effects of the COVID-19 pandemic.
About the FIA
The FIA is the governing body for world motor sport and the federation of the world's leading motoring organisations. Founded in 1904, with headquarters in Paris, the Fédération Internationale de l'Automobile (FIA) is a non-profit making association. It brings together 243 international motoring and sporting organisations from 146 countries on five continents. Its member clubs represent millions of motorists and their families.