FIA and Formula One walk the racing line for road safety
Jean Todt, Bernie Ecclestone, Fernando Alonso and Lewis Hamilton lead the Formula One community in a Long Short Walk on the Circuit de Catalunya before the Spanish GP.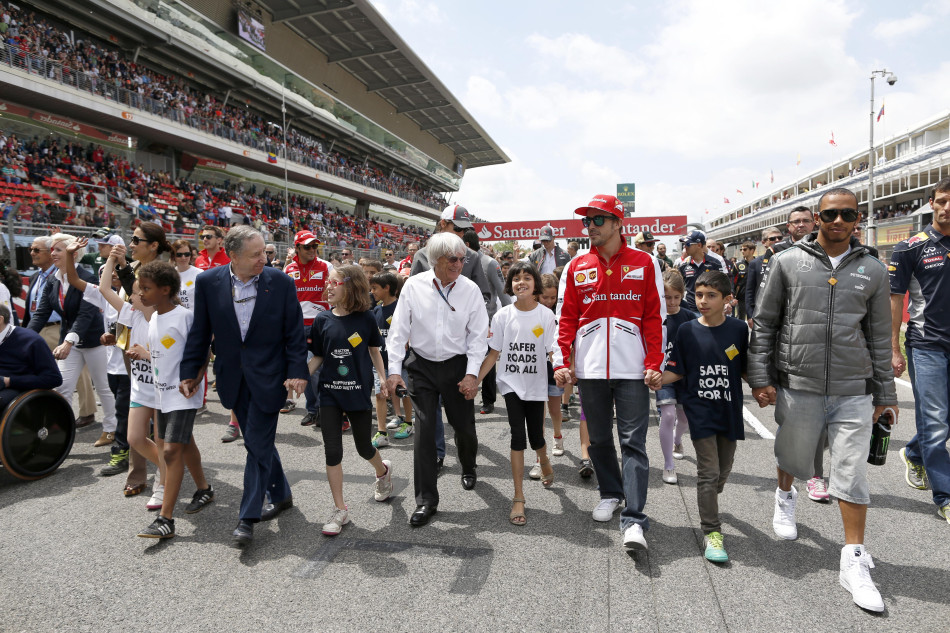 They might be fierce rivals on track but Formula One's stars today came together as one with the FIA to support United Nations' Global Road Safety Week, which this week drew attention to the need to protect pedestrians the world over. 
According to the World Health Organisation more than 5,000 pedestrians are killed on the world's roads every week and these fatalities make up a large percentage of the 1.3 million killed on the roads every year. 
However, despite the shocking toll, pedestrians as a group do not have a voice when traffic safety is discussed. To give them that voice, this year's UN's Global Road Safety Week took pedestrian safety as its theme. 
To highlight the need to protect this vulnerable segment of road users, the UN programme launched the Long, Short Walk, an initiative that encouraged people, groups and organisations from around the world to video or photograph their favourite walks. The footage will be edited together to raise awareness that those in motorised vehicles are not the globe's only road users.
And in support of the initiative, Formula One's stars today joined forces with the FIA its Action for Road Safety campaign and Formula One Management (FOM) to take a Long, Short Walk of their own in the run-up to the Spanish Grand Prix.
Prior to the traditional Drivers' Parade, FIA President Jean Todt was joined by Formula One promoter Bernie Ecclestone, Global Road Safety Ambassador Michelle Yeoh, all 22 Formula One drivers, team principals and 200 school children to walk one of their favourite stretches of road – the grid at Barcelona's world-famous Circuit de Catalunya.
Commenting on F1's Long, Short Walk, President Todt said: "It is fitting that the world's finest drivers and the teams and organisations behind them have come together to demonstrate that all road users, no matter whether they are at the wheel or on foot, should be protected and that every driver must be vigilant at all times, no matter how skilled.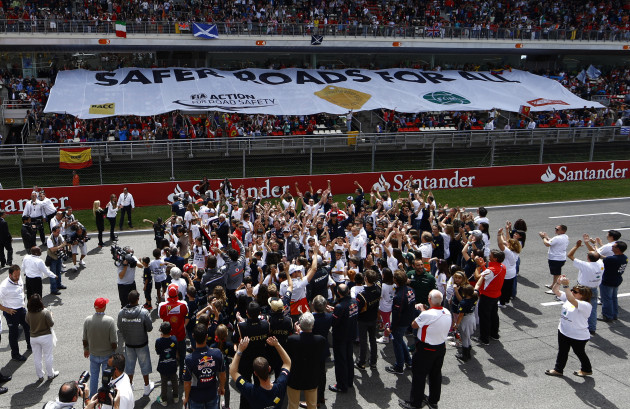 "It is crucial that we protect pedestrians and the FIA is delighted that Formula One has embraced this initiative to help save lives in such a positive way. It once again demonstrated how motor sport can help draw attention to such a globally important issue. This fusion of sport and mobility to improve road safety is at the core of the FIA's beliefs."
Global Road Safety Ambassador Michelle Yeoh added: "Around 270,000 pedestrians are killed every year and this equates to around a fifth of the 1.3 million people killed on the world's roads annually. Tragically, many are children, often on their way to school. These statistics must be reduced. Safe walking should be a right for all." 
About the FIA Action for Road Safety campaign: Launched in support of the UN Decade of Action for Road Safety 2011-2020, FIA Action for Road Safety aims to help save the lives of five million people on the world's roads by the end of the decade. Since its launch, the campaign has been embraced by governments, stakeholder organisations and member clubs across the globe. It has also been endorsed by some of the world's biggest sporting names.
About the UN Decade of Action for Road Safety: Officially launched on 11 May 2011, the Decade of Action has the official goal of 'stabilising and then reducing' global road traffic fatalities by 2020.