This page contains archived information and may not display perfectly
FIA and Formula E team up with UN Environment in race to improve inner-city air quality
FIA President Jean Todt, Head of UN Environment Erik Solheim and Formula E CEO Alejandro Agag met at the Paris ePrix to announce the partnership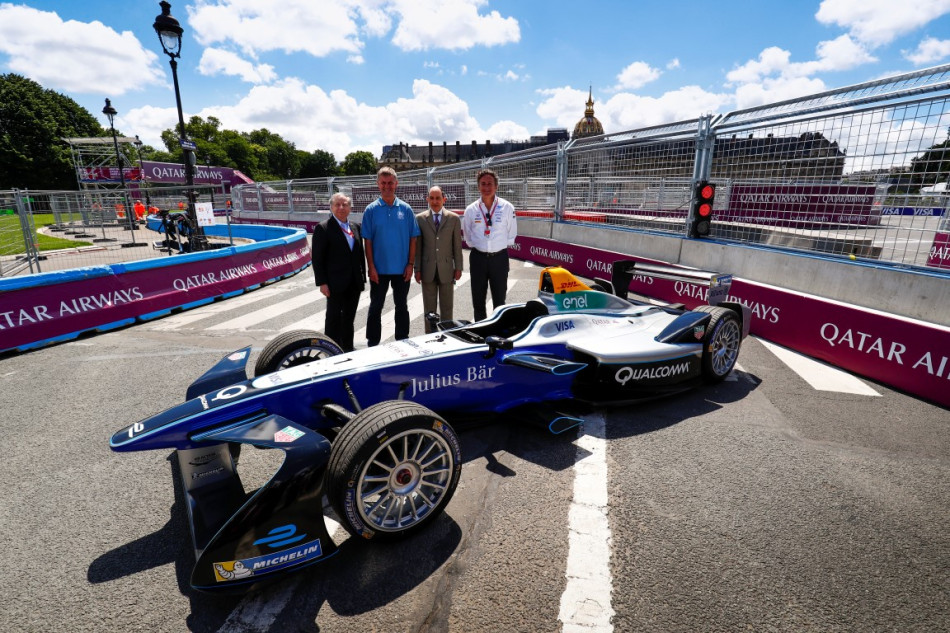 The FIA Formula E Championship, the world's first fully-electric single-seater racing series, has joined forces with UN Environment to launch a global partnership in the fight to improve inner-city air quality - continuing to boost the profile of alternative energy solutions and the increased uptake of electric vehicles.
The multi-year partnership will focus on raising awareness of the benefits of electric vehicles among younger generations and motorsport fans globally - educating future consumers of electric cars, and challenging major cities and governments to take action to tackle pollution.
The new partnership will leverage the growing popularity of the FIA Formula E Championship, which brings electrifying motorsport to some of the world's leading cities, including Hong Kong, Marrakesh, Buenos Aires, Paris, Berlin, New York and Montreal.
Racing has always been a laboratory for the development of technology in the motor industry, previously with combustion-engine cars and now with electric vehicles. The FIA and Formula E want to play a role in providing a solution - to help more people buy and drive electric cars.
Jean Todt, FIA President, said: "We welcome the partnership between UN Environment and the FIA Formula E Championship and I look forward to see this relationship growing. When we created Formula E, one of our main goals was to raise awareness of issues of environmental sustainability and drive the development of technology which will be beneficial to our future and that of our planet. As we go racing with fully-electric vehicles in some of the greatest cities around the world we are spreading this message, and this collaboration with UN Environment will help us to reach even more people."
"Formula E puts a fresh spotlight on electric vehicles and is an exciting glimpse of what is to come -  the age of clean, viable transport," said Erik Solheim, head of UN Environment. "Formula E and UN Environment share the aim to usher in this era and speed up acceptance of these technologies to combat air pollution. Air pollution has taken centre-stage this year as a serious public health threat, and with good reason."
Alejandro Agag, Founder & CEO of Formula E, said: "We face big challenges ahead of us - climate change, inner-city pollution and producing energy in a sustainable way all around the world. That's why we've teamed up with UN Environment to help continue the education process. The FIA and Formula E aim to make the switch to electric cars make sense for consumers - more efficient and more affordable."
Formula E currently works in collaboration with Enel - Official Power Partner of the FIA Formula E Championship - to promote the advancement of the championship's power technology infrastructure, through optimising clean energy generation, distribution and management, and showcasing advanced energy solutions. Enel is designing a fully-digitised energy mini-grid for Formula E, using the company's smart metering technology to monitor power usage and give fans the chance to interact with an advanced energy system in real time.
The 40 fully-electric Formula E cars are charged by generators using zero-emissions glycerine. The generators use Aquafuel's patented technology to run on glycerine. The fuel itself is a by-product of the bio-diesel production process, and it's so clean you can drink it.
The World Health Organization estimates that 6.5 million people die prematurely each year from air pollution-related diseases, and 80 per cent of urban residents worldwide breathe polluted air - with a whole host of detrimental short and long-term health effects. Transport contributes one-quarter of all energy-related greenhouse gas emissions today.
UN Environment sees electric transportation as one of the essential components of achieving more sustainable and cleaner cities. Its Electric Mobility Programme works in 50 developing and transitioning countries to support their move from internal combustion engines to electric vehicles. UN Environment is a founding partner of the Breathe Life campaign, the UN's biggest-ever campaign on air quality, which aims to raise awareness of global and local impacts of air pollution and the broad range of viable solutions for cities and governments to improve air quality.