FIA and Formula E release first digital images of next generation car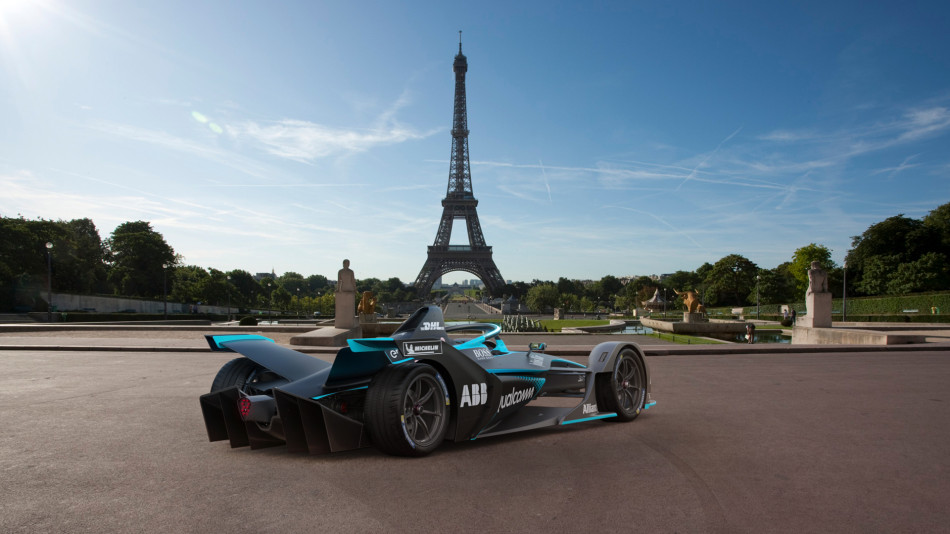 First look at the fully-electric Gen2 car to be used from season five shows striking futuristic new look for Formula E (to view the video, please click here)
The FIA and Formula E have released the first digital images of the next generation car for season five, showcasing the futuristic new-look of the electric street racing series - with the covers coming off the physical model at the Geneva Motor Show on March 6.
This is the first car ever to be created by the governing body for motor sport, with the FIA bringing together the world's leading designers and engineers to work on the concept. The common package of specification parts will be homologated and built by the competing manufacturers to house their own bespoke powertrains.
The new car demonstrates a step-up in performance from the current iteration with almost double the energy storage capacity and double the range, meaning the teams and drivers will complete a full race distance at higher speeds without making a mid-race car swap. The Gen2 car is clear proof of the advancements in battery and electric motor technology achieved in the space of only four years.
The physical model of the Gen2 car together with full technical specifications will be revealed on the FIA stand at the Geneva Motor Show on March 6.
FIA President Jean Todt said: "Today we show for the first time the design of the next FIA Formula E Championship's generation car, and I'm sure that everyone will be very excited by how futuristic and advanced it is. I'm very proud that the FIA has been at the forefront of this car's development. I can't wait to take the covers off the real car when it will be seen for the first time in Geneva on March 6."
Alejandro Agag, Founder & CEO of Formula E, said: "This car represents the future of racing. When we started Formula E, our goal was to break the mould and challenge the status quo - bringing a revolution to motorsport. This next generation car represents that revolution. The cars will be faster and will have almost double the amount of energy storage capacity and double the range, demonstrating the continuous evolution of battery technology. Together with the FIA, we've achieved a great milestone with the introduction of this car and I can't wait to see it on track."
La FIA et Formula E divulguent les premières images numériques de la nouvelle génération de monoplaces électriques
Les premiers visuels de la Gen2 100 % électrique attendue pour la Saison 5 annoncent une Formule E au look extrêmement futuriste
La FIA et Formula E ont présenté les premières images numériques de la voiture nouvelle version conçue pour la Saison 5, révélant un style très avant-gardiste pour la série de compétitions électriques en ville – le modèle sera dévoilé dans le cadre du Salon de l'automobile de Genève le 6 mars.
Il s'agit de la toute première voiture créée par l'instance de réglementation du sport automobile, la FIA ayant réuni certains des plus grands designers et ingénieurs mondiaux pour travailler sur le concept. Les pièces de spécifications communes seront homologuées et fabriquées par les constructeurs en compétition pour accueillir leurs propres groupes motopropulseurs.
Cette nouvelle voiture affiche une réelle avancée en termes de performances par rapport à son aînée avec une capacité de stockage de l'énergie pratiquement doublée et une autonomie multipliée par deux, ce qui signifie que les pilotes parcourront la distance d'une course complète à des vitesses accrues sans avoir à changer de véhicule à mi-parcours. La Gen2 est l'illustration parfaite des progrès technologiques réalisés en matière de batteries et de moteurs électriques en l'espace de seulement quatre ans.
Le modèle de la Gen2 ainsi que l'ensemble des spécifications techniques seront rendus publics sur le stand de la FIA au Salon de l'automobile de Genève le 6 mars.
Le Président de la FIA Jean Todt a déclaré : "Nous présentons pour la première fois aujourd'hui le design de la prochaine génération de monoplaces du Championnat de Formule E de la FIA, je suis sûr que tout le monde sera fasciné de découvrir à quel point elle est futuriste et innovante. Je suis très fier que la FIA ait joué un rôle phare dans ce développement. J'ai hâte de lever le voile sur la voiture bien réelle lorsqu'elle sera exposée pour la première fois à Genève le 6 mars."
Alejandro Agag, Fondateur et CEO de Formula E, a déclaré : "Cette nouvelle monoplace représente l'avenir de la compétition. Lorsque nous avons lancé la Formule E, notre objectif était de casser le moule et de rompre avec le statu quo – c'est-à-dire de révolutionner le sport automobile. Ce futur modèle incarne cette révolution. Les voitures seront plus rapides, avec une capacité de stockage de l'énergie quasiment doublée et une autonomie deux fois supérieure, ce qui témoigne de l'évolution constante de la technologie des batteries. Avec la FIA, nous avons franchi une étape majeure en réalisant cette voiture et je suis impatient de la voir en piste."