Ferrari move to the front in Jerez
Massa sets the pace on day three of test as Mercedes recover with Rosberg.
After two quiet days of testing, Ferrari's new F138 jumped to the top of the timesheet in Jerez with Felipe Massa running almost nine tenths of a second quicker than nearest rival Nico Roberg.
"It's always nice to arrive at the end of the day and see your name in first position but honestly it doesn't count for anything."
Felipe Massa
On the opening two days of the first pre-season test, Massa had finished sixth and eighth but today Massa, running soft tyres and on a short run, set the week's fastest time with a lap of 1:17879.
The Brazilian admitted afterwards that though it was nice to see his name at the top of the timesheet, his three days in the car had not been about proving raw speed.
"It was an important three days, even if I did so many things that are like straight line tests, doing slow laps, constant speed runs," he said.
"It's always nice to arrive at the end of the day and see your name in first position but honestly it doesn't count for anything," he added.
Massa will now make way for new Ferrari tester Pedro de la Rosa, who will complete the team's work in Jerez tomorrow.
Rosberg's second-quickest time of the day, a 1:18.766 was a fillip to Mercedes, who until today had endured a tough time in Jerez. Even more welcome were the 148 laps Rosberg racked up, the German providing much-needed data after the team had registered just 29 laps of track time over the past two days.
"I'm very happy with today and I think it was probably a personal record for me to do almost 150 laps," he said. "To drive the distance from Silverstone to Spa in one day with no problems whatsoever is a fantastic achievement from the team. It really made up for the last two days and put a smile on everybody's face."
The day's third quickest time went to defending world champion Sebastian Vettel, at the wheel of Red Bull Racing's RB9 for the first time. After two smooth days with Mark Webber at the wheel, Vettel put in a further 102 trouble-free laps to continue the defending Constructors' champions apparently serene progress towards the start of the season.
"It was great to get back in the car, to get rid of the rust and to get back in the groove again," he said. "The first feeling is good and the car is working well. It's difficult to judge the speed, but in terms of reliability it looks pretty good."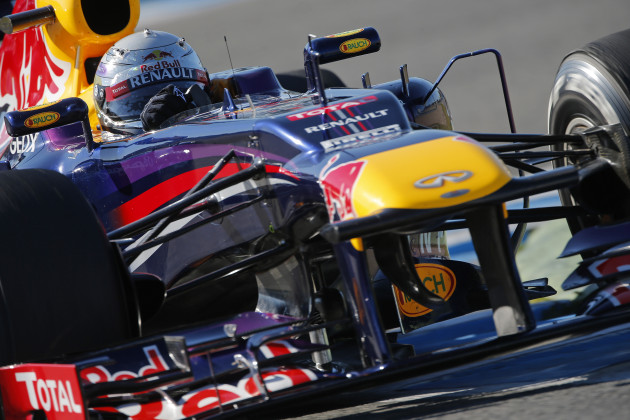 Vettel's time of 1:19.052 was over a second off Massa's laptime but the German was unconcerned.
"At this stage it's very difficult to judge anything," he added. "In terms of the times, it's always nice to be on top, but if there's one phase of the year where it matters least, it's here. Now is the time to do our homework. It's good for us to do a lot of laps, to see that the car is working well and we'll go from there."
Kimi Räikkönen was also getting his first taste of 2013-spec Formula One in the new Lotus E21 and finished just 1500ths of a second behind Vettel. It wasn't all plain sailing for the Finn, however, and his running was cut short late in the day with a clutch failure.
"The E21 feels quite good so far, even if the balance isn't quite to my liking yet," he said. That didn't stop us going through the programme we wanted to do which had a lot of aero runs in it. We know the car can go faster, we were just running through what we needed to achieve. It's a shame that we had a clutch issue at the end of the day, but that's why we come testing so we can find these problems and fix them."
Over at Toro Rosso, Jean-Eric Vergne took over from Daniel Ricciardo and set the day's fifth-quickest time. The Frenchman caused a minor delay to proceedings, however, a puncture when leaving pitlane causing the red flags to briefly come out while his STR8 was wheeled back to the garage.
Jenson Button also had a troubled outing. The McLaren driver put in 83 laps in the first part of the day's running but in the afternoon was forced to stop on track, a halt the team called "precautionary". Button will again make way for new McLaren signing Sergio Pérez tomorrow.
Pérez's replacement at Sauber, Esteban Gutierrez, was in action for the Swiss team and recorded the day's eighth best time, ahead of Marussia's Max Chilton, Williams' Valtteri Bottas, Caterham's Charles Pic and Force India's Paul Di Resta, who completed just seven laps in the afternoon before an exhaust problem ended his day's work. Earlier in the day the VJM06 was piloted by James Rossiter who notched the day's sixth-best time.