Felix Rosenqvist must keep his title bid alive!
The 2013 FIA Formula 3 European Championship is entering the home straight. It is now certain that the title battle will be fought out between Raffaele Marciello and Felix Rosenqvist.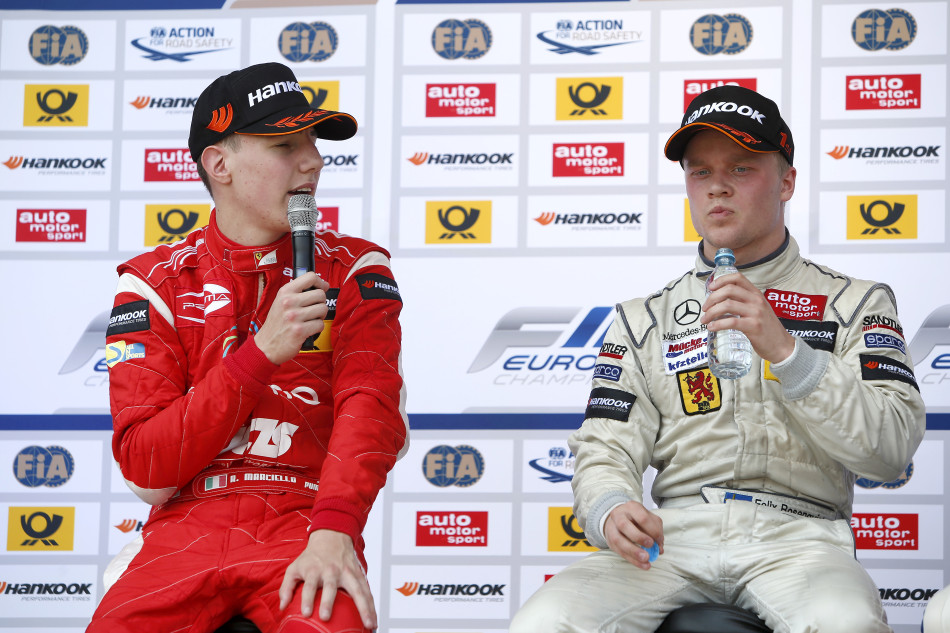 At Zandvoort, Rosenqvist will try to keep his title bid alive and to do so he has to aim for victory - nothing else will do! 
There are nine races still to run in the 2013 FIA Formula 3 European Championship: in other words 225 points are still up for grabs. Raffaele Marciello (Prema Powerteam) has a lead of 72.5 points, and is in a comfortable position thanks to a perfect weekend at the Nürburgring in mid-August when he scored three victories. Mathematically speaking, the Ferrari Driver Academy protégé will be crowned this weekend if he leaves Zandvoort with a lead of 150 points. To do so he has to score another hat trick of wins while Felix Rosenqvist (kfzteile24 Mücke Motorsport) comes away from the seaside circuit empty handed. However, it seems more likely that the outcome will be decided at either Vallelunga or Hockenheim.
So Rosenqvist has no choice. At Zandvoort he has to go for broke. The Swedish driver has the advantage of having already raced on this circuit this season, as in June he won the Zandvoort Formula 3 masters for the second time in his career on the Dutch track. "Zandvoort is a great and very challenging track, and a place where I've claimed some of my most memorable victories," says Felix. "The Masters weekend earlier this year will probably remain one of the best of my career, so I'm obviously excited to get back to Zandvoort once again. I always aim to win whenever I step into the car, and in that respect, this weekend is no different."
Marciello's strategy will be somewhat different as he explained after scoring his tenth win of the year: "I've built up a good lead that I now have to control. This will be my main aim in the coming races." It looks like the Italian will go for places rather than wins which could help other drivers to impress.  
While the battle for the title is obviously the focal point of interest the scrap for third place between Lucas Auer (Prema Powerteam) and Alex Lynn (Prema Powerteam) is just as exciting. Although the British driver leads by two wins to one the Austrian is more consistent with two second places and four thirds.  
However, they're not the only ones after victory this weekend. In the Carlin camp, Harry Tincknell, winner at home on the Silverstone circuit, is hoping to add another success to his tally while Jordan King, who has just been crowned British Formula 3 Champion, will be determined to prove his pace. Nicolas Latifi and Jann Mardenborough will also be ones to watch like Daniil Kvyat who was the quickest driver in the collective test at Hockenheim at the beginning of September.
The experienced Alexander Sims (Threebond with T-Sport), has been among the leaders since his return to F3 at the Norisring and is out to score his first win of the season, while Tom Blomqvist (Eurointernational) is also hoping for a success to boost his reputation. 
At Fortec Motorsport, Luis Felipe Derani and Felix Serrallés, who have been in flying form over the last few races, will be joined by Alfonso Celis. The Mexican has starred in the Formula Renault 2.0 NEC this season and it will be his maiden outing in the FIA Formula 3 European Championship. Sven Müller has left ma-con to join the ranks of Van Amersfoort Racing.
As usual in the FIA Formula 3 European Championship there are three races on the programme. The first two will be on Saturday 28th September at 11h10 and at 18h00, and the third on Sunday 29th September at 11h00.