Felix Rosenqvist fights back!
By winning the third FIA F3 European Championship race at Hockenheim, Felix Rosenqvist has closed the gap. Felix Serralles and Daniil Kvyat complete the top three!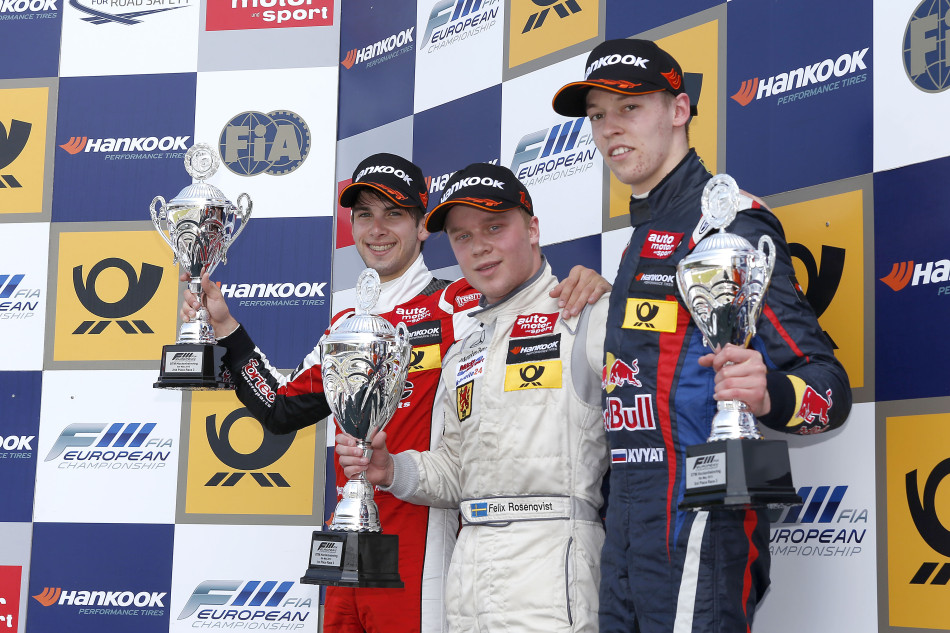 Felix Rosenqvist (kftzeile24 Mücke Motorsport) started the race from the second row and he knew that he had take risks to close the gap to Raffaele Marciello (Prema Powerteam), tenth on the grid. The Swedish driver made a perfect start to snatch the lead where he stayed for the whole race and scored his second victory of the season. 
"I needed that win," said Rosenqvist. "But I have to admit that it hasn't been a very good weekend for me due in part to a poor qualifying session. Finishing eighth and tenth in the first two races isn't really what I was aiming for. But the Mücke Motorsport team and I worked well together throughout the weekend to improve the car.
"Last season I concentrated too much on the championship and in the end that made me lose my bearings. This year I'm not even thinking about it. From now on I have to rack up good results and drivers like Felix Serralles, Alex Lynn and Lucas Auer have to slot in between me and Raffaele, so I can take points off him. Even today, he started from tenth and finished fourth (third in fact as Daniil Kvyat was invited to race here). Raffaele is consistent and that's what I'm lacking at the moment." 
In fact, Marciello has taken advantage of the evenly-matched field to open up a gap because, even if the Italian has made a big impact with five wins in eight races, he had also benefitted above all from the blossoming of young talented drivers who score big points like Felix Serralles this weekend. 
"Second in the first race and second in the third, this is the turning point in my season," laughed the delighted Puerto Rican! "I still have to up the pace to win but after a couple of difficult weekends at Monza and Silverstone, it all came together here and that's done me a power of good! Brands Hatch is the home race for Fortec Motorsports so if I could score my first victory there it would be just perfect. With thirty cars on such a short circuit, you need a bit of luck, especially in qualifying!" 
Daniil Kvyat, who finished third in the last race of the weekend, has every reason to be satisfied with his first drive in the FIA Formula 3 European Championship. "Setting pole was already a good start and this top-three finish is very encouraging," summed up the Red Bull Junior Team driver. "However, if I want to win races in Formula 3 I'll have to work on my starts. I don't know if I'll compete in other rounds. Let's say that the chances are fifty-fifty."
In the FIA Formula 3 European Championship overall classification Raffaele Marciello now has a 71.5-point lead over Felix Rosenqvist. Then come Alex Lynn (Prema Powerteam), Felix Serralles, Lucas Auer (Prema Powerteam) and Harry Tincknell (Carlin) covered by 3.5 points! The Ferrari Driver Academy protégé has built up a cushion, but at Brands Hatch on the 1.929-km layout, it's easy to lose out in a big way. Answer in two weeks!