FE - Champions and Rookies speak ahead of 2017 Hong Kong E-Prix
Formula E's three champions and three of the rookie drivers featured in the pre-event press conference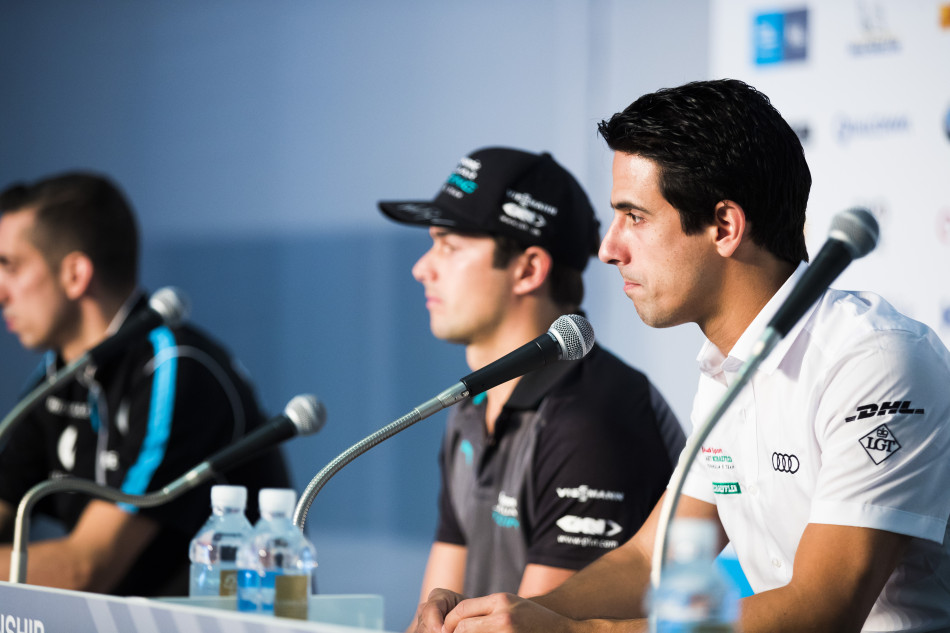 The pre-event press conference for rounds one and two of the 2017/18 FIA Formula E Championship in Hong Kong featured all three former champions as well as three of this year's star rookies. Find out what they had to say below.
Champions:
Lucas di Grassi - Audi Sport ABT Schaeffler (Season Three Champion)
For me it was a long summer break!
We've [Audi Sport Abt Shaeffler] been working hard to ensure the transition to Audi Sport [as a full manufacturer team] was as smooth as possible.
We expect at least five or six teams will be fighting for wins in the season.
It is inherently different to have a full factory team. We have a lot more resources to work on the team, different engineers...more responsibility, more pressure. Everything has stepped up. But like Formula E is stepping up, it's not only us - everybody is stepping up.
I've worked with Audi for five years now...and now it's a matter of getting used to Formula E - it's very different from all the other types of motor sport.
Sebastien Buemi - Renault e.dams (Season Two Champion)
Of course you need to learn from your mistakes [from last season], that's the first thing.
First, you need to compete in all the races, that will help a little bit!
Then we want to do better. Last season we had six wins but the other races were zero points. We got disqualified twice and I missed to races, so that doesn't help much but we're trying to focus on small details. We've tried to optimise everything we have...hopefully that's going to be enough to fight again, for wins and a good position at the end.
With the win last year [in Hong Kong], I was a bit lucky because Sam [Bird] had an issue with the pit stop. I don't think the win last year was because we were competitive, I think that was a race where we were the least competitive.
We are happy to be back and we've worked very hard in trying to prepare ourselves as much as possible and we will see tomorrow.
Clearly, you have Audi who has increased its resources a lot and there are other teams that have stepped up a lot - realistically we're not considering ourselves the favourite but more like outsiders. We just want to do well.
Nelson Piquet Jr - Panasonic Jaguar Racing (Season One Champion)
It's been a very good first year and then a frustrating two years, let's say. For various reasons a change needed to happen.
With so many big manufacturers coming on board to Formula E, you need to be well positioned.
You need to have the right resources to fight in the future for the wins. We're going to reach a point in Formula E where you're going to have to build most of the car in-house. You're going to have to have the resources, the people - you're going to have to have a big, strong factory and group of people to be able to compete and to develop at the rate that [Formula E] is going to end up going in the next couple of years. That's one of the big reasons why I wanted to join Panasonic Jaguar Racing.
This is going to be the big first test for us.
I've been racing all kinds of different race cars from Formula One, to Nascar and Rally Cross - it taught me a lot. So, I am pretty involved in making sure the team is making the right decision.
Rookie Drivers:
Andre Lotterer – TECHEETAH
[Formula E] is completely different to what I was used to. Quite difficult and challenging to drive these cars. One corner can easily turn into two or three corners.
I had no idea what to expect [coming to Formula E]. You give me a fast car and I'll drive it on the limit. Here, even at lower speeds, it's actually even more challenging because there are so many unprecise factors about the tyres and the brakes - it's kind of harder, you cannot push 100 per cent - you need to keep a bit of margin, compared to downforce cars.
It's a steep learning curve for me in the beginning and obviously I don't know what to expect. I'll go on track and do my best - I don't really set targets - we all want to win and it's very competitive.
Luca Filippi - NIO Formula Team
The last four years have been driving Indycar. In the meantime, I've done a lot of things behind-the-scenes that people maybe don't know about. I've done a lot of developments for manufacturers. I've done a lot of mileage and learnt a lot from a technical point of view.
NIO were looking for a driver and they said the technical side was a key factor, so my name came up. I got to test the car and I had a good feel from the very beginning. This is a great opportunity for me.
We've done a lot of work to prepare. Of course the race is going to be a different animal, shall we say but I feel very fired up and I can't wait.
Kamui Kobayashi - MS&AD Andretti Formula E
The preparation from myself was not brilliant but I've tried to do as much as I can do without having a proper test. I know what I need to do on the track but we will see tomorrow.
[Formula E] looks brilliant. There are so many manufacturers coming in... which means the championship is growing.
I don't really have a target [for the weekend] but I think I need to optimise what I can do in the short time. It's a new car and a different type of driving... so I think it will be very tricky.
It will be challenging but it's very exciting to be involved.