F4 & FR Championships' Season Opening Race recap
The 2023 season has officially started and most of the F4 & FR championships have held their first rounds in which the young drivers have already shown their talent.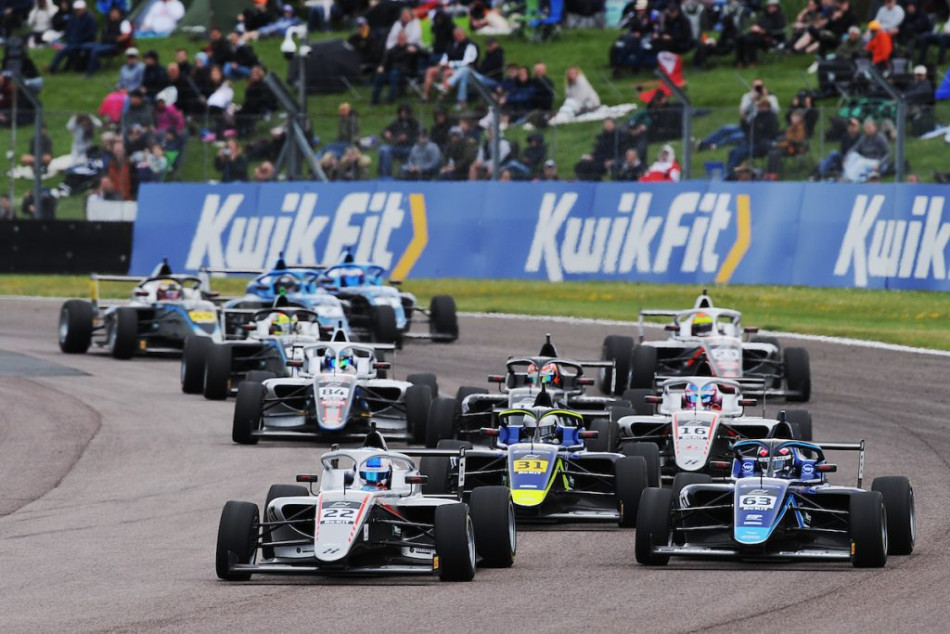 21-23/04 - F4 UK – 1st round in Donington Park
British F4 2023 will see changes including a grid reversal for race two and a new qualifying format. Drivers to watch include Louis Sharp, Gabriel Stilp, and Deagen Fairclough. The Rookie Cup has produced successful drivers such as Dan Ticktum and Dennis Hauger. Teams, including Hitech Pulse-Eight and Carlin, will compete for the Teams Championship with two scoring entries per team.
Rodin Carlin's Sharp & Lisle Dominate Qualifying & Race 1 At Donington
Noah Lisle of Rodin Carlin set the pole position for races one and three at the rokit F4 British Championship at Donington Park, with Louis Sharp taking the win in the first race. Lisle charged hard but finished second, with Daniel Guinchard finishing third. Josh Irfan was the star Rookie, moving from 11th to seventh overall. Gabriel Stilp was the fastest Rookie and Gustav Jonsson was the highest qualified Rookie.
Sharp takes 2nd win to lead standings. Lisle clinches race 3 victory 
Recap of the Donington Park Round of the British F4 Championship: Louis Sharp stole the show by winning Race 2 from the back row of the grid and taking the Motul Fastest Lap award. In Race 3, Noah Lisle took first place with a 13.5s margin and the Motul Fastest lap award. In the standings, Sharp leads the Championship with a total of 59 points, followed by Lisle and Dion Gowda. Rodin Carlin leads the Teams' Cup.
06-07/05 - F4 UK – 2nd

round in Brands Hatch

British f4 battle set to unfold in trio of brands hatch races
The ROKiT F4 British Championship certified by FIA returned to Brands Hatch Indy with 20 drivers competing for points and trophies. At the previous event in Donington Park, Louis Sharp and Noah Lisle from Rodin Carlin dominated, taking pole position and all three race wins between them. Louis Sharp led the championship going into the Brands Hatch event, while Noah Lisle was unable to attend the race due to other racing commitments.
Higgins takes double pole – le wins round 4
The grids for the first and third races of the ROKiT British F4 weekend were set on Saturday morning in a curtailed, wet qualifying session. James Higgins of Fortec Motorsport secured the Omologato Pole Position Award and first position start for both races 1 and 3. However, the session ended early due to worsening rain and a red flag for a stranded car. In round 4, Daniel Guinchard of Chris Dittmann Racing led at the start of the race, but he ran wide later in the lap in slippy conditions, and Kanato Le took the lead after muscling his way through. Le crossed the finish line 1.609 seconds ahead of Deagen Fairclough of JHR Developments, who took the Motul Fastest Lap and an additional championship point.
First wins for Gowda & Higgins – Higgins Jumps To 2nd In Standings
Aiden Neate started Sunday's reverse grid race from pole alongside Dion Gowda. Deagen Fairclough overtook Neate in Turn 2 and Gowda took second place. Louis Sharp muscled his way from seventh to fourth place. A safety car period slowed the race, but Fairclough built a gap and took the win with the fastest lap. Gowda finished second, but a penalty for Fairclough promoted Neate to second and Gowda to first. James Higgins won the final race, but Will Macintyre pressed him all the way to the finish. Louis Sharp retains the lead in the standings, with Higgins challenging for second place. Rokit British F4 had three different winners this weekend, with Louis Sharp leading the championship. Chris Dittmann Racing's Gustav Jonsson took all three wins in the Rookie Cup. Fortec's Aiden Neate won the Pirelli Hardest Charger award. The next race is in two weeks at Snetterton on May 20-21.
21-23/04 - F4 Italy – 1st round in Imola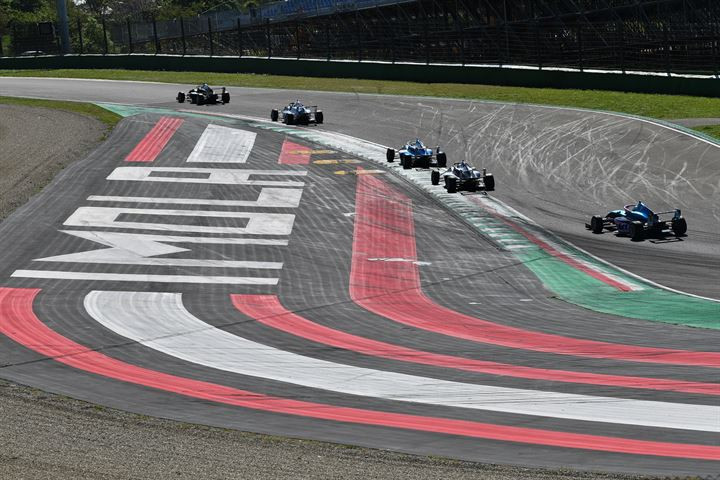 The Pole of US Racing shows an incredible pace after a flawless start
Polish driver Kacper Sztuka wins the first race of the season with a flawless start, managing his lead masterfully and finishing over 3 seconds ahead of Italian driver Brando Badoer. Tuscan Nicola Lacorte takes third place overall and wins the Rookie race. Akshay Bohra comes in fourth and second in the Rookie race, while Alfio Spina takes fifth place. Zachary David finishes in sixth place and is the third driver on the Rookie podium. Rashid Al Dhaheri makes a successful debut, finishing in seventh place, followed by James Egozi in eighth place. Tuukka Taponen takes ninth place, and Enzo Deligny closes the points zone in tenth place but is penalized with a 10-second penalty. Tina Hausmann finishes first among the women after a difficult race.
Ugo Ugochukwu, Prema Racing's American, wins the group A-B race
Ugo Ugochukwu wins Group A-B race, followed by Arvid Lindblad and Zachary David. Kacper Sztuka had an initial lead but was forced to pit-in due to a problem. Aurelia Nobels earns the victory among female drivers and records the fastest top speed. Notable battles include those between Guido Luchetti and Ismail Akhmed, and Tina Hausmann and Nandavhud Bhirombhakdi.
Nicola Lacorte, flawless victory fully in control of the third race
A scary incident occurred at the start of the third race of the Italian F.4 Championship, with poleman Ugo Ugochukwu stalling on the grid and getting crashed into by Andrea Frassineti. However, both drivers emerged unscathed thanks to the safety features of the Tatuus car. After a red flag delay, Nicola Lacorte inherited the pole position and won the race, with Arvid Lindblad finishing in second place and Ivan Domingues taking third place. James Wharton, Valentin Kluss, Matteo de Palo, Nandavhud Bhirombhakdi, James Egozi, and Jack Beeton completed the top 10. Lacorte credited his mental training as crucial to his success in the race.
Arvid Lindblad wins the Final of the first round of the Italian F.4 and is the first leader of the series
Arvid Lindblad, Red Bull junior for Prema Racing, wins the final race of the weekend at Imola, with Alfio Spina (BVM Racing) causing Van Amersfoort Racing drivers Brando Badoer and Ivan Domingues to crash out of podium contention. Sicilian Alfio Spina finishes in P2, followed by Ugo Ugochukwu in P3. Nicola Lacorte takes P4, with Zachary David in P5. Valentin Kluss finishes in P6, followed by Akshay Bohra. Matteo De Palo finishes in P8, with Gianmarco Pradel in P9, and Enzo Deligny closing the points zone.
05-07/05 - F4 Italy – 2nd round in Misano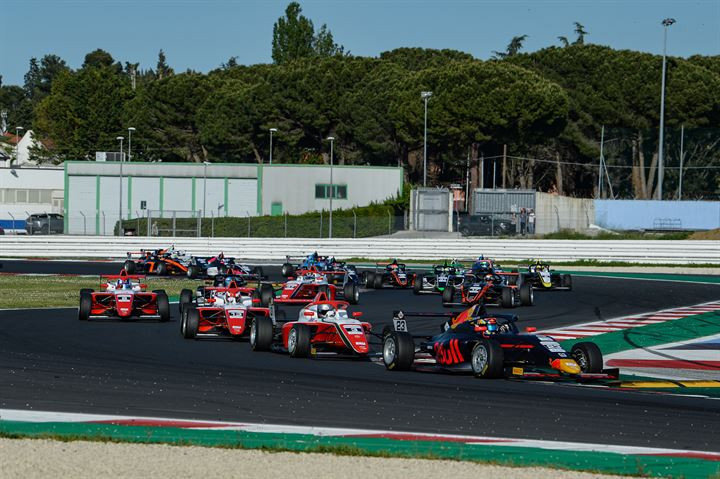 Taponen pole position in race 1, Championship leader Lindblad will be on the front row and earns double pole in race 2 and race 3
Qualifying sessions for round 2 of the Italian F.4 Championship took place at Misano World Circuit. Finnish driver Tuukka Taponen of PREMA Racing secured pole position in the first session, with Arvid Lindblade taking second place. In the second session, Lindblad took both remaining pole positions. Ugo Ugochukwu, James Wharton, and Brando Badoer also secured high starting positions for the race. Aurelia Nobels was the top female driver and will start from the sixth row.
Tuukka Taponen wins race 1, in control from pole to checkered flag
Finn Tuukka Taponen wins race 1 of the Italian F.4 Championship at the second ACI Racing Weekend, followed by Arvid Lindblad and James Wharton. Kacper Sztuka finished fourth, and Brando Badoer came fifth. There was a frightening crash in the early stages of the race involving Swiss driver Tina Hausmann. Ismail Akhmed and Victoria Blokhina also had a tough fight, while an all-Brazilian duel between Aurelia Nobels and Matteus Ferreira heated up the race.
Arvid Lindblad flies in race 2 and it's a PREMA undisputed win
PREMA Racing dominates the Italian F.4 Championship's Race 2 at Misano World Circuit, with Lindblad leading the race and extending his championship lead to 104 points. The Australian driver Wharton overtakes teammate Ugochukwu to secure second place, while Ugochukwu finishes third. Lindblad's most direct rival is Ugochukwu, with 63 points. Finnish driver Taponen finishes second in the Rookie category. AKM Motorsport's Hausmann doesn't take part in the race due to a shoulder injury, while Prema Racing's Al Dhaheri and Nobles don't take part due to a collision in the pitlane. US Racing's Sztuka stalls on the grid.
Arvid Lindblad crowns his weekend in Misano with the second win
Arvid Lindblad secures another dominant victory at Misano World Circuit, extending his lead in the Italian F.4 Championship. Lindblad, a Red Bull junior for PREMA Racing, won two out of the three races over the weekend, with teammate Ugo Ugochukwu taking second place in the final race. Zachary David of US Racing claimed third place and set the fastest lap of the race. The battle for the remaining points positions was intense, with several drivers vying for a spot in the top 10. Lindblad now leads the championship with 129 points, followed by Ugochukwu with 81 points and Nicola Lacorte of PREMA Racing with 60 points. The next round will take place at Spa Francorchamps from May 26-28.
21-23/04 - F4 Brazil – 1st round in Interlagos Sao Paulo on April 22-23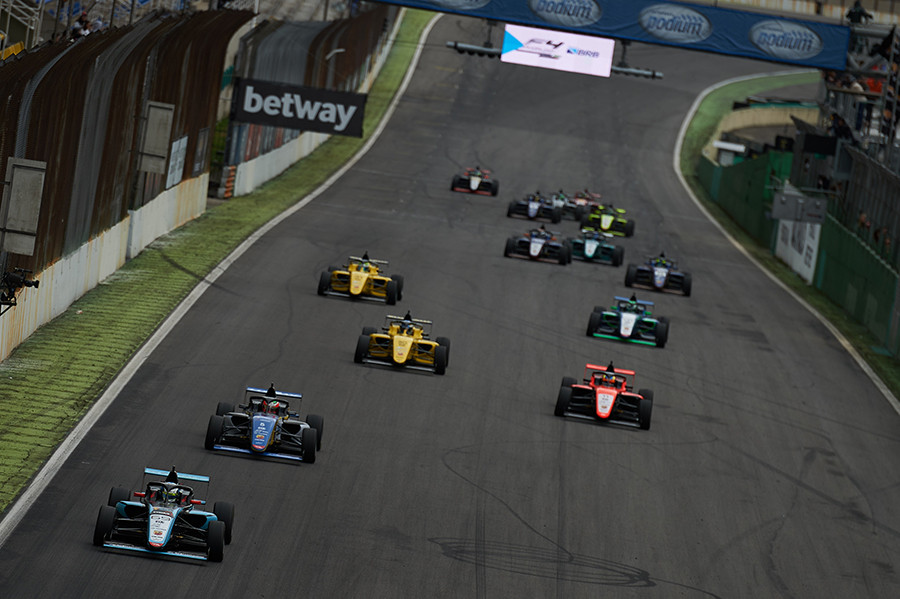 The Formula 4 Championship's second season is underway with all rounds held in support of Stock Car Pro Series, except for one round in support of the 2023 Sao Paulo Grand Prix. Vinícius Tessaro won race 1 and 3, while Nelson Neto won race 2. The next round will take place at Interlagos Sao Paulo from July 07-09.
05-07/05 - F4 France – 2rd round in Magny Cours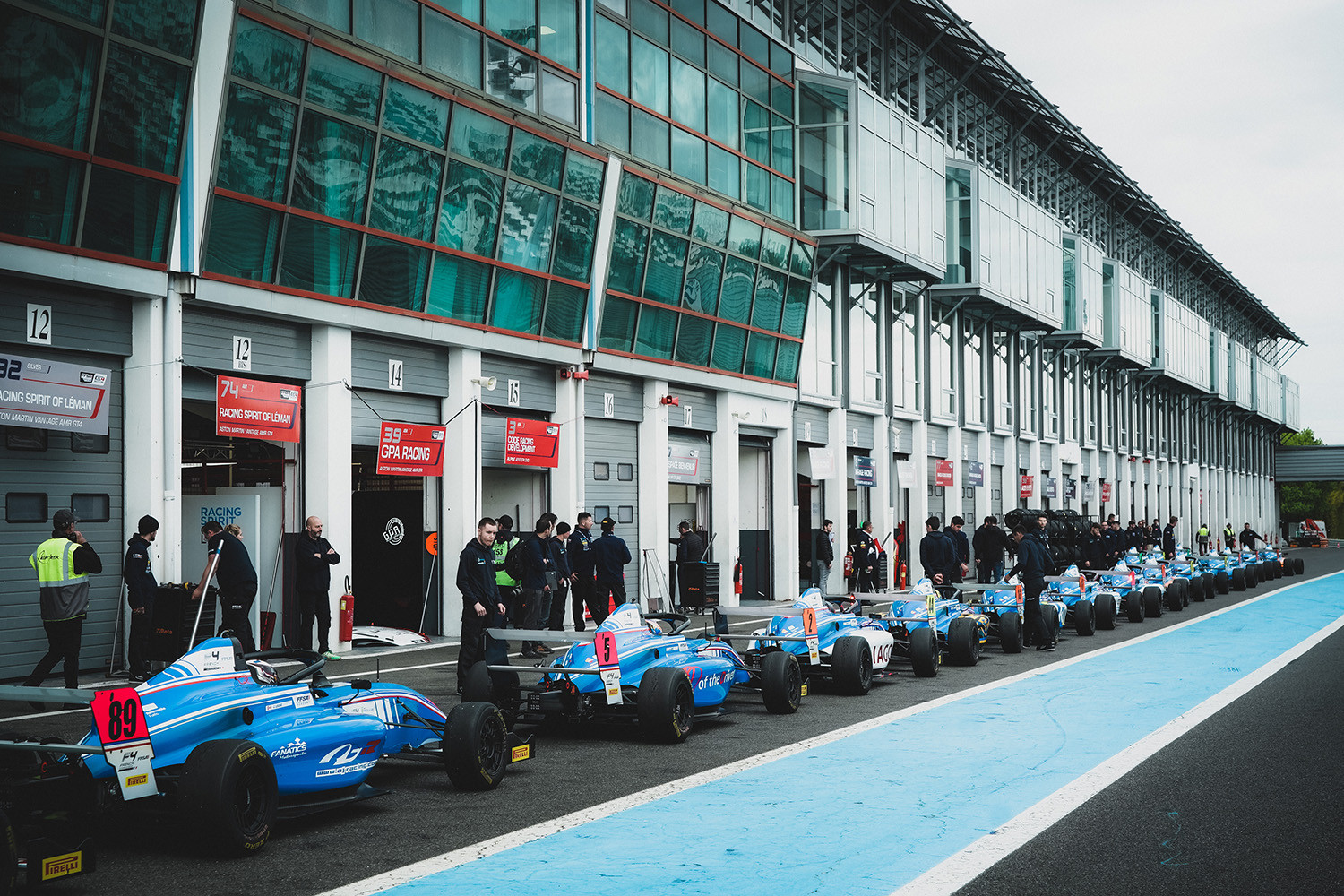 Evan Giltaire secures a double pole position at magny-cours
Drivers in the French F4 Championship were able to take advantage of a completely dry track for the Free Practice and Qualifying sessions despite an uncertain weather forecast on May 5th. Enzo Peugeot set the best time in the free session, but Evan Giltaire secured pole position for Races 1 and 3 with a time of 1:40.459, with Peugeot and Romain Andriolo following closely behind in 2nd and 3rd. Other top drivers include Hiyu Yamakoshi, Kevin Foster, and Yani Stenvenheydens.
Giltaire wins with panache, Closmenil leads from start to finish
The FFSA Academy had two intense races at the Magny-Cours circuit, with a lot of overtaking and podium battles. Evan Giltaire was the star of Race 1, taking the win after a great battle with Enzo Peugeot and Romain Andriolo. In Race 2, Adrien Closmenil emerged victorious, with Leonardo Megna in 2nd and Kevin Foster in 3rd. Giltaire also impressed in Race 2, finishing 3rd but was later penalized for overstepping the track limits. Belgian Yani Stevenheydens took 5th place in Race 2 after a disappointing start in Race 1.
Romain Andriolo wins after a thriller
Romain Andriolo won Race 3 of the French F4 Championship, with Kevin Foster and Hiyu Yamakoshi following behind. Enzo Peugeot initially led the race but was overtaken by Evan Giltaire. However, the two collided, resulting in Giltaire receiving a 30-second penalty and Peugeot finishing in 5th place. Foster's 3rd place finish brought him closer to Giltaire in the championship standings. Enzo Richer finished in 4th place, and Yani Stevenheydens finished in 6th place after starting in 10th. The next round of the championship will take place from May 12th-14th at the Grand Prix de Pau.
05-07/05 - F4 Spain – 1st round in Spa Francorchamps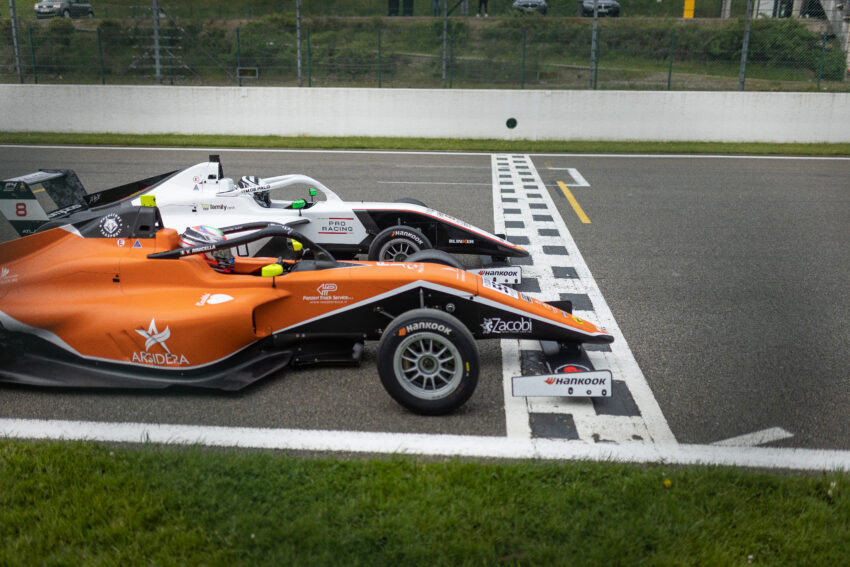 Pedro Clerot takes the first victory of 2023
Pedro Clerot won the first race of the 2023 Spanish Formula 4 Championship in Spa-Francorchamps, marking his debut as an MP Motorsport driver. Keanu Al Azhari took the Pole for the short race of the event, but Clerot overtook him after the Safety Car left due to Theodor Jensen's exit, and he maintained his lead until the checkered flag. Christian Ho came in second, and Keanu Al Azhari took third place, making his debut among the top three. MP Motorsport leads the championship, with Clerot as the first leader and Al Azhari as the first leader among the rookies.
Second consecutive win for Pedro Clerot
Pedro Clerot of MP Motorsport won his second victory of the year in the short race of the Spanish Formula 4 Championship in Spa-Francorchamps. Keanu Al Azhari started the race in pole position, but Clerot took the lead early on and held it until the end. The race was interrupted twice by the Safety Car, once due to a collision between Alvise Rodella and Christian Ho and then due to Enzo Deligny and Alex Ninovic colliding. Poleman Al-Azhari had to retire due to mechanical problems while running in third place. Theophile Nael took third place, followed by Enzo Deligny, Noah Lisle, Noah Stromsted, Matteo de Palo, and Jerónimo Berrío.
Matteo de palo debuts in the spanish f4 championship
Matteo de Palo (Campos Racing) won the final race at Spa-Francorchamps, inheriting first place after Valerio Rinicella (MP Motorsport) was penalized for track limits. Pedro Clerot (MP Motorsport) finished second and is now the championship leader with 63 points, followed by Christian Ho (Campos Racing) with 35 points. The next event of the Spanish F4 Championship will be held at MotorLand Aragón on May 26-28.
05-07/05 - F4 Japan – 1st round in Fuji

The F4 championship had 45 cars on the grid and marked the last season with 1st gen F4 cars. R. Kobayashi and J. Nakamura won race 1 and race 2 respectively. The next round will be held at Suzuka on June 03-04.
21-23/04 - F4 NACAM – 1st round

The 2023 season will be the last one with the Gen1 F4 car with 12 talented drivers on the grid. Pedro Juan Moreno started strong, taking home the win in both Race 1 and 2. However, Cristian Cantu proved to be a fierce competitor, claiming the top spot in Race 3. Fans are eagerly awaiting the next round, which will take place on May 20-21 in Autodromo Queretaro. With such a close competition, it's anyone's guess who will come out on top.
21-23/04 - FRECA – 1st round in Imola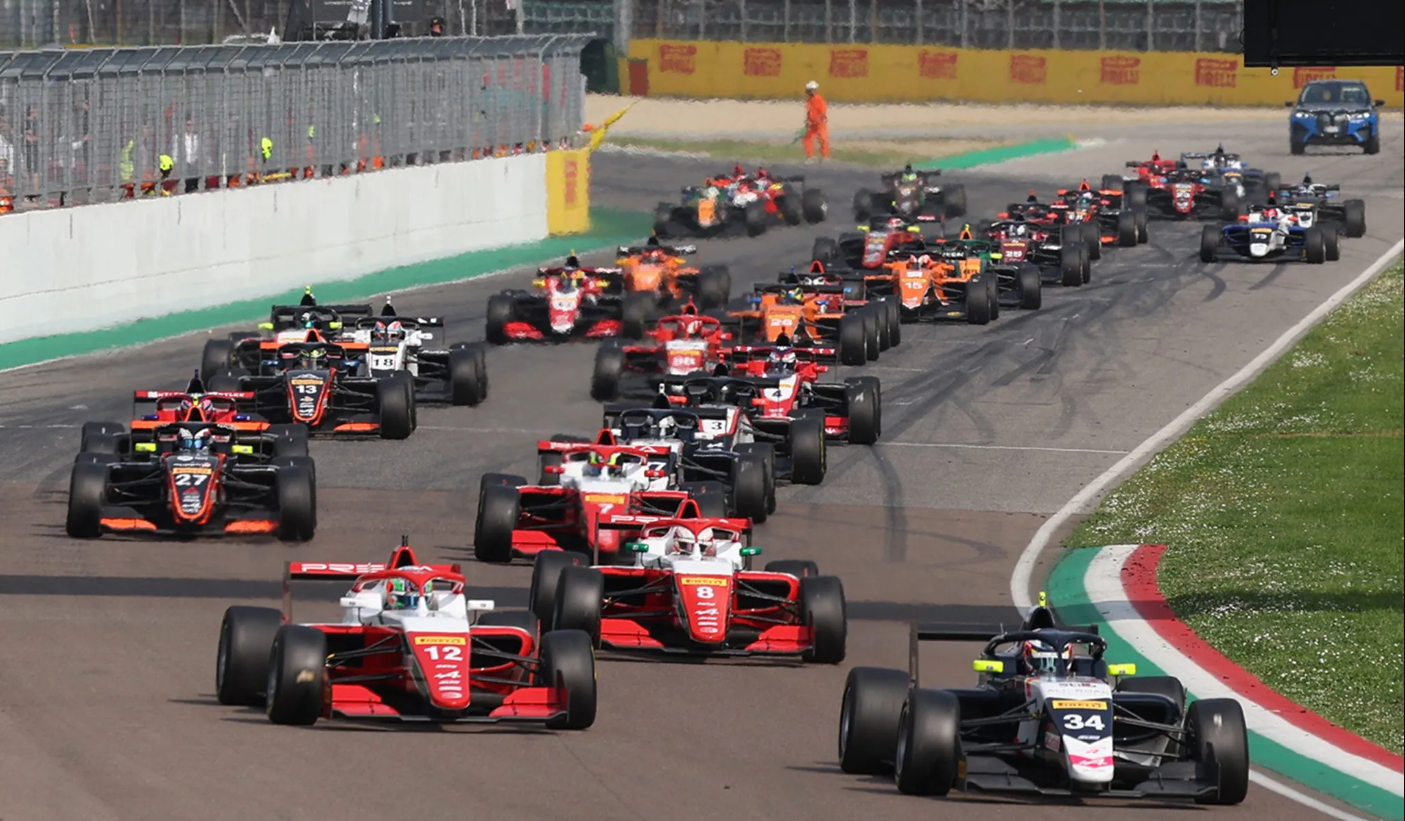 After penalties, race 1 pole position goes to Martinius Stenshorne
Changes in Group A qualifying results as Rafael Camara (Prema Racing) had his best lap deleted for failing to slow down when a yellow flag was displayed, and several other drivers faced similar penalties. Martinius Stenshorne (R-ace GP) gains the first pole position of the year and is the first Rookie driver to do so in the Formula Regional European Championship by Alpine.
Martinius Stenshorne writes a piece of Formula Regional European Championship by Alpine's history with the first win of the season
R-ace GP's Martinius Stenshorne took pole position and won the first race of the Formula Regional European Championship by Alpine, becoming the first Norwegian driver to do so. Andrea Kimi Antonelli from Prema Racing finished in second place, while Rafael Camara from Prema Racing finished third. R-ace GP's Tim Tramnitz finished in sixth place after a battle with Alessandro Giusti from G4 Racing, and Joshua Dufek from Van Amersfoort Racing finished in eighth. The race ended early due to a red flag caused by a puncture on Lucas Medina's car after a collision with Giovanni Maschio from Monolite Racing.
Tim Tramnitz gets his first pole position in Formula Regional European Championship by Alpine
Tim Tramnitz secured his maiden pole position at Imola in the Formula Regional European Championship by Alpine, with Kas Haverkort in second place. Andrea Kimi Antonelli will start from the back of the grid in Race 2 due to technical issues.
Kas Haverkort, the flying dutch won race 2 in Imola
Kas Haverkort of Van Amersfoort Racing won the last race of round 1 at Autodromo Enzo e Dino Ferrari di Imola in the Formula Regional European Championship by Alpine. This is his third win in the series, and he took the lead from Tim Tramnitz at the start. Martinius Stenshorne of R-ace GP came in second, while Nikhil Bohra of Trident Motorsport finished third. There were several incidents during the race, including a crash involving Rafael Camara and Joshua Dufek, and Andrea Kimi Antonelli retiring due to car problems. Haverkort showed his dominance in the safety car restarts, and the final order saw Stenshorne in second and Bohra in third. The next race will be in Barcelona on May 19-21.