This page contains archived information and may not display perfectly
F3 - Three-way battle for the title
Event: 10 Hockenheim
Date: 12th to 14th October, 2018
Venue: Hockenheimring Baden-Württemberg / D
Track length: 4.574 kilometres
Lap record FIA Formula 3 European Championship: 1:32.489 minutes (Maximilian Günther 2017)
Distance: 33 minutes plus one lap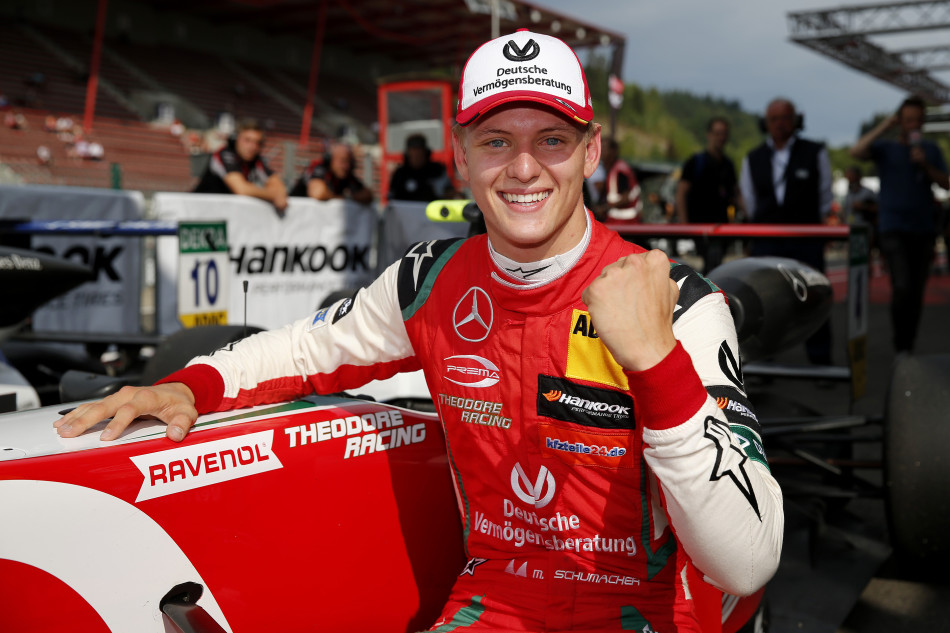 Who will be the 2018 FIA Formula 3 European Champion? Mick Schumacher (PREMA Theodore Racing), Daniel Ticktum (Motopark) or Marcus Armstrong (PREMA Theodore Racing)? That's the question thrilling all the fans and all those involved in the FIA Formula 3 European Championship when the series is going to contest its season finale this weekend at the 4.574-kilometre Hockenheimring Baden-Württemberg. At the same time, the fight for the rookie title also is taken down to the final race meeting of the season: here, Robert Shvartzman (PREMA Theodore Racing), Jüri Vips (Motopark) and once again Armstrong are the title contenders.
Mick Schumacher travels to Hockenheim as title favourite as the 19-year old's lead over his toughest rival, Daniel Ticktum, amounts to 40 points. While the Briton has got 20 points more on his tally than Ferrari Junior Marcus Armstrong, with 27 of the 30 races contested. And there still are 75 points to be scored in the three races of the season finale.
Other than for Schumacher and Ticktum it will be the first FIA F3 European Championship season finale for Armstrong. Nonetheless, the New Zealander knows Hockenheim as the German GP circuit also was the venue of the ADAC Formula 4 season finale. Ticktum contested the final race meeting of the 2016 FIA Formula 3 European Championship season as guest driver but due to his guest status he had to start into all the three races from the last row on the grid and his best result was a 13th place. Schumacher's best F3 race result at Hockenheim to date was just one position better. Last year, as FIA Formula 3 European Championship regular, he finished 12th in one of the races in Baden-Württemberg.
Armstrong also still fights for the rookie-of-the-year title. In this ranking, however, Robert Shvartzman is in the most promising position. The Russian who celebrated his first win in the series at Spielberg travels to Hockenheim with a 48.5-point lead over second-placed Jüri Vips. While Armstrong follows – just like in the fight for the drivers' title – in third position.
Mick Schumacher (PREMA Theodore Racing): "I'm really happy with my season so far and particularly with the second half. That was the period of time when the hard work that was begun far before the season paid off. It goes without saying that we now will try as hard as we can to tie in with our performances in the previous race meetings. Although we are going to contest the season finale and my chances of winning the title look bright I will focus just on the forthcoming race before making the next step. Everything else will follow automatically."
Daniel Ticktum (Motopark): "My season had ups and downs as it often is the case. But apart from a few races our pace always was good. And I also will give my very best on the final race weekend of the season. My chances of winning the title still are alive but I think that the Prema drivers are the favourites, now. Prema have found something in the previous race meetings and therefore, I think beating them will be difficult. Nonetheless, I will try as hard as I can to win the title."
Marcus Armstrong (PREMA Theodore Racing): "My season was a rollercoaster ride. A virtually perfect day could be followed by a really difficult one. I had quite a lot of bad luck but also celebrated several successes with the team. I still have got theoretical chances of winning the FIA Formula 3 European Championship and I will give my very best and try everything to achieve this goal. And then we will have to wait and see to what championship position these efforts will take me."