F3 - Thoughts of a Champion - Dennis Hauger
Dennis Hauger discussed after claiming maiden Formula 3 championship in Sochi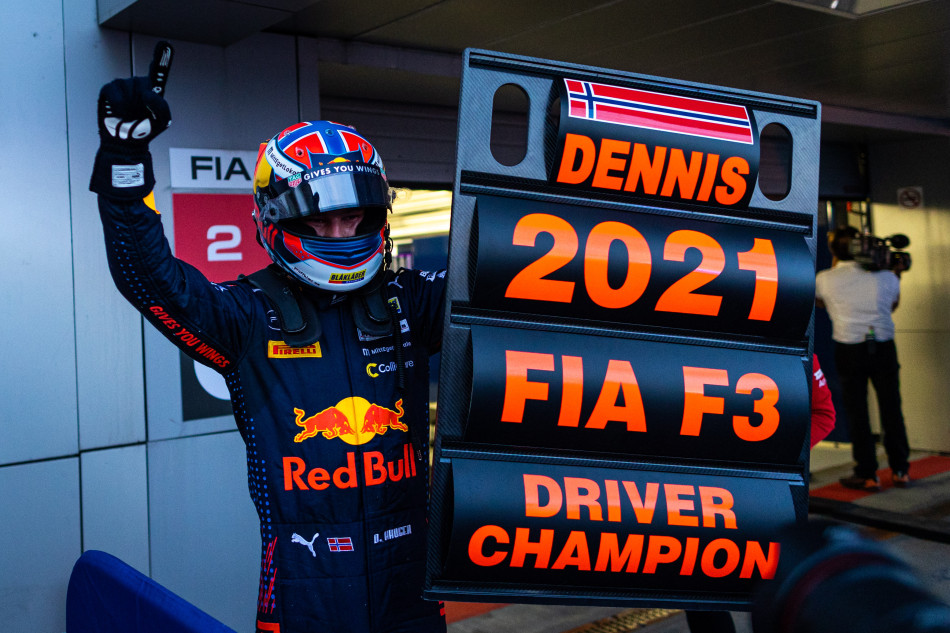 FIA Formula 3: Welcome back everybody, let's get the thoughts of a Champion. Dennis Hauger, 2021 FIA Formula 3 Champion. How does that sound?
Dennis Hauger: Sounds good to me. It was a good race and the season itself has been amazing with PREMA. We had a bit of a down weekend in Spa, but we still worked our way up and get some points there and just kept on going. It has been good, and I am really happy to finish on top for sure.
FIA Formula 3: Dennis, what does this title mean to you?
DH: It means everything. Reward for all of the work that we have done with the team all year to prep and get everything set for the races and all of the travelling - it is a lifestyle. You do it because you love it. It is enjoyable, but hard work as well. Last season wasn't the best year, it was hard mentally, so getting the Championship is unreal.
FIA Formula 3: You have had so much success this year, can you pick a few highlights for us?
DH: That first weekend in Barcelona, taking pole and victory, was special. Getting a good start gave me confidence straight away, it was a nice feeling and a good way to start the season. Also at the Red Bull ring, coming from P12 to P1 was really cool and great fun. There have been a few moments this season that I can take with me for sure.
FIA Formula 3: And what about second place here today?
DH: It is definitely the best feeling that I have gotten from being second. It was a good race, and I was close to P1 in the end.
FIA Formula 3: You mentioned Spa a few moments ago. We have discussed some of the highlights, but has there been a disappointment? Is it Spa, or is there anything else that you would pick out that maybe didn't go quite as well for you?
DH: Race 2 in Barcelona, for example, where we DNF'd. That wasn't the best. There were good points that we could have gained there, but I think that I learned quite a bit and have carried that with me during the rest of the season. That consistency has been the key this season. So although there have been a few mistakes, you learn from them.
FIA Formula 3: At what point in the season did you start to believe that you could really win this?
DH: We have been leading the whole season, I felt confident straight away after Round 1 and this was the goal, it's what we were aiming for the whole season. Obviously, you have a few races or a weekend that doesn't go as well and you really have to work with the team to regain that momentum. I think that is what we have been doing well compared to some of the others. Keeping that consistency all year long.
FIA Formula 3: Dennis, you have driven beautifully all year long, but let us have a word for your team now, PREMA and the job that they have done for you this year.
DH: We had a test in pre-season and a lot of drivers wanted to get a seat, but we had a good connection straight away and we worked well together. I have been staying in Italy a lot with the team, working and prepping everything. It has been one of the most fun years that I have had, as well as the hardest. I have enjoyed it a lot for sure.
FIA Formula 3: And please give us a few thoughts on your closest rivals this year as well?
DH: Me and Jack have been the closest in the Championship. He has been really quick at times but then struggled more other times. I think that is where being consistent has gained us. It has been tough, and whenever we haven't had the best of weekends, he has had a good one. He really had to keep building things up all season. I have had good fights all year long with several drivers, it has been great fun.
FIA Formula 3: Who else would you pick out, apart from jack?
DH: There is not a particular driver because, with the reverse grids, you are always fighting against a few different people. Victor (Martins), for example, we had quite a few great fights this year, like in Zandvoort. He has done a really good job as a rookie. There are several people that I could bring up, but at the end of the day, I have just been focusing on what I have been doing.
FIA Formula 3: I know that this is all very fresh, but what does the future hold for you now?
DH: The natural step after winning in F3 would be F2, but there are a few things that have to come together before that. We will see after this weekend, we will keep working on it and we will see.
FIA Formula 3: Final one from me. There is a bit of racing to still be done in Sochi this weekend, but how are you going to celebrate this title success?
DH: I wish that I could say that I am staying in Russia, but I am actually going to Italy with the team. We have a charter flight. But I will definitely be going home to celebrate with the family and the boys back home. I will enjoy a bit of time after this, but first, we have got two more races to go, and we want to get the Teams' Championship. We will keep pushing.