This page contains archived information and may not display perfectly
F3 - Q&A: Joel Eriksson on 2016 so far, and the up-coming Macau FIA Formula 3 World Cup
2016 FIA Formula 3 European Championship Rookie of the Year, Sweden's Joel Eriksson looks back on a successful campaign and prepares for his first time at the Macau Grand Prix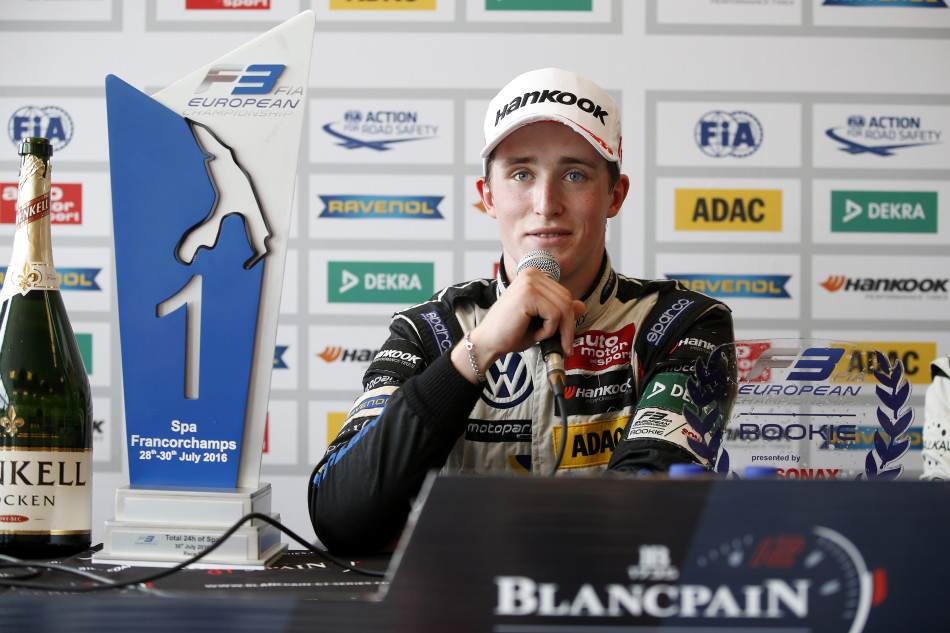 The FIA Formula 3 European Championship may have come to an end, but there is still one major challenge left to face for Joel Eriksson in 2016. With the FIA F3 World Cup coming up next week on the streets of Macau, China, the Swede takes some time out to look back at the season behind - and discuss his preparations for junior motorsport's blue-riband race

Which one race this year are you the most pleased about in terms of your own performance?
 
JE: I have to say the final race of the weekend in Spa, in which I took my first F3 win. I got a good start and grabbed the lead, and I then managed to defend it on the long straight - which is really difficult to do because of the slipstreaming effect. After that, it was all about controlling that race from the front and driving within my limits. I was really pleased about that because it was close to perfect. I'm also happy with Norisring Race 1, where I chased down Lance Stroll (who was recently announced as a Williams Formula 1 driver for 2017) and overtook him at Turn 2 to take the lead. I was leading for half the race and felt in good control until I was hit from behind and was forced to retire.
 
Which is the best lap you've driven this season?
 
JE: It has to be my two fastest laps in Qualifying 2 at Hockenheim when I claimed pole for the final race. Those were two really good laps.
 
It didn't take long for you to gain a reputation as a bold overtaker. Where does that commitment come from?

JE: It's a natural thing, I think. If I see a gap, I'll go for it. At this level, you have to show people that you're not going to back down, and I managed to get that message across quite early. Fair but tough racing is something I've always enjoyed. 
 
Was there any move you had to plan extra carefully, one that you're particularly pleased with?
 
JE: I did one around the outside of (Ryan) Tveter at the first corner in Pau that was pretty special. I had to think about that one for a while as there isn't a lot of room at that track.
What do you think is the key to becoming a successful Formula 3 driver?

JE: That's a difficult question. You have to make the most of every testing opportunity. That, and listening to your engineer and people around you.

The F3 field is highly competitive, featuring some of the most promising young drivers in the world. Is there any rival you've perhaps come a little bit closer to this year, or are you all just basically lone wolfs?
 
JE: At the end of the day we are all racing individually and spend our time trying to beat each other, but of course you can have some fun along the way. I've been close with my team-mates this year, which is not very strange given the amount of time we spend together. Looking outside Motopark, I have had a few chats with Lance towards the end of the season as I've quite often chased him in the races and so on. We've been talking quite a bit over the last few races and it's always been fair racing on the track with him. It's cool that he'll be in Formula 1 next year.
 
What was your best moment so far in 2016?
 
JE: The victories at Spa and the Masters of F3. Without a doubt.
 
When were you the most disappointed?
 
JE: Race 1 at Norisring, after I got taken out. Another driver lost it under braking and crashed into me. I was on course for my first win in F3 at the time and I felt so much in control. That was a tough moment!
 
You can choose one: which is the most difficult corner you've encountered this year?
 
JE: I think that's probably Turn 3 at Pau, a very tight hairpin. If you get it wrong, there's a risk you can't even get around it. Slow corners are often underestimated. You can lose a lot of time in them.
 
This year, you also joined the BMW Motorsport Junior Programme. What has that meant to you?
 
JE: It has meant a whole lot of new experiences. I've been given time in the DTM Race Taxi (used to drive guests around the track at DTM events), which is close to the real car, so that's been great. I've also had insight into the DTM team, getting to know the people involved and learning how a manufacturer squad operates. I'm grateful for the opportunity BMW have given me.
You walked into Formula 3 and won the rookie title, ending up as top Motopark driver in the process on your way to fifth in the overall standings. That's a really strong first year. How do you feel you've evolved this season? 
 
JE: Above all, I think I made some steps in qualifying. I've been able to get more out of the tyres towards the end of the season, and I find it really positive that my best qualifying result came in the final session at Hockenheim. You gradually improve little things here and there, but for me it's mainly been about sharpening my qualifying performance.
 
You've now got the FIA F3 World Cup in Macau waiting around the corner. It will be your first acquaintance with one of the most difficult circuits in the world, laid out on the streets inside the city and lined with walls. What do you make of that challenge?
 
JE: It will be the greatest challenge of my career so far, I fully understand that. I really can't wait to get there. At the moment I'm just pleased to be a part of it. It's a mighty race and after a year in F3, you realise what kind of status it has in these circles. Everyone's been talking about it for months!
 
Since the FIA F3 European Championship finale, you've all been travelling around Europe conducting Macau testing. What kind of work does that comprise, and what are you looking for?
 
JE: It's about finding a set up that will work when we get to that very specific track. Macau is a compromise between speed on the big straight in sector one and grip in the technical bit up in the mountain. We try to find that compromise in testing to make the car as fast as possible over one lap, and a full race. You need confidence between those walls, so it's important to have tried the set-up before the race.
Have you had time to run the new Pirelli tyres that will be used in Macau this year? 
 
JE: Yes, to a certain extent. Unfortunately we had a lot of rain in testing, but yes, we did a few laps on them.
 
What has the team said about Macau and what to expect?
 
JE: That I shouldn't make any mistakes, because that is likely to keep them busy for a while…

There are some extremely experienced drivers on the entry list this year, including a number of DTM guys and three previous Macau winners. Have you set yourself a target as of yet?
 
JE: No. We have to take this one as it comes, and I'm preparing as well as I can for it. I know that the European Championship performance, and winning the Masters, probably raises expectations, but this is something a little bit different. It's the most difficult track in F3, and possibly in all of racing, and they say it takes a lot of laps to master it. That's the kind of experience many of the other guys have, but we'll see. I will do my best to give them a tough time!
 
Finally; who will win the F1 title? Lewis Hamilton or Nico Rosberg?
 
JE: I hope Nico Rosberg does. It would be refreshing with a new champion and Rosberg has worked long and hard for it. I think he deserves it this year.