This page contains archived information and may not display perfectly
F3 - Nick Cassidy scores his maiden FIA Formula 3 European Championship race win
Nick Cassidy (Prema Powerteam) has pulled it off and finally scored his maiden race win in the FIA Formula 3 European Championship.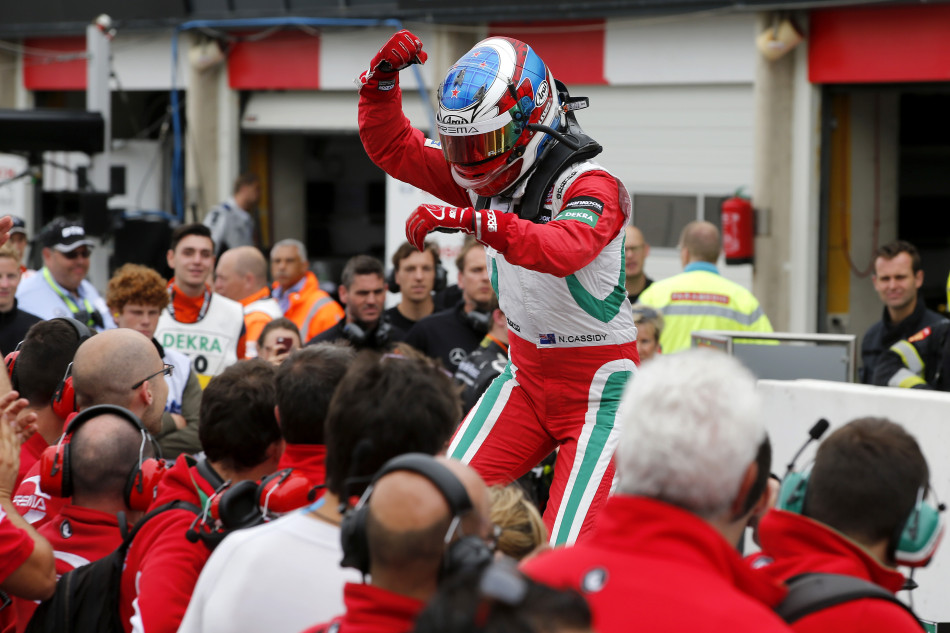 At the start, the New Zealander pipped his rivals and after 23 laps, he took the chequered flag in first place. Maximilian Günther (Prema Powerteam) finished second from Callum Ilott (Van Amersfoort Racing), who had started from pole position into the 17th race of the season. In the drivers' standings, Lance Stroll (Prema Powerteam) remains in the lead, although the Canadian retired from the race at the 4.307 kilometres long Circuit Park Zandvoort. 
At the start, Callum Ilott was unable to benefit from the advantage of his pole position and had to let Nick Cassidy pull away. After the first corner, he lost another place to Maximilian Günther and dropped back to third place. Initially, Günther and Ilott remained close to race leader Cassidy, but not close enough to mount an attack. In fourth place, Anthoine Hubert (Van Amersfoort Racing) was unable to follow the trio up front at an early stage already, but didn't have any danger from Alessio Lorandi (Carlin), who was behind him.
At the circuit in the dunes on the North Sea coast, where it is notoriously difficult to make up positions in a Formula 3 car, there were hardly any overtaking manoeuvres. Thus, Cassidy eventually was first across the finish line, followed by Günther, Ilott, Hubert as the best-placed rookie, Alessio Lorandi (Carlin), a trio of rookie drivers with Ralf Aron (Prema Powerteam), David Beckmann (kfzteile24 Mücke Motorsport) and Ben Barnicoat (HitechGP) as well as George Russell (HitechGP). Nikita Mazepin (HitechGP), who finished in tenth place, was given a five seconds' time penalty as his car wasn't correctly placed in the starting grid box prior to the race. That promoted Joel Eriksson (Motopark) to tenth place. The Russian rookie, who shone behind the wheel of a Force India Formula 1 car in testing at Silverstone earlier this week, was classified in 15th place.
Nick Cassidy (Prema Powerteam): "Taking victory in the FIA Formula 3 European Championship is a really good feeling, I am overjoyed. This victory is for my team and for all those who are supporting me. So far, things haven't always been going trouble-free for me this season, which was down to factors beyond my control and also beyond control of the team. Today, I already knew prior to the start that the first corner would probably be my only chance to overtake Callum, who was ahead of me on the grid. After that, my race wasn't easy either, because Maximilian was quite quick behind me. Eventually, it was enough and I am really happy."
Maximilian Günther (Prema Powerteam): "My start was good and at Zandvoort, that usually is the key to success. Then, I tried to put Nick under pressure, but it wasn't enough. Nevertheless, I am happy, because with fourth and second place in the races held at Zandvoort so far this weekend, I have shown a consistent performance. And I think that consistency is the most important thing for any driver wanting to play a role in the battle for the FIA Formula 3 European Championship title."
Callum Ilott (Van Amersfoort Racing): "I started from pole position, so I am slightly disappointed by finishing only third. On the other hand, a podium finish never is a bad thing. My start was good, but Nick's and Maximilian's starts were even better. Thus, I already lost first place at the start of the race already."