This page contains archived information and may not display perfectly
F3 - Lando Norris is the new FIA Formula 3 European Champion
F3 – Race of Hockenheim – Race 1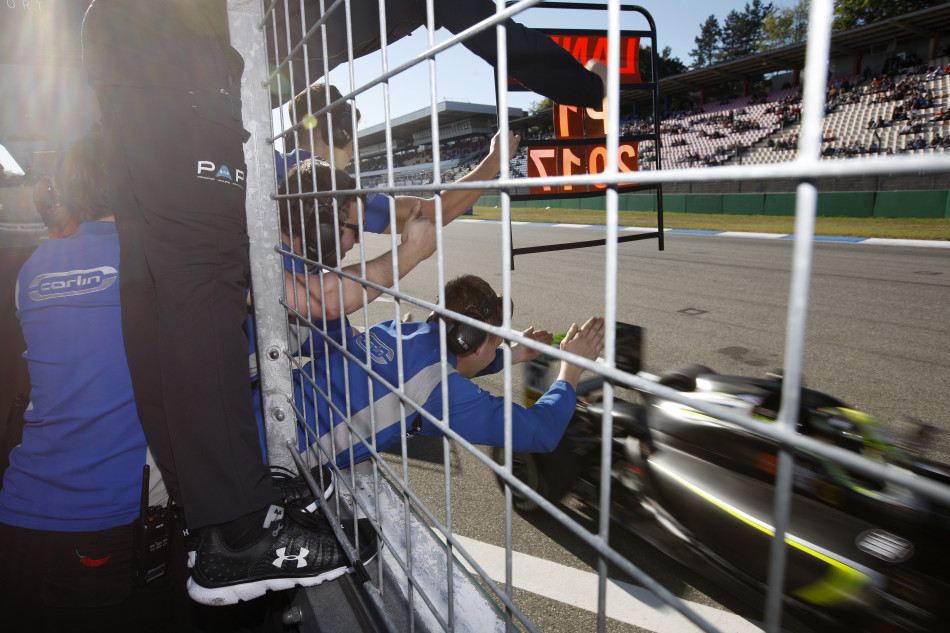 Event: 10 Hockenheim
Session: Race 1
Track: Hockenheimring / DEU
Pole position: Callum Ilott (Prema Powerteam)
Race winner: Joel Eriksson (Motopark)
Weather: sunny, 17.3 °C
Lando Norris (Carlin) has done it, the Brit is the new FIA Formula 3 European Champion. For the young talent, who is backed by the McLaren Formula 1 team, second place behind race winner Joel Eriksson (Motopark) was enough to seal the title. Moreover, Norris secured the title of the best rookie driver. Ferdinand Habsburg (Carlin) claimed the final podium slot in the 28th race of the FIA Formula 3 European Championship season that was held in bright sunshine at the 4.574 kilometres long Hockenheimring in Germany.
Callum Ilott (Prema Powerteam) started from pole position and initially led the race, but lost his position already on the run to the hairpin when Joel Eriksson successfully attacked him. Ferdinand Habsburg returned from the opening lap in second place, followed by Lando Norris, Callum Ilott, Jehan Daruvala (Carlin) and Pedro Piquet (Van Amersfoort Racing). On lap seven, Lando Norris attacked his team-mate Habsburg, worked his way past the Austrian and then was able to pull a gap from Habsburg. However, he was unable to attack race leader Eriksson, so that the Motopark driver brought an undisputed victory home. Lando Norris took the flag in second place, which was enough to seal the FIA Formula 3 European Championship title early.
Behind Habsburg, Callum Ilott finished fourth at the Formula 1 track of Hockenheim, followed by Jehan Daruvala, Nikita Mazepin (Hitech Grand Prix), Tadasuke Makino (Hitech Grand Prix) and Maximilian Günther (Prema Powerteam). The German, who was the last remaining rival for Lando Norris in the battle for the title prior to the race, only started from twelfth place and eventually had to make do with tenth position. Because Joel Eriksson, one of Günther's opponents in the battle for runner-up position in the championship, scored 25 points for his win while Günther only had one point for tenth, the Swede moved ahead of the German and is now second in the drivers' standings.
Joel Eriksson (Motopark): "My race was really good. Admittedly, my start was worse than Callum's but I was able to slot in ahead of Lando. On the opening lap, I had a good slipstream in the run to the hairpin and I overtook Callum on the outside. Then, I concentrated on pulling a gap and maintaining it. Now, I am second in the FIA Formula 3 European Championship drivers' standings and I will do everything to ensure that I will be there at the end of the season as well."
Lando Norris (Carlin): "Of course, I am happy that I am now the FIA Formula 3 European Champion, even though I wanted to do it at Spielberg already. Prior to the season, my team and I didn't expect to win the title, but we worked hard and this is the well-deserved reward. However, my rivals, first and foremost Maximilian Günther, also made things pretty difficult for me. This title probably is the most important one in my career so far. In this race, my start wasn't really good, so I dropped back to third. When I then wanted to overtake Callum, we slightly tangled, allowing Ferdinand to get past the two of us into second place. When he made a mistake later on, I was able to overtake him again. Against Joel, I didn't have a chance anymore, our pace simply was too similar."
Ferdinand Habsburg (Carlin): "My start was good and so was the opening lap. In front of me, Callum and Lando were battling. I assumed that this could provide me with an opportunity to gain a place and I positioned myself accordingly. And it was exactly like that, so I was second after one lap. Later, Lando overtook me again, but I was able to bring third place home."