This page contains archived information and may not display perfectly
F1 - Vettel takes crucial pole in Mexico ahead of Verstappen and Hamilton
F1 - 2017 Mexican Grand Prix - Qualifying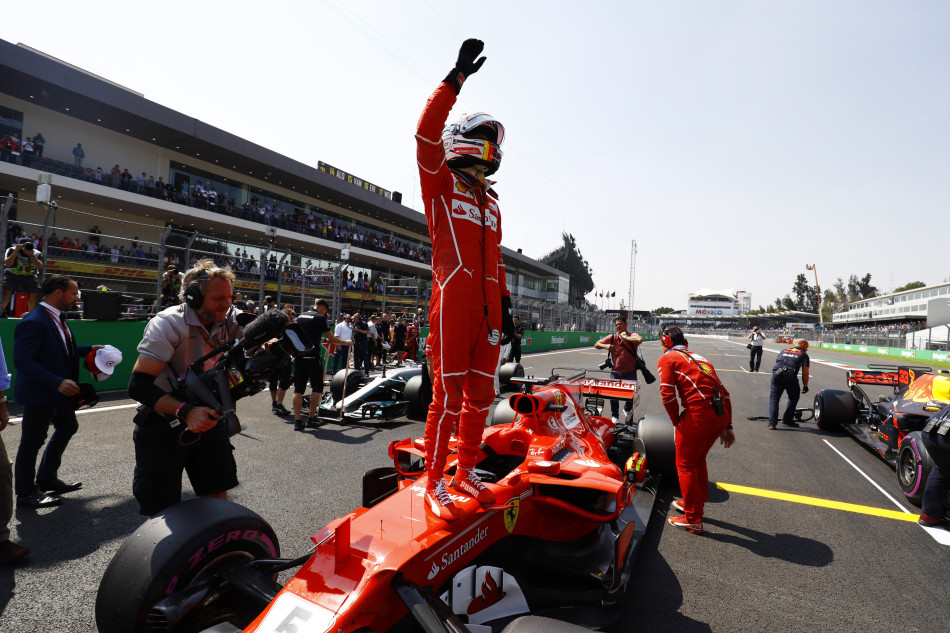 Sebastian Vettel kept his slim championship hopes alive by taking a superb 50th career pole position in qualifying for the Mexican Grand Prix ahead of Red Bull Racing's Max Verstappen and championship leader Lewis Hamilton.
Vettel must win tomorrow's race and hope that things go wrong for Hamilton in the race, but should Hamilton finish fifth or better, even victory for Vettel will not be enough to prevent the Briton taking a fourth career title tomorrow.
Hamilton set the pace in Q1 with a lap of 1:17.518 that put him six hundredths of a second clear of team-mate Valtteri Bottas. Both Mercedes set their times on ultrasoft tyres while behind Verstappen slotted into third on supersofts. Vettel also opted for the red-banded Pirellis to take fourth place ahead of McLaren's Fernando Alonso and Force India's Sergio Perez. The only other drivers to book Q2 places on supersoft tyres were seventh-placed Kimi Räikkönen in the second Ferrari and Daniel Ricciardo in the second Red Bull in P8.
At the lower end of the table Sauber's Marcus Ericsson was the first man eliminated, the Swede missing out on a Q2 berth by just under two tenths of a second to Williams' Lance Stroll. Behind Ericsson, team-mate Pascal Wehrlein finished 17th ahead of the Haas cars of Kevin Magnussen and 19th-placed Romain Grosjean. Toro Rosso's Pierre Gasly failed to set a lap during the session, as his team were unable to fix an engine issue encountered in FP3 in time for qualifying.
After aborting his first lap in Q2, Hamilton then set the pace for the majority of the session with a time of 1:17.035. That put him two hundredths of a second ahead of Vettel with Bottas third.
Toro Rosso's Brendon Hartley then ground to a halt in Turn 6, reporting a loss of power, and the yellow flags came out. Behind him Verstappen has just set a session-best first sector time but had to abandon the lap.
It didn't disadvantage the Red Bull driver, however, and on the next lap he blasted past Hamilton's time, setting a lap of 1:16.524 to top the timesheet by more than half a second.
Vettel leapfrogged Hamilton to claim P2 at the end of the segment, with the German closing the gap to Verstappen to just over three tenths of a second. Hamilton took third ahead of Bottas, Räikkönen and Ricciardo. Also through at the end of Q2 were Toro Rosso's Carlos Sainz in seventh place, team-mate Nico Hulkenberg, and the Force Indias of Esteban Ocon and Sergio Pérez.
Out though went Williams Felipe Massa in 11th place, the Brazilian finishing ahead of team-mate Lance Stroll, the unfortunate Hartley and the McLarens of Alonso and Vandoorne.
Verstappen was again in command in the first runs of Q3. After setting a quick time in the first sector of his first flyer, he then abandoned the lap in Q2, winding up for another attack.
In the meantime, Hamilton took P1 before being beaten by Vettel who set a time of 1:16.833. Verstappen, though, was flying again and the Red Bull man soon jumped to the top of the order with a time just two thousandths off his Q2 best. With Hamilton third, Ricciardo slotted into fourth place ahead of Ocon, Sainz, Perez, Räikkönen, Hulkenberg and Bottas who suffered a large lock-up on his first run.
It was Vettel, though, who dug deep to find the time necessary to claim pole in the final runs. As Hamilton and Verstappen made small errors that prevented any improvement, the German put in a superb lap to brush past Verstappen's first-run time by eight hundredths of a second.
Verstappen held second, for the third time in his career, but the Dutch driver was placed under investigation for possibly blocking Bottas in the opening runs.
Bottas then finished fourth ahead of Räikkönen and Ocon. Ricciardo, in the other Red Bull, also failed to improve in the final runs and finished seventh ahead of Hulkenberg, Sainz and Perez.

2017 Mexican Grand Prix – Qualifying
1 Sebastian Vettel Ferrari 1:16.488
2 Max Verstappen Red Bull 1:16.574 0.086
3 Lewis Hamilton Mercedes 1:16.934 0.446
4 Valtteri Bottas Mercedes 1:16.958 0.470
5 Kimi Raikkonen Ferrari 1:17.238 0.750
6 Esteban Ocon Force India 1:17.437 0.949
7 Daniel Ricciardo Red Bull 1:17.447 0.959
8 Nico Hulkenberg Renault 1:17.466 0.978
9 Carlos Sainz Jr. Renault 1:17.794 1.306
10 Sergio Perez Force India 1:17.807 1.319
11 Felipe Massa Williams 1:18.099 1.611
12 Lance Stroll Williams 1:19.159 2.671
13 Brendon Hartley Toro Rosso
14 Marcus Ericsson Sauber 1:19.176 2.688
15 Pascal Wehrlein Sauber 1:19.333 2.845
16 Kevin Magnussen Haas 1:19.443 2.955
17 Romain Grosjean Haas 1:19.473 2.985
18 Fernando Alonso McLaren Honda 
19 Pierre Gasly Toro Rosso Renault 
20 Stoffel Vandoorne McLaren Honda