This page contains archived information and may not display perfectly
F1 - Vettel sets blistering pace as Ricciardo hits trouble, Di Resta to race in place of unwell Massa
F1 - 2017 Hungarian Grand Prix - FP3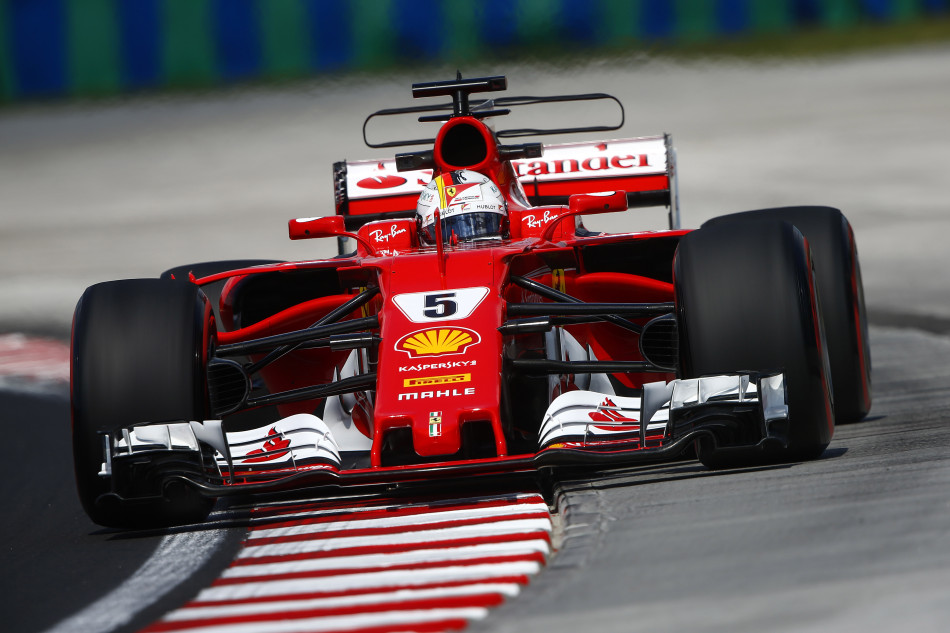 Sebastian Vettel set the fastest ever lap of the Hungaroring in a Formula One car to top the final practice session ahead of the Hungarian Grand Prix. There was trouble for Red Bull Racing's Daniel Ricciardo, however, with a hydraulic problem halting the Australian's progress shortly after the halfway point in the session.
Vettel was quick from the off, rapidly getting into his stride in the first half of the session by recording a time of 1:17.790 on the supersoft Pirelli compound. That put him ahead of team-mate Kimi Raikkonen and Red Bull Racing's Max Verstappen.
Mercedes, meanwhile, spent the opening part of the hour focusing on soft run work, though when Valtteri Bottas bolted on supersofts with around 20 minutes left in the session he quickly moved up the order, dislodging Verstappen from third.
Just before that though, Ricciardo had run into trouble. After an installation lap in the opening minutes of the session, the Australian retreated to Red Bull Racing's garage and waited out the first half of the hour.
However, when he finally appeared, his time on track was short. His first lap on supersofts vaulted him to fourth place and then he moved to third following a slight improvement to 1:18.714 that left him 0.8s behind Vettel's early supersofty time.
However, within moment Ricciardo, who had set the pace in both Friday practice sessions, was slowing to a halt at Turn 9. His team later reported a suspected hydraulic problem as he sat out the remainder of the session.
At the top of the order Vettel was on a march. Twenty minutes from the end of the session he wound up the pace and powered to a blistering lap of 1:17.017, over 1.4 seconds quicker than the previous track record, set by Rubens Barrichello in 2004.
Raikkonen closed on his Ferrari team-mate but he could only find enough pace to end to the session 0.475 behind Vettel.
Mercedes, though, struggled. Bottas endeds the session in third place, while Hamilton was eventually pushed out to fifth as Verstappen improved in steady increments in the closing stages. The Dutchman finished with a time of 1:18.194, 1.177s behind Vettel but 0.240 ahead of Hamilton.  
Behind the top five, McLaren's weekend continues to shape up well, with Stoffel Vandoorne putting in a good lap to take sixth place, 1.621s off the pace. Team-mate Fernando Alonso finished the session in ninth place.
Seventh place went to Renault's Nico Hulkenberg, though the German is set to take a gearbox-related grid penalty for the race tomorrow. With Ricciardo eighth ahead of Alonso, tenth place went to Renault's Jolyon Palmer, who enjoyed a good session after two incidents on Friday set his preparations back.
Elsewhere, Williams' Felipe Massa ended his session early after feeling unwell. His team later announced that Massa, who had visited hospital for checks on Friday, will sit out the remainder of the weekend, with Paul Di Resta taking the Brazilian's place. The Scot last raced in F1 for Force India at the 2013 Brazilian Grand Prix.

2017 Hungarian Grand Prix – Free Practice 3
1 Sebastian Vettel Ferrari 17 1:17.017
2 Kimi Raikkonen Ferrari 16 1:17.492 0.475
3 Valtteri Bottas Mercedes 15 1:17.914 0.897
4 Max Verstappen Red Bull Racing 25 1:18.194 1.177
5 Lewis Hamilton Mercedes 14 1:18.434 1.417
6 Stoffel Vandoorne McLaren 18 1:18.638 1.621
7 Nico Hulkenberg Renault 20 1:18.699 1.682
8 Daniel Ricciardo Red Bull Racing 7 1:18.714 1.697
9 Fernando Alonso McLaren 14 1:18.884 1.867
10 Jolyon Palmer Renault 19 1:18.956 1.939
11 Carlos Sainz Jr. Toro Rosso 22 1:19.300 2.283
12 Esteban Ocon Force India 22 1:19.352 2.335
13 Daniil Kvyat Toro Rosso 23 1:19.455 2.438
14 Sergio Perez Force India 22 1:19.609 2.592
15 Romain Grosjean Haas 21 1:19.622 2.605
16 Kevin Magnussen Haas 19 1:19.895 2.878
17 Felipe Massa Williams 12 1:20.255 3.238
18 Lance Stroll Williams 24 1:20.379 3.362
19 Pascal Wehrlein Sauber 24 1:20.446 3.429
20 Marcus Ericsson Sauber 19 1:20.748 3.731