This page contains archived information and may not display perfectly
F1 - Vettel ramps up the pace to top FP3 in Melbourne as Stroll crashes out
F1 - 2017 Australian Grand Prix - FP3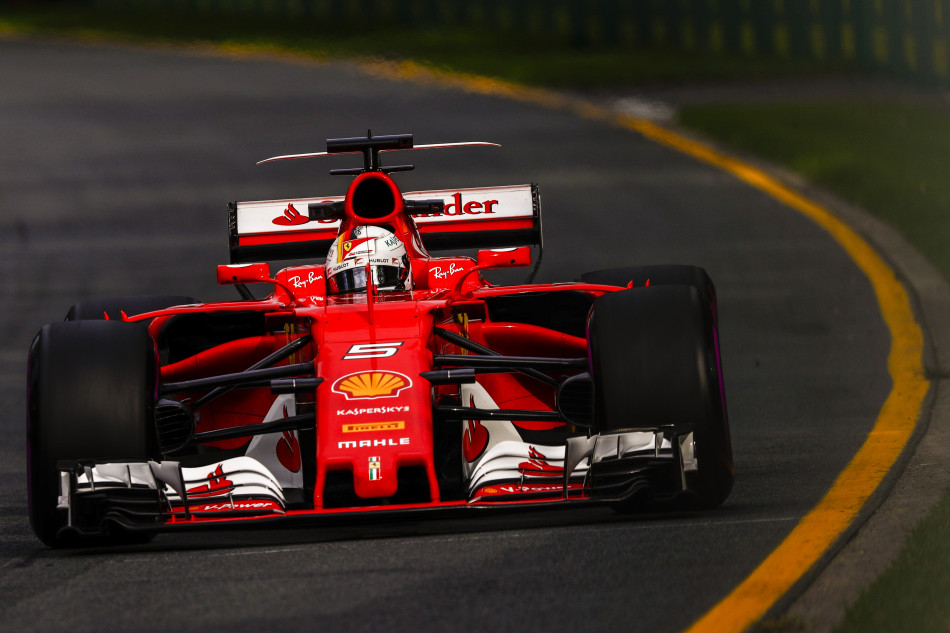 Sebastian Vettel set the fastest ever lap of Albert Park to top the FP3 timesheet in Melbourne, ahead of Mercedes' Valtteri Bottas and Lewis Hamilton. The session ended early when Lance Stroll crashed out with ten minutes left on the clock.
After a slow start to the weekend, Ferrari ramped up the pace in final practice, with Vettel and team-mate Kimi Räikkönen making the running from early on. The German set the early pace but with 25 minutes remaining Räikkönen vaulted to the top of the order. His run on ultrasofts yielded a time of 1:23.988s. It was a good recovery from the Finn who had earlier suffered a puncture and a brief on-track stoppage when his engine cut out.
Räikkönen's lap put him just 1000th clear of Vettel, however, and when the German took on the ultrasofts he quickly bounced his team-mate from top spot with a lap of 1:23.380. The lap was 0.149s quicker than the previous unofficial fastest time around the temporary circuit, Vettel's Q3 time from 2011.
With 20 minutes left the Mercedes drivers bolted on the purple-banded ultrasofts and Bottas jumped into P2 ahead of Räikkönen with a time of 1:23.859s. Hamilton then slotted into P4, just 0.011s behind his team-mate.
Fifth place in the session was taken by Renault's Nico Hulkenberg who managed to sneak in the last ultrasoft run before the session was ended by Williams' Lance Stroll.
The Canadian rookie got out of shape through Turn 10 and lost control on the exit. The rear right wheel hit the wall and the impact swivelled the front right into the wall. The Williams eventually skittered to a halt on the approach to Turn 11.
The red flags came out and the stoppage was long enough that the decision was eventually taken not to restart the session.
That left Red Bull Racing's Daniel Ricciardo in sixth place, with the Australian finishing ahead of Haas' Romain Grosjean, the Toro Rosso pairing of Carlos Sainz and Daniil Kvyat, and in tenth place the second Haas of Kevin Magnussen.
Eleventh place went to Williams Felipe, while down in 12th was the second Red Bull of Max Verstappen. The Dutchman completed just seven laps in the session.
Sergio Perez was the first of the Force India in P13, with team-mate Esteban Ocon 16th behind the twin McLarens of Fernando Alonso and Stoffel Vandoorne.
Further back, Antonio Giovinazzi was 20th and last. The 2016 GP2 runner-up was a late replacement for Pascal Wehrlein at Sauber. The German driver was withdrawn from the rest of the weekend's sessions due fitness concerns resulting from a pre-season crash at the Race of Champions.
2017 Australian Grand Prix – Free Practice 3
1 Sebastian Vettel Ferrari 12 1:23.380 
2 Valtteri Bottas Mercedes 12 1:23.859 0.479
3 Lewis Hamilton Mercedes 12 1:23.870 0.490
4 Kimi Räikkönen Ferrari 10 1:23.988 0.608
5 Nico Hülkenberg Renault 10 1:25.063 1.683
6 Daniel Ricciardo Red Bull 15 1:25.092 1.712
7 Romain Grosjean Haas 11 1:25.581 2.201
8 Carlos Sainz Jr. Toro Rosso 11 1:25.948 2.568
9 Daniil Kvyat Toro Rosso 11 1:26.049 2.669
10 Kevin Magnussen Haas 11 1:26.138 2.758
11 Felipe Massa Williams 15 1:26.237 2.857
12 Max Verstappen Red Bull 7 1:26.269 2.889
13 Sergio Pérez Force India 12 1:26.457 3.077
14 Fernando Alonso McLaren 7 1:26.556 3.176
15 Stoffel Vandoorne McLaren 9 1:26.699 3.319
16 Esteban Ocon Force India 16 1:27.103 3.723
17 Lance Stroll Williams 12 1:27.327 3.947
18 Marcus Ericsson Sauber 10 1:27.402 4.022
19 Jolyon Palmer Renault 12 1:28.320 4.940
20 Antonio Giovinazzi Sauber 18 1:28.583 5.203