This page contains archived information and may not display perfectly
F1 - Vettel quickest in final practice for Hungarian Grand Prix
F1 - 2018 Hungarian Grand Prix - FP3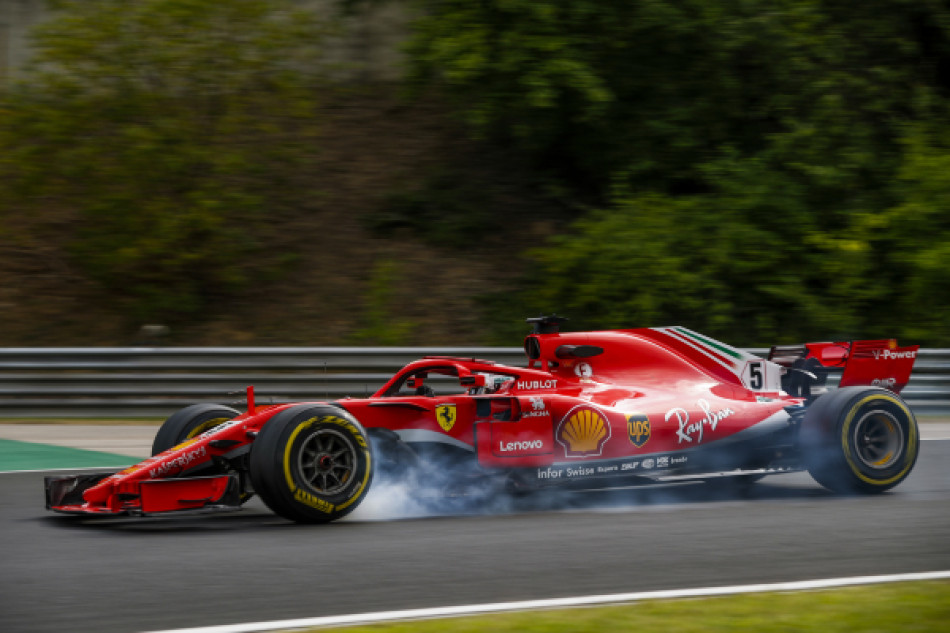 Ferrari's Sebastian Vettel edged Mercedes' Valtteri Bottas to top the final practice session for the Hungarian Grand Prix, but there were spins for both Bottas and team-mate Lewis Hamilton during an up and down session for Mercedes at the Hungaroring.
On Friday the Silver Arrows almost a second of Vettel's pace on ultrasoft tyres and while Bottas got to within a tenth of a second of the German in FP3's qualifying simulations, both Mercedes drivers struggled for grip, with Hamilton at one stage suggesting that he couldn't compete with Vettel as he didn't have the rear grip.
The team's struggles were demonstrated late in the session when Hamilton had a lurid spin at the Turn 6 chicane, just as Bottas was finding enough pace to briefly top the order ahead of Vettel with a time of 1:16.229.
The Ferrari driver soon moved back to top spot, however, eventually setting the best time of the session with a lap of 1:16.170.
Bottas also had an incident of his own when he lost control in the chicane and slid off track. He slapped the barrier with the left side of his car but the impact was minor with no damage sustained. He was able to return to the pits and later rejoined the action.
Kimi Räikkönen took third place in the session for Ferrari, though the Finn ended a trouble free session two tenths of a second adrift of his title-contending team-mate.
Next came Hamilton, who ended the session 0.579 behind Vettel and the defending champion was followed by the Red Bulls of Daniel Ricciardo and Max Verstappen.
Ricciardo had topped Friday morning's session, with Verstappen second in the second session, but the Red Bull drivers slipped back in final practice. Ricciardo improved late on to take P5 with a time of 1:16.803 that left him just over six tenths behind Vettel.
Verstappen spent much of the session on soft tyres before moving to ultrasofts for a qualifying simulation and the switch yielded a best time of 1:16.946. He finished 0.143s behind his team-mate and 0.776 off top spot.
Best of the rest honours went to Renault, with Carlos seventh with a time of 1:17.754 and Nico Hulkenberg eighth, though the German was alsmot two seconds slower than compatriot Vettel.
Ninth place in the session went to Haas' Romain Grosjean and the top 10 order was rounded out Toro Rosso's Pierre Gasly who was the last man within two seconds of the top sport with a time of 1:18.139.

2018 Formula 1 Hungarian Grand Prix – Free Practice 3
1 Sebastian Vettel Ferrari 16 1:16.170
2 Valtteri Bottas Mercedes 17 1:16.229 0.059
3 Kimi Raikkonen Ferrari 16 1:16.373 0.203
4 Lewis Hamilton Mercedes 17 1:16.749 0.579
5 Daniel Ricciardo Red Bull Racing 11 1:16.803 0.633
6 Max Verstappen Red Bull Racing 14 1:16.946 0.776
7 Carlos Sainz Renault 17 1:17.754 1.584
8 Nico Hulkenberg Renault 18 1:18.083 1.913
9 Romain Grosjean Haas 19 1:18.084 1.914
10 Pierre Gasly Toro Rosso 22 1:18.139 1.969
11 Kevin Magnussen Haas 17 1:18.230 2.060
12 Brendon Hartley Toro Rosso 19 1:18.252 2.082
13 Charles Leclerc Sauber 19 1:18.376 2.206
14 Fernando Alonso McLaren 15 1:18.467 2.297
15 Esteban Ocon Force India 20 1:18.512 2.342
16 Sergey Sirotkin Williams 17 1:18.630 2.460
17 Stoffel Vandoorne McLaren 14 1:18.789 2.619
18 Marcus Ericsson Sauber 18 1:18.842 2.672
19 Sergio Perez Force India 18 1:18.962 2.792
20 Lance Stroll Williams 20 1:19.132 2.962