This page contains archived information and may not display perfectly
F1 - Vettel quickest in final practice as Ferrari move ahead
F1 - 2017 Monaco Grand Prix - FP3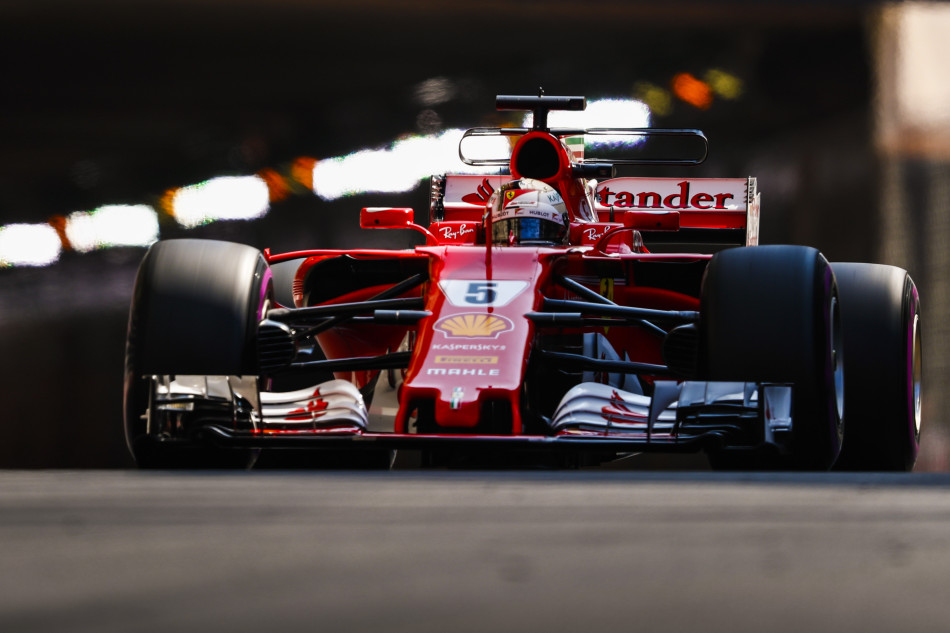 Sebastian Vettel continued to set the pace in the build up to the Monaco Grand Prix, finishing three tenths of a second clear of Ferrari team-mate Kimi Räikkönen and almost half a second clear of third placed Valtteri Bottas of Mercedes.
In yesterday's FP2 session, Mercedes went in the wrong direction on set-up and with ground to make up Ferrari again proved the class of the field. After an opening spell in which Bottas was quickest, Räikkönen swiftly took over at the top of the timesheet, with a lap of 1:13.568. He then lowered the benchmark further, slicing almost two tenths of his own P1 time.
With Vettel having set the quickest ever lap of Moanco on Friday afternoon in a time of 1:12.720, there was plenty more to come from the session and Vettel quickly began to chip away at his lap time, first dropping beneath the 1:13s bracket by just over a tenth and eventually carving a further three tenths of a second to post a session-best time of 1:12.395
Räikkönen finished the morning 0.345 behind his team-mate, with the highest placed Mercedes driver, Bottas, 0.435 off the pace.
The Mercedes cars were split by the Red Bull of Max Verstappen, whose best time of 1:12.940 was a tenth off Bottas but almost three clear of Lewis Hamilton.
Verstappen's best time was also more than four tenths agead of sixth-placed team-mate Daniel Ricciardo, who was the last driver inside a second of Vettel's P1 time. Ricciardo also had a disconcerting moment late in the session. As the chequered flag was waved the Australian was forced to pull off the circuit at high speed, using the escape road at Sainte Devote after suffering a brake problem. "BBW failed. Pedal went to the floor," he told his engineer over the radio.
Behind Ricciardo, Carlos Sainz was seventh quickest for Toro Rosso, 0.163s ahead of team-mate Daniil Kvyat in eighth. Kevin Magnussen too P9 for Haas, while Stoffel Vandoorne gave McLaren hope of a good qualifying session with P10. Team-mate Jenson Button finished the session in P12.
The session was largely trouble-free, though the Virtial Safety Car was called into action when Force India's Esteban Ocon crashed out at the Swimming Pool section.
The Frenchman clipped the guardrail on his right on entry into the section, damaging his suspension, and the impact then sent him bouncing across the following kerb and into the barriers on the exit.
2017 Monaco Grand Prix – Free Practice 3
1 Sebastian Vettel Ferrari 1:12.395s - 23
2 Kimi Raikkonen Ferrari 1:12.740s 0.345s 26
3 Valtteri Bottas Mercedes 1:12.830s 0.435s 29
4 Max Verstappen Red Bull 1:12.940s 0.545s 27
5 Lewis Hamilton Mercedes 1:13.230s 0.835s 27
6 Daniel Ricciardo Red Bull 1:13.392s 0.997s 24
7 Carlos Sainz Toro Rosso 1:13.400s 1.005s 27
8 Daniil Kvyat Toro Rosso 1:13.563s 1.168s 23
9 Kevin Magnussen Haas 1:13.596s 1.201s 21
10 Stoffel Vandoorne McLaren 1:13.805s 1.410s 21
11 Sergio Perez Force India 1:13.936s 1.541s 23
12 Jenson Button McLaren 1:13.976s 1.581s 26
13 Esteban Ocon Force India 1:14.072s 1.677s 21
14 Felipe Massa Williams 1:14.072s 1.677s 28
15 Nico Hulkenberg Renault 1:14.283s 1.888s 24
16 Romain Grosjean Haas 1:14.547s 2.152s 23
17 Lance Stroll Williams 1:14.675s 2.280s 35
18 Jolyon Palmer Renault 1:15.164s 2.769s 25
19 Pascal Wehrlein Sauber 1:15.291s 2.896s 29
20 Marcus Ericsson Sauber 1:15.863s 3.468s 26