This page contains archived information and may not display perfectly
F1 – Verstappen quickest in final practice for US GP as Leclerc hits trouble
F1 - 2019 United States Grand Prix - FP3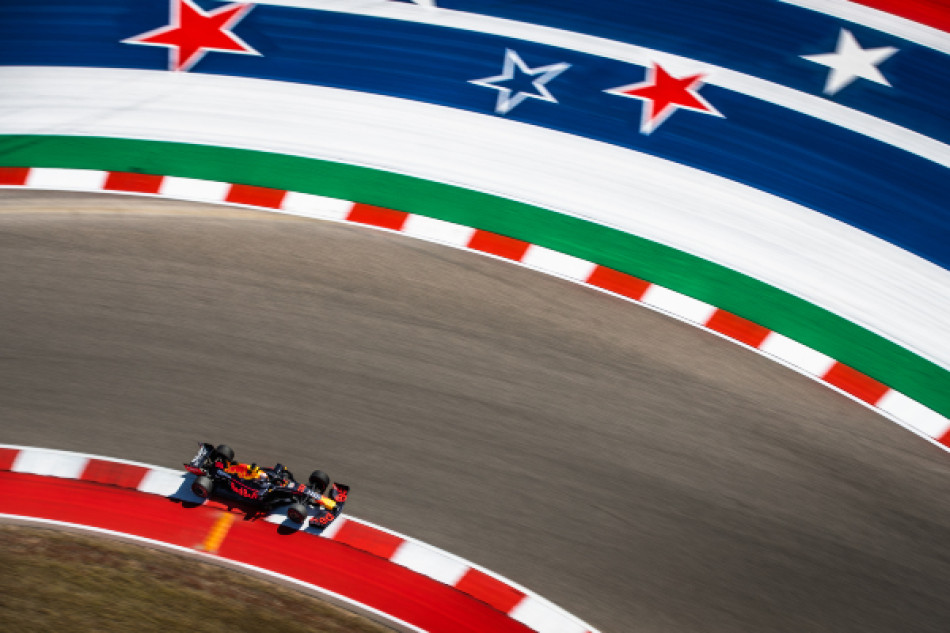 Max Verstappen topped the timesheet in final practice for the Unites States Grand Prix, beating Ferrari's Sebastian Vettel by two tenths of a second as Charles Leclerc was sidelined early in the session by what looked to be an engine problem. 
Leclerc was one of the first drivers out on track in the one-hour session, but he pulled over at Turn 19 and trundled across the grass to come to a halt with smoke rising from the back of his car. 
Verstappen set the pace in the first half of the session, with the Red Bull driver posting a time of 1:34.186 on soft tyres to sit 0.255 ahead of Vettel with a little over 20 minutes remaining in the session. Vettel might h
Ahead of the qualifying simulations third place was occupied by Mercedes' Valtteri Bottas with the Finn three tenths of a second off the pace. Team-mate Lewis Hamilton was down in P5, however, having been outpaced by Alex Albon in the second Red Bull across the opening 40 minutes. Hamilton retreated to the garage almost half a second behind Verstappen.
Bottas was the first to up the pace in the final 20 minutes and the Mercedes man took over at top of the timesheet with a lap of 1:33.904. Vettel then usurped the Finn with lap of 1:33.523. 
McLaren's Lando Norris then sprung a surprise by vaulting ahead of Bottas with a lap of 1:33.818 that would eventually be good enough for third place.
Verstappen was firmly in the groove though and he bypassed everyone to claim top spot with a lap of 1:33.305, 0.218s clear of Vettel and half a second clear of Norris. 
Bottas was left with fourth place in the session, 0.599s off the Dutchman's pace and it looked like Hamilton might be forced to settle for sixth place behind Albon as he struggled to find a comfort zone on the exceedingly bumpy surface. 
The Briton, who can wrap up his sixth title tomorrow, managed to cross the line just ahead of the chequered flag, however, and his final lap of 1:33.923, on a relatively clear track bumped him to fifth place, though he was still six tenths of a second off Verstappen's pace. 
Carlos Sainz took seventh place in the second McLaren, with last year's US GP winner Kimi Räikkönen eighth for Alfa Romeo. Pierre Gasly gave Toro Rosso hope of a good qualifying session with ninth place and the final top 10 position was taken by Renault's Daniel Ricciardo.

2019 FIA Formula One United States Grand Prix – Free Practice 3
1 Max Verstappen Red Bull/Honda 1:33.305 13 212.708
2 Sebastian Vettel Ferrari 1:33.523 0.218 17 212.213
3 Lando Norris McLaren/Renault 1:33.818 0.513 14 211.545
4 Valtteri Bottas Mercedes 1:33.904 0.599 17 211.352
5 Lewis Hamilton Mercedes 1:33.923 0.618 16 211.309
6 Alexander Albon Red Bull/Honda 1:33.983 0.678 14 211.174
7 Carlos Sainz McLaren/Renault 1:34.408 1.103 15 210.223
8 Kimi Räikkönen Alfa Romeo/Ferrari 1:34.513 1.208 18 209.990
9 Pierre Gasly Toro Rosso/Honda 1:34.517 1.212 14 209.981
10 Daniel Ricciardo Renault 1:34.774 1.469 11 209.411
11 Nico Hülkenberg Renault 1:34.784 1.479 11 209.389
12 Lance Stroll Racing Point/Mercedes 1:34.792 1.487 14 209.372
13 Romain Grosjean Haas/Ferrari 1:34.849 1.544 17 209.246
14 Daniil Kvyat Toro Rosso/Honda 1:35.129 1.824 16 208.630
15 Kevin Magnussen Haas/Ferrari 1:35.305 2.000 14 208.245
16 Antonio Giovinazzi Alfa Romeo/Ferrari 1:35.956 2.651 15 206.832
17 George Russell Williams/Mercedes 1:36.256 2.951 15 206.187
18 Robert Kubica Williams/Mercedes 1:36.628 3.323 17 205.393
19 Sergio Pérez Racing Point/Mercedes 1:38.426 5.121 22 201.641
20 Charles Leclerc Ferrari 1