F1 – Verstappen quickest ahead of Pérez and Ocon in first practice for Spanish Grand Prix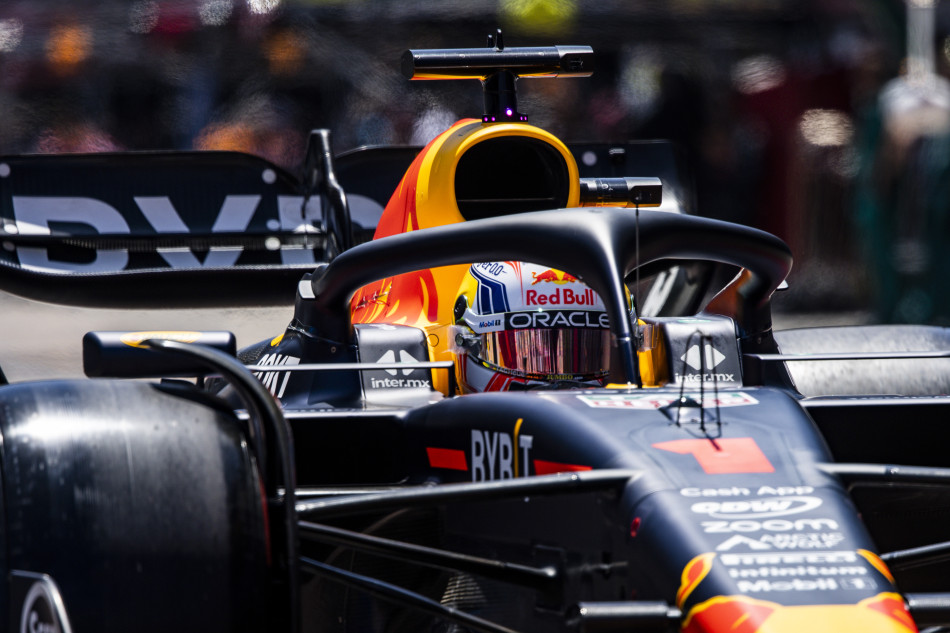 Max Verstappen set the pace in the first practice session for this weekend's 2023 FIA Formula 1 Spanish Grand Prix, beating Red Bull team-mate Sergio Pérez by almost eight tenths of a second. Monaco Grand Prix podium finisher Esteban Ocon took third place for Alpine. 
With the session being run on the latest iteration of the Circuit de Barcelona-Catalunya, without the final chicane, even lap times were expected to be significantly lower compared to last year and from early on that proved to be the case. 
Local hero Fernando Alonso was the first driver on track, much to the delights of the fans at the Barcelona track, but it was Verstappen who set the first representative time on Pirelli's C1 Hard compound tyre, posting a lap of 1:17.425, dislodging team-mate Sergio Pérez from the top of the timesheet. Verstappen then lowered the benchmark to 1:16.583 before the Red Bulls both moved to the Medium compound tyre. 
Pérez posted a 1:16.420 to return to P1 but Verstappen jumped ahead again with a 1:15.945.
Ferrari's Carlos Sainz then put his heavily revised Ferrari in third place but the Spanish driver was soon demoted by Alonso. Alpine's Pierre Gasly then split the Red Bulls by taking second a little over four tenths off Verstappen's P1 pace. 
Having worked through the harder compounds in the first half , both Red Bulls then switched to soft tyres in the second half of the session and Pérez jumped to the top of the order again, with a lap of 1:15.374s before Verstappen vaulted ahead with his best lap of 1:14.606s to go nearly 0.8s quicker than his team-mate.
Over the next 20 minutes the Ferrari drivers got closest to Verstappen's headline time but still they were a second adrift. AlpahTauri's Nycke de Vries then took third place but in the closing minutes of the session Ocon moved ahead of the Dutch driver to claim third. 
Gasly was fifth fastest in the second Alpine, while Alonso took sixth with a lap of 1:15.547. 
The Spaniard was the last man within a second of Verstappen. Haas' Kevin Magnussen finished seventh for Haas, 1.083s off the lead Red Bull while Charles Leclerc, not running updates, was the lead Ferrari ahead of Sainz. George Russell completed the top 10 for Mercedes.
2023 FIA Formula 1 Spanish Grand Prix – Free Practice 1 
1 Max Verstappen Red Bull Racing 1:14.606 32 224.716
2 Sergio Pérez Red Bull Racing 1:15.374 0.768 32 222.426
3 Esteban Ocon Alpine 1:15.418 0.812 28 222.297
4 Nyck de Vries AlphaTauri 1:15.504 0.898 27 222.043
5 Pierre Gasly Alpine 1:15.545 0.939 27 221.923
6 Fernando Alonso Aston Martin 1:15.547 0.941 24 221.917
7 Kevin Magnussen Haas 1:15.689 1.083 22 221.501
8 Charles Leclerc Ferrari 1:15.694 1.088 28 221.486
9 Carlos Sainz Ferrari 1:15.726 1.120 27 221.392
10 George Russell Mercedes 1:15.753 1.147 32 221.314
11 Lando Norris McLaren 1:15.783 1.177 25 221.226
12 Lewis Hamilton Mercedes 1:15.845 1.239 29 221.045
13 Zhou Guanyu Alfa Romeo 1:15.906 1.300 24 220.867
14 Yuki Tsunoda AlphaTauri 1:15.915 1.309 27 220.841
15 Lance Stroll Aston Martin 1:15.939 1.333 25 220.771
16 Valtteri Bottas Alfa Romeo 1:15.978 1.372 24 220.658
17 Oscar Piastri McLaren 1:16.353 1.747 26 219.574
18 Nico Hülkenberg Haas 1:16.461 1.855 28 219.264
19 Logan Sargeant Williams 1:16.506 1.900 30 219.135
20 Alexander Albon Williams 1:16.630 2.024 28 218.781