This page contains archived information and may not display perfectly
F1 - Verstappen edges Hamilton and Vettel in tight final practice in Mexico
F1 - 2017 Mexican Grand Prix - Free Practice 3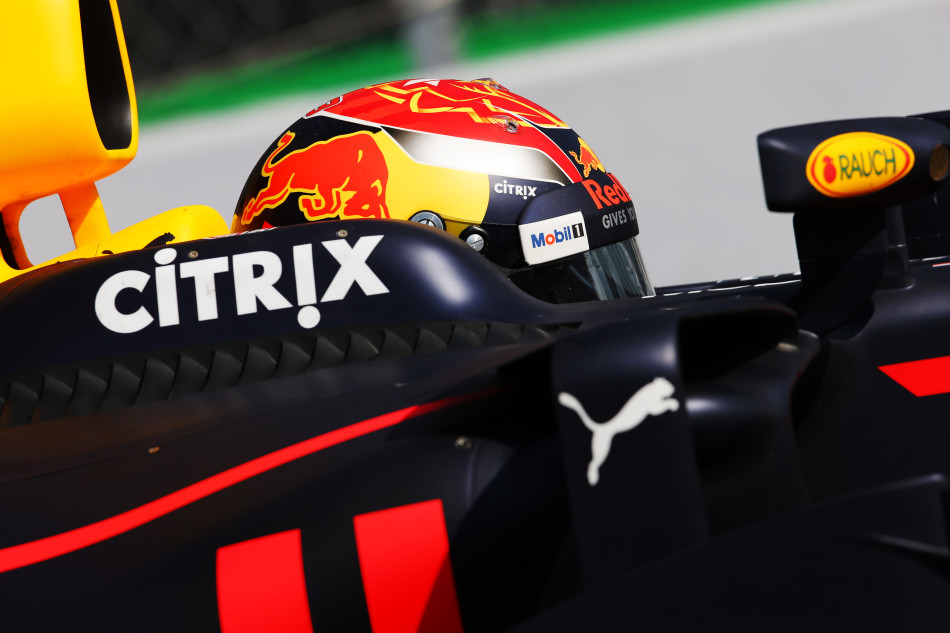 Max Verstappen edged championship leader Lewis Hamilton by less than a tenth of a second, with Sebastian Vettel just a few hundredths of a second further back in a tight final session in Mexico in which the top six drivers were cover by just 0.404s.
It was Mercedes' Valtteri Bottas who led in the way in the opening half of the hour-long session, with the Finn setting a time of 1:17.963 on ultrasoft tyres after 20 minutes to seize P1 from Hamilton. Bottas then improved to 1:17.681 to eventually head Hamilton by almost three tenths of a second.
Behind them Red Bull and Ferrari opted for supersoft tyres in the opening part of the session, with Max Verstappen taking third place on the red-banded tyres 0.490s behind Bottas. Team-mate Daniel Ricciardo was just over two tenths of a second further back in fourth with Vettel fifth and Kimi Räikkonen, who had put in a long stint on supersofts, back in P10.
When the field switch to qualifying runs on the ultrasoft tyre, Bottas was the first to improve, setting a time of 1:17.496. He was quickly eclipsed by Vettel, however, with German taking top spot with a lap of 1:17.230.
It was Verstappen, though, who made the most of his performance runs. The Red Bull driver jumped to P1 with a lap of 1:17.223 that put 0.007 ahead of Vettel.
The Dutchman had set purple times in the first two sectors but a scrappy final sector cost him time and on his next hot lap he repeated the error, locking up in the hairpin in the final sector. He still managed to improve by a tenth of a second to hold P1 with a lap of 1:17.113.
Hamilton, meanwhile, had not found any improvement on his first flying laps on fresh ultrasofts. The title leader reported power problems in Turn 7, which his team said would require "a calibration change". Hamilton eventually found an improvement and jumped to P2. 0.075s behind Verstappen, with Vettel third.
Bottas pipped Ricciardo for fourth place in the session, with the Finn finishing 0.170 behind Verstappen. Ricciardo finished fifth, just under seven hundredths of a second further back. Räikkönen was sixth, 0.404s off the pace.
Behind the second Ferrari there was a half-second gap back to seventh-placed local hero Sergio Pérez. Force India teammate Esteban Ocon was eighth ahead of the twin Renaults of Carlos Sainz and Nico Hulkenberg.
Brendon Hartley put in an impressive performance to finish the session in 11th place but there was frustration for Toro Rosso team-mate Pierre Gasly, who stopped on track early in the session with an engine problem.

2017 Mexican Grand Prix – Free Practice 3
1 Max Verstappen Red Bull 20 1:17.113
2 Lewis Hamilton Mercedes 23 1:17.188 0.075
3 Sebastian Vettel Ferrari 21 1:17.230 0.117
4 Valtteri Bottas Mercedes 18 1:17.283 0.170
5 Daniel Ricciardo Red Bull 10 1:17.361 0.248
6 Kimi Raikkonen Ferrari 27 1:17.517 0.404
7 Sergio Perez Force India 20 1:18.040 0.927
8 Esteban Ocon Force India 18 1:18.165 1.052
9 Carlos Sainz Jr. Renault 21 1:18.208 1.095
10 Nico Hulkenberg Renault 21 1:18.380 1.267
11 Brendon Hartley Toro Rosso 23 1:18.602 1.489
12 Felipe Massa Williams 23 1:18.690 1.577
13 Lance Stroll Williams 20 1:19.066 1.953
14 Kevin Magnussen Haas 19 1:19.205 2.092
15 Marcus Ericsson Sauber 27 1:19.331 2.218
16 Fernando Alonso McLaren 22 1:19.565 2.452
17 Romain Grosjean Haas 22 1:19.586 2.473
18 Pascal Wehrlein Sauber 16 1:19.826 2.713
19 Stoffel Vandoorne McLaren 25 1:20.030 2.917
20 Pierre Gasly Toro Rosso 2