This page contains archived information and may not display perfectly
F1 - Verstappen continues to set the pace in Azerbaijan despite crash
F1 - 2017 Azerbaijan Grand Prix - FP2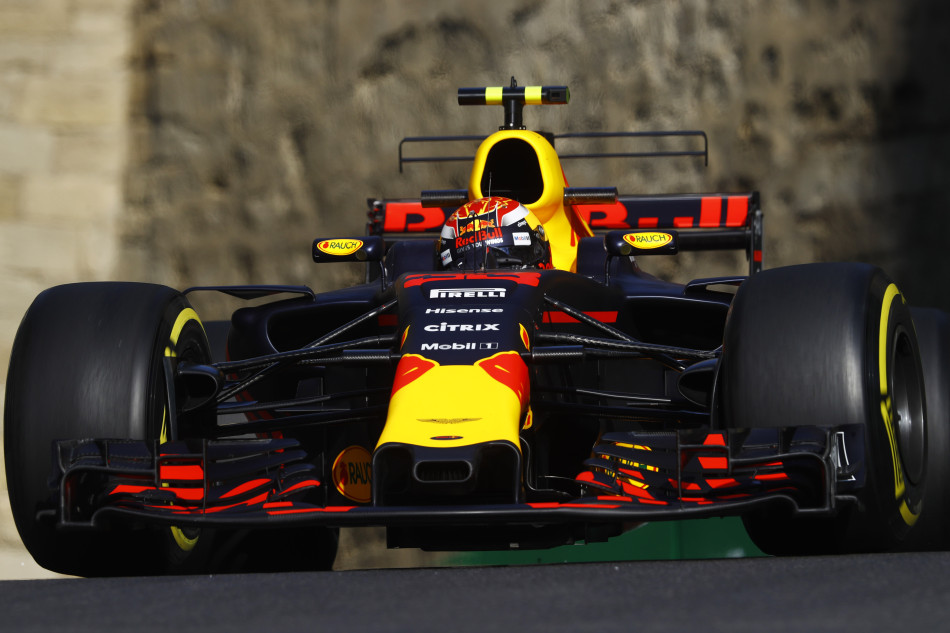 Max Verstappen topped a tight second practice session for the Azerbaijan Grand Prix in which the top five drivers were separated by a quarter a second. However the Dutch driver's good work was undone seconds from the chequered flag when he crashed out at Turn 1.
Valtteri Bottas was second for Mercedes, exactly a tenth adrift of the Red Bull driver, while Verstappen's team-mate Daniel Ricciardo was third fastest with a time of 1:43.473, 0.111 off the pace, Ferrari's Kimi Raikkonen was 1500ths behind Ricciardo, with team-mate Sebastian Vettel fifth, 0.253 down on the session benchmark.
Verstappen was quickest by half a second in the first practice session and he carried the pace into the session running quickest in the opening exchanges  with a time of 1:43.89s on the soft tyre.
In the morning Verstappen's team-mate Daniel Ricciardo had completed a Red Bull one-two and the Australian gave the team the same positions in FP2 when he set a lap just two tenths shy of Verstappen's early marker.
Bottas was the first driver to switch to super-softs, half an hour in, but it was Raikkonen made the first impression, dislodging Verstappen from top spot with his first run on the red-banded Pirellis.
Vettel then usurped his team, but Verstappen then once again rose to the top of the order with a lap of 1:43.362.
With just under 40 minutes remaining in the session, the red flags came out as the narrow Turn 8 claimed its second victim of the day. Jolyon Palmer made slight misjudgement and found himself in the barriers on the exit of the corner, the right front suspension of his car in tatters.
When the session resumed there were more problems, with Fernando Alonso pulling his McLaren over at the side of the track with what was later revealed to be a gearbox issue.
Soon after that Ricciardo, who had been down in P6 around the time of Palmer's crash jumped to P3, but with many drivers deep into longer runs at that point there were few improvements.
While the top five were separated by just 0.253s there was then a large gap back to sixth with almost half a second separating Vettel from Williams' Lance Stroll. Sergio Perez, who crashed at Turn 8 in the morning session, recovered to finish seventh in the late afternoon, ahead of Daniil Kvyat in the best-placed Toro Rosso. Esteban Ocon was ninth in the second Force India ahead of Alonso.
2017 Azerbaijan Grand Prix – Free Practice 2
1 Max Verstappen Red Bull Racing 1:43.362s - 36
2 Valtteri Bottas Mercedes 1:43.462s 0.100s 32
3 Daniel Ricciardo Red Bull Racing 1:43.473s 0.111s 34
4 Kimi Raikkonen Ferrari 1:43.489s 0.127s 35
5 Sebastian Vettel Ferrari 1:43.615s 0.253s 35
6 Lance Stroll Williams 1:44.113s 0.751s 27
7 Sergio Perez Force India 1:44.306s 0.944s 34
8 Daniil Kvyat Toro Rosso 1:44.321s 0.959s 27
9 Esteban Ocon Force India 1:44.484s 1.122s 37
10 Lewis Hamilton Mercedes 1:44.525s 1.163s 23
11 Felipe Massa Williams 1:44.609s 1.247s 33
12 Fernando Alonso McLaren 1:45.515s 2.153s 15
13 Carlos Sainz Toro Rosso 1:45.733s 2.371s 34
14 Kevin Magnussen Haas 1:45.831s 2.469s 33
15 Nico Hulkenberg Renault 1:46.003s 2.641s 29
16 Jolyon Palmer Renault 1:46.061s 2.699s 17
17 Stoffel Vandoorne McLaren 1:46.174s 2.812s 28
18 Pascal Wehrlein Sauber 1:47.150s 3.788s 25
19 Marcus Ericsson Sauber 1:47.347s 3.985s 25
20 Romain Grosjean Haas 1:47.722s 4.360s 22