F1 – Verstappen and Pérez lock out front row for Red Bull in Sprint Shootout in Austria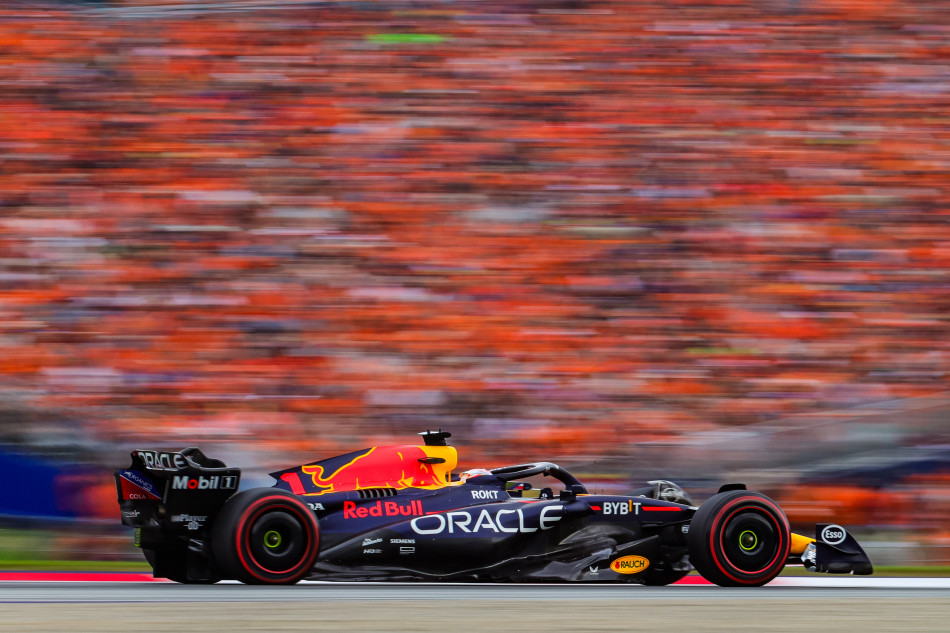 Max Verstappen and Sergio Pérez handed Red Bull Racing a front-row lockout for the Sprint at the 2023 FIA Formula 1 Austrian Grand Prix, with championship leader Verstappen beating his team-mate by almost half a second as Lando Norris took third place in the Shootout for McLaren. 
After heavy rain in the morning, the conditions improved in the run-up to the Sprint Shootout, and with the track drying rapidly, Verstappen emerged on a set of Medium tyres. His first attempt was deleted for a track limits infringement and a second banker of 1:08.645 put him comfortably in the top 10.
He then claimed P1 on 1:07.214 before he was ousted by team-mate Pérez who posted a time of 1:07.085. Haas' Nico Hülkenberg then split the Red Bull pair before Mercedes' Lewis Hamilton took P1 with a lap of 1:06.624. 
Verstappen switched to soft tyres in the final minutes and jumped back to P1 with a lap of 1:06.223. He was pipped for top spot, however, by Carlos Sainz. The Ferrari driver recovered from early brake issues to take P1 with a lap of 1:06.187. 
There was no place in the second segment, however, for Alfa Romeo's p16 driver Zhou Guanyu, McLaren's Oscar Piastri in P17 or for 18th-placed Hamilton, who had a lap deleted for exceeding track limits at Turn 10 and then caught traffic on his final run. Behind him, Alfa Romeo's Valtteri Bottas and Williams' Logan Sargeant also exited the session. 
Verstappen was first on track in SQ2 and he took P1 with a lap of 1:05.624. Aston Martin's Fernando Alonso slotted into P2 with McLaren's Lando Norris in third. After a cautious opening lap, Peerez then jumped to P2 on 1:05.836, a little under five hundredths of a second ahead of Sainz who had moved past Alonso. 
With two minutes left, Alpine's Esteban Ocon claimed top spot, two hundredths clear of Verstappen, but the Dutchman had pace in hand and he reclaimed P1 with a best lap of 1:05.371. Sainz moved up to second ahead of Ocon, while Charles Leclerc, in the other Ferrari, claimed fourth place with his final flying lap. 
Eliminated at the end of SQ2 were Williams' Alex Albon in P11 followed by Alpine's Pierre Gasly, the AlphaTauri cars of Yuki Tsunoda and Nyck de Vries and Mercedes' George Russell who was sidelined by a hydraulic issue. 
Verzstappen set the early SQ3 target at 1:04.613. Pérez gthen took P2, just under four tenths off that pace, but the Mexican was soon bumped to P3 by Norris who went just seven hundredths of a second faster. 
But in the final runs there was no denying the Red Bull pair. Verstappen shaved almost two tenths of a second off his opener to claim top spot on the grid for the Sprint with a lap of 1:04.440, while Pérez leapfrogged Norris to seal a front row lockout for the Bulls with a final flyer of 1:04.933. With Norris third, Hülkenberg claimed a surprise fourth place ahead of Sainz and Leclerc, while Alonso took seventh ahead of Stroll, Ocon and Magnussen.
2023 FIA Formula 1 Austrian Grand Prix – Sprint Shootout
1 Max Verstappen Red Bull Racing 1:04.440 
2 Sergio Perez Red Bull Racing 1:04.933 0.493
3 Lando Norris McLaren 1:05.010 0.570
4 Nico Hulkenberg Haas 1:05.084 0.644
5 Carlos Sainz Ferrari 1:05.136 0.696
6 Charles Leclerc Ferrari 1:05.245 0.805
7 Fernando Alonso Aston Martin 1:05.258 0.818
8 Lance Stroll Aston Martin 1:05.347 0.907
9 Esteban Ocon Alpine 1:05.366 0.926
10 Kevin Magnussen Haas 1:05.912 1.472
11 Alex Albon Williams 1:06.152 1.712
12 Pierre Gasly Alpine 1:06.360 1.920
13 Yuki Tsunoda AlphaTauri 1:06.369 1.929
14 Nyck de Vries AlphaTauri 1:06.593 2.153
15 George Russell Mercedes 
16 Zhou Guanyu Alfa Romeo 1:07.062 2.622
17 Oscar Piastri McLaren 1:07.106 2.666
18 Lewis Hamilton Mercedes 1:07.282 2.842
19 Valtteri Bottas Alfa Romeo 1:07.291 2.851
20 Logan Sargeant Williams 1:07.426 2.986