F1 testing begins in Jerez
Räikkönen quickest on cautious first day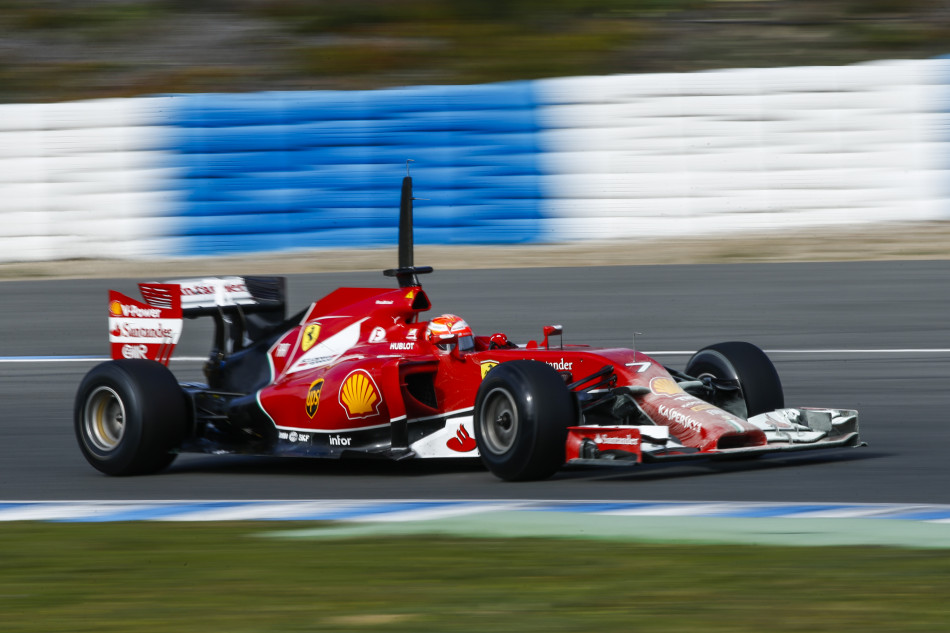 After a build-up lasting several years, Formula One fans finally got to see 2014-spec hybrid power units in action today, as winter testing commenced at the Circuito de Jerez in Southern Spain. Kimi Räikkönen marked his return to Ferrari with the day's fastest lap, a 1:27.104 set with just over an hour of the scheduled running remaining. Räikkönen also drove the most kilometres, putting in 31 laps in the F14 T. In common with most of his rivals, many of these were installation laps that ended with the Finn returning to the pits rather than crossing the start-finish line.
The day began with launches, Mercedes and Red Bull unveiling their cars before the 0900 start. Caterham had also been expected to launch , but technical trouble left them with work to complete on the team's CT05 challenger. Toro Rosso had revealed their STR9 at the circuit on Monday and for much of the rest of the grid, the day provided a first opportunity to physically show off their new model, following online launches earlier in the month. As predicted, the main talking points were the radical solutions offered to the questions posed by the low nose requirement – but behind the aesthetic discussion lurked the conclusion that teams were taking divergent design routes from nose to rear wing in 2014, promising a battle between ideas rather than a slow war of iteration.
The field for this first day was missing two teams. Marussia elected to stay in England when a problem was found with their car – though they expect to be at Jerez for the rest of the week. Lotus, meanwhile, had announced it would not appear until Bahrain. That left nine potential runners. Sebastian Vettel was scheduled to drive for Red Bull, Lewis Hamilton for Mercedes, Räikkönen for Ferrari, Jenson Button at McLaren, Sergio Pérez for Force India, Esteban Gutiérrez for Sauber, Jean-Eric Vergne for Toro Rosso and rookie Marcus Ericsson at Caterham.
"We had a lot of new things to learn today. Even if we would have liked to do more laps, I think that for a first day it was alright."
Kimi Räikkönen
The early running was made by Hamilton who did a couple of cautious installation laps shortly after the pitlane light turned green. Räikkönen was the next car out, 45 minutes into the session, but his first lap lasted less than five corners before he pulled to the side of the road with what Ferrari later described as a 'precautionary stop'. That was the first red flag of the day.
Vergne and Pérez were the next cars on track, with the latter also stopping at the side of the road and causing the day's second set of reds. They caused Gutiérrez to abandon plans to kick off Sauber's campaign – but the young Mexican was on track shortly after the restart. It was, however, Hamilton who recorded the first time of the day. His lap of 1m33.305s came two hours and 20 minutes into the session. While comparisons are largely meaningless, it is to be noted this was two seconds faster than the first recorded lap here last year.
By midday only Hamilton and Vergne had set times, and the Frenchman was the only man to have completed a run of any length, reeling off five laps as noon approached. After the unofficial lunch break Hamilton was back in Mercedes W05. He was fastest at this stage with a time of 1:27.820 but his day ended early when a front wing pylon appeared to snap, leaving him to skate on his wing into the barriers at Turn One. The Briton was unharmed but Mercedes halted their running with over four hours track time remaining.
Räikkönen became the fastest man on track with a series of short runs that edged closer to Hamilton but the focus of attention was on the garages where encouraging noises were being made by both Caterham and Williams. Ericsson emerged at the wheel of the Caterham with just under two hours of running remaining, giving photographers a good look at a front-end design that made some others look tame.
Vergne bought out another red flag, stopping on track with a software issue, as Ferrari prepared Räikkönen for another run. The 2007 World Champion went the top of the leader board with a time of 1:27.427 once the track went green and then went faster still on his next lap, setting his fastest time with 64 minutes of the session remaining.
"We had a lot of new things to learn today," said Räikkönen at the end of running.  "Even if we would have liked to do more laps, I think that for a first day it was alright. Towards the end, when the track was damp, we chose not to take any risks. Now we have a lot of work ahead of us, but all in all, we are pleased with our first day."
With the final hour beginning Bottas gave Williams' FW36 its track debut, leaving just McLaren and Red Bull in the garage. McLaren had been optimistic that Button would run at some point but ultimately a electrical problem kept the MP4/29 shut away in its stall.
Vettel, however, did get some running for Red Bull. With light rain falling the RB10 emerged from the garage with 15 minutes remaining, giving the World Champion sufficient time to complete three installation laps before the close.
2014 Jerez test day one – unofficial times
1 Kimi Raikkonen Ferrari 1:27.104s 31 laps
2 Lewis Hamilton Mercedes 1:27.820s, 18 laps
3 Valtteri Bottas Williams, 1:30.082s, 7 laps
4 Sergio Perez Force India, 1:33.161s, 11 laps
5 Jean-Eric Vergne Toro Rosso, 1:36.530s, 15 laps
6 Esteban Gutierrez Sauber, 1:42.257s, 7 laps
7 Sebastian Vettel Red Bull Racing, No time, 3 laps
8 Marcus Ericsson Caterham, No time, 1 lap