This page contains archived information and may not display perfectly
F1 - N.Hulkenberg: "The team is working extremely hard"
Transcript of the part two of the Thursday Press Conference organised by the FIA for the 2017 Italian Grand Prix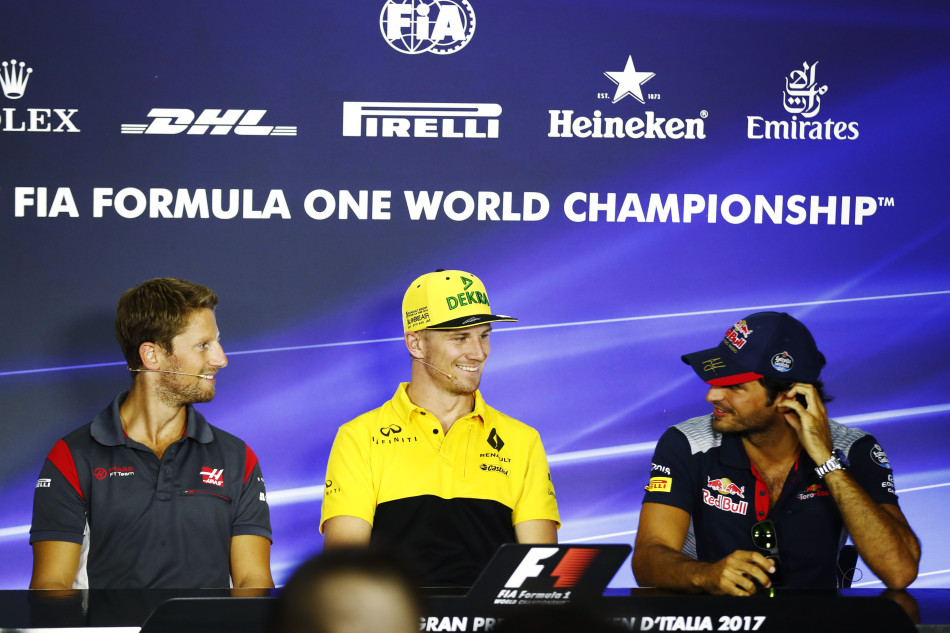 PART TWO: DRIVERS – Romain GROSJEAN (Haas), Nico HULKENBERG (Renault), Carlos SAINZ (Scuderia Toro Rosso)
PRESS CONFERENCE
Q: Romain, strong run in Spa, seventh place finish means that Haas have actually now gone past their 2016 points total with another eight races to go, so does that feel like progress or is it just a case of having two drivers that are scoring points?
Romain GROSJEAN: I think it's progress. Last year we scored most of our points in the first two races and then we struggled a little bit to get them but this year we've been a bit more consistent. We still need to improve that aspect, clearly, because there are a few races where we were fighting at the front like Austria or Belgium but some other races like Budapest where we were really struggling. It's all part of the learning curve, we have only a year and a half experience but I think we are much stronger in year two than we were in year one.
Q: Can you clear up for us what's being going on with the brakes in particular because it seems to have been a bit of a running narrative with your car; either it flies like in Spa or you're on the radio saying these brakes are doing my head in. Can you explain what the problem is, why it's taking a while to get on top of it?
RG: I think the problem is the media. I haven't complained – yeah, in Spa we had one set where one brake – the front left – we had an issue with that brake and we only had two sets and one wasn't working so we tried to make it work, couldn't better. Since… actually after Baku or Canada we've had the parts that we want to run and we've been swapping with CI and Brembo, depending on the track layout and it's been fine.
Q: So what was it, what was the issue?
RG: Inconsistency, some of it was the running temperature that was… it was the way we were operating the brakes, some of the materials of the brake being inconsistent but in between those two factors we've struggled a little bit to find the right balance. It's better, I would say we've reached 100 percent but to be fair, we haven't complained much about it recently.
Q: Nico, you've had more top six finishes than Renault managed in the previous three years combined and you've started seventh or better on the grid four times this year and that made Cyril Abiteboul – in our press conference in Belgium – say that he believes now you clearly have the fourth fastest car in Formula One. What will it take to make the next step?
Nico HULKENBERG:  It will take more hard work and more of the same of what we're doing. Obviously we had three races in a row where we were the fourth fastest team so that's pretty good. The team is working extremely hard. Every weekend we have new bits arriving but it's all in the detail so you can just feel the package coming together, better and better. That allows me to push harder, build my confidence. Just a nice feeling overall. But yeah, obviously the gap to the top three teams is very large. Also I saw Kimi, how he came flying past me in Spa after his penalty; it's quite amazing to see the pace they have so it will take a lot of hard work from us and all the other teams to try and close that gap.
Q: The seat alongside you next season is now pretty much the most attractive one on the driver market. What's the right experience profile for your teammate if your team is to move forward, as you've just talked about?
NH: You're asking me that? Why?
Q: I'm just interested!
NH: I think it's not my decision at all so probably a decision for Cyril and the management. I think they just want a good competitive driver package. I'd be happy to race with anyone, alongside anyone. For me, I'm obviously focused on myself and make sure everything is moving in the right direction there with me.
Q: And Carlos, coming to you, your 23rd birthday tomorrow, I believe, so happy birthday in advance.
Carlos SAINZ: Thank you very much.
Q: You've scored points in every race you've finished this season and you reached 100 career points with Toro Rosso which makes you, in points terms, Toro Rosso's most successful driver ever. So does it feel like a positive year and do you feel that you're moving forward in your career?
CS: Yeah, many nice statistics coming together there. Thanks for the info, I didn't really know but yeah, I think we've had quite a successful year for us. We've been pushing hard all year to get into the points and the result of that is whenever we finish, we finish in the  points, so hopefully we can keep that statistic going. I think the team can be extremely proud of that and we will push hard to continue like that.
Q: And intriguingly, you're one of four teams, including the two alongside, four teams in midfield from fifth place to eighth place which I believe are separated by just I think it's 11 points, something like that, so does every race feel like a tense battle for points, and does Toro Rosso have enough in the pipeline to finish on the right side of this battle?
CS: It is a very interesting situation, a very tight battle that we've been doing… going on the whole year, really, in which every single detail makes a difference. At the moment, I think it's even more interesting because we have Williams at the front which are maybe struggling a bit but then Renault and McLaren coming from behind, pushing very hard with development, so I expect the second half of the season will be really really exciting. We will do our best to keep ourselves in P5, P6, in that area there but I know it's going to be tough.
Q: Before we throw it open to the floor, just asking everyone about Ferrari's seventieth anniversary being celebrated this weekend, just one particularly Ferrari Formula One memory… can be from your childhood or from your racing experience in Formula One. Just pick one in particular. Romain?
RG: Ferrari is… when you're a kid, one of my first cars must have been red and that's the Ferrari spirit. Memories in Formula One, I guess every time they went to Monza I could see all the tifosi going crazy and it's very very special and I guess being a Ferrari driver is one of the best things in the world.
NH: Memories obviously going back to when I was still a teenager and I was a kid, looking at Michael when he was scoring many many world titles with Ferrari. These were the years when I was dreaming about Formula One and obviously working towards it and a lot of history written there and a very special brand.
CS: Yes, probably the same as Nico, watching Michael either win or lose titles when I was starting to follow Formula One, was probably my best and biggest memory at the moment but the thing that really impressed me a lot is when I arrived to Monza in 2015 for my first Formula One race and I saw all the tifosi queueing in the paddock and trying to get an autograph of all the drivers. It's probably the most special feeling you can have, to see them all queueing, doing half an hour of queues every day just to get a sign and it's incredible.
QUESTIONS FROM THE FLOOR
Q: (Manuel Franco – Diaros As) Carlos, has there been any change about your future because there are rumours of Honda, Toro Rosso, Renault and a question to Nico, do you like Carlos as teammate for next year?
CS: I'll go first. Well, one thing I've learned this year is to comment in (indistinct) is not the best thing to do in press conferences.
RG: What are you talking about?
CS: Apart from that, I think I was very clear after Austria what I want and I want of my future. I have full trust in Red Bull that they're going to do the right thing for me. It's all in their hands. I have full trust in them, they've always done the right thing for me in my career and I hope it goes like that.
Q: Nico, you shook your head when he asked the question.
NH: Yeah, to go back to your question, 23 is too young, sorry!
Q: (Alex Combralier – Nextgen-Auto) Romain, we know that in Monza it is one of the toughest braking points of the season and particularly at the first turn so do you now have full confidence in your brakes, in Carbon or Brembo?
RG: I think we are on top of things.
Q: (Peter Farkas – Auto Motor) Nico, it's been mentioned that the Renault car is now very quick, also in race trim, not only in qualifying. Could you please describe how different the car behaviour feels from the cockpit since the latest big aerodynamic update with the new floor, where it feels quicker especially in quick corners, slow corners, braking things like that?
NH: Well, everywhere pretty much. The updates that we've introduced at Silverstone just made the car a lot more competitive so especially the aerodynamics, I think they work a lot better, allows me to brake later, to carry more speed into the corners, to get on the power earlier so overall it's just a much better (indistinct) scenario, more grip, allows you to go faster, quite simple.
Q: (Louis Dekker – NOS) Carlos and Nico, there's been a lot of talk in the Dutch press about Max, his problems with the Renault engine and the reliability. Can you tell us what your experience has been in the twelve races?
CS: I think the works driver can answer that better.
NH: Well, what did I have, I think I had the gearbox problem in Monaco. Apart from that, obviously another gearbox penalty in Budapest but engine-wise I think I've been pretty OK.
Q: (Silvia Arias – Parabrisas) For all three drivers: which are the new parts or modifications do you have for this race and especially on your cars?
RG: We've got a rear wing for here. There's a front wing flap going with it, that's mainly what we've got here.
NH: Yeah, it's just the low downforce configuration really for Monza, a few small things to try, to test tomorrow on the floor, that's it.
CS: Same really: low downforce configuration for the weekend and we will try some bits and bobs for hopefully upcoming races but nothing that we will run.
Q: (Ysef Harding – Xiro Xone News) Romain, with all this good food here in Italy and you love to cook, what is your favourite Italian dish?
RG: That's a good question, how long have you got in front of you? Italian kitchen cooking is amazing. Between the north and the south it is so different that I cannot really pick up one. From the simple pizza that you can find on the motorway to the three Michelin star chefs that I know in Italy, it's all amazing.
ENDS.