This page contains archived information and may not display perfectly
F1 - M.Kaltenborn: "It's been going on for some time but, you know, we looked at all the options we had"
Transcript of the part two of the Friday Press Conference organised by the FIA for the 2017 Spanish Grand Prix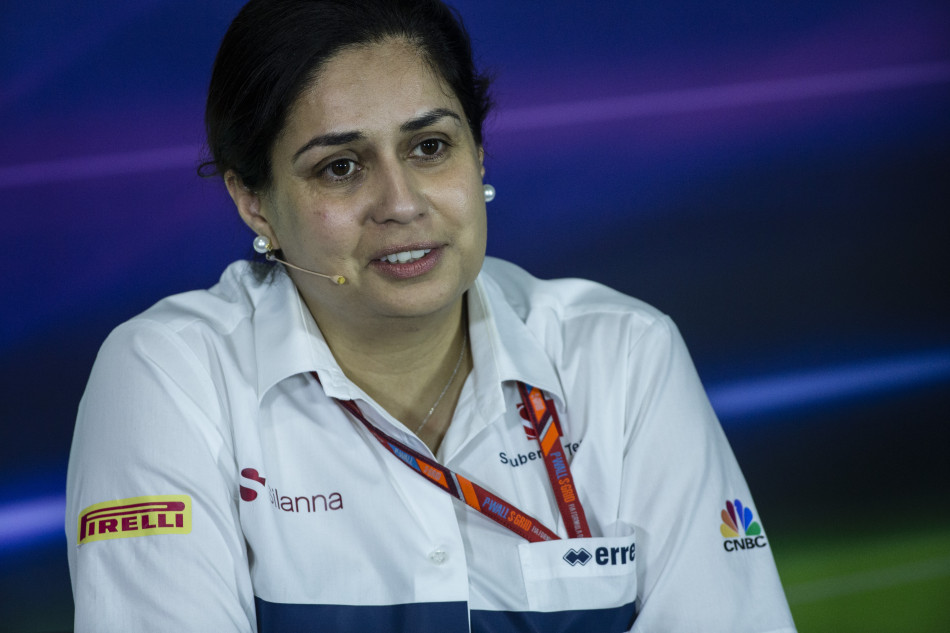 PART TWO: TEAM REPRESENTATIVE – Maurizio Arrivabene (Ferrari), Christian HORNER (Red Bull), Monisha Kaltenborn (Sauber)
PRESS CONFERENCE
Q: Christian, there was talk of the Red Bull for this Spanish Grand Prix being a substantial step ahead of the car that started the season. How different is it in the end, and how satisfied are you with the performance on day one?
Christian HORNER: I think it's probably been overstated slightly in various media outlets but it's a pretty significant upgrade, it's an aerodynamic upgrade, most of which is pretty visible. It's the knock-on from those elements and probably the bits that you can't see that obviously involve a great deal of work, a great deal of time and effort from back in the factory. They've done an incredible job to get it all turned around and on the car in time for today's running.
Q: Cyril Abiteboul was with us a few moments ago in part one and told us that the full potential of the Renault 2017 engine would really come with the third iteration of the season. What's your view?
CH: Well I was trying to ask him the question at the back that you wouldn't give me the microphone for in the previous version, because I was very keen to learn when that third edition will come. Obviously for us, the sooner the better. It seems that Renault has chosen a path that is showing true potential but I think they've got some complications in terms of being able to extract the power unit's full potential. Hopefully they'll be able to release that sooner rather than later.
Q: Yesterday, here in the press conference, we talked with the top drivers about the driver market and possible moves for next year. Is it the case that you know already that both of your drivers are locked into your team for 2018?
CH: Yes, absolutely.
Q: Monisha, moving on you. Obviously you announced the Honda deal which means that eight months from now you'll be bolting a Honda into your 2018 car to go testing. How far up the road from where they are today do you expect them to be at that point?
Monisha KALTENBORN: Well, we certainly expect that they'll have sorted out all the issues they have been facing so far and we expect that to also happen still in this season. Looking at the talks we've had with Honda and having seen their facilities, knowing how determined they are, we have no reason to doubt that.
Q: Are these conversations that you've had with them for some time? In Honda just generally about participation together with you?
MK: It's been going on for some time but, you know, we looked at all the options we had. We had a couple of talks going on for a long time.
Q: What does the Honda partnership allow you to do from the point of view of sponsorship, driver choices etcetera, does it open things up for you?
MK: Well, regarding drivers, I've said before, at the end of the day it's the team's decision, and also the team's responsibility to have good drivers. And like we've done in the past, even with our current engine supplier, Ferrari, that we've discussed these kind of issues with the key partner. And we have also taken drivers from our engine supplier because it was the right thing to do there. It's something that we're open to and we'll see how it pans out. In terms of sponsorship I think it's far too early to look at these things. We've just announced the deal. So we'll see how that develops as well.
Q: Maurizio, could you have imagined that, after four races, your driver would be two wins to the good and 13 points in the lead of the Drivers' Championship, much of that, I guess, you would say, by being bold, which is what you called for the team to be, you and Sergio Marchionne.
Maurizio ARRIVABENE: OK, we are happy, of course, we were not expecting to be here but I'll add that the hard work is paying back, so, I mean I'm very, very pleased for the overall team, for the guys that are here, the guys in Maranello, that they are working very, very hard. Having said so, I saw how Red Bull was growing here in Barcelona and how they are competitive. Mercedes have to defend the title of the World Champion, and we are still focussed on the race after race work and we try to do all our best to make the race interesting.
Q: We spoke with Toto a few minutes ago in part one of this press conference about the dramatic-looking car that Mercedes have brought here this weekend and asked him if he was satisfied with the performance of it. What are your thoughts on how of the balance of competitiveness between you and them, where that lies now going forwards through this weekend and the next few races ahead of us?
MA: One of the lessons that we learned last year is to look at all of our competitors. Visually the Mercedes is very impressive because yesterday we were looking at the Mercedes but we were looking also at the Red Bull and you have two schools: one that is the one of Mercedes that is quite interesting, creative and surprising, the other one is the Red Bull school where maybe something is not really evident but it's extremely efficient. We need to take in consideration what they do, to be able to compete with them and to continue our development. One of the mantra this year is that we are looking, if there is something interesting, we are investigating, but we follow our way, we have our programme and we want to continue to follow our programme without distraction.
QUESTIONS FROM THE FLOOR
Q: (Kate Walker – Motorsport network) I'm sure you're aware that the FIA are currently celebrating all of the volunteers who allow motor sport to happen in every category. I was wondering if you could give us your thoughts on the importance of celebrating these men and women and any sort of positive experiences you've had with circuit officials around the world?
CH: It's quite incredible the job that they do, not just at Formula One events but racing events and categories around the world, from club racing upwards and quite an awful lot of them are doing it out of the love of their hearts, their passion for the sport. Again, all the medical assistance, the doctors etc etc, I'm only full of admiration for them and without them we quite simply wouldn't be able to operate. They make it look easy but do a wonderful wonderful job.
MA: I've a good case that is when I was young and crazy for Formula One that I tried to apply to be a voluntary marshal but my objective was only – the money was not a lot in my case – just to be near by the car and to see the race. Then they asked a couple of questions, they discovered that I was just a Formula One supporter and they threw me out. This is really... I have to say Chapeau to the Federation because that means that the guys are not only passionate for Formula One, they are here  working for free but they are also experts in the world that they are doing for all of us who have a great respect for all of them.
MK: Well, I think it's very important that you have a day like this because this is really the moment that you can focus on all the volunteers who are doing such a great job. They are doing it really out of passion and without them, like Christian said...  such difficult  situations can be sorted out and just have such a smooth way things go so we should try to really show, like this, so many more examples where people are in the sport at whatever their level, whatever category , that it takes so much more than just what you maybe see during the race, the teams or the drivers, it takes so many more people to bring across all this.
Q: (Flavio Vanetti – Corriere della Sera) Maurizio, we saw in P1 big time differences between the Ferraris and the Mercedes. Did you have any issue and how was it so big? And the second question: do you believe that Mercedes still have an advantage on a single lap and it's tough to catch them now?
MA: I received the same question in Australia on Friday, I remember, and the gap in FP1 was the same, it was one second between us and Mercedes. On that occasion, I answered the question as I answer today. Chapeau to Mercedes for what they have done but we are not going to change our programme. We have a programme for this weekend, starting from Friday, improving Saturday and looking also for Sunday. This is what we want to do and what we are focused to do. Having said that, as I've said many many times, they are the World Champions and they have to defend their title of course. They are stronger, they are the reference for all of us and what we have to do is just try to create them some problems.
Q: (Alan Baldwin – Reuters) Maurizio, nice to see you here on a Friday. We're seeing more of your drivers on a Sunday but a lot less of you; Liberty Media want the teams to do more for the fans, more media. I think I'm right in saying your team is probably the one that does less media this year than last year. Could you perhaps explain some of that and is that because it was a distraction last year, is it stress reduction or... what is the thinking behind it?
MA: I'm surprised, honestly, because we were doing social media for two races on Thursday with one driver and then we continue to do what we were doing last year, so what are we talking about? This is my simple answer. Liberty, of course, they would like to have more and more and more interviews but they are also talking about digital so we try to balance the first two races and now we are back to what we were doing in the past so my opinion... all of you have the newspaper (version) but they also have a digital version of the newspaper so I don't see where the problem is. We are really focused on what we are doing, that's true.
Q: (Jon McEvoy – Daily Mail) Maurizio, just to follow up on that, but I thought you would usually speak after the race...
MA: Yes, if you received the press release, I'm putting a statement on paper what we are going to think. It's also true – your colleague mentioned Liberty before. One of the things we are pushing for is to have the driver that somehow they are the heroes of the show. The role of the team principal is to manage the team, to put the driver up, to do their job. At the moment, we are really really focused and I am focused with all the team to do their job and I tell you, it's quite hard to fight with a monster like Mercedes and to look at what these guys are doing, so that's a question of concentration, to give statements to the media when we have to do it, on Sunday after the race. That's it, there is no other intention.
Q: (Jon McEvoy – Daily Mail) Sure, I was slightly distracted. What I was going to ask you – though it's useful in a sense than just a statement, that we can ask you things and you can respond to them rather than it's just a blank statement that we can't really get back to. But that's slightly by the by. I was actually going to ask you, before that, was would you rule out having Fernando Alonso back as a driver at Ferrari or not?
MA: Ah, this is the real question! Is there a reason why you want me to talk... It's not different to the answer that I gave to you before. You need to understand the spirit of our team this year. We are really working as a team and the two guys, the two drivers, they are part – an integral part – of this team. We are so concentrated on what we are doing, we are working so hard, all together that the conversation about contracts is not a priority. I don't want to be... I tell you the truth. We are working well together, we are feeling very very well together so we want to do our best, to work on the performance of the car and for us it's... the contract is not a priority. The atmosphere is great, why we have to start talking about something that is distracting us? We look each other in the eyes and we understand that we are a team.
Q: (Martin Vriezema – NOS) Christian, we just had an interview with Max and he said in a very realistic way 'we are still the third team.' And there was also a bit of frustration, maybe he was a little bit sad even. How do you deal with this ambitious driver who realises he's not the number one yet... which also counts for Ricciardo of course, and do they ask for a different approach from your side?
CH: Well, first of all, he's probably right in his observation that yes, today we are still currently the third team but I think it has concertina-ed, I think we are closer to Ferrari and Mercedes than we've been at any points so far this season. I think we've bought some performance to the car. There's still some fine tuning that needs to be done and understanding of what we've introduced but I don't sense any frustration with him. He's focused, he's motivated, he goes for it on every lap that he's out on the track. He's enjoying being a Grand Prix driver. Of course he's hungry and ambitious but that applies to Daniel as well. I don't sense any frustration; he's certainly not requesting any change to our approach. He can see the effort that's going on behind the scenes, the hours that people are working, because it is a sport at the end of the day and department after department are competing against some enormous adversaries in the likes of Ferrari here and obviously Mercedes.
Q: (Dieter Rencken – Racing Lines) Christian, about six or seven years ago you seemed to be totally opposed to any form of cost-control, cost caps etc, yet recently you've been reported as coming out as saying that you're in favour of some sort of budget cap. Why do you think it could now be controlled when a couple of years ago it couldn't be and also some input from the other two if they would like to comment on that as well?
CH: Well, firstly, just to clarify, I'm not at all in favour of cost caps. I think they're unworkable, un-policeable and our biggest concern throughout that whole discussion four or five years ago was how on earth do you equate what's going on within a subsidiary company of an automotive manufacturer within research and development? So I'm not in favour of a cost cap, what I am in favour of and I would expect probably every Grand Prix team to be in favour of is to try and control the amount that we're currently spending through perhaps simplicity of the regulations, perhaps de-cluttering the regulations because Formula One moves at such a pace that every area is under scrutiny and that means spend and that drives spend and I think there's an opportunity with a new commercial rights holder in conjunction with the FIA to really look at what are the key cost drivers and go upstream and deal with those and then that will naturally have an effect on the outcome of how much you can and can't spend, and there's certain aspects that, you know, people sitting in the grandstand today have no idea about and probably know interest about in terms of some of the technology that we're all spending a fortune on, so I think simplification would definitely be an effective way forward.
MK: Well, it's good to hear that from Red Bull because we, together particularly with Force India, have been exactly saying this, that we need to get the costs down and at the end of the day it doesn't really matter to us if you have a budget cap or you have other tools of cost control, they should look at prescriptive parts if you makes the rules simpler. The important thing is to bring these costs down and actually make sure that the teams can be run in a sustainable way and then focus on the show and I think now, listening to the new owners of the sport, we certainly see that they share this view and they will actively work on this, I hope very soon, and present their proposals.
MA: I think before talking about a cost cap we need to understand how in the future the actual commercial owner wants to grow the business of Formula One, to create more interest and also to work on the split-up of the relationships of Formula One and how we are in the hands of everything we are doing, especially (inaudible). I remember that we were talking about digital – I mean Liberty, not us – they were talking about digital that is representing only the one per cent of the potential commercial business for the future, so this is an area that we need to work on. Concerning the cap, I always said that we are in favour of cost reduction, then there is not a perfect formula to do it but for sure we are ready to take into consideration any kind of sporting regulation that they could help to reduce the costs without touching  the performance, because if you reduce the costs and the performance is going down then you have no spectacularisation somehow. So I think this is what I said in the past and what I continue to remark for the future. It's also important to understand how is the commitment of the so-called small teams because compared to other sports they are not small at all. I think we also need people who are really committed to this sport. They want to work in the profession and they are also well-equipped financially. I think the worst image that Formula One could have is people who are building up a team, they are coming in for two or three years and then they are going out. Those are question that we need to ask of ourselves together with, as Christian said very very well, together with regulations  that are helping all of us to reduce the costs.
Q: (Peter Windsor – F1 Racing) Christian, you have had a couple of brake issues this year which have hurt your race performance. You seem to be on the same brake material as Ferrari; I'm assuming therefore it's not related to that. I wonder if you could just talk us through that. It's a bit strange.
CH: We've had two issues, one in Bahrain and then one obviously at the re-start in Sochi. Whilst the outcome was the same, the failure was different. In the failure that Max had in Bahrain... it was actually a crack that allowed hot air to blow over a seal on the caliper which then failed and then he lost hydraulic fluid in the caliper itself, so that was an incident within the brake drum. The incident with Daniel was far harder to understand because it was after a safety car so the car had been going slowly, the brake temperatures were all under control and then he obviously had what was an instantaneous failure pretty much at the restart and there's been an awful lot of work and analysis going into that and we believe we have a solution that we've tried and tested hopefully today.