This page contains archived information and may not display perfectly
F1 - Lewis Hamilton takes pole for final grand prix of season in Abu Dhabi
F1 - 2018 Abu Dhabi Grand Prix - Qualifying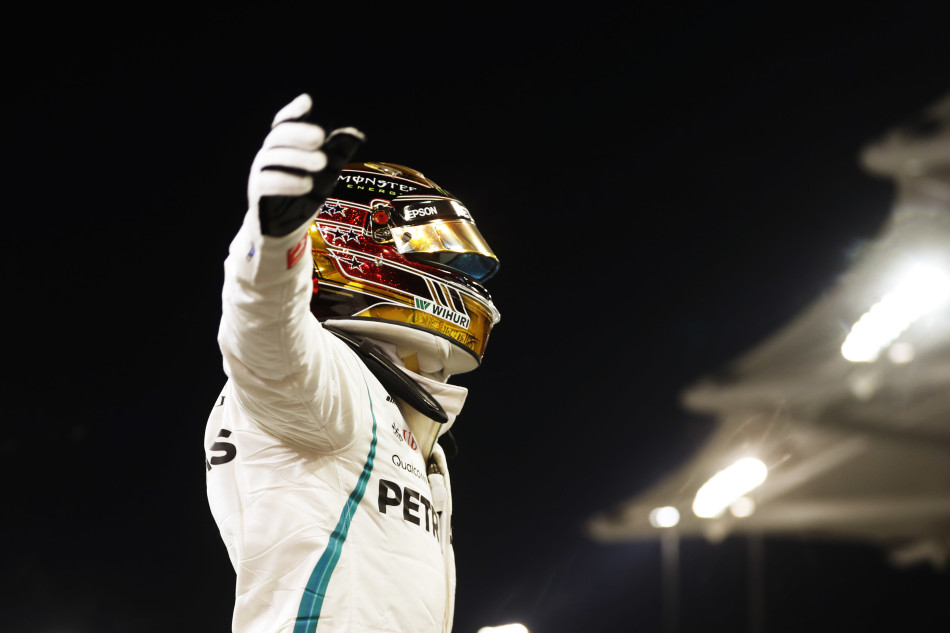 Lewis Hamilton took his 11th pole position of the 2018 FIA Formula 1 World Championship as he headed a Mercedes 1-2 i in qualifying for the final race of the season at Abu Dhabi's Yas Marina Circuit.
Hamilton edged team-mate Valtteri Bottas by 0.162s in the final runs of Q3, with the Finn only losing out to the five-time champion due to a small error in the final sector of the 5.554km circuit. Ferrari's Sebastian Vettel will start from third place on the grid, ahead of team-mate Kimi Räikkönen, and Red Bull continued the two-by-two qualifying result as Daniel Ricciardo, competing in his final qualifying for the team, took fifth place ahead of team-mate Max Verstappen.
In the opening runs of Q1 it was Vettel who went quickest, the German toppling team-mate Kimi Räikkönen from top spot with a lap of 1:36.946 that he then improved by almost two tenths. Räikkönen was followed by Hamilton.
Bottas jumped to P2 with a late flyer to demote his team-mate to P3 and when the flag fell Racing Point Force India's Esteban Ocon final flyer netted P4 ahead of Räikkönen and Sauber's Charles Leclerc who split the Red Bulls by taking P7
In the drop zone as the final runs approached were 16th-placed Haas' Kevin Magnussen, followed by Sauber's Marcus Ericsson, McLaren's Stoffel Vandoorne and the Williams cars of Sergey Sirotkin and Lance Stroll.
Both Alonso and Magnussen found more pace to rise to P14 and P15 respectively and that dropped both Toro Rosso cars into the drop zone.
The Italian team's Pierre Gasly might have made the jump to safety after impressive opening sectors but in the final section of track he fell back and limped across the line reporting a loss of power and "smoke coming out of the engine". He pulled over at the side of the track soon after crossing the start/finish line and exited both his car and the session.
Gasly qualified in P17 behind team-mate Brendon Hartley, though the French driver still managed to outpace Vandoorne, Sirotkin and Stroll.
Hamilton seized the initiative in the early Q2 runs as the top three teams ran ultrasofts. The five-time champion claimed top spot with a lap of 1:35.693 to sit almost seven tenths of a second clear of second-placed Bottas. The Mercedes pair were followed by Räikkönen, Vettel and Ricciardo.
Verstappen though struggled on the purple-banded Pirelli tyre and after the first runs found himself in P10 and at risk of elimination.
That meant a second run on hypersofts to ensure progress and his lap of 1:36.144 on the softest compound on offer vaulted him to P2 behind Hamilton.
Ricciardo's ultrasoft gamble paid off, however, and though the Australian dropped down in the order in the closing stages of Q2, his opening time of 1:36.964 was good enough for P10. Like the Mercedes and Ferrari drivers he will start the race on ultrasofts.
Eliminated at the end of the second segment were 11th placed Renault driver Carlos Sainz, followed by Sauber's Marcus Ericsson, Haas' Magnussen, Racing Point Force India's Sergio Perez and Alonso, competing in his 311th and, for the moment, final F1 qualifying session.
Hamilton again claimed top spot in the first runs of Q3, though only with 0.057s in hand over Vettel, with Bottas third ahead of Ricciardo. Räikkönen split the Red Bulls in fifth place.
However, Hamilton found an extra reserve of pace on his final run to eventually edge Bottas by 0.162s and third-placed Vettel by over four tenths of a second.
Räikkönen improved in the final run to claim fourth with a time of 1:35.365, while the Bulls locked out row three with Daniel sealing fifth place with an improvement to 1:35.401 and Max taking P6 with his opening Q3 time of 1:35.589. Behind them Haas' Romain Grosjean was seventh ahead of Sauber's Charles Leclerc, Racing Point Force India's Esteban Ocon and the Renault's of Nico Hulkenberg and Carlos Sainz.
2018 Formula 1 Abu Dhabi Grand Prix – Qualifying 
1 Lewis Hamilton Mercedes 1:34.794
2 Valtteri Bottas Mercedes 1:34.956 0.162
3 Sebastian Vettel Ferrari 1:35.125 0.331
4 Kimi Raikkonen Ferrari 1:35.365 0.571
5 Daniel Ricciardo Red Bull Racing 1:35.401 0.607
6 Max Verstappen Red Bull Racing 1:35.589 0.795
7 Romain Grosjean Haas 1:36.192 1.398
8 Charles Leclerc Sauber 1:36.237 1.443
9 Esteban Ocon Force India 1:36.540 1.746
10 Nico Hulkenberg Renault 1:36.542 1.748
11 Carlos Sainz Jr. Renault 1:36.982 2.188
12 Marcus Ericsson Sauber 1:37.132 2.338
13 Kevin Magnussen Haas 1:37.309 2.515
14 Sergio Perez Force India 1:37.541 2.747
15 Fernando Alonso McLaren 1:37.743 2.949
16 Brendon Hartley Toro Rosso 1:37.994 3.200
17 Pierre Gasly Toro Rosso 1:38.166 3.372
18 Stoffel Vandoorne McLaren 1:38.577 3.783
19 Sergey Sirotkin Williams 1:38.635 3.841
20 Lance Stroll Williams 1:38.682 3.888