F1 - Leclerc tops Ferrari 1-2 in extended second practice session at Las Vegas Strip Circuit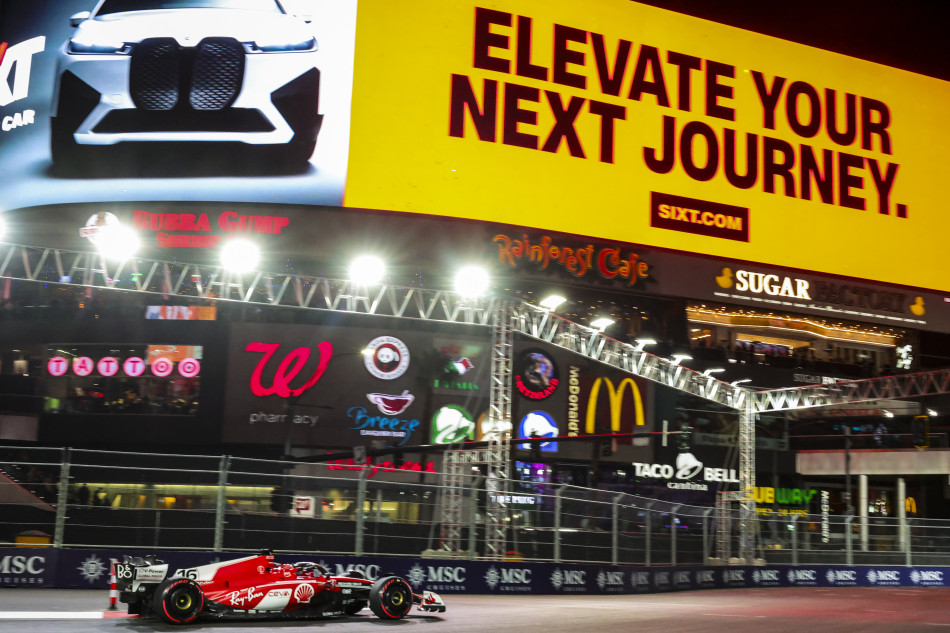 Charles Leclerc led a Ferrari 1-2, half a second ahead of team-mate Carlos Sainz as Aston Marttin's Fernando Alonso took third place in an extended 90-minute second practice session for the 2023 FIA Formula 1 Las Vegas Grand Prix.
Following  engineering work  to solve the water valve issue that had derailed FP1, the extended FP2 session got underway at 0230 local time. And it was world champion Max Verstappen who set the early pace. The Red Bull driver crossed the line in 1:41.905 to take top spot, with Haas' Kevin Magnussen in P2, 0.3s off the Dutchman. 
Sainz, back in his Ferrari after his FP1 woes, then went fastest with his initial effort of 1:39.891 before Mercedes' Lewis Hamilton moved to the top of the order with a little under 15 minutes gone. Using Soft tyres, the seven-time champion stopped the clock at 1:38.876 on soft tyres. Verstappen, with Mediums on board, quickly bettered that before Sainz then jumped back to P1 with a lap of 1:38.537. 
The Spaniard's hold on top spot only lasted seconds, however, as Leclerc surged past with a lap or 1m38.325s. The Monegasque driver stayed in P1 for a little over five minutes before Verstappen, still on Medium tyres, edged past the Ferrari driver by a little over 0.15s.
Sainz was out on track again, however, and the Ferrari man once again claimed top spot, and by some margin as he posted a lap of 1:36.984. 
The slippery track was now starting to come to the drivers and Leclerc beat his team-mate by three tenths of a second to make it a Ferrari 1-2 and with 40 minutes gone Hamilton posted personal best time in all three sectors, including a purple final third, to take P2, just 0.007s off Leclerc.
On a circuit with three long straights, it had been expected that Williams would prosper in Las Vegas and on the half way mark, Alex Albon delivered on that expectation, jumping to P3 with a lap of 1:36.632, with Sainz just behind in fourth place. 
Fernando Alonso then popped up with a good lap of 1:36.657 to take P1 but Verstappen was circling again and this time he stopped the clock at 1:36.307 to move ahead again before Leclerc bypassed that with an impressive 1:35.265 as Sainz once again made it a Ferrari 1-2, 0.5s off this team-mate. 
That left Alonso with third place ahead of Red Bull's Sergio Pérez. Valtteri Bottas took fifth place to split the Red Bulls, with Verstappen in P6 ahead of Haas' Nico Hülkenberg, while Lance Stroll was eighth in the second Aston Martin. Ninth place went to Hamilton and Albon rounded out the top 10. 
2023 FIA Formula 1 Las Vegas Grand Prix ­– Free Practice 2
1 Charles Leclerc Ferrari 1:35.265 39 234.331
2 Carlos Sainz Ferrari 1:35.782 0.517 39 233.066
3 Fernando Alonso Aston Martin/Mercedes 1:35.793 0.528 38 233.039
4 Sergio Pérez Red Bull/Honda RBPT 1:36.085 0.820 36 232.331
5 Valtteri Bottas Alfa Romeo/Ferrari 1:36.129 0.864 36 232.225
6 Max Verstappen Red Bull/Honda RBPT 1:36.183 0.918 37 232.095
7 Nico Hülkenberg Haas/Ferrari 1:36.489 1.224 33 231.359
8 Lance Stroll Aston Martin/Mercedes 1:36.496 1.231 41 231.342
9 Lewis Hamilton Mercedes 1:36.663 1.398 42 230.942
10 Alexander Albon Williams/Mercedes 1:36.688 1.423 42 230.882
11 Lando Norris McLaren/Mercedes 1:36.864 1.599 33 230.463
12 George Russell Mercedes 1:36.890 1.625 37 230.401
13 Kevin Magnussen Haas/Ferrari 1:36.917 1.652 37 230.337
14 Oscar Piastri McLaren/Mercedes 1:36.987 1.722 35 230.171
15 Pierre Gasly Alpine/Renault 1:37.134 1.869 33 229.822
16 Esteban Ocon Alpine/Renault 1:37.241 1.976 37 229.569
17 Yuki Tsunoda AlphaTauri/Honda RBPT 1:37.412 2.147 41 229.166
18 Zhou Guanyu Alfa Romeo/Ferrari 1:37.656 2.391 36 228.594
19 Daniel Ricciardo AlphaTauri/Honda RBPT 1:37.680 2.415 40 228.538
20 Logan Sargeant Williams/Mercedes 1:38.140 2.875 42 227.46