This page contains archived information and may not display perfectly
F1 – Hamilton wins in Bahrain as Leclerc is denied victory by engine issue
F1 - 2019 Bahrain Grand Prix - Race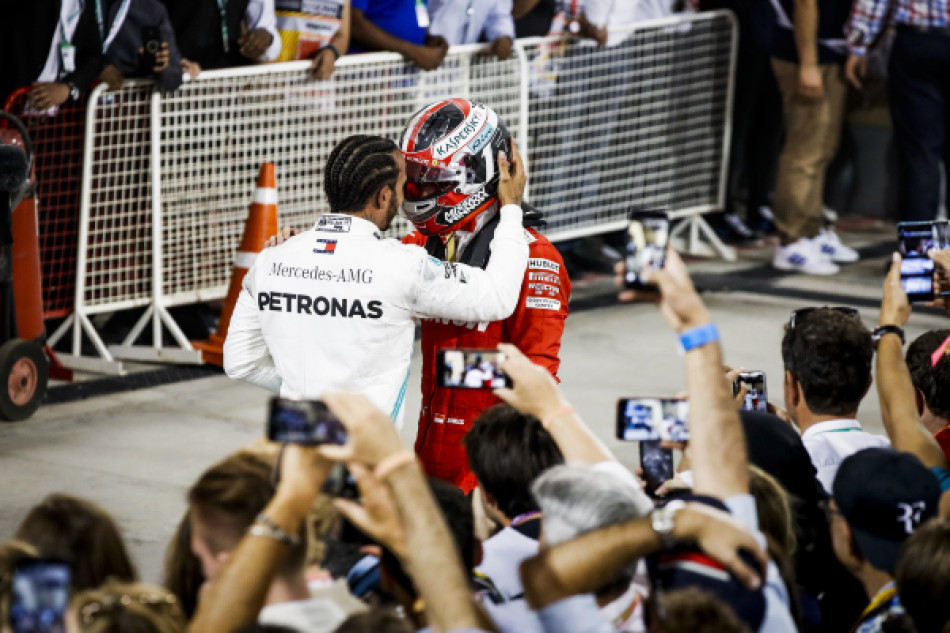 Ferrari's Charles Leclerc was denied a first Formula One victory by a late-race engine problem that allowed Mercedes' Lewis Hamilton to sweep past and claim his first win of 2019. 
Leclerc had led for the bulk of the race, but in the closing stages began to slow and reported an engine problem that was quickly diagnosed as an issue with the turbo. His pace flagged dramatically and at the end of the 48thlap of the 57 scheduled, Hamilton powered past to claim the lead. He was followed by Mercedes' team-mate Valtteri Bottas, and Leclerc might have lost out on his first podium finish had a late Safety Car period denied Red Bull's Max Verstappen the opportunity to also pass the Monegasque driver. 
When the lights went out at the start, Sebastian Vettel got the jump on polesitter Leclerc and seized the lead. Bottas, too, exploited the situation and muscled past the young Ferrari driver to take P2. 
Hamilton then tried to pressure Leclerc and as they tussled, Verstappen, who had started fifth, tried to slip down the inside of both in the final corner. He couldn't make the move stick, however, and settled into fifth place. 
After his first lap difficulties, Leclerc quickly recovered and went on the assault. He pushed past Bottas at the start of lap two and then powered past Vettel under DRS into turn one at the start of the next lap to reclaim the lead. 
Leclerc maintained his lead through the first stops, but Hamilton managed to get past Vettel to take P2. The German was now third ahead of Bottas and Max, who took on medium tyres during a superb 2.1s pit stop. 
On lap 23 Vettel closed in on Hamilton and powered past the defending champion around the outside through Turn 4. Leclerc though was now 7.5s ahead of his team-mate. Behind Hamilton, Bottas was fourth, four seconds ahead of Verstappen. 
Now third, Hamilton pitted soon after the halfway mark and shed his soft tyres for a set of medium Pirellis, a move that was repeated on the following tour by Vettel. 
Vettel emerged ahead but the gap was narrow and the Mercedes driver was soon on the attack. He tried to pass in Turn 4 but was rebuffed by Vettel who held his line well. Hamilton was not to be denied, however, and on the following lap he made the move stick. Vettel spun following the pass and recovered but soon afterwards his front wing mysteriously collapsed and he was forced to pit for repairs, dropping to P9. That bumped Verstappen to fourth place behind Bottas, with five seconds separating the Red Bull from the Mercedes. 
With a dozen laps to go the shape of the race changed. Leclerc began to complain of engine issues and as his lap times increased dramatically he was told that he had "no H recover", signalling a turbo issue.
At the end of lap 48 Hamilton swept past to claim the lead and with third-placed Bottas lapping five seconds quicker than the Monegasque the prospect of a Mercedes one-two came into view. 
By lap 51 Leclerc's advantage over Bottas was just 15.9s and Max was a further 6.6s behind. After Bottas powered past Leclerc, Max closed in fast, but then with just four laps remaining the works Renaults of Nico Hulkenberg and Daniel Ricciardo expired. With Ricciardo's car close to the trackside, the Safety Car was deployed and Max's chance of a podium frustratingly evaporated and he was forced to settle for fourth place. 
With Max fourth behind race winner Hamilton, Bottas and Leclerc, fifth place went to Vettel. Lando Norris took sixth for McLaren, with Kimi Räikkönen seventh ahead of Gasly. The final points positions were taken by Toro Rosso's Alex Albon and Racing Point's Sergio Perez. 
2019 FIA Formula One Bahrain Grand Prix – Race
1 Lewis Hamilton Mercedes -
2 Valtteri Bottas Mercedes 2.980
3 Charles Leclerc Ferrari 6.131
4 Max Verstappen Red Bull 6.408
5 Sebastian Vettel Ferrari 36.068
6 Lando Norris McLaren 45.754
7 Kimi Raikkonen Alfa Romeo 47.470
8 Pierre Gasly Red Bull 58.094
9 Alex Albon Toro Rosso 1'02.697
10 Sergio Perez Racing Point 1'03.696
11 Antonio Giovinazzi Alfa Romeo 1'04.599
12 Daniil Kvyat Toro Rosso 1 lap
13 Kevin Magnussen Haas 1 lap
14 Lance Stroll Racing Point 1 lap
15 George Russell Williams 1 lap
16 Robert Kubica Williams 2 laps
17 Nico Hulkenberg Renault 
18 Daniel Ricciardo Renault 
19 Carlos Sainz Jr. McLaren
Romain Grosjean Haas