This page contains archived information and may not display perfectly
F1 - Hamilton tops final practice at Silverstone as Hartley crashes out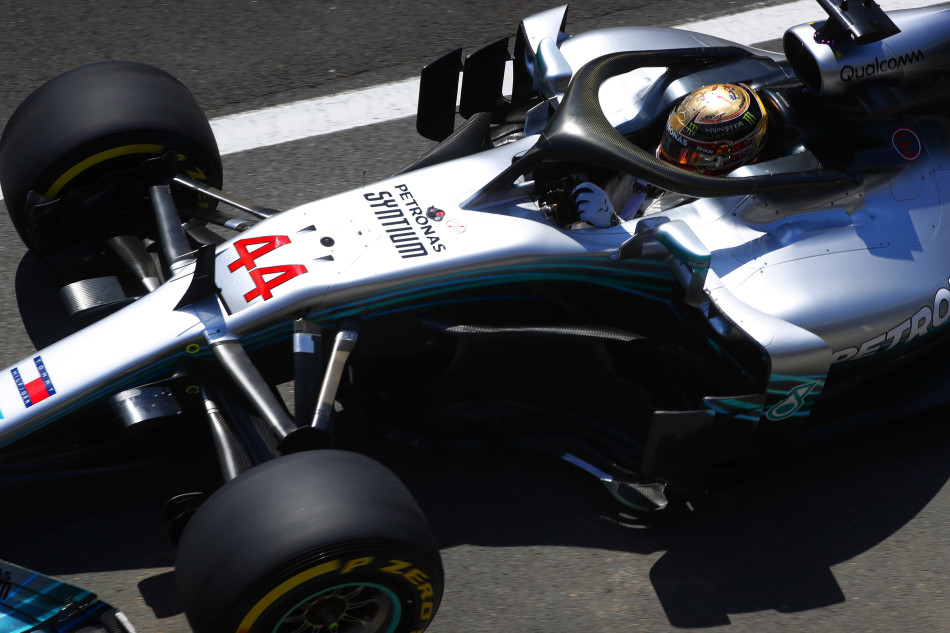 Mercedes' Lewis Hamilton edged Ferrari's Kimi Räikkönen by just under a tenth of a second in final practice for the British Grand Prix, as Toro Rosso's Brendon Hartley suffered a heavy crash due to a suspension failure at Silverstone.
The first time of the morning was set by Max Verstappen, who needed to play catch-up after suffering a gearbox issue late in FP1 and crashing out at the beginning of the second free practice session.
His early laps were understandably cautious and it was Ferrari's Kimi Räikkönen who led the way in the opening quarter of the session, the Finn posting a time of 1:27.607 to sit in P1 ahead of team-mate Vettel.
The session was then red flagged when Brendon Hartley crashed heavily. The front left suspension of the New Zealander's Toro Rosso appeared to collapse as he braked on entry to Brooklands corner and he careered off track, hitting the barriers hard. The Toro Rosso driver was soon out of his badly damaged car and 11 minutes later the green flags were waved once more.
Hamilton the moved to the top of the order with a time of 1:27.442 set on soft tyres, with Räikkönen second ahead of Vettel and Sauber's Charles Leclerc.
With a quarter of an hour left on the clock, Räikkönen was the first to go for a soft-tyre quali simulation and the Finn retook P1 with a time of 1:27.199 to move 0.243 clear of Hamilton.
Bottas was next to show his hand and the Mercedes driver slotted into P2 behind his compatriot with a time of 1:27.364.
Räikkönen then improved to a time of 1:26.815 but his hold on P1 was brief as Hamilton was next to embark on a quali sim and his time of 1:26.722 sent him 0.093 clear of the Ferrari driver, with Bottas third ahead of Vettel.
Following Hartley's crash, Vettel sat out the remainder of the session, suffering with sore neck, and thus he finished 1.129s off Hamilton's pace.
Further back Max Verstappen's quali run yielded a time of 1:28.012 and that was good enough for him to fifth place, just 0.018s ahead of team-mate Daniel Ricciardo.
Behind the top three teams, Charles Leclerc finished best of the rest, the Sauber driver setting a best time of 1:28.416. That put him two tenths of a second clear of eighth-placed Kevin Magnussen of Haas.
The Dane was tenth clear of team-mate Romain Grosjean, who was playing catch-up after missing FP2 due to a Friday morning crash, and the final top 10 place was taken by Marcus Ericsson in the second Sauber.
Following Hartley's crash, Toro Rosso opted to keep Pierre Gasly in the garage for the remainder of the session, with the result the Italian squads driver propped up the timesheet, with Gasly 19th, while Hartley was without a time.

2018 Formula 1 British Grand Prix – Free Practice 3
1 Lewis Hamilton Mercedes 15 1:26.722 
2 Kimi Raikkonen Ferrari 14 1:26.815 0.093 0.093
3 Valtteri Bottas Mercedes 17 1:27.364 0.642 0.549
4 Sebastian Vettel Ferrari 8 1:27.851 1.129 0.487
5 Max Verstappen Red Bull Racing 22 1:28.012 1.290 0.161
6 Daniel Ricciardo Red Bull Racing 15 1:28.018 1.296 0.006
7 Charles Leclerc Sauber 18 1:28.146 1.424 0.128
8 Kevin Magnussen Haas 16 1:28.418 1.696 0.272
9 Romain Grosjean Haas 18 1:28.554 1.832 0.136
10 Marcus Ericsson Sauber 17 1:28.814 2.092 0.260
11 Esteban Ocon Force India 14 1:28.917 2.195 0.103
12 Sergio Perez Force India 15 1:29.066 2.344 0.149
13 Fernando Alonso McLaren 17 1:29.070 2.348 0.004
14 Nico Hulkenberg Renault 12 1:29.094 2.372 0.024
15 Carlos Sainz Renault 15 1:29.133 2.411 0.039
16 Lance Stroll Williams 13 1:29.829 3.107 0.696
17 Sergey Sirotkin Williams 17 1:29.984 3.262 0.155
18 Stoffel Vandoorne McLaren 17 1:30.004 3.282 0.020
19 Pierre Gasly Toro Rosso 4 1:30.050 3.328 0.046
20 Brendon Hartley Toro Rosso 3