This page contains archived information and may not display perfectly
F1 – Hamilton takes pole in Russia as Verstappen splits the Mercedes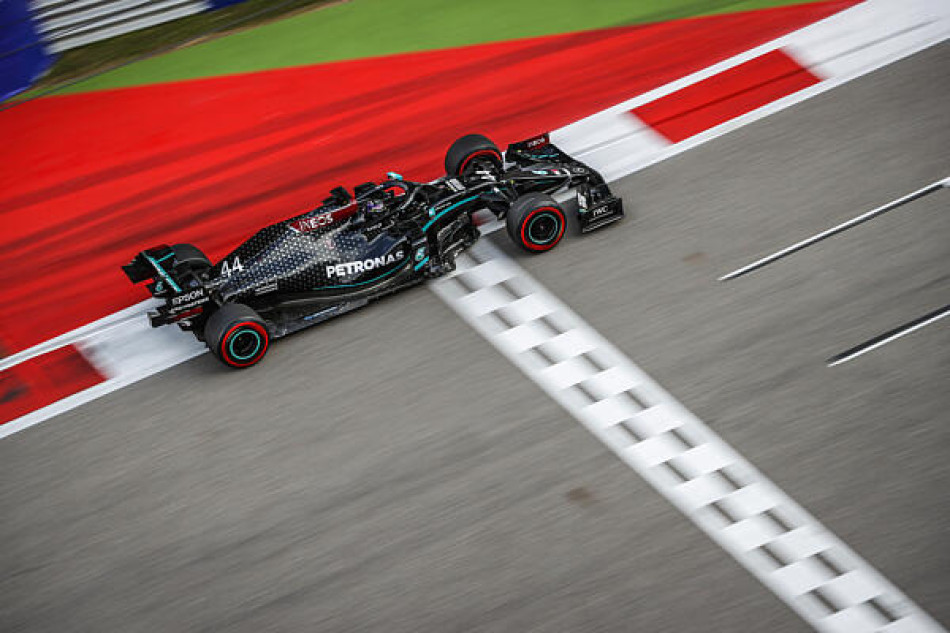 Mercedes' Lewis Hamilton claimed pole position for the Russian Grand Prix after almost missing out on the final top-10 shoot out at Sochi following a late red flag period brought about by a crash for Ferrari's Sebastian Vettel. Red Bull Racing's Max Verstappen put in an excellent final flying lap to split the Mercedes cars to claim his 13th career front-row start ahead of Valtteri Bottas. 
Mercedes led the way in Q1 with Bottas setting a time of 1:32.656 with his first run to lead the way. Team-mate Hamilton made a mistake on his opening run and had his time deleted, but the championship leader made no mistake with a second flying lap on the same tyre and he took P2 ahead of AlphaTauri's home hero Daniil Kvyat and Renault's Esteban Ocon. 
Verstappen ended the opening segment in fifth place with a time of 1:33.630, while team-mate mate Alex Albon progressed in P11 thanks to a final run time of 1:33.919. 
However, eliminated at the end of the 18-minute segment were Haas' Romain Grosjean, Alfa Romeo's Antonio Giovinazzi, the second Haas of Kevin Magnussen, Williams' Nicholas Latifi and Alfa Romeo's Kimi Räkkönen who made a mistake at Turn 2 on his final run and was forced to abandon his final flying lap. 
When the green lights signalled the start of Q2 both Mercedes drivers went out on medium compound Pirelli tyres. Hamilton set an impressive benchmark of 1:32.085 but the Briton had his time deleted for going over the track limits at Turn 18 and that allowed Renault's Daniel Ricciardo to take an early top spot in the session with a time of 1:32.218. 
The final runs saw both Bulls head out on soft tyres but while Bottas was able to get across the line and rise to P2 behind Ricciardo, there was no opportunity for others to improve. 
Sebastian Vettel lost control as he clipped a sausage kerb on the apex of Turn 4 and the Ferrari driver spun sideways into the barriers. The red flags were immediately shown. 
With just two minutes and 15 seconds left on the clock, Albon  was left in P11 and in danger of elimination, while Hamilton was down in P15 following his lap time deletion. 
After returning to the garage the Bulls were the first to be released into the pit lane in anticipation of the re-start. 
Albon  was first on track, though he swapped places with Verstappen as they went towards Turn 2. And with clean air ahead the Bulls had the best of the final moments of the session. 
Verstappen was on course to improve but with the pace of those around being monitored the team chose to tell him to slow as he exited the final corner and he went slowly across the line to ensure progress in P9 thanks to his run one time. He will therefore start on medium tyres. Behind him Albon  put in a good lap of 1:33.919 to progress in P8. 
Behind them Hamilton only just made it across the start-finish line before the chequered flag but once past the line he set a good time of 1:32.983 to make it to Q3 in fourth place. 
Eliminated at the end of Q2, however, were 11th placed Ferrari driver Charles Leclerc, AlphaTauri's Daniil Kvyat, Racing Point's Lance Stroll who didn't make the session restart due to a technical issue, Williams' George Russell and the unfortunate Vettel. 
After the dramas of Q2, Hamilton forged a less complex path into Q3 by taking provisional pole with a lap of 1:31.391, al most eight tenths of a second ahead of Bottas. Verstappen took P3, although again the place looked far from secure as Daniel Ricciardo took fourth just 0.004s behind the Dutchman. 
Verstappen cleverly gained a tow into Turn 1 from Bottas, who had just finished his final flyer, the impetus he needed and he crossed the line in 1:31.867 almost a tenth ahead of Bottas and on the front row. Verstappen will also go into the race with a tyre advantage as the red flag episode in Q2 forced Hamilton to qualify on the soft tyre. 
With Bottas third, Pérez took fourth place for Racing Point ahead of Ricciardo, Sainz, Ocon and the eighth-place McLaren of Lando Norris. Pierre Gasly qualified ninth for AlphaTauri and the final top 10 place was taken by Red Bull's Alex Albon.

2020 FIA Formula 1 Russian Grand Prix - Qualifying
1 Lewis Hamilton Mercedes 1:31.304 6 230.579
2 Max Verstappen Red Bull/Honda 1:31.867 0.563 6 229.166
3 Valtteri Bottas Mercedes 1:31.956 0.652 6 228.944
4 Sergio Pérez Racing Point/Mercedes 1:32.317 1.013 6 228.049
5 Daniel Ricciardo Renault 1:32.364 1.060 6 227.932
6 Carlos Sainz McLaren/Renault 1:32.550 1.246 6 227.474
7 Esteban Ocon Renault 1:32.624 1.320 6 227.293
8 Lando Norris McLaren/Renault 1:32.847 1.543 6 226.747
9 Pierre Gasly AlphaTauri/Honda 1:33.000 1.696 6 226.374
10 Alexander Albon Red Bull/Honda 1:33.008 1.704 6 226.35
11 Charles Leclerc Ferrari 1:33.239 1.021 7 225.793
12 Daniil Kvyat AlphaTauri/Honda 1:33.249 1.031 8 225.769
13 Lance Stroll Racing Point/Mercedes 1:33.364 1.146 5 225.491
14 George Russell Williams/Mercedes 1:33.583 1.365 3 224.963
15 Sebastian Vettel Ferrari 1:33.609 1.391 5 224.901
16 Romain Grosjean Haas/Ferrari 1:34.592 1.936 7 222.564
17 Antonio Giovinazzi Alfa Romeo/Ferrari 1:34.594 1.938 6 222.559
18 Kevin Magnussen Haas/Ferrari 1:34.681 2.025 8 222.355
19 Nicholas Latifi Williams/Mercedes 1:35.066 2.410 5 221.454
20 Kimi Räikkönen Alfa Romeo/Ferrari 1:35.267 2.611 5 220.987