This page contains archived information and may not display perfectly
F1 - Hamilton takes pole in Australia as home favourite Ricciardo crashes out
F1 - 2017 Australian Grand Prix - Qualifying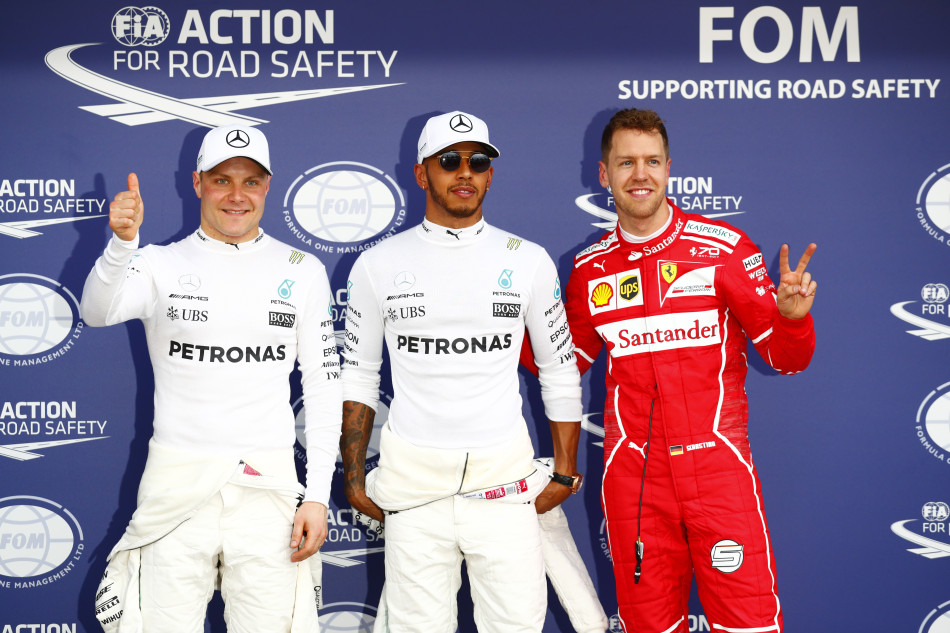 Lewis Hamilton took the first pole position of the new Formula One season, edging Ferrari's Sebastian Vettel and Mercedes team-mate Valtteri Bottas to take his sixth Australian Grand Prix pole by three tenths of a second. Home favourite Daniel Ricciardo crashed out, however, hitting the wall early in the final part of qualifying. The Red Bull driver is set to start tomorrow's race in P10. 
Hamilton set the pace in Q1, claiming top spot 10 minutes into the session with a time of 1:24.191. That was good enough to keep him in P1 until the flag, 0.161 ahead of Ferrari's Kimi Raikkonen.
Third place in the opening phase went to Max Verstappen. The Dutchman had a major lock-up early in the session, which led to a flat spot, and for some time he drifted out towards the drop zone, but with his final lap the Red Bull driver jumped to third, just over a tenth adrift of Raikkonen.
Bottas was fourth in the second Mercedes ahead of Renault's Nico Hulkenberg, Force India's Sergio Perez and Williams' Felipe Massa. Ricciardo was ninth in the second Red Bull ahead of Haas' Romain Grosjean, Toro Rosso's Carlos Sainz and the McLaren of Fernando Alonso.
Further back, Sauber's Antonio Giovinazzi looked set to make Q2 on his F1 qualifying debut but an error late in the lap saw the chance fade and he was the first driver eliminated in P16.
Behind him were Renault's Kevin Magnussen, McLaren's Stoffel Vandoorne, who was vocal in complaining that having to allow team-mate Alonso past had compromised his tyre warm-up, Williams' Lance Stroll and the second Renault of Jolyon Palmer. Stroll, is set to start from the back of the grid tomorrow due to a gearbox change following a crash in FP3. 
Q2 saw the Mercedes pair on track first and this time it was Bottas who emerged on top with the Finn ending the session on a time of 1:23.215, just four hundredths of a second clear of Hamilton. Third place went to Raikkonen, with the Finn shading fourth-placed team-mate Vettel by 0.025s. Ricciardo was fifth, a tenth ahead of team-mate Verstappen and the Dutchman was half a second ahead of the seventh-placed Williams of Massa. Grosjean put Haas into Q3 and the final top 10 slots were taken by the Toro Rosso pair of Daniil Kvyat and Carlos Sainz.
Eliminated at this stage were Perez in P11, followed by Hulkenberg, Alonso, Ocon and Ericsson.
Bottas was first on track in Q3 and when he crossed the line at the end of his opening lap the time on the board was a 1:22.798. The Finn had made a slight mistake at the very end of the lap, however, and thus he was quickly beaten by Vettel with a time of 1:22.796.
Hamilton though was pushing hard and he powered past Vettel to claim provisional pole by a full three tenths of a second. 
Behind them, home hero Daniel Ricciardo was nearing the end of his own first flyer when he lost control in Turn 14. The back end of his Red Bull snapped out and he slid off and across the gravel trap to hit the barriers on the outside of the corner. The red flags were swiftly deployed.
When the action resumed Grosjean was first on track and despite a lock-up a lap of 1:24.074 earned a whoop of joy from the Frenchman. It was justified, as a few minutes later he would confirmed in sixth place.
Ahead Bottas was again first across the line but a slightly ragged final sector mean that Hamilton comfortably outpaced the Finn to take P1 by just under three tenths of a second.
Vettel, though, was still on his final flyer and when he crossed the line he managed to split the Mercedes, edging past Bottas by just 0.25s.
Raikkonen was fourth in the second Ferrari while Max Verstappen took fifth place. The Dutchman's deficit to Hamilton – 1.297s – will have caused groans of dismay in the Red Bull Racing garage, however.
With Grosjean sixth, seventh place was taken by Felipe Massa with Carlos Sainz eighth ahead of Toro Rosso team-mate Daniil Kvyat and the unfortunate Daniel Ricciardo is set to start 10th.