This page contains archived information and may not display perfectly
F1 - Hamilton takes 66th career pole in Azerbaijan ahead of Bottas and Räikkönen
F1 - 2017 Azerbaijan Grand Prix - Qualifying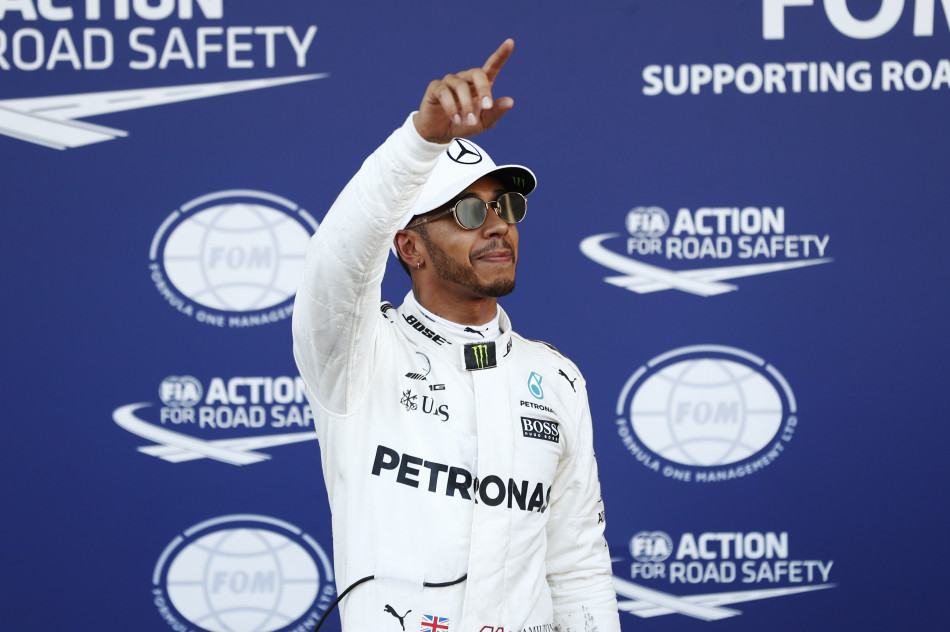 Lewis Hamilton took his 66th career pole position to move within two of all-time record holder Michael Schumacher after he beat team-mate Valtteri Bottas to the front of the grid for the Azerbaijan Grand Prix. Kimi Räikkönen was third for Ferrari, while championship-leading team-mate Sebastian Vettel has to settle for fourth place.
It was Hamilton who made the running in Q1 with the Briton setting the pace thanks to a lap of 1:41.983. Behind him, Verstappen recovered from the hydraulic issues that sidelined him towards the end of FP3 and took second place in Q1 just over half a second behind the Mercedes man. Ferrari's Kimi Räikkönen was third ahead of Daniel Ricciardo in the second Red Bull and Toro Rosso's Daniil Kvyat. Sebastian Vettel, who had also suffered a hydraulic issue in FP3, was sixth.
At the other end of the spectrum, Fernando Alonso's lap of 1:44.334 was the P15 target in the closing stages. Haas' Romain Grosjean, in P16 and a tenth behind the McLaren man, looked the most likely to advance, but in the end the Frenchman couldn't find the pace. It was team-mate Kevin Magnussen who made the most of the final runs and the Dane vaulted from P17 an eventual P15 to push Alonso out of the session ahead of Grosjean, Sauber's Marcus Ericsson, Stoffel Vandoorne in the second McLaren and Renault's Jolyon Palmer who did not take part in the session following a car fire in FP3. Both McLarens are set for heavy overnight grid penalties, however.
Hamilton again set the pace in Q2, this time by quite a margin. After the opening runs Hamilton sat in P1 just ahead of Bottas and Räikkönen but with his second outing the Briton decimated the competition, setting a benchmark of 1:41.275. As the segment edged to a close only Verstappen seemed to be able to operate in the same timeframe as Hamilton and the Dutchman took P2 with a lap of 1:41.961. However in the final moments, Vettel, who had been low key to that point, vaulted to P2 six hundredths clear of Verstappen. Bottas got closer still to Hamilton to finish with a time of 1:41.502, 0.227 behind his team-mate.
Eliminated in in P11 was Toro Rosso's Daniil Kvyat, with team-mate Carlos Sainz 0.161 behind the Russian. Kevin Magnussen was 13th for Haas ahead of Renault's Nico Hulkenberg and Sauber's Pascal Wehrlein.
The first runs in Q3 saw Bottas seize the early initiative as drivers went for two timed laps on their opening runs. The Finn set a benchmark of 1:41.274 with Hamilton, who made a small errors in P2, with a time of 1:41.428.
The session was brought to a halt, however, when Ricciardo clipped the wall on the exit of Turn 5 and damaged his rear left wheel. He was left stranded on track after Turn 6 and the red flags came out.
With 3m33s left on the clock it became clear that there would be time for another run but that drivers would only get one timed lap and it was Hamilton who made the most of it. The Briton powered through the 1m41s barrier, the only man to do that in the session, with a lap of 1:40.593. That was good enough to earn his 66th career pole position and move into second place in the list of all-time pole positions, one clear of his great hero Ayrton Senna.
Bottas took P2 with a time of 1:41.027 with Räikkönen third with a lap of 1:41.693. Championship leader Sebastian Vettel had to settle for fourth place ahead of Max Verstappen, with Sergio Perez in sixth place, just in front of team-mate Esteban Ocon. Lance Stroll had a good session to qualify eighth for Williams, four hundredths ahead of team-mate Felipe Massa. Tenth place went to the unfortunate Ricciardo.
2017 Azerbaijan Grand Prix – Qualifying
1 Lewis Hamilton Mercedes 1:40.593s -
2 Valtteri Bottas Mercedes 1:41.027s 0.434s
3 Kimi Raikkonen Ferrari 1:41.693s 1.100s
4 Sebastian Vettel Ferrari 1:41.841s 1.248s
5 Max Verstappen Red Bull Racing 1:41.879s 1.286s
6 Sergio Perez Force India 1:42.111s 1.518s
7 Esteban Ocon Force India 1:42.186s 1.593s
8 Lance Stroll Williams 1:42.753s 2.160s
9 Felipe Massa Williams 1:42.798s 2.205s
10 Daniel Ricciardo Red Bull Racing 1:43.414s 2.821s
11 Daniil Kvyat Toro Rosso 1:43.186s -
12 Carlos Sainz Toro Rosso 1:43.347s –
13 Kevin Magnussen Haas 1:43.796s -
14 Nico Hulkenberg Renault 1:44.267s -
15 Pascal Wehrlein Sauber 1:44.603s -
16 Fernando Alonso McLaren 1:44.334s –
17 Romain Grosjean Haas 1:44.468s -
18 Marcus Ericsson Sauber 1:44.795s -
19 Stoffel Vandoorne McLaren 1:45.030s -
20 Jolyon Palmer Renault - -