This page contains archived information and may not display perfectly
F1 - Hamilton fastest in final practice in Abu Dhabi ahead of Räikkönen
F1 - 2018 Abu Dhabi Grand Prix - FP3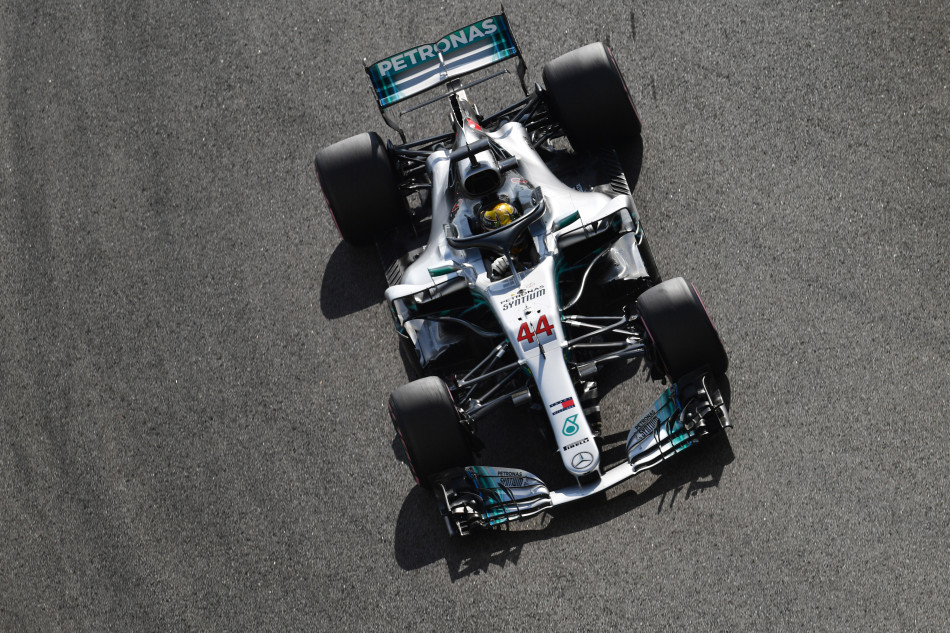 Lewis Hamilton went quickest in the final practice session for the Abu Dhabi Grand Prix, almosgt three tenths of a second ahead of Ferrari's Kimi Räikkönen, whose team-mate Sebastian Vettel finished third.
Ferrari set the pace early in the session with the Italian squad's driver the only likely front runner to take to the track in the opening phase of the session. Räikkönen held sway initially with a time of 1:39.314 but Vettel took over at the top a third of the way through the session, beating his team-mate by more than six tenths of a second.
Hamilton took the track soon afterwards but when a scrappy final sector compromised an otherwise decent lap and left the Briton splitting the Ferrari's Vettel's early time was left to stand as the benchmark until the qualifying simulations as those behind him, including Red Bull's Max Verstappen exchanged P2 times.
Elsewhere, there was trouble for Sauber's Chalres Leclerc in the opening half of the hour. The Monegasque driver lost control in the final corner and spun backwards into the barriers in Turn 19. The impact destroyed his rear wing but he was able to limp his Sauber back to the pit lane for repairs.
Vettel was the first man to attempt a qualifying simulation, taking on a new set of hypersoft tyres and setting a time 1:37.587s. It was a good time, especially as Hamilton then went three tenths of a second slower on the opening sector of his flying lap. The Briton recovered in style over the following two segments, however, and by the end of the lap, beating the German by more than four tenths of a second. Räikkönen then edged ahead of his team-mate with a lap of 1:37.464 to claim second spot.
With Vettel shuffled down to P3, fourth place in the session went to Verstappen who finished 0.571 off Hamilton's pace but almost two tenths clear of the second Mercedes of Valtteri Bottas.
Sixth place was taken by Daniel Ricciardo in the second Red Bull. The Australian didn't finish the session, however, as a late power failure in his car saw him grind to a halt at Turn 9.
Behind the top three teams, Romain Grosjean was best of the rest for Haas with a lap of 1:38.304, 1.128 off the pace, while Renault's Nico Hulkenberg was eighth ahead of team-mate Carlos Sainz and Racing Point Force India's tenth-placed Esteban Ocon.
Grosjean was, however, involved in a strange incident at the end of the session. Gasly went to pass the Haas man and as he drew alongside gesticulated at his rival. The pair then collided, with Gasly losing a section of bargeboard.

2018 Formula 1 Abu Dhabi Grand Prix – Free Practice 3
1 Lewis Hamilton Mercedes 17 1:37.176
2 Kimi Raikkonen Ferrari 18 1:37.464 0.288
3 Sebastian Vettel Ferrari 15 1:37.587 0.411
4 Max Verstappen Red Bull Racing 15 1:37.747 0.571
5 Valtteri Bottas Mercedes 16 1:37.933 0.757
6 Daniel Ricciardo Red Bull Racing 11 1:38.090 0.914
7 Romain Grosjean Haas 13 1:38.304 1.128
8 Nico Hulkenberg Renault 15 1:38.850 1.674
9 Carlos Sainz Renault 16 1:38.970 1.794
10 Esteban Ocon Racing Point Force India 7 1:39.011 1.835
11 Sergio Perez Racing Point Force India 15 1:39.053 1.877
12 Brendon Hartley Toro Rosso 18 1:39.074 1.898
13 Charles Leclerc Sauber 10 1:39.282 2.106
14 Kevin Magnussen Haas 13 1:39.612 2.436
15 Pierre Gasly Toro Rosso 12 1:39.740 2.564
16 Fernando Alonso McLaren 13 1:39.974 2.798
17 Marcus Ericsson Sauber 20 1:39.997 2.821
18 Lance Stroll Williams 18 1:40.117 2.941
19 Stoffel Vandoorne McLaren 14 1:40.233 3.057
20 Sergey Sirotkin Williams 22 1:41.182 4.006