This page contains archived information and may not display perfectly
F1 – Hamilton continues to set the pace in Jeddah as Leclerc crashes late in FP2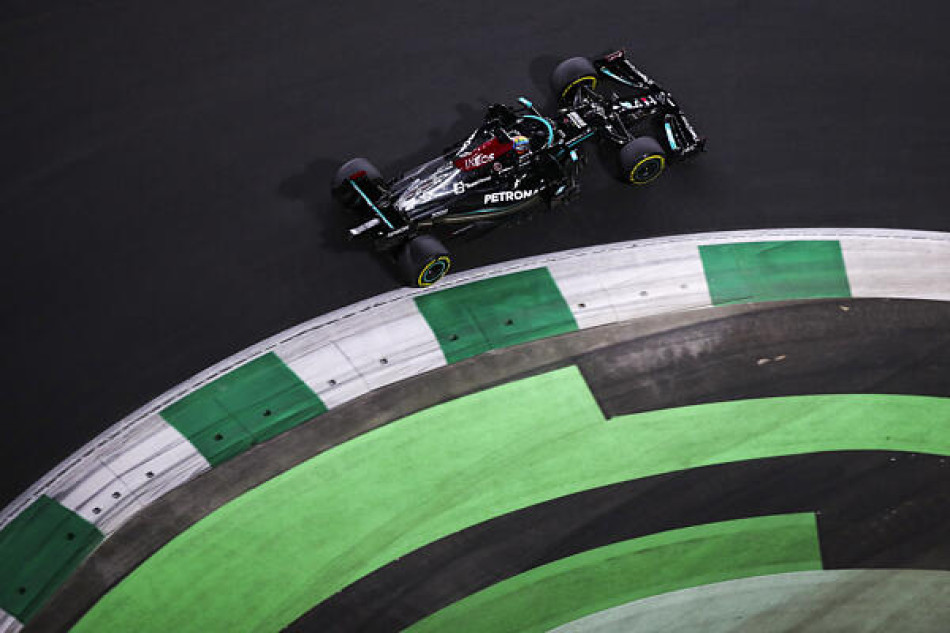 Lewis Hamilton continued to set the practice pace at F1's new Jeddah Corniche Circuit, beating team-mate Valtteri Bottas by six hundredths of a second as Ferrari's Charles brought out red flags with a heavy crash at the end of the night-time session in Saudi Arabia. Championship leader Max Verstappen finished fourth almost two tenths of a second off Hamilton's time.
But while the headline times appear to hand seven-time champion Hamilton a narrow advantage, neither he nor Verstappen got a clean qualifying simulation and the Mercedes driver topped the timesheet with an early best lap on medium tyres.
Verstappen led the way in the early running, setting a time of 1:30.104 on medium tyres. He quickly improved that to 1: 29.706 and then after a brief appearance in P1 by AlphaTauri's Yuki Tsunoda, the Dutch driver climbed to the top again with a lap of 1:29.290.
Bottas then took top spot with a lap of 1:29.079 as the first third of the session ended only to be surpassed moments by Hamilton who posted a lap of 1:29.018.
With the halfway mark in sight, teams recalled their drivers to the pit lane to prepare for qualifying simulations.
Verstappen's opening flyer was compromised by a major snap of oversteer in Turn 2 and he aborted to prepare for another attempt. Hamilton also lost his opening flying lap after being forced to avoid a slow Alfa Romeo in Turn 10 and he then aborted his second lap when he steered off track at the final corner when he encountered heavy traffic.
Despite compromised qualifying simulations, the Mercedes drivers then moved to long-run data gathering. Verstappen, though, was offered the opportunity to continue exploring performance runs and took it, telling his engineer that he didn't care about long-run information. The Dutch driver was able to improve marginally on his earlier time and finished with a lap of 1:29.213, 0.195s behind Hamilton.
His lap was only good enough for fourth place in the session, however, as AlphaTauri's Pierre Gasly snuck in with a lap of 1:29.099 to claim P3. Any further opportunities for very late improvements were denied by Ferrari's Leclerc, however.
With five minutes remaining the Monegasque driver crashed heavily at Turn 22. He lost the rear of his car on entry to the corner and slid across the short run-off. He slapped the barriers hard with the right-rear and pivoted to repeat the collision with the front right corners. The Ferrari driver was able to climb out quickly and the session was red-flagged and not restarted.

2021 FIA Formula 1 Saudi Arabian Grand Prix – Free Practice
1  Lewis Hamilton Mercedes 1:29.018  22 249.684
2  Valtteri Bottas Mercedes 1:29.079 0.061 23 249.513
3  Pierre Gasly AlphaTauri/Honda 1:29.099 0.081 22 249.457
4  Max Verstappen Red Bull/Honda 1:29.213 0.195 20 249.138
5  Fernando Alonso Alpine/Renault 1:29.441 0.423 21 248.503
6  Esteban Ocon Alpine/Renault 1:29.555 0.537 22 248.187
7  Carlos Sainz Ferrari 1:29.589 0.571 24 248.092
8  Yuki Tsunoda AlphaTauri/Honda 1:29.597 0.579 20 248.070
9  Sergio Pérez Red Bull/Honda 1:29.768 0.750 22 247.598
10  Charles Leclerc Ferrari 1:29.772 0.754 23 247.587
11  Daniel Ricciardo McLaren/Mercedes 1:29.968 0.950 22 247.047
12  Lando Norris McLaren/Mercedes 1:30.004 0.986 19 246.949
13  Antonio Giovinazzi Alfa Romeo/Ferrari 1:30.110 1.092 23 246.658
14  Kimi Räikkönen Alfa Romeo/Ferrari 1:30.276 1.258 24 246.204
15  Lance Stroll Aston Martin/Mercedes 1:30.442 1.424 22 245.753
16  Sebastian Vettel Aston Martin/Mercedes 1:30.502 1.484 22 245.590
17  George Russell Williams/Mercedes 1:30.506 1.488 24 245.579
18  Mick Schumacher Haas/Ferrari 1:30.652 1.634 20 245.183
19  Nicholas Latifi Williams/Mercedes 1:31.039 2.021 23 244.141
20  Nikita Mazepin Haas/Ferrari 1:31.629 2.611 20 242.569