This page contains archived information and may not display perfectly
F1 - Hamilton continues to set the pace in Australia
F1 - 2017 Australian Grand Prix - FP2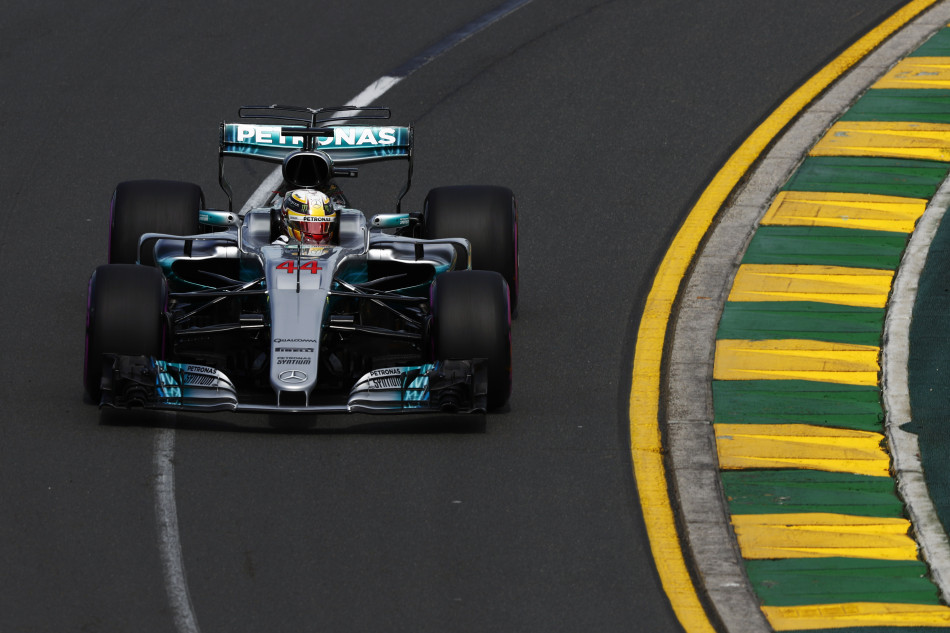 Mercedes' Lewis Hamilton again went quickest at the Albert Park Circuit as he beat Ferrari's Sebastian Vettel to top spot in the second practice session for Sunday's Australian Grand Prix in Melbourne.
Hamilton had claimed P1 in the first practice session of the new F1 season, running just over half a second clear of team-mate Valtteri Bottas and the three-time champion's late afternoon margin over Vettel was similar, with the German being eclipsed by 0.547s.
Hamilton's best time of the session, a lap of 1:23.620 was over four seconds quicker than the 2015 FP2 best of 1:27.697 set by Nico Rosberg (last year's session was run in wet conditions). Indeed, the Briton's time was just a tenth of a second slower than the best ever lap of Albert Park, Vettel's 2011 pole lap.
Behind Vettel, Valtteri Bottas was third in the other Mercedes, while Kimi Raikkonen was fourth with a time of 1:24.525.
A tenth of a second behind the Ferrari driver was Red Bull Racing's Daniel Ricciardo. Team-mate Max Verstappen took sixth place, just over three tenths of a second adrift of the Australian. The Dutch driver did, however, have an off-track moment at the exit of Turn 12 on his first lap on ultra-soft tyres. The trip through the gravel meant his best time of the session, a lap of 1:25.013, came from an earlier effort on super-softs.
Seventh place went to Toro Rosso's Carlos Sainz with the Spaniard finish just under 1.5s behind Hamilton. Sainz was followed by Haas' Romain Grosjean, Renault's Nico Hulkenberg, whiel Daniil Kvyat was tenth in the second Toro Rosso.
Fernando Alonso completed a decent day for troubled McLaren with P12 and a best time of 1:26.000. The two-time champion was 2.380s behind Hamilton's time. While Alonso completed 19 laps, team-mate Stoffel Vandoorne managed 33 laps after logging just six tours in the earlier session. The Belgian finished the late afternoon session in P17.
There was trouble though for Jolyon Palmer. The Renault driver lost control of the rear of his car and crashed heavily in Turn 16 damaging both the front and back.
Felipe Massa's session also ended early, though it was due to a mechanical issues rather than a collision. The Brazilian was forced to pull over midway through the session with what appeared to be a gearbox problem.
2017 Australian Grand Prix – Free Practice 2
1 Lewis Hamilton Mercedes 34 1:23.620
2 Sebastian Vettel Ferrari 35 1:24.167 0.547
3 Valtteri Bottas Mercedes 34 1:24.176 0.556
4 Kimi Raikkonen Ferrari 30 1:24.525 0.905
5 Daniel Ricciardo Red Bull 27 1:24.650 1.030
6 Max Verstappen Red Bull 8 1:25.013 1.393
7 Carlos Sainz Jr. Toro Rosso 34 1:25.084 1.464
8 Romain Grosjean Haas 29 1:25.436 1.816
9 Nico Hulkenberg Renault 36 1:25.478 1.858
10 Daniil Kvyat Toro Rosso 39 1:25.493 1.873
11 Sergio Perez Force India 35 1:25.591 1.971
12 Fernando Alonso McLaren 19 1:26.000 2.380
13 Esteban Ocon Force India 37 1:26.145 2.525
14 Felipe Massa Williams 6 1:26.331 2.711
15 Marcus Ericsson Sauber 29 1:26.498 2.878
16 Lance Stroll Williams 27 1:26.525 2.905
17 Stoffel Vandoorne McLaren 33 1:26.608 2.988
18 Pascal Wehrlein Sauber 30 1:26.919 3.299
19 Kevin Magnussen Haas 8 1:27.279 3.659
20 Jolyon Palmer Renault 4 1:27.549 3.929