This page contains archived information and may not display perfectly
F1 - Hamilton claims fourth F1 title as Verstappen wins dramatic Mexican GP
F1 - 2017 Mexican Grand Prix - Race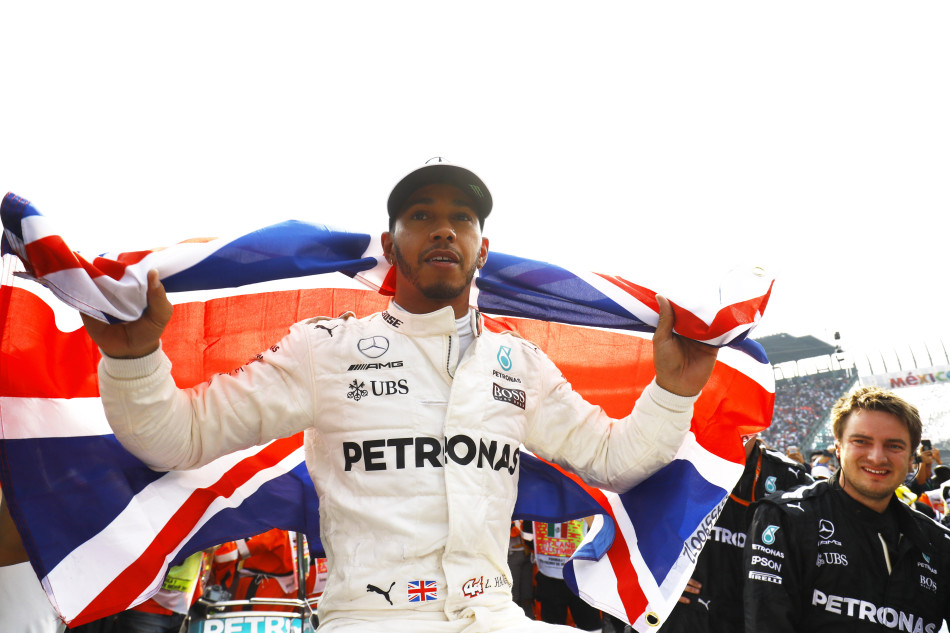 Lewis Hamilton claimed his fourth FIA Formula One World Drivers' Championship title with a ninth-placed finish in a Mexican Grand Prix won by Red Bull Racing's Max Verstappen.
Mercedes driver Hamilton had to battle from the back of the field after an opening lap collision with title rival Sebastian Vettel dropped both men to the back of the field. Vettel, whose slim title chances rested on securing victory at the Autódromo Hermanos Rodríguez, managed to claw his way back to fourth place. However, with Hamilton slowly progressing to ninth place and too big a gap to overhaul to the drivers ahead, the Ferrari driver's hopes ended after Verstappen, second-placed Valtteri Bottas of Mercedes and third-placed Kimi Räikkönen crossed the line.
When the lights went out at the start, Vettel was pressured by Verstappen off the line and at the end of the long run to Turn 1 the Red Bull driver drew alongside the Ferrari driver and muscled his way past in Turn 2 to take the lead.
There was minor contact between them as they went through, with Vettel losing part of his front wing. More damage was to come for the German, however, as Hamilton went around the outside to steal second.
In Turn 3 the left side of Vettel's front wing collided with the rear right of Hamilton's car. The result was a puncture for the Mercedes man and substantial front wing damage for Vettel. Both limped to the pits for repairs and rejoined at the back of the field.
At the front, Verstappen began to build a lead and by lap 14 he found himself 5.5 seconds clear of Valtteri Bottas who had inherited second after the Vettel/Hamilton incident. Esteban Ocon was third, the Force India driver having bypassed Kimi Räikkönen in the opening lap.
Carlos Sainz was the first to make a scheduled stop, the Renault driver pitting on lap two to take on soft tyres, with which he'd try to reach the flag.
Red Bull Racing's Daniel Ricciardo was the next into the pit lane on lap five, but for the Australian it was a complete stop. After taking a grid drop in the morning for an engine change, Ricciardo rose from his P16 starting position to P7. But his race was then ended by a suspected turbo failure.
At the back, Vettel was marching through the order and by lap 25 he was up to 11th place behind McLaren's Fernando Alonso. Hamilton, though, was struggling, and after being lapped by race leader Verstappen the Briton complained that he couldn't get near Sainz up ahead in P18.
Hulkenberg was the next to exit the race. On lap 25 the German being told to stop the car, as it was unsafe. With a suspected ERS issue, Hulkenberg was told to exit down the nosecone and jump off.
On lap 32 Brendon Hartley pulled over at the side of the track with flames licking at the engine cover of his Toro Rosso. The halt, close to the side of the track, resulted in the Virtual Safety Car being deployed and that resulted in a flurry of pit stops, with Verstappen diving in from the lead to take on supersofts.
Behind him Räikkönen profited most, the Finn leapfrogging Ocon to claim third place. Behind them William's Lance Stroll was now firth ahead of Force India's Sergio Perez and Haas' Kevin Magnussen.
Magnussen's hold on the place would be shortlived. Vettel had taken on ultrasoft tyres during his pit stop and he soon began setting fastest laps. He quickly reeled in the Dane and passed him with ease to claim seventh place.
There were however, 16 seconds to make up to the next target, Perez. Vettel closed quickly, to 7.5s by lap 45 but with the German needing second place to keep his championship hopes alive if Hamilton finished outside the points, and with almost 54 seconds to make up to second-placed Bottas it looked like the German's title challenge was done.
Hamilton, though, was making his own steady progress and on lap 46 he passed Sauber's Marcus Ericsson for 12th place and began to close the 7.1-second gap to Vandoorne.
On lap 50, Vettel lunged down the inside into Turn 4 to pass Perez and looked to close the 3.3s gap to Lance Stroll and on lap 54 he eased dismissed the Canadian to take fifth place. Hamilton, meanwhile, had passed Vandoorne under DRS into Turn One to claim P11 and his team were advising him that at the pace he was going he was forecast to finish in P8.
Hamilton began to make that forecast come true by powering past Williams' Felipe Massa on lap 57 to claim 10th place and a points finish. Up ahead Vettel passed Ocon to grab fourth but with 24 seconds to make up to get to third placed Räikkönen and a further 26 second gap to close to Bottas the German was fighting a losing battle. Told of the gaps he sighed "oh, mamma mia."
Sainz, meanwhile, retired from the race, meaning that four of the six Renault-powered cars in the race had exited by lap 62. Just leader Verstappen and 13th-placed Gasly remained.
At the front the Dutch driver was in complete command, however, and not experiencing any mechanical concerns. With an 18s gap to Bottas it might have been expected that he would throttle back and control matters but Verstappen wanted more and on lap 64 he set a race record for the circuit with a lap of 1:18.892 and then widened the gap to over 20 seconds by the chequered flag.
Behind him Bottas held second ahead of Räikkönen, while Vettel's brave charge ended in fourth place. Esteban Ocon scored his second fifth-placed finish of the year, while Lance Stroll delivered a good result for Williams with sixth place.
Sergio Pérez was seventh in front his home crowd ahead of Haas' Kevin Magnussen, while Lewis Hamilton finished ninth, enough to earn the Briton his fourth drivers' title. The final point on offer went to McLaren's Fernando Alonso.

2017 Mexican Grand Prix – Race
1 Max Verstappen Red Bull TAG 1:36'26.550
2 Valtteri Bottas Mercedes Mercedes 19.678
3 Kimi Raikkonen Ferrari Ferrari 54.007
4 Sebastian Vettel Ferrari Ferrari 70.078
5 Esteban Ocon Force India Mercedes 1 lap
6 Lance Stroll Williams Mercedes 1 lap
7 Sergio Perez Force India Mercedes 1 lap
8 Kevin Magnussen Haas Ferrari 1 lap
9 Lewis Hamilton Mercedes Mercedes 1 lap
10 Fernando Alonso McLaren Honda 1 lap
11 Felipe Massa Williams Mercedes 1 lap
12 Stoffel Vandoorne McLaren Honda 1 lap
13 Pierre Gasly Toro Rosso Renault 1 lap
14 Pascal Wehrlein Sauber Ferrari 2 laps
15 Romain Grosjean Haas Ferrari 2 laps
Carlos Sainz Renault Renault
Marcus Ericsson Sauber Ferrari
Brendon Hartley Toro Rosso Renault
Nico Hulkenberg Renault Renault
Daniel Ricciardo Red Bull TAG