This page contains archived information and may not display perfectly
F1 - Bottas quickest in rain-disrupted final practice session in France
F1 - 2018 French Grand Prix - FP3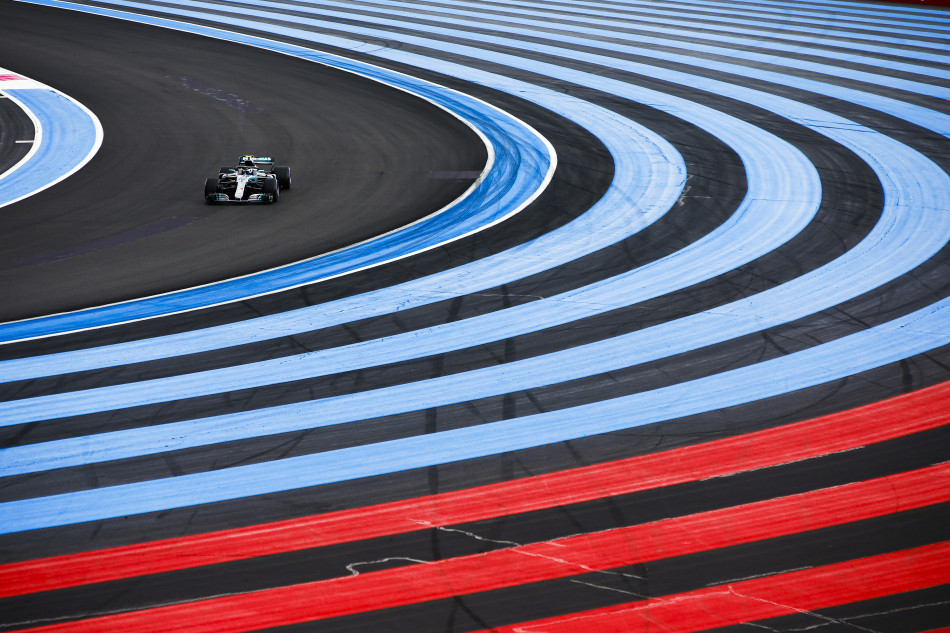 Mercedes' Valtteri Bottas went quickest in a rain-disrupted final practice for the French Grand Prix at the Circuit Paul Ricard.
The Finn was one of a handful of drivers who completed a lap in mostly dry conditions at the start of a session that began under threatening skies. He set a time of 1:33.666, to head Renault's Carlos Sainz by 1.2 seconds, with Sauber's Charles Leclerc just over six hundredths of a second further back.
Behind them, Ferrari's Sebastian Vettel was reporting drops of rain, though the German was able to cross the line in a time of 1:36.365 despite some nervous moments. The conditions then quickly worsened forcing a clutch of drivers to nervously tiptoe back to the pit lane on dry tyres.
With weather forecasters reporting that there would be no change in conditions before the end of the session, and with more rain likely, teams then elected to protect their weekend allocation of four sets of intermediate tyres and three sets of full wet tyres by staying in their garages.
Ten minutes before the clock ran out on the hour-long session, Fernando Alonso decided to test the conditions, steering his McLaren on track on full wet tyres. As the rain continued to fall he was joined by the Williams cars of Lance Stroll and Sergey Sirotkin and in the final minutes before the chequered flag by the Toro Rossos of Brendon Hartley and Pierre Gasly.

2018 Formula 1 French Grand Prix – Free Practice 3
1 Valtteri Bottas Mercedes 3 1:33.666
2 Carlos Sainz Renault 3 1:34.953 1.287
3 Charles Leclerc Sauber 5 1:35.012 1.346
4 Fernando Alonso McLaren 4 1:36.365 2.699
5 Sebastian Vettel Ferrari 5 1:36.756 3.090
6 Stoffel Vandoorne McLaren 4 1:37.547 3.881
7 Pierre Gasly Toro Rosso 5 1:38.317 4.651
8 Marcus Ericsson Sauber 3 1:38.450 4.784
9 Sergio Perez Force India 4 1:39.641 5.975
10 Daniel Ricciardo Red Bull Racing 3 1:39.738 6.072
11 Esteban Ocon Force India 4 1:40.087 6.421
12 Lewis Hamilton Mercedes 3 1:40.743 7.077
13 Kimi Raikkonen Ferrari 3 1:49.711 16.045
14 Lance Stroll Williams 4 2:02.399 28.733
15 Sergey Sirotkin Williams 5 2:04.093 30.427
16 Kevin Magnussen Haas 1 no time - -
17 Brendon Hartley Toro Rosso 3 no time - -
18 Romain Grosjean Haas 1 no time - -
19 Nico Hulkenberg Renault 2 no time - -
20 Max Verstappen Red Bull Racing 3 no time - -