F1 - 2023 MIAMI GRAND PRIX - THURSDAY PRESS CONFERENCE TRANSCRIPT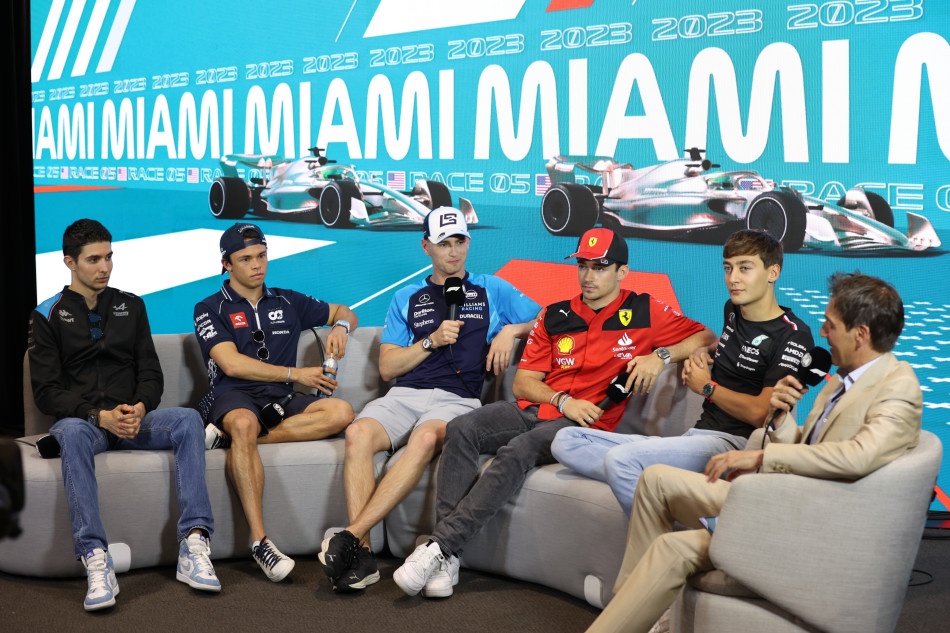 DRIVER GROUP 1 – Esteban OCON (Alpine), Nyck DE VRIES (AlphaTauri), Logan SARGEANT (Williams), Charles LECLERC (Ferrari), George RUSSELL (Mercedes)
Q: Logan, your first home race in Formula 1, just how special is this moment for you?
Logan SARGEANT: I thought I was going to get away from that, sitting in the middle, but I guess not. No, it's good. It was nice to get home after Baku. I was able to spend two days at home to really recharge, get out on the water which was nice. And yeah, I'm excited for this weekend. It's nice to be back in my well known climate, which is extremely hot but it's going to be a tough weekend, not knowing the track. It's a big hurdle to climb. But yeah, I'm excited.
Q: We'll come on to the track action in a minute but you're a Fort Lauderdale boy, just down the road from here. So did you come and watch the Dolphins when you were young or was it all Homestead for you?
LS: I've watched endless games in the stadium so to be able to race around it, to have the hospitalities set up inside the stadium is pretty cool. I was just here at Christmas watching a game. And yeah, now here we are, first home Grand Prix and yeah, it's pretty cool.
Q: And you're four races into your Formula 1 career, just tell the US media how you feel it's going. Best result of 12th in the Bahrain Grand Prix, just but sum it all up for us.
LS: Oh, ups and downs, good days, bad days, to be expected. I'm learning every weekend and I feel like it's coming more and more towards me. But yeah, I have to be more consistently at the top of my game, driving better each and every day. And yeah, definitely not satisfied. A lot of work to do, a lot to improve on but it's moving in the right direction. And that's all that matters.
Q: And Logan, what about this weekend? And what can the fans expect from you?
LS: Oh, from me? I don't know. Well, I think considering not knowing the track, it's going to be a tough weekend for me. But back to a normal format which is nice, to get three hours to build up to it. I think it's going to be a pretty tight midfield so we need to be comfortable going into qualifying and just deliver and get the job done.
Q: Nyck, let's come to you next. Miami, are you getting the Miami vibe?
Nyck DE VRIES: We do but before starting about Miami, we'd like to give our thoughts to Faenza. Not sure if many of us has seen what is happening but the village and the town has suffered from huge floods and obviously our team is based over there and we have friends and family over there that are having a tough time while we are here enjoying the heat. So we just wanted to quickly notify our thoughts with them and hope that things will get better soon.
Q: Yeah, and the whole Formula 1 family sends their condolences to families of people who have lost life in and around the Emilia Romagna region in Italy. But let's bring it onto this weekend Nyck. You're coming here on the back of a difficult weekend for you in Baku; just how difficult is it to park what happened there and move on to a fresh weekend?
NDV: I think it really helps to go back racing straightaway. I think there's still good positives to take away from the Baku weekend because the pace was really good and we made good progress as a team and we started the weekend very competitively on Friday. So yeah, these things happen. You just got to move on. We arrived here early so we started our preparation on Tuesday and it's a very exciting event, so happy to be here and looking forward to seeing what we can do this weekend. 
Q: Nyck three of the opening four races this year have been on street tracks. This is another one of course. That's a pretty unforgiving calendar for a rookie. Does it make it hard, the fact that we've had so few permanent racetracks for you? 
NDV: Ultimately it's the same for everybody. I don't really like to look for excuses. It is the way it is and we know that street tracks have little margin and when you put a small step wrong, then that has consequences.
Q: Esteban, you took a detour via Charlotte en route to Miami. How much did you enjoy driving that NASCAR?
Esteban OCON: I did enjoy it, massively. It was awesome just to have an experience in a proper NASCAR, the new generation car as well. And it was not just a small run in a demo car or anything like that, it was like proper… new tyres and yeah, they properly throw the full experience on it. We did some drag racing as well so not only NASCAR we did, we had the full American racing experience. And yeah, that was very nice.
Q: And dinner with Jimmy Butler from Miami Heat as well. You're getting the full American sports.
EO: Yeah, yeah, it was just amazing, just to be able to chat with him about his career, how he has evolved as an athlete. And he's one of the top guys out there so just to be able to share some of that, it's been a great thing for me. And, yeah, I'm having the full experience. I'm enjoying Miami very much. I entered the track with Vin Diesel earlier so it's pretty crazy.
Q: Let's bring it on track. Alpine comes here after a difficult weekend in Baku. Just what is the vibe in the team as we get underway this weekend?
EO: Yeah, I think we obviously leave that weekend behind. We try and focus on the positives that we had, which is that the updates that we had were working. We didn't use it the proper way and the way it should have been. Doing only three laps in FP1 and just fixing the setup from there on has been very tricky for us. So we didn't use the car the proper way, we didn't optimise it and we couldn't really see the performance of the car. But we have three sessions here to turn things around, bounce back and that's what we're looking to do. 
Q: Charles, if you can conquer America, Charles, the music world is your oyster.
Charles LECLERC: If they are ready to be into depressing music then I'm probably the one to go to. But yeah, my music is not that good. I am a racing driver and I did that out of fun. I released the first music before Azerbaijan. I'm releasing the second one after Miami. And yeah, it's something I enjoy, though. 
Q: Two million listens I think.
EO: Everywhere you go you have a piano with you? 
CL: No. I've checked actually, we spoke about this with Nyck because Nyck is also playing the piano. Starting. 
NDV: We actually have the same teacher but Charles doesn't go anymore.
CL Yeah, exactly. But no, no the pianos are too small, I mean too big to travel with. There are some small ones, but it's not good enough to travel with it. 
Q: I can feel we've got a band on our hands here. The Formula 1 band. Logan, what have you got for us?
LS: I'm not singing. Nothing to do with music.
Q: Look Charles, let's bring it on track quickly. A much better weekend for you in Baku than the opening three races. Just how much of a shot in the arm was last weekend? And what can we expect from you here?
CL: Yeah, it was good. After the first three races it was really bad. We obviously were very unlucky in Bahrain, being in third and having that technical issue already a penalty for the second race. And then the DNF with the incident with Lance in Australia, so it couldn't be worse. But in Azerbaijan, it went really well. We had our first pole which is great. I think it confirms how strong a car we have, especially in qualifying but then in the race we confirmed a little bit our weaknesses that we still need to work on our race pace as the Red Bull is just too strong for now. 
Q: Some upgrades this weekend; do you think that'll bring you closer to Red Bull? 
CL: Should go in the right direction; I don't think it will be enough to fight with them but yeah, it will go in the right direction, I'm sure.
Q: George coming to you, how's Miami?
George RUSSELL: Yeah, it's good. I think for all of us it's fun to come here. Like in the atmosphere, standing on South Beach and a nice run down the coast. And it's going to be a good weekend.
Q: How difficult is it to acclimatised to the heat and the humidity here?
GR: Definitely tricky, for sure. I think last year for all of us it was one of the toughest races of the season. But I think it's exciting when it's difficult. Nobody wants an easy ride and it gives you an opportunity to do something better than the rest but for sure when you're sat in that car for almost two hours you're sweating it out.
Q: Look, tell us about that car. Two races ago you qualified on the front row in Australia. Last weekend in Baku, you were out in Q2. Can you explain that to people who don't understand?
GR: I'm not too sure. It's fine margins I think. We missed out on Q3 by four milliseconds and that would have been a totally different story had we got into Q3, and probably we could have qualified inside the top six but clearly our car isn't quick enough. We need to continue to do a better job and we'll go again this weekend. Hopefully, there'll be a slightly smoother weekend and we can battle out with Aston and Ferrari. 
QUESTIONS FROM THE FLOOR 
Q: (David Croft – Sky Sports F1) George, good afternoon to you. We saw in Baku, you and Max having a little altercation in the pit lane and you expressed your apologies and he expressed his views. After that, do you change the way you race against Max now? Or do you keep racing exactly the same way that you always would? 
GR: No, I will continue racing the same way as I always would. A lot has been said about that coming together but from my side, it was pretty straightforward. I went for a move, got the move done and moved on. Obviously he was pretty upset about it but that's racing and these things happen. And we're all here to fight so that's what everyone's about.
Q: (Phil Duncan – PA) Just following on from that, have you spoken to Max since last weekend's race to try and clear the air? 
GR: No, again, from my side there's no air to be cleared. I'll welcome and say hello to him if he passes by and I'm sure we'll shake hands when we bump into each other. For me it's history now and it's behind us. Yeah, my view to him is still the same, I still respect him, I still think he's a great driver and obviously things were always said in the heat of the moment but yeah, we move on.
Q: (Ian Parkes – New York Times) Charles, it's been four months now since Fréd Vasseur took over as team principal. We're just wondering if you could give us an idea as to some of the changes he's brought in, how you felt his management style, his approach inside Ferrari? 
CL: Well, I think he's just starting this process now. Until now he was basically trying to analyse the situation as quickly as possible in order to do the best changes possible for the future. So yeah, I think the big part of the job will be done from now on so we will see. Obviously I speak a lot with Fréd and I know what are his middle and long term plans for the team, and I'm completely behind him and I trust him fully. So I'm sure these are the right choices and it goes in the right direction for the team. So for that, I'm looking forward to it. But yeah, let's wait and see.
Q: (Mandy Curi – Motorsport.com) I wanted to talk a little bit about the DRS that's been shortened. Some of you have criticised, saying that it has been boring racing and now that there are two shortened DRS on track this time, do you see that this is going to be another boring race? Or what are your thoughts on that? 
GR: I think all of us didn't really understand why they've been shortened. None of us were consulted about it or asked our opinion on it and I think the race speaks for itself in Baku. I don't know whether we're going to keep it the same for this weekend. DRS is there to aid overtaking and it's always exciting when you've got these big DRS advantages and it gives you the opportunity to fight and clearly in Baku it was way too short.
CL: Yeah, I don't think it's the right direction. I think with the cars that we have at the moment, it's still quite difficult to follow. It's better than the previous generation cars but still not good enough to actually have less DRS, so hopefully in the future races we won't shorten them.
LS: Yeah, I agree with Charles and George. I sat behind Zhou for 30 laps or so in Baku, about a second back and could never get close enough into Turn 1 and there were a few times that if that extra 100 metres that it was shortened by would have been there I could have been able to go for a move. So yeah, I think it's the wrong direction.
EO: I think I agree. Everything's been said. 
Q: (Jenna Fryer – Associated Press) Americans can be very fickle people and while they are madly in love with F1, they also are hearing as you guys come in here for the first of three stops that it's already a boring season and one team is going to win all the races. What do you guys say to that? No, keep watching us, we're not boring?
CL: Well, I'll do my best to not make it boring but at the end it's a sport. It's like in every sport, sometimes a team is just better than others and at the moment it's the case with Red Bull. We are working flat out like everybody, I think, here is working flat out to try and recover the gap to the Red Bulls. I think on one lap, we can maybe challenge them. In the race it's going to be more difficult but if there's an opportunity, I'll do my best to make it more exciting.
Q: George, are you confident of winning a race this year?
GR: I'm confident we'll make progress but of course we want the competition. I think the competition we've got at the moment between Ferrari and Aston Martin… every race we go to is really close between us in qualifying. The pace is really close in the race and if that was the fight for victory, it would probably be one of the most exciting seasons we've seen in a long, long time. And it's obviously just a shame that there's two more cars well out in front? So yeah, forget about those two and just watch the race for P3. It may be a bit more exciting. But yeah, it's challenging. I think in no sport, you never want to see somebody dominating. You want to have that competition and that's what we all want. In an ideal world, you have 20 drivers and 10 teams all capable of winning every single weekend, if you do the right job.
Q: Esteban, what were you saying to Jimmy when you had dinner with him the other night, when you were explaining what's going on in Formula 1 and how exciting it is? What did you tell him?
EO: He asked me that actual same question. He said what do you think? If you had a quick car, probably the best car, where would you be? And obviously, I always trust my abilities like all of us, we always think we are the best. Yeah, that's how it is in Formula 1. I'm sure we are working on getting cars closer throughout the field and that one day, we all are going to have a shot at winning the title and that's what I'm definitely hoping for. And that's what I told him as well. But in the meantime just keep pushing, there are interesting fights also, not only for P1 but for the other teams it's very close, just behind, for a lot of positions. It can swing all the way and there can be some big fights in there. So far, that's where we are, but I'm not sure it's going to stay for a very long time like that.
Q: (Ronald Vording – Motorsport.com) Nyck, even though Baku was quite a difficult weekend for you, the update package seemed to work, first of all with the new floor in Australia, and then the low drag package in Baku. How confident are you that given that you've got a more all-round car now that could work everywhere and that the main weaknesses from Bahrain have been addressed? 
NDV: I think in some ways this track is not too dissimilar in terms of long, long straights, and it's a street circuit as well. Obviously, sector one has a little bit more high speed so we'll need to make a little bit more compromises than in Baku whereas in Baku it's straight line speed and low speed corners. But yeah, the team has worked really hard to obviously put development on the car and make the progress like everyone else is but I'm confident that we are making steps forward and progressing and hopefully that will mean we have another competitive weekend.
Q: (David Wilson – Miami Herald) Logan, obviously South Florida is not always a place known for producing professional drivers, let alone F1 drivers. I'm just kind of curious where your passion for racing and this sport in particular originated from down here.
LS: Yeah, I started racing 10 minutes down the road at Homestead Miami speedway. And yeah, it was really just at the time, something to do with my dad, my brother. Obviously we were competitive kids and we just loved the sport, we loved the adrenaline and that just took us on a long journey and yeah, here we are, done the full circle back, in Miami for my first F1 race, so first home F1. So yeah, looking forward to it. 
Q: (Matt Kew – Autosport) A question for George Charles and Esteban. Compared to last year's cars, is it harder to follow this year, harder to overtake? And if so, is that to do with the floor rise? What are the aero factors?
GR: I think it is. I don't know exactly why that is. I think obviously, you know, F1 created these regulations to help overtaking and following, and since they were introduced every single team has sort of developed naturally away from their initial intentions, as you sort of develop the car. So every car on the grid is very different compared to what, let's say, they were intended to look like 18 months ago or two years ago now or whenever it was. And yeah, I think the overtaking is slowly getting more difficult but also because the slipstream isn't as large as well with these new cars so it's slowly going in the wrong direction for overtaking.
CL: Yeah, nothing to add on the technical parts. Maybe as a driver, I felt like this year it's a bit more difficult to follow in the low-speed corners, especially compared to the high-speed. So that's where we struggle a little bit more but yeah, George said it all. 
EO: I mean, I agree that it's a little bit more difficult. I think also, you know, shortening up the DRS things doesn't help at all, as we discussed before. But there is something that you know, we haven't been through yet, is that we've done three races with no degradation at the moment, which, you know, creates more difficulties to overtake I think. In Bahrain, we've seen much more overtaking than the last three and there was no deg in Australia, no deg in Jeddah, no deg in Baku. Let's see if there are some here with the new tarmac. But yeah, I think as soon as there's a bit more degradation, there's more fights and more fun on track.
Q: (Holly Cain – Palm Beach Post) Logan, this is for you. I spoke with you last year here at this race and obviously you did not know, necessarily, that this year you would be starting in the Grand Prix. Could you just talk a little bit about how special this must be to not only be in your hometown, but also the reception that you've received in the days that you've been here? And how many people are you inviting to the race on Sunday?
LS: No, it's amazing to be here. I probably had about 1000 ticket requests at this point, not that many maybe 100. But yeah, I don't have tickets as easy as everyone thinks. But yeah, it's nice to be here. It's going to be nice to actually take part in my first ever car race in America that'll be pretty cool. And yeah, just to see the American fans, all friends and family here and yeah, the atmosphere I know is always good in America. The American fans put out some. I'm excited I'm excited to have that home atmosphere for the first time and really just enjoy every part of the weekend.
Q: (Al Butler – UPI) Also for Logan, I was curious what would it mean for you to get in the points the first time in this at this specific track? And also, what's it mean for you to see three American races this year compared to when you were younger and that wasn't the case?
LS: Yeah, I remember when I first moved to Europe, I don't think there was a single US Grand Prix and I'm definitely glad there's three now. That's pretty nice. And yeah, I mean points is definitely what we're after. You know, it's going to be challenging, for sure. But I think that starts with delivering a better qualifying and going from there. But yeah, opportunities are always there to score points and we have to try and just work well together as a team and extract the most from it.
Q: Come on Logan., if you get your first points here, what are you going to do? Jump in the marina?
EO: Is water this year? Yeah.
LS: I mean, honestly, it might sound lame, but probably just go back to my house and get in my bed for another night before I go back to London. That's all I want to do.
Q: (RJ O'Connell – Racefans.net) My question is, it can already be stressful enough when you have cameras from a reality television show following you around. Now that there's going to be a major motion picture filming in some of these events, is that going to be even more stressful for you all?
CL: No, I don't think it is. I mean, at the end, one more camera or one less camera, I don't think we realise it that much. I think it's amazing for the sport, though, I think it is great. It gives us really big visibility, a big reach to people that might not know or might not be interested so much into Formula 1, just for them to understand it in a better way, in a more lucrative way. And with the movie, I think it's the best possible way. So no, or at least for me, it won't add any pressure. But I don't think for anybody, as we are getting used to having cameras around.
GR: Yeah, nothing more to say.
EO: Hey mom, that's me. I'm on TV. Look, I'm in the movie!
Q: (Ian Parkes – New York Times), George, wearing your GPD hat: speaking to Carlos in his media session immediately prior to this one, he also mentioned the issues going on in F1 at the minute, the fact that the cars are struggling to slipstream, there's less overtaking. I asked him whether anything had been mentioned to F1 and the FIA as yet and he said, no. So, is it now time for you guys, as drivers, to stand up and voice these concerns? And if you do then voice them, what would you hope, in the short, medium, long term could eventually come out of it to address these overtaking concerns and slipstreaming effect that's going on at the minute? 
GR: I think at the end of day, we all want the best races, the most exciting races. And there's probably a few easier ways to achieve this in the short term, like Esteban said about the tyre degradation, you know, it's been easy one-stops in the last couple of races. And when everybody's pushing flat out, there are less exciting races, obviously the DRS has gone in the wrong direction. So there's a couple of small things, but you know, for sure, we're going to speak with the FIA and F1 about this because, you know, we want to be able to race, we want to be able to fight, as we all did in in go-karts, where there was no aerodynamics. So that's the ultimate dream. And, you know, I think the sport took a really good turn for the better when these new cars were introduced, but we need to take it to the next step now.
Q: But would you also agree that there needs to be no knee-jerk reactions and that it's a sample of one slightly duller race?
GR: I think it's well for a couple of races now it's been challenging to overtake. For sure, Baku wasn't the most exciting race in the world. But there are a number of factors for that, but yeah, there should never be a knee-jerk reaction but we were all talking about this issue prior to the race in Baku, and then the race obviously went on to be as dull as we all expected. And it's challenging for everybody. Obviously, we're pushing Pirelli to deliver a good tyre, a consistent tyre and when it is difficult, you know, the drivers, myself included, we don't like it. But in an ideal world, you have a very strong tyre, which at a certain point falls off the cliff and means you have to do a few more pit stops and gives it some different opportunities in the races. But yeah, I'm not too sure really.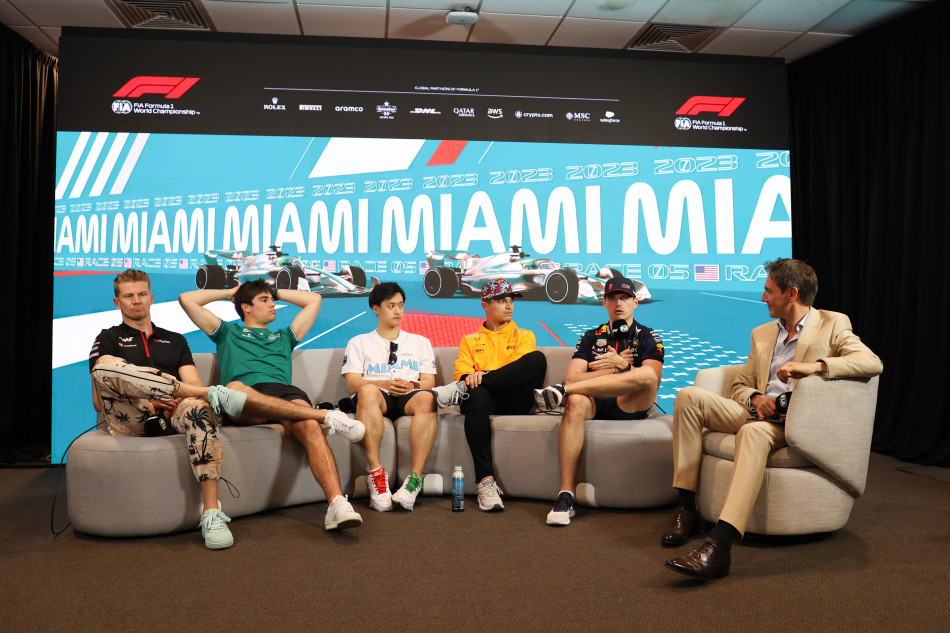 DRIVER GROUP 2: Zhou GUANYU (Alfa Romeo), Lance STROLL (Aston Martin), Nico HÜLKENBERG (Haas), Lando NORRIS (McLaren), Max VERSTAPPEN (Red Bull)
Q: Max, if I can start with you, please. How are you? And how have you been this week? I saw you hammering around Homestead in something. Was that good fun?
Max VERSTAPPEN: Yeah. The back end of an IndyCar, like an IndyCar engine, the new one, and the front end of an NSX GT3. So it was quite an interesting combo. It was on road tyres. So it was sliding around quite a bit. But it was good fun. I mean, when you have to do these kinds of things, I definitely prefer that to sitting around somewhere talking.
Q: Were you on the road course? Or were you on the oval? 
MV: I was on the road course. Yeah. It was good. I enjoyed it.
Q: It's just Miami vibes, isn't it? And I'm seeing that, you know, you've got a new helmet this weekend. You've got a new car livery. You're fully engrossed in it, aren't you?
MV: Yeah, I mean, we had that competition, of course, for every US Grand Prix, that [fans] can design a bit of our car. So I think that came out quite nicely and then you plan the helmet. It's just a nice place to be. It's pretty relaxed in terms of the atmosphere. Of course, it's quite busy for us throughout the week. But yeah, we always enjoy getting down here.
Q: What about the on track performance? The team comes from Baku, where you guys were incredibly strong. Do you see another weekend like that, a two-horse race between you and Checo?
MV: I hope so! I think the cause is very quick. But yeah, let's see. I mean, we know in qualifying it's close. But then in the race normally our car, it's pretty good.
Q: And what about the race? How tough is 57 laps of this place in the heat and the humidity? You all looked like you had a good workout after the race last year.
MV: Yeah, it was very tough, very humid. I do feel so far, it's maybe a little bit colder. I mean, it's still warm, but let's see once we sit in the cars, but I expect it to be a tough weekend here.
Q: Best of luck to you. Thank you, Max. Lando, let's come to you. It seems everyone's got a new helmet design this weekend, but specifically you. You had one here last year and you've got another one this time. Just talk us through it?
Lando NORRIS: Yeah, well, we did try and go one up on the basketball, which was a fan favourite last year, so we had to try and come up with something that we thought could compete with that, which is tough. We thought of you know doing a golf ball, but yeah, we'll let Alex do that one. And we came up with a beach ball, so just something fun you know, it's a nice place to do something like that. And I wouldn't say it's a trend of something I'll do here every year but yeah, people seem to like it last year. So we wanted to do the same. 
Q: Do you guys get together and discuss what your designs are going to be? Because had you come up with the golf ball then there would have been a bit of a clash, wouldn't there?
LNL Yeah, well, we have the same designer. I guess we have the same guy who kind of puts it together so yeah, I would have done it, maybe. I don't know. Next time. I'm sure there'll be some point where it clashes but I just have to make sure mine's better than what his would have been.
Q: What about the car then? It seems McLaren has got its mojo back. The upgrades in Baku last weekend were strong, you were in the points on merit. Do you feel that the season starts now?
LN: The season started a few races ago, but I guess we were playing a little bit of catch-up from where we should have been, honestly. I think we have a good, let's say, baseline to really work from now, more confidence to be able to work from where we are. But we've not had a bad year. I know people keep saying we've had a bad year and such a terrible start and I guess we have, if we want to say we want to win races and so on, but we should have scored points in the first race of the season, we potentially could have scored them in a second. We just got unlucky with the damage and things like that. And then we've had a good race in Australia and a better race in Baku. So, nothing's bad. I think we are just in that middle spot at the minute and it's close between us and Alpine, AlphaTauri, Haas at times, Alfa Romeo. Everyone is there or thereabouts so it's just a close battle. One day we'll look a bit better and the next day we'll look a little bit worse but it's enjoyable.
Q: What's possible going forward, but specifically this weekend? 
LN: Just I guess similar to where we were. I don't expect too many more things. The car is the same as last weekend, so maybe just trying to understand the new parts that we brought to Baku, which I think we have, so maybe exploit them a little bit more. The rest is just trying to get a couple of points. You know, we have four teams that are considerably ahead of where we are. Every now and then we can maybe get close, but it comes to the race and they are another league compared to us. So we are kind of fighting for ninth and 10th at the minute, which doesn't sound like a lot, but the small points will add up.
Q: Even with the upgrades you think you've got four teams considerably ahead of where you are?
LN: Yeah, I think that was proven in the race in Baku.
Q: OK. Thank you very much. Good luck this weekend. Zhou. It's been a busy week for everybody in Formula 1, but specifically you. Talk us through it from the moment you left the paddock?
Zhou GUANYU: Yeah, I went home on Sunday night. And then one day I went to a concert of my friend JJ [Lin], and then had a bit of fun, just one day of racing, and then straight back to Miami. So I went to the baseball game for the first ever time, with the Miami Marlins and that's actually the first ever time for me to throw a baseball. I had to do it on the first pitch. So yeah, there was a higher chance of me bottling it rather than throwing it to the player. But I made it stick. So yeah, it was all good. It was a great experience. No, it's great. I don't know, the stadium is kind of like a cinema, you know, people getting like, nice, fast food, popcorn. And they enjoy that with their family. So it's great to see.
Q: And did JJ Lin pull you up onto the stage on Monday night?
ZG: Luckily not, because I'm not as good a singer as him, so.. but yeah, he did shout out my name. But obviously unfortunately I was covered into the crowd of fans he had so the camera couldn't really get to my face. But no, it was a great concert. I really loved it. And he's doing his world tour obviously., so… 
Q: Sounds like a lot of fun. What about the business end of your time in Miami, then? Where is the performance of the Alfa Romeo at the minute? It was a difficult weekend last time out, wasn't it?
ZG: Yeah, exactly. I mean, it's clear, you know, we're not exactly where we want to be as a team and let's say in Australia we got a bit lucky with all the red flags, staying out of trouble, but in general, you know, people are bringing updates and they seem to be working in a bigger range compared to us and yeah, Baku, obviously, also here, we have the same car basically and we have to kind of just make sure that we can get over all the issues we had in Baku, as clearly it wasn't a competitive enough weekend for us and we do struggle a lot, especially in the race, you know, just to the guys who we are racing. Normally like the Haas, the Williams they seemed to pick up some decent pace through Baku, which we didn't, so, but here is a completely different layout of track, so it's another story, but yeah, we need you to keep pushing and keep working on bringing upgrades. 
Q: And do you feel there's a bit of unfinished business here in Miami after your early retirement last year?
ZG: Yeah. Also, it's quite a bit of unfinished business in Baku, you know, two years in a row, not finished the race. But also last year here. I enjoyed my race up to that point. So you're looking forward to hopefully complete the whole race and also fighting for points.
Q: Thank you very much. Lance, if we can come to you now. How's Miami? Talk us through it. How's your week been? Any concerts? Any baseball games? 
Lance STROLL: No concerts. No baseball games. I mean, it's been great. Hanging out on the beach. And yeah, working on my tan. 
Q: Acclimatising. Is that what we call it?
Lance Stroll: Yeah, acclimatising! 
Q: Now, what about your racing car? It was another very strong weekend for Aston Martin in Baku, wasn't it? It feels like this is the norm for you guys now. Is that how you see it?
LS: Yeah, it was. I mean, we got off to a bit of a difficult start. You know, Qualifying on Friday wasn't amazing. But then we picked up the pace on Sunday. And, you know, we were able to challenge the Ferraris. And then I was in the mix with the Mercedes. But we had, you know, much better pace on Sunday than we did at the start of the weekend, which I think was great. And we managed to pick up some good points. So, yeah, looking forward to this weekend.
Q: Are you getting impatient for a podium this year? Sakhir 2020 feels like a long time ago.
LS: Yeah, it is a long time ago! I mean, you know, I definitely want to be on the podium. But you know, I'm just going to keep driving my car as fast as I can and if it happens then it happens and great. And you know, my job behind the wheel stays the same.
Q: Do you think this will be a stronger weekend for the team here, if that's possible, than it was in Baku? 
LS: I hope so. I mean, I think Baku was one of our more difficult tracks, like just coming into the weekend looking at the layout of the track, you know, a lot of long straights and we haven't been particularly competitive on the longer straights and you come here, it looks like on paper it could be a little bit better for us. But we'll wait and see.
Q:  Nico, there's some serious Miami vibes going on at Haas at the moment. You've got new race suits for this weekend; you've got yourself a new helmet; you've got some new slacks on for our press conference this afternoon. You're loving it!
Nico HÜLKENBERG: Yeah, it's not just all for you, Tom! It's a little bit for everyone. But yeah, we are the American team. It's one of our three home races and big commercial race for us, obviously, as well. And, yeah, we're putting in the effort.
Q: Now, it's your first race at the Miami International Autodrome. You were here last year doing some laps in road cars. How useful are those? Or will it feel like a completely different racetrack when you attack it in a Formula 1 car for the first time?
NH: I still have to do some learning, obviously, but it's better than nothing having done a few laps in a road car last year, which was, you know, good fun on top of that. But of course, you know, you have to explore the track with a Formula 1 car. Some minor changes as well from last year. So look forward to exploring it. It looks quite fun on paper, in the simulator it felt nice too. It's got a good flow to it. So yeah, looking forward to get out there and get sweaty.
Q: And what about the performance of the car? Do you think you'll be stronger here than you were in Baku?
NH: Yeah, Baku was a tricky weekend for us, for different reasons. I do believe that here, this track should suit us. It's going to suit us better. So yeah, I think as everyone knows, the midfield is very tight. We've got to pull it all together, make no mistakes, but I believe that if we can all get it together that we can be in the points on Sunday.
Q: First time you've been in this press conference since the April break, when you set a personal best in the Mallorca half-marathon. Are you going to share with us your time – or if you're not prepared to do that, just tell us about your running journey. And how long has it been an integral part of your training?
NH: It was a 10km race. What's the difference between that and a half-marathon? I don't know, but the target was sub-40 minutes on 10km, which I've achieved.
Q: Have you always been a runner?
NH: Pretty much. I was a little bigger when I was young but when my Dad started to invest in me and it got serious, he said, 'Son, you got to lose some weight.' And he sent me running and ever since I stuck with it.
QUESTIONS FROM THE FLOOR
Q: (David Croft – Sky Sports) Question for you all, on the subject of DRS after Baku. George Russell was just in here saying the drivers haven't really been consulted about shortening DRS zones. So, here's your chance to share your views now. And I know the FIA decide these things a long way in advance but do we need shorter DRS zones? Or would you prefer longer DRS zones? Does it make the racing better when we have more DRS zones? What's your thought on the topic of DRS at the moment?
MV:  Well, I would prefer of course that we could race without DRS but that's not possible. I think for us, of course, it's a little bit different. I mean, if the car is faster than the one… let's say when you have to come to the field from the back, it doesn't really matter how long the zone is, you will get the car ahead. But when the pace is within a tenth, or two-tenths, you could see that in Baku, I think, once you're in a bit of a DRS train, there's no chance and even when the leading car of the train… the DRS zone is just not big enough to have a run.  So, what is that? Is the DRS zone too short?  Are the cars not good enough to follow closely? I think it's a bit of a combination of both, with the cars are probably too heavy, they're too stiff, so you can't really run a kerb to try to find a bit of a different line because it's all quite… everyone is driving more or less the same line nowadays because of just how the cars work, and how stiff the suspension is. And yeah, probably now, with people finding more and more downforce in the cars, it probably becomes a bit harder to follow as well.
LN: I don't think I've too many things to add. Max explained it pretty well to be honest. We've been through it, I think it's been discussed. We discussed it already last week. I know they shortened it here again in the two zones. I mean, we're the slowest on the straights, so I'd love DRS at every chance we have. Yeah, I think there's something to just review, you know? I think if we look back at last year, maybe at times you could have shortened it – but as cars evolve and get more downforce, generally it always makes the racing a little bit worse, which is kind of led a little bit down that path. Cars are becoming more efficient, at the same time. So, you need that little extra to help you. So it just needs to be re-reviewed, you know, and not to use data from last year, but just look at what's been happening this year, and then review it. So, in my opinion, probably extend, but depends on who you're racing. Red Bull doesn't even need DRS, and for us, we need everything we've got, in a way. So it depends who you're racing against, and some of the differences, but there'll be some races, which will be a lot better, and some races which are tougher. And like Max said, there's certain things we're just not able to do nowadays that we could do maybe a few years ago, which made it easier to overtake – like take kerbs and do different lines and things like that. So, it's not as simple as just DRS. There's many things to try and improve and do better. But, yeah, we're  talking and we're trying to do what we can to make it better for the sport.
ZG: Yeah, to be honest, not much to add for my side. Very similar to Lando. Where we're racing, I think we need the extra DRS zones, to be more following closely, because most of the races being like the DRS trains so far, the last few events, especially for us, try to clamp back on the field is almost impossible, unless somebody makes a major mistake, which doesn't really happen too often, right now in Formula 1. So for my sides, I agree, we need to have a look, because last year, the way we were, there's team like us, well under the weight limit, and then we gain some advantage, and then it looks maybe too much. But then, yeah, for this year, they gain downforce, more sliding following closely. So I think I'm more happier, obviously, to extend I think, just for better racing, to be honest.
LS: I think in an ideal world, we wouldn't have to rely on DRS to help overtaking. I would love to see the nature of the tracks – a lot of the tracks that we go to – just give us more of an opportunity to overtake, and the nature of the cars, give us a more of an opportunity to overtake. But, I definitely think it's something that, as a group of drivers and with the FIA, I think it's important that we speak about the DRS zones at each track and, and give ourselves the best possible opportunity to race every weekend and pass. And actually do something on Sunday. You know, I think it's very track dependent. We go to Baku and overtaking is a lot easier than Monaco, for example. And I think just having DRS in the right places, and have the right length of DRS for each track, to give us an exciting race on Sunday. I think that's something we all want to see. We always want to see overtaking on Sunday. So I don't remember how overtaking was here last year, but I mean, was it so bad? It was bad. So, yeah, I don't know why they shortened it. But maybe that's something we need to chat about.
NH: It's all been said.
Q: (Jenna Fryer – AP) My question's for Max. George was in here earlier, he was asked if things are okay with you guys and if he'll race you any differently. He said he will not race you any differently. From your side, how are things between the two of you?
MV: Terrible! No, of course not. That's what people maybe like to hear. But no, it's absolutely fine.
Q: (Mandy Curi – motorsport.com) Max, question for you about your teammate, Pérez. He's been so quick on the street circuits – what do you think this attributes to? His driving style? Is that a coincidence? Or do you think there's some tech factors involved?
MV: No, I mean, I think sometimes some tracks probably suit you a bit better. and probably for Checo, his driving style and the way he likes the car probably suits a bit better to a street circuit. I personally don't really enjoy street circuits. So probably there is also something in that. I prefer more the fast corners, but that's how it goes. You have a few street circuits on the calendar, a few normal tracks as well.
Q: (Ronald Vording – motorsport.com) It's another question to Max. This week, we got the information that Adrian Newey has extended his contract and will stay with the team for more years to come. Just how important is that news to you personally, and if more key Red Bull personnel stayed with the team on the long term, could that influence your decisions towards 2028? Thank you.
MV: Well, nothing will influence anything to '28 because I have a contract so but yeah, I'm very happy of course, that Adrian stays, but that goes for everyone in the team, right? I mean, when you're doing really well, you want to try and keep that whole group together. And that's of course also the target for the team for the future.
Q: (Holly Cain – Palm Beach Post / Gannet) This is for anyone that really wants to answer it. I just wondered, we keep hearing the word 'vibe' use. But if you could kind of talk about coming to Miami, and what the vibe actually is with the people? And secondly, what about the actual racing circuit? Do you like it? They really only made nominal changes to it from last year. So do you like it?
MV: [to Lando] You're all about the vibe, so explain it.
Q: Well, because we're in America and we have a guy who races for an American team. I'll pass this over to Nico.  Nico what's the vibe?
NH: [to Lando] But Max said you're the vibe guy!
MV: Maybe you do one, then you do one. Nico take the track.
NH: I haven't raced here, so that's the wrong one for me!
MV: But you have driven with a road car!
NH: I mean, just look around, when you drive around, for us, from Europe, it's so different how it looks, how it feels. I mean, where we live, also the weather is pretty good but here, it's just consistent. The palms, the people, I think also the Latin factor involved here. It's just very unique, different and yeah, it feels like a grand prix weekend but also it feels like a grand prix with a lot of entertainment – or maximum entertainment – and feels special and unique for that reason.
MV: [To Lando] And your vibe. How's the vibe?
LN: The vibe's pretty sick so far. I don't know what you want me to say to be honest. I think everyone enjoys it here. It's just good fun. Like you said, good weather and so on. Cool. A lot of different people come here. So a big weekend in terms of partners and brands, for us especially: we have a lot of American brands. So, I guess you have that side of it. And a lot of them are coming here. So you want a good weekend. And that just makes it enjoyable at the same time. I like the track, I guess there are some changes, nothing too big. The biggest one being the tarmac. As long as the tarmac stays down and doesn't come up like last year, then I think we're in a better position. So we'll see. There's some rain expected for Sunday at the same time. Some thunderstorms, so yeah, we'll find out soon.
Q: (Mandy Curi – motorsport.com) Lando, since you are so excited to answer that other question. I have one for you. This year you're the veteran driver on the team. Can you talk a little bit about the team dynamics with you and Oscar? And what's it like being the more veteran of the team?
LN: It's a good vibe. What's it like? Honestly, just as a genuine, genuine answer, it's not too different. I think how I worked last year, and how I worked with Daniel, it's not too different, you not like too many things change. Maybe they lean on me a little bit more for the knowledge of how we were in previous years, to look at the development from last year to this year and things like that. But apart from that, you both give your sides of the feelings and the story of what's going on to the car, what you want from the car –  which aligns very well. I wouldn't say we have the same driving style, but our comments and complaints are generally always the same. So, I think that's a good thing. He's a lovely guy, down to earth, normal guy, hard worker and so on. So it's good, fun. Different, I guess to Daniel. I feel like a bit of a contrast of Australian but still good fun. He's very fast at the same time. So probably been pushing me a little bit more than the past couple years. So yeah, enjoyable.
Q: (Ian Parkes – New York Times) Question for you, Lance. You and Fernando have obviously built up quite a relationship, goes back quite a few years now. I interviewed your Dad last weekend, and he showed me a picture of when you when you first met Fernando at the FDA when you're just a little boy. Just explained to me how that relationship has developed over time. And what that has now meant to you, now that you're teammates together at the same team? Thank you.
LS: I wouldn't say we had a relationship back when I was 12. I was just a fanboy! But yeah, there's a great dynamic in the team at the moment, I definitely enjoy working alongside him, he's incredibly talented, knowledgeable, experienced, and hungry to get the most out of himself every day. I have a huge amount of respect for him, because he's been doing that for a long time. He's been at the top of his game for… how many years he's been in F1 now? Like, I don't know, more than 20 years? So, I think just to see that determination and focus and motivation every day, I have a lot of respect for that. And, yeah, we have a great synergy in the team and the car's been really nice to drive. And, I think we've been having a great relationship, and the sense that we're both trying to get more out of the car, every weekend, and as a team, collectively, just trying to come up with more ideas, and just better ideas and how to improve the setup, make it even better. And I think that that dynamic has been really good.
Q: (Sam Johnston – Sky Sports) Question for Max. There's been a lot of talk after Baku about a renewed title race between you and Checo and the intensity of the rivalry. Does anything change with the gap coming down? Or is it just business as usual for you?
MV: It's so early on in the season, we know that we have a very quick car. So, it's quite normal that it's between the two of us, right? At the moment. So there is nothing new there. And yeah, between us, we have a good understanding, good relationship. So I think what we want to focus on I think, is just to try and make the car better and faster to try and stay ahead of everyone else. That's the main objective. And then the rest, you will do on the track anyway.
Q: (Ronald Vording – motorsport.com) It's another one to Max but the others can add if they want to. You've talked about being more difficult to follow this year. Do you feel that in general the ground effect cars have delivered on its expectation so far? And if not, what are possible tweaks to the current concept to improve the racing?
MV: I think they are a bit more stable when you're following. Like, the other generation, you could have massive oversteer or understeer in high speed or low speed. Now, yeah, you lose downforce, but it's a bit more understeer, a little bit more oversteer, nothing really drastic. But like I said before, I think of course that improved – but because of the stiffness of the cars, how you have to run them, it takes a little bit of that magic away – especially on a street circuit where you could ride a kerb here and there. So yeah, that probably is a bit tough, around Baku, but also around Singapore, that makes it very hard. Yeah, I don't know. I think in general, what we have to try and get away from it – but it's very hard – is just a weight increase. When you jump back in an old car, and you go out, you definitely feel the difference in how agile an old car was. But that's like early, for me, early 2010. Before that, they were even lighter, right? So, I don't know how we can solve that. Also the bigger wheels, they're quite a bit heavier as well. So that for me goes in the wrong direction. But I don't know what we can do about you know, turning it around.
Q: (Matt Kew – Autosport) Question for Lando. You've spoken about the positivity of the technical team restructure. Now they've embedded themselves, have they actually found something new? Or all the problems with the team, that set up, were they already apparent and they just needed redirection? Or have they spotted something completely different?
LN: No, it doesn't work exactly like that. I think, say like the new floor we have now, it's more of a different philosophy, different understanding of how things work. I guess that was kind of found during the winter already, just a little bit too late. The rest is not as simple as that. It's not just one big thing. People do come up with different ideas and different ways of doing things. It's also the efficiency of work, especially with the budget cap now and time with CFD and wind tunnel. It's about the efficiency and how you work through things and coming up with the ideas from that side of it. And working from there, and just how people work together at the same time, just the teamwork and team ethic of it all. So it's not like we don't have the correct people. We got a lot of clever people and I think a lot of people that can help us move forward. It's just how people work together. And just the structure of it all, I think that makes a bigger difference than a lot of people think from the outside. It's nothing big. It's not like me miss massive things. It's just chipping away and finding little things and putting them all together by the end of the week and going from there. And the efficiency of work. It's probably just more efficient and over time, over weeks and months, you see a bigger change from that.