F1 - 2023 MIAMI GRAND PRIX - FRIDAY PRESS CONFERENCE TRANSCRIPT
TEAM REPRESENTATIVES - PART ONE
Franz TOST (AlphaTauri), Christian HORNER (Red Bull Racing), Toto WOLFF (Mercedes)
Q: Franz can we start with you. You've been creating the headlines in the last week or so because you've announced that you're going to step down as team principal of AlphaTauri. Why are you stopping?
Franz TOST: It's time to go. 67 years. I think this is the time where I will hand it over to some other people who can do a much better job than me. It's the correct way, I think, to do it, and I am more than looking forward to when Peter Bayer and Laurent Mekies will take over the lead for the team. 
Q: The sport will miss you. What will you miss about the sport?
FT: I don't know whether the sport misses me. I will, of course, miss Formula 1. I love Formula 1 but you never know: maybe I go karting; or maybe I will start once more racing. You never know when you get old. Old life crisis – instead of the mid-life crisis at my age – whatever will come into my head, but it will not be boring, believe me. 
Q: Now, how do you reflect on the last 18 years? And specifically, you've had a lot of young drivers come through your doors. Tell us about the highs and the lows. 
FT: I think, you know, when Dietrich Mateschitz decided to buy the Minardi team, he said one of the main pillars is to educate the young Red Bull drivers, and this is what the team did. Looking back, there were some very high-skilled drivers like Sebastian Vettel, then, of course, Verstappen. I know they won many races, championships and so on – but there are also some other drivers, they were really fast, like Carlos Sainz, like Pierre Gasly, Ricciardo, Daniel, and now Yuki Tsunoda. And there are a couple of drivers, they really improved a lot in the time and they were in our team and they did a very professional job, they developed themselves and that's good to see.
Q: Give us a name Franz. Who is the fastest driver you've worked with at AlphaTauri/Toro Rosso?
FT: Yeah, of course it's easy to say. I could say now Max Verstappen; I could say Sebastian Vettel. They were the fastest because otherwise they wouldn't have won so many races and championships – but there were also other drivers, they were not much slower but maybe they were at the wrong time in the wrong team or whatever – but these two are the best, of course. 
Q: The last time you were in this press conference, in Saudi Arabia, you told us that you no longer trusted your engineers. Given the progress the team seems to have made with the car since then, do you still abide by that?
FT: The person I didn't trust anymore is out, as you can imagine, and the others I trust. Totally easy. And they do a good job.
Q: And what's possible this weekend Franz? 
FT: After FP1 I must say we are struggling. There's a lot of work the engineers have to do. We were too slow, for whatever reason. And hopefully we can catch up.
Q: Christian, coming to you. You've worked with Franz for many years. Can you tell us about his contribution to Red Bull's journey in Formula 1?
Christian HORNER: Well, it's been huge. I mean, as you know, as Franz has said, he's worked with and groomed a lot of young drivers for us and any driver that could, you know, could survive a 'Tosting' was only ever going to survive at Red Bull Racing. So, he did a wonderful job with the young drivers: very disciplined; would make them all go go-karting; be in the gym. Any day wasted…  I think one of his famous mottos: any day not at a racetrack is a day wasted in your life. And that included Christmas and probably New Year's Eve! So, he's contributed such a huge amount. And it's only understandable that he thinks it's time to perhaps back-off a little bit, but, the contribution that he's made with Toro Rosso and then of course, AlphaTauri, in developing and nurturing this young talent. He's done an absolute first class job in that respect for us.
Q: And let's bring it on to Miami for you, I see that Daniel Ricardo has had you doing a 'shooey' already.
CH: Yeah, you would have thought he'd given them up by now, but it was for the Wings for Life charity last night, and somebody very kindly donated $15,000 to drink out of his shoe. And you know, it's such a good charity that you couldn't refuse it. Thankfully, it was a new shoe, whereas the previous one I had was out of a very sweaty boot, which thankfully it wasn't last night.
Q: Now, you guys are enjoying an incredible period of dominance this year. Four races, four wins, two a-piece for each of your drivers. Can Checo give Max a season-long challenge this season? And if so, what's changed in him this year compared to the previous two that he's been at the team? 
CH: Checo's had a fantastic start to the season: two victories so far. The Sprint race victory as well. And you know, obviously a second place and a fifth place as well. So, he's started the season stronger than he's ever done. And I think that, as we all know, confidence is a big thing in in any sport and Checo's confidence is sky high, and this Championship is going to be a marathon and there'll be highs and lows to it along the way, I'm sure but, his challenge, and the challenge for both drivers is maintaining the consistency, and for sure we're going to see these guys [Mercedes] turn up and Ferrari at some point, so it won't just be about our drivers.
Q: We get that his confidence is sky high. But is he doing anything different with the car? 
CH: Not especially, I think certain circuits have always suited him. I mean, street circuits, he's always excelled at and as we move back into Europe, some of the more classic circuits, that's where I think he's going to need to take this and carry this confidence, which I believe he absolutely, absolutely can do – but he's not driving particularly differently. I think this is his third year in the team, he's settled, he understands obviously how everything works and yeah, he's in a good headspace right now.
Q: You've just given a nod to Mercedes. You think they could catch-up maybe later in the year? Ferrari took pole position last weekend. Do you think Ferrari specifically at this race are going to give you a closer challenge?
CH: We think Ferrari will be very quick. I think this circuit will suit their energy, particularly in qualifying, for example, I think that this new surface is going to be interesting to see how that plays out in the race. And of course, I think there's a big threat of rain either tomorrow, it might linger until Sunday and that, on this surface could create a complete lottery. So, there's an awful lot of variables but I think Ferrari, obviously, looking reasonably quick; Toto's drivers at the end of the session, they put in strong times as well. So, it's going to be interesting to see how the weekend unfolds. 
Q: Final one from me.  A lot has been made about the lack of overtaking last weekend in Baku since the race. What's your take on that?
CH: It's a tricky one. The DRS got cut by 100m and maybe it just went a little too far. Maybe it needed to bring it back, maybe 50m, because it was very static throughout the grid when you looked at it. So yes, it was surprising that a track that's usually relatively straightforward to pass that, suddenly did become much harder and maybe that that reduced DRS zone played a played a factor in that.
Q: Toto coming to you, just taking up that point about Baku. Do you think the sport needs to avoid knee jerk reactions after a race like that? 
Toto WOLFF: Well, first of all, I want to say a word about Franz. Because we are obviously both Austrians but Franz was always… so we have a past actually where we started racing was on the old Österreichring, both instructors in the same racing school – Walter Lechner Racing School – obviously Franz was there 45 years before me! But we actually missed each other just by a bit, by a few years. So, we've gone a long way and the career he has had. [to Franz] are you the longest standing or are [to Christian] you the longest standing team principal? [to Christian] Okay. So, you're next in line to quit – would make life easier!  No, that's amazing, an amazing career. There is not many of us who have been there for quite some time,so congratulations for everything you've achieved. 
FT: Thank you.
TW: Knee jerk reaction. Yeah, in this sport, we tend to be manic depressive, from exuberance to depression when things are going well, then it's great, then we have a race that's not so great and obviously then we talk about it. Many things have been taken out of context though, to create headlines. And I think we just need to see whether we have a pattern that continues: whether overtaking is more difficult or not? Are the 20 cars in a second? Is that the right thing to do to have or not? And are we creating too much downforce through the floor? All that for me hasn't got the right answer. So, we need to find a baseline over the next few races, see whether there's something which we can improve. Like Christian said, the 100m DRS could have made a big difference, we shall see.
Q: Talk to us about car performance. The W14 seems to have fluctuated, let's say more, over the last few races. George on the front row in Melbourne, then knocked out in Q2 in Baku and then, as Christian's just said, very quick at the end of FP1 here in Miami. How do you explain that to us?
TW: I think the car has some goodness, it's just very tricky to unlock it from a setup point of view and also driving it. If the drivers have confidence, both of them, the car can go quick but it's on a razor's edge and when we are a little bit beyond it, then the car is really difficult. It's unpredictable, it steps out under braking, understeers. I mean, it does the whole thing. And this morning, we seem to be in a sweet spot of the car, though. I don't think that you can extrapolate from this result, we run later than everybody else. But at least it looks more encouraging than Baku. 
Q: And this razor's edge that you've just mentioned. Is that what Lewis meant yesterday when he said he wants a calmer car going forward? 
TW: Yeah, I think a good car is a car that the drivers are able to push and feel that it doesn't do anything unpredictable. And unfortunately, we've had that over the last year and this year, particularly in qualifying, where you really need to push the limits, that the drivers couldn't find any confidence in the car.
Q: On the subject of Lewis, he said yesterday he wants to continue in Formula 1. He's going to be a free agent in seven months' time. So what happens with the contract negotiations? When do you start? 
TW: It's been 11 years that I've that we've been together, and every single time when we talk about Lewis contract, it's six months of 'where are we and what is happening?' And we keep seeing the same thing; that we're just rolling on, it's not any difficult contract negotiations, it's just putting a different timeline and a few different numbers in there. And that's what we do. And we're, we're working on this. It's a work in progress, bouncing emails back and forth. And eventually we're going to sign it.
Q: And you're going to be a busy man, because Professor Wolff, you've been made an executive fellow at the Harvard Business School. So, a lot going on. Just what does that mean to you? 
TW: Well, first of all, it makes my mother happy because I didn't make her proud with my own academic career. So, my own academic inferiority complex that I've been carrying through my life is being smoothened a bit. But it's quite interesting, because I started to work with the Oxford Business School, which was a sheer coincidence. We had an off-site there with our team and we got engaged with the professor, and that was really nice to teach. And then Harvard Professor Elberse decided to write a case study and from there on, I had two days in a class there as a guest lecturer and really enjoyed it – because it's not only that I like talking, it's an exchange. These are high calibre young professionals that know a lot and it goes both directions. So, spending a few days every few months in Boston takes my mind off from Formula 1, but at the same time, I feel that I have a lot of good ideas about Formula 1 there because of the exchange with clever, young people. So that is the reason I enjoyed it, and it's 10-12 days a year. So it's good.
QUESTIONS FROM THE FLOOR
Q: (Jon Noble – Motorsport.com) To Toto and Christian. When you're in a situation, where the championship fight appears to be between your two drivers, how hard is it to maintain complete equality between them? Not to allow things like drivers running first on track in Qualifying; drivers getting the first pitstop, to give the impression of favouritism. What are the key challenges as well in maintaining that equality through the year? 
TW: I can tell you from my past, it's a super tricky job for Christian and the team, because both drivers will obviously try to always feel that they're fairly and equally treated, whilst at the same time, trying to have an advantage. And I think in our team, it was important to maintain a lot of transparency and clarity, discuss things before we actually go racing on a Sunday. Put boundaries. And, at the end, both drivers, even with Nico and Lewis, respected the team's opinion, whilst we acknowledge that they have a fight between the two of them. So going back in time, there's things I probably would have done differently in 2016, particularly, but the balance right between accepting these two guys are racing for a championship, and it's within the same garage. And at the same time, they are part of a larger structure. I think that is  not always easy, because they are very competitive animals.
CH: We just do everything Toto says but just a bit better. No, look, I think that it's a luxury problem, first of all. Wow, I think any team principal in the pit lane would hope to have that issue. And it's something we've experienced before. And I think the most key thing is, as Toto was mentioning, is to ensure that paranoia doesn't creep in and that both drivers are treated equally. You go to pains to provide equality, to the point of who drives out the garage first each weekend, you know, it alternates. It even alternates in the debrief who talks first. But you know, it's racing is Formula 1, and occasionally something will happen like a Safety Car or a pit stop and you can't control every aspect within the sport. There are still variables. And I think so long as the drivers know that they're both getting an equal chance and it's ultimately down to what they do on the circuit, that's where you want it to play out, not through reliability, for example, to play a key role in a championship fight between your two drivers within your own team.
Q: (Matt Kew – Autosport) A question to all three team principals on the subject of dull races. In other series, you had push to pass and reverse grids, and there still can be dull races. So the idea of Formula 1 being always entertaining is that an impossible utopia?
FT: I think that the model Formula 1 has, is successful, and I don't think that we have to change anything there. Because otherwise, I think the fans get more distracted about everything. We shouldn't change everything every five minutes.
CH: I mean, a Formula 1 season is like, you know, like a long book that not every chapter can be a blockbuster and particularly with the amount of races that we have you get races that sometimes are a bit static, you get sometimes races that are phenomenal events and there's no magic ingredient other than the variables that sometimes introduce that, you know. Weather can play a factor or tyre degradation for example, but inevitably, sometimes there will be races that are sometimes slightly less entertaining than others, as you see with football matches as you see in all kinds of other sports.
TW: Yeah, as Christian said, there's nothing to add. 
Q: (Dieter Rencken – Racing News 365) To the two team principals, namely Toto and Christian, but obviously Franz it could affect you as well, so if you'd like to comment, please. It's a year ago here that Michael Andretti announced that he was looking at joining the Formula 1 grid. Subsequently, we've had another two teams announcing their intentions. They all bring different angles to the game. Are you still anti more teams joining the Formula 1 grid from '25 or '26?
TW: First of all, we have no say in this. If we're being asked… Our opinion is being asked. But we're not part of the process of choosing a team or not. The opinion that we have expressed is that it's very difficult in Formula 1 to perform. It has taken us many years to be where we are. We've gone through really difficult times where Formula 1 wasn't the blockbuster it is today, and therefore whoever enters the sport, I think it would be beneficial for all of us if they can really bring something new to the show, if it can help us to increase our audiences or if there is lots of marketing dollars that are being invested, similar to what we have done over the years. Red Bull and Mercedes, sitting here, I mean, hundreds of millions. And if that were the case, I think we need to be all open-minded and say how can we contribute to making that happen? But again, we're not part of the governance. And so I would very much hope that we find someone, if we decided to go for another team, that somebody can really leverage what we have today and make it even greater.
CH: Yeah, I think the issues remain the same as 12 months ago, both fiscally – what is the incentive for an existing team or franchise to accept an 11th entrant – and then ultimately, who pays? I mean, if it dilutes the income of the 10, it's like turkeys voting for Christmas. Why would they do that? You know, are Liberty prepared to pay and fund an 11th team, are the FIA prepared to reduce their fees to help accommodate it? So, you know, there are all the financial aspects, but I think beyond that, as well is, with the way that the sport has now developed, if you look at the pit lane, for example, here or somewhere like Monaco, Zandvoort, or some of the circuits that we're now racing at, where would we be able to accommodate an 11th team? I think that in itself, just operationally, where do we put the motorhomes? Where do we put the support? Where do the trucks go? I just think it would be an incredibly difficult thing to be accommodated with the way that the sport has currently evolved as well.
FT: Everything has been said so far. And it's a decision from FIA and from FOM. And as Christian has already mentioned, it's also a question of the infrastructure. It's not so easy to say, 'OK, we bring in an 11th or 12th team or whatever' because we have to change many things to realise this. Anyway, it's not in the hands of, as Toto said, the teams. It's a decision of FIA and FOM and then we will see what they will decide. 
Q: (Scott Mitchell-Malm – The Race) A question for Christian. Christian, there have been various reports about Ferrari being interested in certain Red Bull technical personnel over time. The suggestion seems to be that they missed out on their most senior targets, but there are potentially some lower, less senior engineers that may be joining Ferrari potentially as part of an arrangement to allow Laurent Mekies to join AlphaTauri sooner. Can you just comment on that? What's the situation there?
CH: I mean, again, as usual, there's plenty of speculation. You know, will there be a hostage exchange for Laurent Mekies? Well, we don't have any hostages. So in terms of personnel moving to Ferrari, certainly at a senior or medium level, there's nothing planned. Individuals that have been mentioned in connection with Ferrari came to see me last week and mentioned their disbelief in some of these rumours. But, you know, it's Formula 1, that will inevitably happen, but there's no plans for any senior members of our team to be joining Maranello.
Q: (Luke Smith – The Athletic) Christian, picking up on what you were saying about Checo's step forward this year, he said yesterday about tyre management, that it was actually a weakness for him last year, which was quite surprising, given his reputation as a bit of a tyres whisper in Formula 1. How did Red Bull approach helping him get that talent back, I guess, and make a step forward in that area for this season? How do you work with a driver when he comes to you with a problem like that? 
CH: Well, I think that, you know, Checo, prior to these cars, had a very strong reputation in terms of how we manage those tyres. I think this car reset that somewhat, and I think Max actually set the bar on that last year. And of course, all the data is open and available between the two drivers and engineering teams and I think he's worked hard to understand how to create that longevity.
Q: (Ian Parkes – New York Times) In an investor call this morning in which Liberty Media announced its first quarter results for this year, CEO Greg Maffei said that it was time to strike while the iron is hot with regard to doing a new Concorde agreement, even though the current deal doesn't run out until the end of 2025. Are the teams aligned with Liberty media's viewpoint on that? And if you are looking to get a new deal done quite quickly now, what are the advantages to do so, rather than waiting until the end of '25? Thank you. 
TW: I think most important is to have these conversations behind closed doors. I think if we have a long period of alignment and a contract, such as Concorde, the longer it goes, the better it is, I think, for all of our businesses, but we are in a very early stage. We haven't really started talking properly. That's going to happen soon. But it should happen in a constructive way, not maybe live broadcasted and creating controversy.
CH: Look, Formula 1 is in fantastic health at the moment, you can see Formula 1 is flying, you only have to look at the state of Tom's suit to see the health of Formula 1 currently. Look, Formula 1 has never been in a stronger position. I think Liberty have done a great job with a sport. We're seeing new markets, new growth, new fans, and a new demographic of fans. And, you know, there's always going to be that debate between the teams and the Commercial Rights Holder of who should have the more value, and I look forward to the jousting that will no doubt take place, as Toto says, behind doors. But I think longevity is in the best interest of everybody, to have a settled sport that has a clear direction for the future, of what its goals and objectives are, together with the Technical Regulations and Sporting Regulations and Financial Regulations that we want to develop for the future, to just continue to make the sport better and more appealing and more inclusive, over the coming years.
Q: (RJ O'Connell – Racefans.net) This is for all three of you gentlemen, With reports that there may be an expansion from 6 to 10 Sprint weekends, do you feel that that's the right move for the sport given some of the criticism of the last sprint week in Baku?
TW: So maybe I'll start, Franz didn't hear you. I think we are learning by doing at the moment with Sprint races or Sprint weekends, because if we can add to the show we have to, so it's an experimental phase. Some things work, others maybe not. And then together with the Commercial Rights Holder, with Stefano, we will find the right decisions. I'm more on the conservative side and I have a laugh with Stefano about that. I like a proper Qualifying session on Saturday and the Grand Prix on Sunday. But as a sport we have to develop also. Maybe there is a different route. So as long as we have aligned objectives, which we have, the best possible entertainment, while maintaining the credibility of the sport, we'll try things. 
CH: I think the whole thing about the Sprint last weekend, it was just full-on action from the moment we got there. You know, through Friday, Saturday, Sunday. I think decoupling the Sprint from the Grand Prix is actually a good thing compared to what we had previously. But I do think we still need to work on the regs to iron out… I mean, I personally don't think it's right that you can't change the car after one practice session. I mean, that to me seems ludicrous, not to have an element, to be able to engineer other fixes into a car, particular on circuits, street circuits are changing so rapidly. I think the tyre usage needs looking at as well. Personally I would prefer to see free tyre usage or at least free tyre usage in the third sector of a Sprint Qualifying. And I think we just need to then give it time and just see it's natural… Change is always unpopular. But I think we need to let it settle, do the six races this year and then reflect on it at the end of the year with all the data, all the knowledge and say actually, you know, what did it do to the sport? Does it add something? Does it bring something and what needs, perhaps, tuning on it?
Q: (Ronald Vording – Motorsport.com) Christian, Max has said multiple times now that he could leave Formula 1 after his current contract, especially if Formula 1 keeps adding more Sprint races and show elements that he doesn't like. How do you look at that? And do you feel that Formula 1 is moving more and more away from a pure race as Max wants to see from sport?
CH: Well, thankfully, his contract has many years to run on it, so we don't see that as an imminent risk. But, you know, of course, he has an opinion on it and he'll always speak openly on it and voice his opinion. And I think that it's so hard to look too far down the road. Did Fernando Alonso think he'd be racing at 42? Probably not. I mean, Lewis Hamilton is in his latter 30s. So the future is just so difficult to predict. But I think it's great that drivers do have opinions and they don't just become stereotypes.
Q: (David Schneider – Hershey Shiga Global Sports) Franz, last week, Christian Horner agreed with you, that Yuki probably needs one more year, acknowledging, however, that he made a huge progress, improvement. Unfortunately, you won't be there for him in this last critical year. What advice would you give him to make that final step to get promoted at Red Bull. Maybe have a good word with Christian who is sitting next to you?
FT: Yuki doesn't need good words. He is fast. He has done a fantastic job in the last two years. And if he continues like this, that he improves race by race, that he shows the performance, then Red Bull will discuss it and I think that he is in a good way, but the rest we will see. He, for sure, needs another year.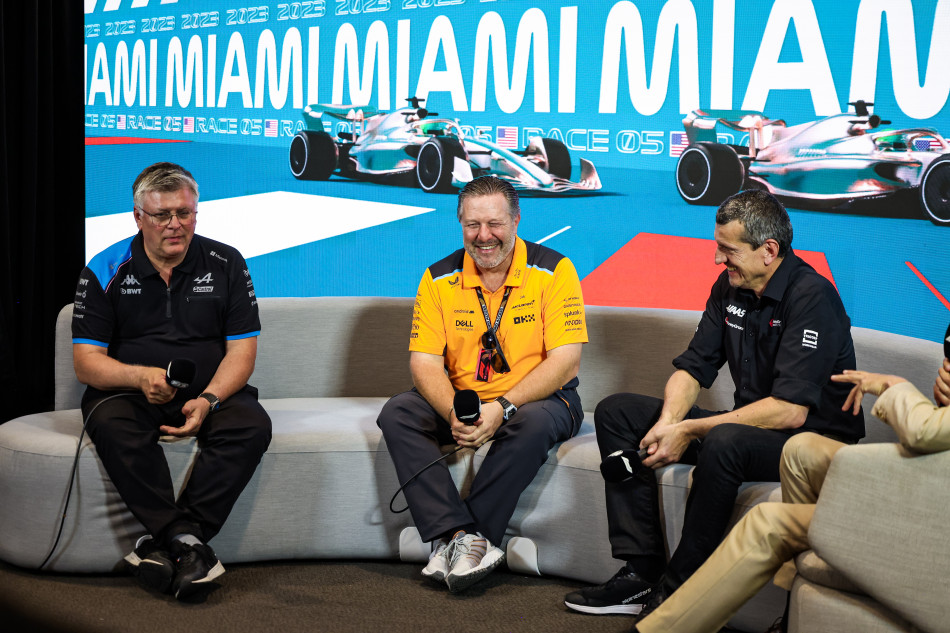 TEAM REPRESENTATIVES - PART TWO
Otmar SZAFNAUER (Alpine), Zak BROWN (McLaren), Guenther STEINER (Haas)
Q: Guenther, let's start with you. And can we start by talking about Gunther Steiner, the author? How is the book 'Surviving to Drive' selling?
Guenther STEINER: Pretty good. It made the Sunday Times number one last week, and this week it fell back to number four, but they tell me that's not bad, you know? So I'm pretty happy.
Q: Did you believe when you were starting the project, that it was going to be a bestseller?
GS: No, I wouldn't have dreamt of it. You know, so I was quite as surprised as you are. Obviously, you know.
Q: I'm not surprised. But they say that there's a book in all of us. You've now delivered on your book, is there going to be a sequel? Is there going to be a second book?
GS: Not planning that one at the moment? You know, you never know with me what is next. But I think that this guy… Zak said that he will be writing one, because he just told me that he's a very good writer, you know, so he wants to bring it to the public his book. No, I don't think so.
Q: Well, I've read the foreword, and it's very good. So I look forward to reading the rest of the book. But let's bring it on to Miami now, the first of three home races for Haas. Can you give us a glimpse into how important this race is for the team? And also, what's your schedule like? 
GS: I mean, for the team, the team likes to come here. We have got, now, our title sponsor, which is Moneygram, our team is Haas, the machine tool producer, one of the biggest in the world. We have got Chipotle on board as well as a partner. So there's a lot of American in it now. So, it is important, but every race is important to us, because I mean, in the end, F1 is global. But coming here is pretty cool. The guys like to come here, I think Formula 1 in general likes to come to the States. So just the fans are very enthusiastic about it, or became so in the last years. So that is good. My schedule is pretty full, I can tell you. I'm working since Wednesday, really hard, but you know, it's one of those things. I don't dislike it. You know, it's worse when you have nothing to do, I can tell you that much.
Q: Alright. Well, the mechanics are currently busy in your garage. Just tell us how much damage was there?
GS: I don't know yet, because I had to leave before they brought the car back. So it looks like… I don't think it's too bad. I think obviously, the front and rear suspension. But hopefully the chassis… If the chassis is damaged, then we have a problem, but it didn't look like it on TV. But I need to go there and see what's actually happening. 
ZB: Looks like the whole of the chassis to me.
GS: I come down and get yours.
Q: Now, can we talk about the car? We've seen a bit of fluctuation in performance from one race to the next. Is it very difficult to set up?
GS: No, there are race tracks which suit the car better, which was obviously Jeddah and Australia. In Baku, we didn't have the result we wanted, because on Friday FP1 we didn't do a good job, you know, we know that. And we actually thought we were less competitive in Baku than we were. So it's a little bit more to the racetrack. Where we are, with these guys, you know, it's very tight. You know, the six teams behind the four big teams, it's very tight, every little mistake makes you go back two or three positions. So we need to get everything right to fight with the other ones for P5 at the moment.
Q: Kevin said to us earlier in the year that he's not comfortable in the car. Are things starting to improve for him now?
GS: I mean, he didn't complain about the car in the last races. He needed to find a balance in the car. He made a big step by just going with Nico's set-up. You know, it suits him better. He jumped over to that one in Jeddah and it suited him. So he now looks at that car a lot to set his car up.
Q: Zak, let's come to you now. So is there a book in Zak Brown?
Zak BROWN: No. I think well, I think if you've been around motor sport long enough, any of us have some pretty cool stories that we can share, because it's a fascinating sport. You meet a lot of interesting characters. It's a fast-moving business. So there's probably a book in everyone to a certain extent. But no, I've got to keep focusing on the motor racing, because we're not where we want to be yet and I'm going to keep doing that,  which is why I started working on Tuesday.
GS: But he works a lot less than me. His day is shorter, so I can do more in less time.
Q: Now you were born in LA, let's talk NFL, because we're sitting here, of course, in the Dolphin's stadium. Were you a Rams guy growing up or was it the Dolphins? Did the Dolphins get a look in?
ZB: The Dolphins actually were my favourite football team, but I wasn't a big football guy. Baseball, ice hockey, motor racing have always been my three favourite sports. But I do think you have to have a favourite team. And the reason why, is the Dolphins had the 'Killer Bs', I think they were called. It was the 70s, where it was, like, the whole frontline and their names were Bs, and I was also a Dan Marino fan. So they were my favourite team, but it wasn't necessarily at the top of my list from a sports standpoint.
Q: And what do you make of the changes that they've made here since last year?
ZB: Tom has done everything he said he would, you know, Tom Garfinkel, who is the CEO of the Dolphins, and he's got a great team, Tyler and team underneath them. I think there were three big takeaways from last year. We needed a better racing surface. He's done that. We needed a Paddock Club that could take the demand of the guests and they've done that. And then the teams needed a bigger area in which to operate because of the demands we have of how many friends and family we have out here. And they've done that. So hats off to Tom for how quickly he and his team responded to improve the race after what was already a fantastic debut last year.
Q: And while we're talking changes, let's talk about your car now. Big upgrade came for Baku last weekend. It seemed to make an impact on the stopwatch. What are the drivers saying? Where is it performing better?
ZB: Well, we still have too much drag, which is pretty obvious. And so we need to create downforce without the drag. And so we did bring some new bits to the car. We knew, as we said at the start of the year, that it was going to be a bit of a slow start, so it was good to see the team did an excellent job with the upgrades. More to come but that's what the nine other teams are doing. I think we still need to get it dialled in with Baku being a Sprint race, it takes a couple of sessions to understand exactly what's going on and tweak it. So I think we'll still be learning over the course of this weekend.
Q: Is this the spec of car that you were hoping to start the season with?
ZB: Yeah, I think that's fair. Where we are now is where we kind of expected to be, so we have some catching up to do. It's unbelievably tight. You know, you used to have a front, mid and back field. There's no longer a back field. And really I wouldn't even say it's the big four, it's Red Bull, and kind of everybody else. Yeah, the 2, 3, 4 are there, but you're seeing all of us mixing it up with them in Qualifying. So while they definitely have what appears to be quicker cars, I think they're within reach for all of us. And I think that's one of the things that the cost cap was intended to do, was to level the playing field. I think everybody is pretty much running at maximum budget. The driver line-ups are the best I've ever seen in Formula 1. And I think what you see is an unbelievably condensed field and hopefully the nine of us can all pick it up a little bit so we can make it a 10-team show.
Q: Lando told us yesterday that this hasn't been a bad season for McLaren so far. Do you agree with that?
ZB: Well, it's a bit early. Yeah, as I explained, it's not as bad as it looks, but it's not as good as it should be. And Bahrain, we were definitely off the pace. Saudi, I think we would have had two cars in Q3. Lando made an uncharacteristic, very small mistake and then Oscar got run over by Otmar's driver. Actually, that was a racing incident, his front wing and then wipes out Lando. So I don't think we were able to really race properly in Saudi. And Baku, we were much improved, and Australia was decent. So yeah, we're not where we want to be, but it's not been as bad as maybe people are quick to report after you have one bad race.
Q: And final one for me. How impressive was Oscar last weekend given that he survived the whole weekend on three pieces of toast or whatever?
ZB: Yeah, Oscar has been impressive since we've had him in the car. He's very mature. He's very focused and he's very technical. So the combination of Lando and Oscar, I couldn't think of a better combination of drivers. I'm sure Otmar and Guenther might have a different view, as they should, as far as all of us supporting our drivers, but Oscar has done a fantastic job and he's trading lap times with Lando now and that's what you want. 
Q: Zak, with his illness?
ZB: Yeah, he just kind of got on with it. I mean, the reports I was getting were 'we might pull him out of this session', 'we might pull him out of the Sprint race'. I mean, he was right on the edge and he just kind of put his head down and powered through it. So that was very impressive, because I know I couldn't survive on three pieces of toast over a weekend.
Q: Otmar coming to you. Is there a book in you, just while we're talking? 
Otmar SZAFNAUER: I must admit, I got one from Guenther today. So I have a rare unsigned copy.
Q: Are you going to write your own book?
OS: No, I don't think so. It's not my expertise and writing books. So yeah, probably not.
Q: It was a difficult weekend for you guys in Baku. How have you rallied the troops since last weekend?
OS: Well, after the weekend, and before this, we talked, and you rally the troops by having an understanding of what went wrong, fixing the root causes to make sure that it doesn't happen again. But you know, here we're just being a little bit extra vigilant. [In Baku] we had two different issues on both cars. And that only allowed us to do three quick laps before we went into Parc Fermé and to only do three laps when you're used to three hours of running to set the car up is very, very difficult. And that's what happened to us. So we just have to make sure that you know, coming here that we get a lot of laps under our belts, we learn and we improve the car as we usually would do in any weekend, and that's what's happening. So far, so good, here.
Q: And with those three laps last weekend, were you able to get a read on the updates that you brought to Baku? 
OS: So, we didn't really on the three laps. And then we went into Qualifying and then we got some feedback from the drivers, but by that time it was too late. The read we got on the floor was from Qualifying and the two races. So we instrumented the floor. And happy to say it looks like it's correlating with what we thought we should have out of the tunnel. 
QUESTIONS FROM THE FLOOR 
Q: (Mandy Curi – Motorsport.com) Zak, you have an IndyCar team that's been fairly successful recently, especially compared to your F1 team. Does this have anything to do with the different regulations between the two series in your opinion? Or is there another reason for that?
ZB: Our IndyCar team is very competitive. We should have won a couple races already this year. We're second in the championship with Pato, a few points out. We have three very competitive cars. It's a totally different form of motor racing, right? It's a spec chassis, one of two engines, so it's much an engineering/driver exercise, where Formula 1 is much more complex, technically. And so I think one has nothing to do with the other. We need to design and develop a faster race car, which is something in IndyCar you really just need to fine tune, which is not easy, and it's extremely competitive, but yeah, there's no real correlation between the two teams. 
Q: (Dieter Rencken – Racing News 365) To all three of you, please. It's a year ago here that Michael Andretti sort of made it known that he intended joining Formula 1. Since then, we've had another two teams officially announce their intentions. There's potentially another one on top of that. The Sporting Regulations make provision for up to 26 cars, which is effectively 13 teams. What would you like to see? I know it's not your decision, but what would you like to see? Zero, or one, two or three additional new teams come '25 or '26?
OS: Well, I think all the teams are going through the process now with FIA and then thereafter FOM and I'm sure the process will deliver the right amount of teams that they feel that we should have. But from my perspective, if the entire sport can be better off by adding teams that's what we should be looking at doing. Right now we have 10 teams like Zak was saying, that if we can reel one in, there's 10 of us competing almost at the same level and I think that's good for the fans. We haven't had that in recent years in Formula 1 and I think Zak's right, the cost cap has helped, better distribution of the income has helped. The fact that the sport is on the ascendancy means we get more sponsorship too and with all that, having 10 healthy teams is great for the sport. If we had more than 10, and it becomes a little bit less healthy, maybe that's not so good. But that's not for us, or not for me to say. So. for me, it's whatever optimises the entire sport, whatever that number is.
ZB: Yeah, I agree with everything that Otmar said, which is a first for everything? No, I'm teasing. And, you know, as long as they are additive to our sport, I'd love to see more cars on the grid. I think it's exciting. I remember when I started following Formula 1, you had pre-qualifying, I think there were 30-31 cars trying to show up to make the show. So I think an increase in the grid of the right teams that bring the right resources and are additive to what we're all trying to do and help grow the sport then I'm all for it. What we can't have is… Really the only credible, sustainable team that I've seen in the last decade is Guenther's. And so what we do need to make sure is if someone enters that they really have the commitment and can do what it takes. Because in my experience, I think in a variety of motor sports, you do see a lot of dreamers and what we don't need with the health of the sport is a team coming in underestimating what it's going to take and two years later, they're gone. So you know, hats off to, to Haas for the commitment they've made and continue to make to the sport, so we need more teams like that.
GS: There is not a lot to add here. I mean, I agree with that one. And for me saying it's 11 or 12, I'm not in a position to know what they bring to the sport. But I think if we got more teams, there needs to be an upside for the 10 which are here, you know, and then I think nobody will have anything against it. But there needs to be an upside and not just more sharing. So I think it could be 11, could be 12, could be 13, I don't know. But in the end, FIA and FOM are looking into it and seeing if they can bring an upside to the 10 stakeholders, as the guys said here, which are very solid now, all 10 of them. We didn't have that for a long time. The competition is getting closer as well. Financially, everybody's stable. Why should we rock that boat, you know, if there is not more coming to us?
ZB: You should have said it was the last chapter of your book, you could have sold more books.
GS: And then what would I do with the money? I'd need to give it to you, Zak.
Q: (Ian Parkes - New York Times) In an investor call this morning in which Liberty Media announced its first quarter results, CEO Greg Maffei said "it was time to strike while the iron is hot" with regard to doing a new Concorde agreement, even though it has another three years to run. Are the  teams aligned with his comments? Do you want to get a new deal done now, rather than wait another three years? And if you do want to get a new deal done now, what are the advantages to doing so? 
GS: I didn't hear the investor call, Ian, so I don't know what he exactly said, Greg Maffei, but I think if you start now, you know how long these Concorde agreements normally take, we all know that, so the earlier we start, the earlier we get to a conclusion. So I'm not against this if FOM wants to come and propose to us what they want to do for the next five years, which is actually the next seven years now. I think we, as a team, are pretty happy to talk with them.
ZB: I think everything's working great. If you look at the health of the sport, from a Liberty point of view, from the 10 racing teams' point of view, the teams that want to come in, the promoters, the fans, the TV, so I'd like to see it get done sooner rather than later, just for the stability and longevity of the sport. I also think it's a little bit of a rinse and repeat. I think it's working. I don't think there's much to add or change to the existing agreement, so I don't think it needs to be a prolonged conversation either. I'd pretty much be happy with a rinse and repeat with a few tweaks here and there. There's things in the digital age that have advanced since we did the last agreement that I think need to be discussed. But I think for the most part, it's a solid agreement. It's working so we don't really need to fix what's not broken.
OS: Yeah, I think starting early and talking early is… there's no downside to it. So if FOM are willing to start talking with the teams and start an outline of what a new Concorde Agreement could be, yeah, starting early, I don't see any downside with that.
Q: (Luke Smith – The Athletic) Zak, a question for you, following on from the IndyCar question earlier. We're coming up to the end of the month there's the Indy 500 and Monaco doubleheader. You guys are doing something very cool with the Indy cars in the three different liveries. How important is it for you connecting the identities of your different racing programmes within McLaren? And I guess, what's the reaction been from the fans as well, from an identity point of view, showing that you're more than just the F1 operation?
ZB: Yeah, the fans love it, that's why we do it,  we do it for our fans and our employees and our sponsors. I think it's one of the things that makes us unique at McLaren, our different racing activities so commercially, that's a good position to be in,  to be able to have partners join a variety of programmes and dial up and dial down, depending on what their business objectives are. And the fans enjoyed it. It was great that there was a pretty big mix of what was everyone's favourite livery so you know you got it right when there's a good blend and not one just jumps out. And then we have more to come this year. It's our 60 year anniversary and we've got a great, great history so we want to celebrate that, so do a little bit of looking back this year, but very focused on the future. 
Q: (Matt Kew – Autosport) Zak, in his press conference yesterday, Lando Norris said that the new tech structure has had the biggest impact on teamwork and team ethic. That might imply deficiencies in teamwork and team ethic with the previous arrangement. Is that a fair read of the situation?
ZB: Yeah, I would say right now what we've done is optimise the organisation and given real clarity to roles. At the end of last year, second half of the year, I wasn't happy with the progress we were making and so when I got the opportunity to put in Andrea Stella as team principal and he's very technical, was a move I was very happy with.  First thing I asked him to do is take a look at why we weren't developing at the pace I felt we should. And what he identified was we structurally weren't optimized so we went about setting out what would the optimum structure look like and then you populate that org chart and there were some changes we wanted to then make to optimise the new structure. And so there's a lot of energy and clarity inside the MTC. Now Andrea is doing an excellent job or as someone mentioned to me earlier, a 'Stella' job and very, very happy. And I think the slow start to this year is what I started to see at the end of last year and that's why we called our shot, if you'd like, at the launch that we knew we wouldn't be where we wanted to be. And I think now the upgrades, which will start coming, are starting to show the work of the new structure that we have in place and hopefully will continue to develop over the course of the year.
Q: (Jon Noble – Motorsport.com) You're all part of a fantastic battle behind the top teams for positions where two tenths can be the difference between Q3 and not making it out of Q1. But one of the consequences of this super tight battle is that there isn't a performance delta that allows much overtaking in races. Cars get stuck in DRS trains. Is it an impossible target to achieve a Formula 1 where the grids are really, really close but there is also great racing and a lot of overtaking?  
GS: Obviously, it will always be difficult with single-seater cars with big wings – the overtaking will always be a problem. Sometimes it's better. I think last year, it was better than this year. I think we didn't help ourselves with shortening the DRS zone in Baku. Obviously I say that I think because I didn't see the data of it. But it will always be difficult. But in the end, if you're qualifying you put yourself in position there and normally, you're on your own, you can decide when to do your qualifying lap. So I think it's one of these things, you will never have a Formula 1 where overtaking comes at a delta lap time off of two tenths, there needs to always be more. So it's just one of those things. I think we need to look into it with the tyres, we always complain when we have drop off. We always complain when we don't have it. We need to make our mind up what we want because I think Pirelli delivered both ways and then we saw now it's too much. So it will always be difficult. But I think also we shouldn't jump to a conclusion after last weekend's race. That is not all what… we had good races this year with overtaking so we should look at them and try to replicate them and not just being too sour about what happened last week, which was… obviously we all expected - because our expectation was high - there will be red flags, there will be safety cars, and nothing of that happened so I think it got turned around, but I'm pretty positive that if there needs to be something done, we will do it to make it again, easier. It will never be easy to overtake.
ZB: Yeah, I think just building on what Guenther said, the teams, Stefano and the FIA, we always work very closely together to figure out how to enhance elements of the sport. I think when the field is as close as it is, regardless of how the cars are constructed, if you're only a 10th or less than a 10th quicker, it's going to be hard getting by anybody in any form of motorsport. So, as Guenther said, I think we're still early in the year so let's see how things play out. And we're constantly trying to figure out how to make the racing better, the qualifying better and the spectacle better.
OS: Well, in addition to what's already been said, these cars that were in our second year racing, the technical regulations had overtaking in mind, making more ground effect cars, allowing closer racing such that the weight didn't have as big of an impact on the aerodynamics and I think we've taken a step in the right direction and let's see how we go. I also think that if it's only a 10th or two it is difficult but not impossible. So I think there's good racing to come. 
Q: (John Massengale – F1 GPTV)  Guenther, when I heard about your book, I couldn't imagine a better way to consume a book than when I heard that there's an audio version and your voice. I just wanted to know how that was selling.
GS: I have no idea. Honestly, I've no idea how that is selling. I need to ask. I just know it was pretty painful to do.
Q: (Adam Cooper – Motorsport.com) Zak, can you talk a bit more about Oscar's season and the impression he's made on the team, especially in the context of this run of street races? If you look at last week, Nyck and Logan both had huge crashes. Oscar was ill, but he stayed on the track.  Today he seems to be right on it, in the middle of the pack on a track he didn't know. 
ZB: Yeah, we're very impressed with him. He's very focused as I mentioned earlier. He's not really made certainly not any big mistakes. Typical exploring the limits so the odd lock of a wheel here and there but yeah, he's never been to Miami, he's not been to all these races so early indications are we've got a future world champion on our hands. We just have to work to give him a faster car now.
Ends