F1 - 2023 ITALIAN GRAND PRIX - THURSDAY PRESS CONFERENCE TRANSCRIPT
DRIVER GROUP 1 – Sergio PÉREZ (Red Bull), Nico HÜLKENBERG (Haas), Valtteri BOTTAS (Alfa Romeo), Lando NORRIS (McLaren), Charles LECLERC (Ferrari)
Q: Charles, can we start with you. The Scuderia's home race, just how different is this one for you?
Charles LECLERC: Quite different. We are lucky enough that driving for Ferrari we've got support everywhere but when we come to Italy, obviously it's on a different level. So a very busy week, but also a very exciting one. I'm sure it motivates the whole team. So we are really looking to go out on track and hopefully have a great result this weekend.
Q: New colour scheme, new threads as well. Give us your thoughts on that?
CL: I love it. Especially the Ferrari old-style logo here is what I love most. Also on the cap here, you can see it. So, beautiful. I love it.
Q: Before we bring it onto performance this weekend, tell us what lessons were learned at Zandvoort by you and the team?
CL: Many. Not really in the race, as obviously a part of my front wing went under the floor and broke everything, so I had basically very little grip but for the rest of the weekend, we tried quite a few things. Especially in FP1, trying to put the car in very different places, in terms of set-up, to see how it will react. I think we had some confirmation of what we expected, so we've got a lot of work to do now and find solutions to our problems and the weakness of the car – but it's even clearer, compared to before, where we are lacking at the moment.
Q: What is the biggest weakness of the car? Is it its unpredictability?
CL: Yes. The unpredictability, especially on tracks where we have a bit more downforce. It becomes really, extremely tricky to drive, and we've got big changes of balance through the same corner and, as a driver, it's very difficult to get into a corner not really knowing what balance you are going to get. So, that's where we need to work at the moment.
Q: And how hopeful are you for this weekend Charles? You were on the podium at Spa. Does that give you confidence for this weekend?
CL: Let's say it's… well, it's not exactly like Spa but these track characteristics are closer to the ones of Spa than Zandvoort and Budapest, so we should be a bit more competitive here. Then, whether it will be enough to fight for the podium, I don't know but I really hope so and we will do everything for it, for sure.
Q: Lando, let's come to you now. Good to see you. It was a nice moment earlier in the week when you gave Max his Hungarian Grand Prix trophy in its entirety. Talk us through it?
Lando NORRIS: There's not  a lot to say. They didn't let me hold it for long, but it was a nice thing to have done. So yeah, it was good, some of the organisers were there and the people who put it all together again. It was nice to meet some of them and yeah, try to give something bac for what I did.
Q: Before we come onto on-track stuff, you've also been playing padel with Alex, George and Max. Who was your partner? Who won?
LN: My first partner was Alex. We dominated, we thought the teams were unfair, so then I had to go with Max, 'cos he's the newest member to the padel group, and we won again. So the common denominator was I won and George lost. But it was a lot of fun, we had a nice little day. We play every now and again. I played with George already last week and a few other times and it was nice for us all to play. We get quite emotional at times, and think a lot of people were complaining about how loud we were shouting and how angry we were getting – but it was a nice day and a nice way to start the weekend.
Q: How about this weekend then? How much confidence do you have in McLaren's low downforce package?
LN: Tough! Not as much as I would like. I think that's obvious: I think we saw in Spa how much we struggled, even though Spa wasn't where we could have been. I think if we could redo Spa now I think we would be in a better position, and since then we've spent quite a bit of time trying to optimize some of the downforce packages that we have for these kind of circuits: maybe not in as confident a position as we are in, say Zandvoort, Silverstone, Budapest and places like that, but definitely a better position than we were in Spa, and that's definitely given me a bit more hope. We've had good races here in the past, it has been one of our best weekends in the last few years, so I'm hoping that will repeat again.
Q: Lando, final one from me. Lewis Hamilton has just confirmed that he's going to be as Mercedes for two more years at least. Can we get your thoughts on him being on the grid beside you?
LN: It's great. It's always been a pleasure to race against him. Even this year we've had a few more battles and that's a cool thing. To have raced against someone who's one of the best drivers ever in Formula 1, who's created a lot of history, written a lot of history. I think it's a… I guess a pleasure for all of us, someone I looked up to when I was a little kid and still get the chance to race against him now. So, I'm happy and will continue to do so for a couple more years.
Q: Valtteri, coming to you. Can we just pick up on that point. Lewis Hamilton re-signing. Are you surprised that he's coming back for more?
Valtteri BOTTAS: Actually, not really. He really seems to enjoy racing still. He's still go the fire to get back up there again, so not really surprised.
Q: Belated Happy Birthday to you . Did you have a good day? Get what you wanted?
VB: yeah! I had a pretty easy day – maybe I'm getting old! – but pretty chilled, which was nice after a hectic race on Sunday. So, yeah, had a good day, thank you.
Q: Maybe the new livery this weekend is the team's present to you?
VB: Yeah, it's a very Italian design. I think it looks good and obviously it's the final home race together for Sauber and Alfa Romeo, so it's a big weekend for us, and that's why I hope we can also be competitive.
Q: As you say, it is the team's home race. It's the closest race track that we go to, to Hinwil. What sort of welcome do you get from the tifosi?
VB: A good welcome. Lot of passion around here, lot of energy. We have a big support group over here and also from the factory, some people have the chance to come here this weekend and see the cars in action. So, it's not going to be down to lack of support.
Q: And what about performance then? I think you've got some upgrades on the car this weekend. What are you expecting?
VB: We've got some new stuff for front suspension. Otherwise it's a low downforce package. Always difficult to predict , it's super-close. It's a fast lap so margins will be small – but yeah, we really need some points now. We haven't scored for a while.
Q: There's some speculation about who your team-mate is going to be next year. Would you like to see Zhou stay on?
VB: I think he's made progress from last year. He's made a big step in performance but also confidence and technical knowledge and I think he really deserves a place in Formula 1. And he's a nice guy as well. Really good guy to work with.
Q: Nico, coming to you now. This is something of a home race for Haas, with many of the team-members based in Maranello. Do the tifosi appreciate that? Do you feel like you're driving for a home team?
Nico HÜLKENBERG: A little bit perhaps – but I feel the tifosi, they obviously love Ferrari the most but they're just very passionate about F1 and cheer for most teams and most drivers I feel, just a lot of love and support. So yeah, always great to feel that here.
Q: Now, the last time you raced at Monza, you finished fifth. What does it take to be quick around here?
NH: A quick car! Be fast on the straights, be good in braking too. Obviously it's a low downforce package, which has been difficult for us this year. I think we haven't been too competitive when it's been low downforce so, frankly, expectations are not too high.
Q: What about the short and the longer term at Haas? You know what the issues are with the car. How confident are you that you can overcome them in the remaining races this year, and perhaps, more importantly, in 2024?
NH: We've just got to keep working, like everyone. Everyone is pushing forwards. In Zandvoort, we raced a new front wing for the first time. I think it's definitely a step forwards. I think it wasn't really visible or didn't come out because of the circumstances of the race. But some progress made – but we need further improvements to be competitive – or to be more competitive within the midfield.
Q: Since your last appearance in the press conference, you've re-signed with the team. Great news. The team has clearly opted for experience over youth. I wanted to ask, how much harder are the cars to drive now, compared to when you came into Formula 1 for the first time in 2010?
NH: It's different but it was challenging and tough back then, but it's the same right now. I feel… it's difficult. I don't know, there are quick cars now, especially the race pace, when we don't have a lot of tyre deg, the pace can be very high compared to five, six years ago. But going back at the very beginning of my career, you know, it was similar too. Cars had less downforce but they were lighter so it's comparable. It's always challenging and tough – we're in Formula 1 and everyone's pushing.
Q: Checo, coming to you now, you got that brilliant podium at Monza back in 2012 in only your second season of Formula 1. Tell us, why is so special, racing here at the Temple of Speed.
Sergio PÉREZ: Yeah, I think this track offers you this opportunity. Very fast, one of the fastest straight line speeds ever, and then braking for Turn One, it's always quite challenging, for example, because of how light your car is. So it's not always a straightforward thing. And especially in the race. Back then, when we used to have earlier and more degradation, the racing was a little more unpredictable in that regard. It's always good racing around here in Monza.
Q: Now, the RB19 is clearly a brilliant car. It's won every race this year. Tell us about the margin you think this weekend, that you'll have over the opposition?
SP: I think it's very hard to predict. In some races, we felt like we're going to have quite a bit of margin and then it turns out to be really close. And in some others we really don't think it's going to be that far off. It's quite difficult to predict and I think this is a very different circuit to anything we've done before, so it will be very interesting.
Q: Given the success you've had here in the past, how much confidence do you have coming into the weekend?
SP: Yeah, a lot. I really, really want to have a straightforward weekend and I think with this new tyre rule for Qualifying, it's also quite challenging as we saw in Hungary. Having a strong Qualifying, it's key around this place, so hopefully we can come away with a result.
QUESTIONS FROM THE FLOOR
Q: (David Croft – Sky Sports) Checo, not often I want to ask you about your team-mate but not often we have a driver whose team-mate is going for ten race wins in a row. So, you can witness first hand Max's approach, his methods, his style, inside the team, and study the data as well. What sets him apart from other drivers and what has brought him to the precipice of the record outright for the most consecutive race wins?
SP: Well, I think we have to appreciate what Max is doing. At the level that he is driving at the moment, it's extreme. I think the ability he has to perform at his 100 per cent every single weekend, no matter which conditions he's driving at. It's something that… yeah… it's quite hard to see as his team-mate, y'know? It doesn't really matter what's happened, whether we have a good margin or bad margins or the car is becoming difficult. He's been able to extract 100 per cent, out of him, out of the car, pretty much every weekend.
Q: (Christian Nimmervoll – motorsport-total.com) Question is to Lando. Not that good a question for you actually. At the beginning of the last race, there were some serious arguments between you and the race engineer, at one moment you asking him 'are you stupid?' I'm sure that's been debriefed afterwards, did you have a feeling and what was the conclusion, that the driver needs to be listened more in difficult situations like this?
LN: Yeah, we just spoke about it a bit now. And, as always, there's been a few days of reviewing things, and making sure we look at things first. I always say things that I never… when you look at it after you always think… I always make myself look like an idiot and you, know that I would never mean something like that, of course. So, it's more that we made some mistakes with our calls and our strategy and things like that. A bit of it is just emotions at the time. I think I said it the other day, like I always sound like I'm crying or moaning on the radio. I don't know why. I hate it but I feel like I'm really relaxed and chilled in the car but then I'm always the opposite when I listen to myself afterwards. So, yeah, there's just always discussions, I guess, there's always things that you're trying to tell them and information that you're trying to get. It's just a couple of times when the information was not to the level it should have been – clearly. Then yeah, I guess it gets a little frustrating a couple of times. But stuff we've reviewed… it definitely won't happen again.
Q: (Niharika Ghorpade – Sportskeeda) Lando, Max has said that you and him have often talked of partnering each other in teams. Do you think that's a possibility in the future. Do you think that's a possibility and do you think it would work?
LN: It's definitely something I would be open to in the future. I think I can happily say Max is probably one of the best drivers ever in the history of Formula 1. I never raced against him until I was in Formula 1 but I was always in the category below. In karting I already knew him reasonably well. Back in 2012-2013 was the first time I got to meet him and get to know him, so I've been able to witness what he's doing and I think it's not just that he's in a good car and he's able to perform. I think no matter what car he's in, he'll be able to perform at a similar level. Maybe with different results but at a similar level and I think at that point it'd be great to work alongside someone like that and, at the same time, see where I can really stand against him. I'd be open to it. I invited him to McLaren the other day. So, if he wants to come any time, he's very welcome.
Q: (Alex Kalinauckas – Autosport) Question to Checo please. After Max won last weekend, he said when he was chasing you to the finish in Baku, there were things that he felt he could change within this current Red Bull that would be beneficial for him, and that has been a key thing in his run of success since then. I just wondered, do you know what he means by that and is that something the whole team has been using to go forwards, or is that just him specifically?
SP: Yeah, it's certainly something to do with his balance, to do with how he's driving the car and looking after the tyres. Something that he found, and he's been operating in that balance-wise, and he was able to cope with it already in Baku.
Q: (Scott Mitchell-Malm – The Race) Question to Lando. Just to come back to the comments you made about how you are over the radio. Is that something that you sincerely think needs a bit of work, or is it something that the team knows where it comes from and knows that you don't mean anything by it, then it's fine? It's not like you're Yuki, for example.
LN: No, my team knows. People always judge things from the outside and like to make comments but the team know how I work and how we say things and so forth. I'm not denying… I think at that time I was a bit frustrated with what I was getting told and things like that. I'm not denying at times, and also in the past, when you're under pressure it gets a bit stressful at times, then I maybe don't sound the most relaxed. But a lot of the time I am, and it maybe doesn't come across that way, especially if you're on the outside, listening to things. The team know how I work, and when I'm performing well, and when I'm not and they know how I work. Simple as that. As long as they know that, and I know how they do things and how they speak to me and how we interpret things, that's all that's, from my side, what's needed. From what people see from the outside, I care, but in a way, I don't care, because I'm doing my job and I just do that the best I can.
Q: (Christopher Lindén – Vasabladet) A question for Valtteri. You have a lot of off-track activities, bike racing crisis, collaboration on products. How do you manage to balance all this? And do you feel this has any influence on your performance during race weekends?
VB: It's true. I'm involved in quite a bit. But all that I am involved in is what I have a passion [for], like, for me nice they are things to do and to be involved [in]. And with many things I do have people helping me, so I can really choose the load I take from those activities, and especially on race weekends I also always try to minimise things that I don't want to do, and I can basically choose, so I think, for me, it's a great balance. I think it's nice to have other things than Formula 1, just to keep things mentally fresh so that every time I come to a race weekend, I really want to be here and I really want to perform the best I can. So for me it's a good balance at the moment.
Q: (Ed Spencer – Total-motorsport.com) Charles and Checo, Mercedes have nailed down their driver line-up till 2025. When will you begin talks with your respective teams on your future or potentially extending your current deals?
CL: Yeah, I mean, on my side, we are in quite a difficult situation at the moment and the priority is to first focus on the job we've got to do with the car, because we are quite far off the Red Bull. But then I'm sure that at the end of the season we'll start the talks. I think I've made clear quite a few times what are my intentions for the future. My dream has always been of being a Ferrari driver. And I would love to be winning a World Championship with them. And yeah, I'm not too worried about when the discussions will start. I've still got a year and a half of contract for now. So I'm not in a rush.
SP: From my side there is still a year and a half to go. So I think there's no need to change anything. It's more important now to focus on the races ahead and finish the season on a high. And then we will start discussing early next year what's the plan to go forwards?
Q: (Jon Noble – Motorsport.com) Checo, you said after the last race that you felt the car kind of gone away from you in the last few races with its development path. Is this a repeat of 12 months ago? Are you in the same situation? And in terms of turning around, do you have to pull the car back to you or do you have to adapt your driving style to it?
SP: I think every driver through their career or through each season, you know, you get some upgrades to the car that adapt easier to your driving style than others, you know, like, sometimes you will put a part in it and you will straight away go faster with it. Sometimes you will have to adapt to it. And it's something that we are all facing through our times during the season with the upgrades. And I haven't been able to adapt as quickly as I should, you know, and I had to change my driving style a bit to adapt into the car more than in the beginning of the season, for example, when things were coming more naturally. But that's something that most drivers at some point we go through.
Q: Checo, Toto Wolff expressed surprise at the gap between you and Max in Qualifying last weekend. Can you explain, for Toto, where that gap came from?
SP: I think it's hard to say, you know, I think we have to look at it race by race at the end of the day. Sometimes the gap is bigger. For example, how it was in Zandvoort, it was mainly getting the conditions right and exploiting everything out of the car, and the differences, if you don't get the conditions right, you will see a big delta. It's how it works sometimes. We've seen with other drivers those sorts of gaps. It's a long season in F1 and it doesn't really matter, in my opinion, where we are now, it only matters where we are able to finish and then we can summarise our season in Abu Dhabi. Definitely I went through a bit of a tough patch through the middle of the season where I was struggling the most with the car. But I think that's all behind us and we should be having good races from now on.
Q: (Alex Kalinauckas – Autosport) A question to Charles, please. You and Checo both made the same decision to stop on the first lap last week. Red Bull were able to get Checo out with the tyres ready in time, Ferrari wasn't. It's accepted that was the right call to make and Fred said it was afterwards. I'm just wondering has the team made any sort of procedural changes so that if the same situation happened again they would be ready for you?
CL: Well, I think first of all, my call came really late, much later than the one of Checo. I was fighting with Oscar and I think I did the call in the last corner, which is very late. But I also knew that with the amount of rain there was in the last corner, whatever I will lose inside the pits, whether it was five or 10 seconds, I will recover them on the out lap, because there was way too much rain for slicks, which we did. So at the end, it was the right choice. Then we could have optimised few things. But yeah, we'll keep that inside the team. But, yeah, for sure, there were things that we call have done a little bit better. It wouldn't have made a huge difference, because again, the main thing that made us lose time is just a call that arrived late, but that was the right choice anyway.
Q: (Carlo Platella – FormulaPassion.com) A question to all the drivers. Speaking about 2026, Carlos Sainz said that he would like to discuss the excessive stiffness of these cars, because other drivers are experiencing some back pain. Is that so? Are you having some problems with your back?
NH: The cars are definitely super, super stiff, the stiffest I've ever driven and witnessed in my time in F1. So it's definitely, I think, something… Most drivers feel it's something we would like to work on. It also limits you sometimes in races when you want to offset yourself, getting out of dirty air, you can't use many kerbs because of stiffness. So it just limits what you can on lines, racing lines, etc. So, it is tricky. There is some, you know, some difficulties with that for sure. Pain, I don't have [any] but you know, obviously that's very different, everybody's built different, everybody has a different seating position. But yeah, they are very, very stiff.
VB: Not so much to add. My back was already destroyed in 2015, so there's no feeling anymore, so it doesn't matter! But in the end, everyone will always search for performance versus comfort. You take it, even with not being so comfortable in the car. And that would be definitely by the regulations somehow to be improved, not by the teams, because teams wouldn't go softer if it's slower.
LN: I mean, I would love it. I wouldn't say no, if we could have softer cars or something that makes it a bit more like it was in '19, '20, '21. I've struggled a lot with my back. I've had to make quite a few seats and do a lot more training just to try and strengthen my back, my lower back. I've had a lot of issues over the last 12 months or so. Similar to Carlos. It's probably mainly referring to me, I think, when he said it. Yeah, I guess everyone's had different things and struggles with different bits and cars are different and whatever. But yeah, for different reasons, but a bit of it including the car and how stiff it is. I've struggled quite a bit.
CL: No. For me, I really don't mind. I don't know. I've never been sensitive to that. Even the porpoising wasn't something that was really disturbing me. I don't know why. But yeah, for me, it's for me, it's fine.
SP: For me, also fine. I haven't had any issues with my back. My back is as fresh as when I was 15. So I'm lucky in that regard, I guess. Certainly the cars are on the stiff side, but I haven't had any problems.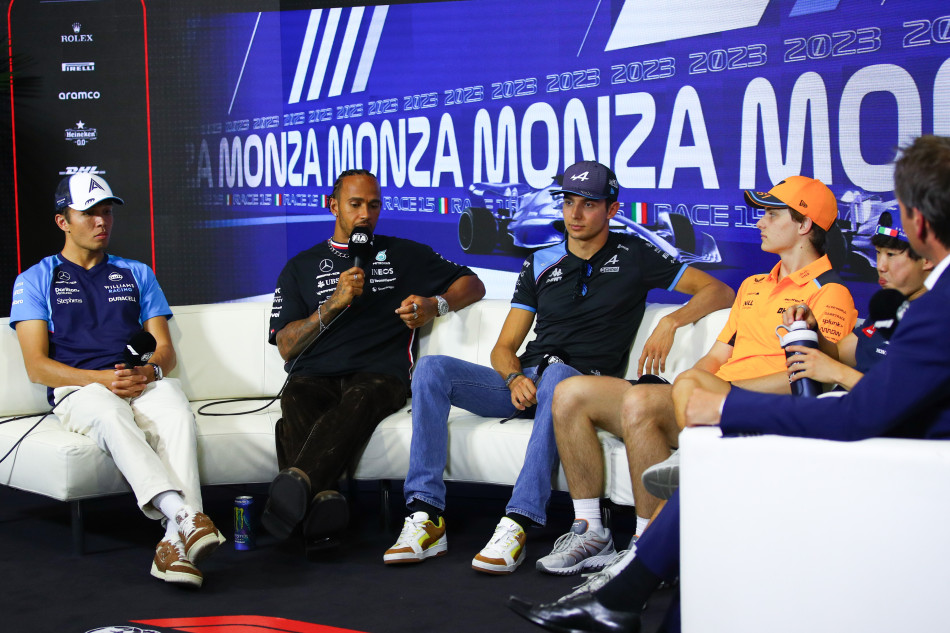 DRIVER GROUP 2 – Alex ALBON (Williams), Lewis HAMILTON (Mercedes), Esteban OCON (Alpine), Oscar PIASTRI (McLaren), Yuki TSUNODA (AlphaTauri)
Q: Lewis, let's start with you. Many congratulations, you have a new contract in the bag , your incredible journey in Formula 1 continues, just give us your immediate thoughts?
Lewis HAMILTON: Well, you're all stuck with me for a little bit longer! Honestly, I couldn't be happier to be extending with this team. We've had such an incredible journey together. I mean, Mercedes have supported me since I was 13. So such a long trip. And we still have unfinished business. So, we are in this together, we've got a lot of work to do to get ourselves back to the front, but there's no place I'd rather be.
Q: Was there ever any doubt in your mind as to whether you wanted to continue?
LH: No, no, I definitely wanted to continue. I mean, I think in life, there's always… When you have up and downs, like last year was a difficult year, I'm pretty sure everyone was questioning whether they wanted to continue, because it's just tough at the top. And it's such a tough sport. But that feeling, that thought, quickly goes away and you put your work, you put your mind and your energy into being the best you can be and dealing with the situations that you're faced with. And so I'm really proud of what we achieved last year to get through it. And then while we started on the wrong foot this year to have had some really great results, we're second in the Constructors' Championship, and the plan is to keep that and then close the gap to the guy ahead.
Q: And the goal for 2024 and '25. is simple, I imagine.
LH: The goal is simple, yep. Setting the target is simple. Achieving that target is not. But it's going to take all of us pulling together… I think every team here and every driver is working so hard to get on top of the aero package they have and the team that they have and pull everyone together. And having everyone firing on all cylinders is not easy in a large team. And so that takes consistent work. And same from a driver's perspective, you know, just making sure you're performing every weekend. Even though I've been driving and racing all these years, I still feel like I can improve each weekend. And I think that's what I love about this sport – you're never going to reach perfection, but the pursuit of perfection is one of the most exciting things about what we do.
Q: Best of luck with that over the next two years. Just bringing it onto this weekend. You have been a thorn in Ferrari's side for so many years here at Monza. What sort of reception do you get from the tifosi?
LH: It's shifted a lot. I think from the beginning, it was, I mean… I can't remember if it was here… No it was somewhere else that I got black cats thrown at me. But I think here was, yeah, I remember there was a period of time where we couldn't wear the team shirt into the circuit, to now just having such a warm welcome from the Italian fans. And finally, for the last, God knows how many years, just feeling really welcome here. And in a place that I've loved since I was like 13, the first time I started racing in Italy, in Parma and Jesolo and South Garda. And it brought me so much happiness. I had so many great memories out here, eating as many pizzas as possible, the great pasta and the best lasagna ever. And the gelato. So to finally be embraced within the culture, and especially with this incredible crowd that we get here. You know, obviously, a large percent are Ferrari fans, but the passion that the Italian fans have is second to none. So I think we got a cool little following here. And I look forward to seeing them this weekend.
Q: Alright, Lewis, best of luck. Thank you very much for that. Alex coming to you now. Can I take you back 12 months to the moment when your appendix stopped you in your tracks? How do you reflect on that 12 months on?
Alex ALBON: I mean, I was staying in the same hotel this year, and they put me in the same hotel room. And I was just laying in bed and I thought to myself this is exactly what happened and I woke up… well, I didn't go to bed and I got this pain coming. I don't know if you know what it's supposed to feel like but it can feel like you're gassy. So you spend a lot of time like… I didn't know what was going on but I honestly felt like I had PTSD! I had to ask to change room. So yeah, it is interesting. Obviously, it was a strange time. A frustrating time, actually, because it was the one time where last year I felt the car was quick enough to score points. But you know, Nyck did a great job, actually and he did the job for me. So yeah, thinking about it, obviously the appendix is out now so it shouldn't come up again. If it does, there's something wrong!
Q: And what about your chances this weekend? You say the car was competitive here 12 months ago? Do you think you'll be even more competitive this time around?
AA: Relative to last year, yes, I do think so. Well, we've just had a more competitive car at every track we've been to. But let's see. Obviously, coming from Zandvoort, especially, I think expectations are quite high from everyone for this weekend. But we have to be realistic. I think Spa was a bit of a wake-up call for us. We were not as quick as we thought we would be on a track that's quite similar to here. So let's not speak too much until FP1 and we can start to figure out where the car is and our pace.
Q: Alright, best of luck to you. Esteban, coming to you now. Can we throw it back to last weekend? Pierre on the podium, you in the points? How much did the team need that result after everything that had gone on just before the summer break?
Esteban OCON: I think it's obviously very good for the whole morale of the team and obviously great to secure the second podium for the team this season. With such a tight midfield battle to have both of us on the podium this year, it's pretty cool. And it really shows that we can take the opportunity when it comes to us. And we should be pleased [about] that. Obviously, there's a lot of work ahead and we know, you know, how much we have to improve to be in positions to be more often in the top five and more often on the podium. There is still a lot of work ahead. So, yes, everyone is flat out pushing and the atmosphere is good inside the team.
Q: And were you happy with how the interim management structure was working last weekend?
EO: You know, I'm focused on my side of the job. As I said, an opportunity came, you know, and we took it as a team. You know, there are things that obviously we can always improve and get better at and everyone is focused on doing so. And, you know, my side of the job is to drive that car as fast as it can go and as high up as it can go in terms of results. So that's what I'm focused on.
Q: Alright, well what about this weekend? How high up can you get?
EO: In Spa, we were pretty competitive, you know, in the dry. We had good pace, you know, from quite far [back] the grid and managed to have decent straight-line speed in Sector 1 and Sector 3. And that has helped us to be fast in the race. So, yeah, I hope that we can repeat something similar at this track and score some points on Sunday.
Q: Thank you. Oscar, coming to you. What about Monza then? How big a challenge is this place for a rookie. It's the first time you come here in a Formula 1 car?
Oscar PIASTRI: I would say as a circuit it's probably not as technical as some others. But I think it has a very different atmosphere about it on from a Saturday to a Sunday. Obviously, you know, getting a slipstream in Qualifying is important. I've got nightmares of my F3 days of red flags in Qualifying sessions from people trying to get tows, so hopefully it's not that bad. But you know, obviously the slipstream plays a massive part and also on a Sunday. So yeah, maybe not the most technical of circuits, but an atmosphere I really enjoy and a track that is very good for overtaking and racing. So looking forward to it.
Q: And do the the cars feel very different in low downforce trim?
OP: I'll be able to tell you tomorrow.
Q: Can we also throw it back to Zandvoort? How do you sum that one up? Do you feel it was a big missed opportunity for you guys?
OP: Yeah, I think we could have done a few things a little bit better. I think for myself, I didn't help my weekend with FP2. But we've reviewed the race and definitely a few calls that I think, given the opportunity again, we would have done a few different things. But yeah, to have both of us still in the points at the end of it, considering where we were at one point in the race I think was still a decent afternoon. Of course there was always more and I think some other teams and some other drivers show that if they made all the right decisions, there was a lot of points to play for. So some things to learn, definitely, from my personal development and I think also for the team too.
Q: Yuki coming to you now. I feel it wouldn't be an interview without us talking about your cooking skills. You've been on the stove with Pierre Gasly this week. What did you cook?
Yuki TSUNDOA: Yes, it was nice. Actually, it was the first time I went to his apartment and yeah, we did a cooking session. Actually, he was nice because he prepared the full outfit. I didn't bring it by myself. I don't have that outfit. But yeah, we did a bit of filming as well and I think it went well. He didn't use much his own kitchen, in his house. Some of the places, he didn't know where it is in his house. But yeah, I think it was nice. I wanted to go to his house at some point. He came to mine this year at the beginning of season. Then finally I went to his house. It was nice. Nice cooking.
Q: And what about this being the home race for the team; even more poignant after the cancellation of the Imola Grand Prix earlier in the year?
YT: Especially after the Imola Grand Prix got cancelled, definitely all the Italians fans and our team were really disappointed but at the same time we know the reason and I think it's the first time this year Italian Grand Prix here I can see all people, mechanics, colleagues at AlphaTauri really motivated, also including me of course. And yeah, I hope I can have a good result here to kind of motivate and give extra energy to the people who works in Faenza as well.
Q: You've had lots of different team-mates. You've had Nyck, you've had Daniel, you've now got Liam Lawson as your team-mate? How difficult is it for you to stay focused on yourself when there's so much change going on in the next door garage?
YT: It's OK. I think in the end I just have to focus on what I have to do. The things I have to do is the same as usual: score points, have good results. Obviously, I would say more towards the team it doesn't help probably. It's not easy, like changing to another driver in one week, it's very difficult. But I think Liam is doing the job and also all the drivers doing a good job so far as well. Same for Daniel as well. Daniel started to get used to it more and he had a good session and then right after he got an unfortunate incident and Liam he just jumped into the FP3 and he did well in qualifying and the race. I think we're all working well. It's not that easy but for myself not much difference.
QUESTIONS FROM THE FLOOR
Q: (David Croft – SkySports F1) Lewis, congratulations on the new contracts. I think we're all quite happy to put up with you for another two years to be honest. Unfinished business, you say but what's the unfinished business? And what has the team said to you that's convinced you that that's achievable in '24 and '25?
LH: Well, we're trying to win more World Championships and I think, yep, the unfinished business is getting us to the back to the top, it's getting back and fighting for World Championships. We've been the most successful team in history and had the most successful run in the past 10 years or whatever but it's been a challenge this past year so I think yeah, it's just getting us back to where we belong and where we operate on all those cylinders which you're seeing Red Bull do. I can't remember what the last part was.
Q: (David Croft – SkySports F1) What have they said to convince you…
LH: It's what you see. It's not necessarily what someone says, it's the work that you're doing, it's the meetings we've been having with all the engineers, with James Allison and the whole group back at the factory just focused on… the heads of all the departments coming together and talking and just really engaging better than ever before about where we are, the mistakes we've made, why we've made those decisions and why we won't make them again and where we're going. And just all having that confidence in each other that we are the best at what we do and when we come together and when we… given time, we will get to where we need to be.
Q: (Scott Mitchell-Malm – The Race) Lewis, it wasn't that long ago you were talking about the idea of racing past your 40th birthday was something that you couldn't imagine or didn't seem to really appeal. Are you surprised at all by your own longevity? What is it that's kept you going for this long so successfully?
LH: Well, firstly, behind this camera we have a couple of kids who wanted to say… and some parents who wanted to say hi. I don't know if they can see us. Hi guys. Ah, shoot. What did you say?
Q: Have you been surprised by your own longevity?
LH: Yeah, definitely. I definitely didn't think that I would be at the age that I am and feel the way that I do, physically and mentally and still love what I'm doing as much as I do. And that's something I'm incredibly grateful for. I think a lot of people stay in the same jobs and roles for a long period of time and fall out of love with it but just keep going because it's maybe the only thing they can do, but for me, I genuinely love, I still have that love for what I'm doing. I still love getting in the car. I still love racing with my peers and I still love working alongside Bono and all the guys in the garage, in the team, like chasing that common goal and dream. And I love that feeling of when you have the lows together and when you have the highs together, there's nothing like it.
Q: Lewis, will Bono do two more years?
LH: Yeah. Bono's stuck. Yeah, I'm very fortunate and again, that's like history as well. There's no… I don't think there's ever been an engineer and driver pairing that's been this long. So we're setting new records.
Q: (Andrew Benson - BBC Sport) Lewis, on that unfinished business thing, how much of it was influenced by wanting to avenge what happened in Abu Dhabi two years ago, because I know you were very upset by what happened there? And also in terms of going on beyond 40, have you at all looked at what Fernando's doing at 42 and thought, well, that's just some kind of reassurance to me that at least I know if I do two more years, I definitely can do it?
LH: I think I look at people like Tom Brady, who's such an incredible athlete and has shown what can be done today, so he's the real role model, in that respect, I think for all athletes to be able to look at, and I'm really, really fortunate that I've been able to speak to him to understand, as well, what he's done, what he does consistently to keep himself in shape and he's expressed it in the media anyways. And then, yeah, of course it's great seeing Fernando. He was here way before I was and obviously took that retirement and came back and is doing an amazing job. It just shows that your talent never really leaves you. As long as you have that passion and that commitment you can continue. And then on the 2021 thing, I'm not really a revenge person. It's not about revenge. It's not about redemption. That's in the past. There's nothing you can do about the past but what we can do is work harder and be more precise and be better moving forwards. And I truly believe that with this team, we can win more World Championships and watch races together so that's where all my energy is going.
Q: (Alex Kalinauckas - Autosport) Another question to Lewis please, but on rather a different topic. I just wondered, what are your thoughts on the idea of F1 changing its rules to slow down a dominant team. There's plenty of examples of that in history, in the Ferrari years, in your years the DAS was banned, the engine modes were changed, the rear floor rules were changed particularly in 2021. So what's your thoughts on that? And also on 2021? Do you have any memories of how that really changed things for your team?
LH: I don't know what's been proposed. I've not heard anything. But we've experienced lots of changes, which were put in place to slow us down over the years and I think that it was better for the sport. If you look at 2021, for example, our qualifying pace was amazing… I think it's 2021 or 2020, I can't remember, but where they took away our qualifying mode, for example, brought us closer in qualifying. And on one side, the engineers just did an incredible job and they deserved that in merit but I think from a racing fan, we want to see all of us a lot closer. I think that what you're seeing behind the Red Bulls, we've seen quite a good championship this year, between the Ferraris, Astons and all the teams are looking a lot closer than ever before. So in some ways, the rule change has worked. In others, there's still some work that needs to be done. If you look at some of the teams, they're all capped but some teams don't have the same resources in terms of whether it's wind tunnel, whether it's stuff that's at the factory that the bigger teams had because they had loads of money to throw at it a long, long time ago and they can't catch up now. So there's always work to do but I think the sport's done a great job and I do hope for the fans in future we don't see Mercedes dominate for 10 years or Ferrari dominate for 10 years or any other team because I think that's not in the best interest of what us drivers want or what the fans want or what the team want. We want close competition and I hope that gets better and better.
Q: (Phil Duncan - PA) Lewis, we've obviously spoken a bit about your contract this year but when did you actually get it signed? And you spoke about unfinished business; do you think in those two years or the next two years you'll be able to win those championships or do you envisage that you might need another contract beyond the one that you've just signed?
LH: Contract-wise, we got it done this week. Actually, the stuff was finished last week, last weekend. I'm not working towards next year thinking that it's going to take another four years to get to where we need to be, but I'm aware that it does take time. Of course, in my heart, I'm so hopeful that the decisions we are taking and the direction that we're rolling towards is that which will put us in in that target zone, to be able to fight the Bulls and be close and be challenging for pole. But if it's not next year, we'll continue to work through it. But in my heart, I truly believe that if it's not next year, it's the year after we will be there.
Q: (Luke Smith – The Athletic) Lewis another question on your contract. Have you found that…
LH: Look, there's a bunch of other drivers here.
Q: (Luke Smith – The Athletic) I can ask them about your contract!
LH: Well, you should just tell us if you don't have any questions for these guys, because it sucks them having to sit here, but you should ask them these guys a question.
Q: (Luke Smith – The Athletic) I could put one to Alex!
LH Yeah. Go for it.
AA: It doesn't feel the same if it's just a push along. But tell me!
Q: (Luke Smith – The Athletic) A question on James Vowles and his influence on Williams. How have you found him as a team leader so far this year? And Lewis maybe your thoughts on James as well?
AA: Yeah, no, genuinely? Yeah. OK. No, James is great. Obviously, he's come from Mercedes, he most probably was part of Lewis's contract back in the day, but he's come along, he's got a lot of experience coming from Mercedes. I've said it a few times now but I think honestly, the best of James is possibly still to come. I think that a lot of the stuff that we're doing right now is short term goals that we've been able to do obviously, things like tyres or whatever strategy he has prior knowledge, quick knowledge that you can get overnight, almost. But the real big things, the big ticket items are going to come next year, the year after that, and that's what I'm excited to see. I'm really excited to see what direction he's going to take the team. Speaking to him, he obviously has a close connection with drivers. And he does do a bit of driving himself so he gets this, he understands the language that we talk. We talk about it a lot at Williams, but we do have some characteristic problems in our car and hopefully if we can get them out of the way, I think we're going to make a good step. It shows at tracks like Zandvoort, when we don't have so many limited corners, we can be right up there. So let's see.
LH: I love James.
Q: How much is Mercedes missing him?
LH: Well, James is exceptional and we had an amazing journey together, we achieve so much together. And we still have a very good friendship. And I remember getting the message from… I remember him being in the role and realising there was nowhere for him to really progress within the system. And I knew that just it was a matter of time that he would break away and this opportunity came up, it was so great and so right for him. And obviously, so many people questioned whether he could do it and you're seeing such a great impact that he's having there. He's got such a great mindset. For us, it's not that… of course we miss people that we lose but we're very proud of people coming through, having a good time and having that success and carrying that on in their careers. And I think James was very much a part of setting up what the system we have within our team. So we're operating off some of his philosophy and we'll continue to do so. But I really, really hope that… and I'm excited to see the progress that they're making there and I can't wait to see Williams come further up. When you guys were up and in the top three last week, it was kind of cool, because when we were growing up Williams were right up there, so really happy for them and look forward to racing them soon.
Q: (Ian Parkes - New York Times) As has been mentioned, Lewis will be 40 – sorry, Lewis –  when his new contract ends. To the other four drivers, can you imagine any scenario where you might be continuing racing when you're 40 years old?
YT: Yeah, well, nothing. Forty years old, yeah, still probably 17 years to go. Around there. It'll be nice. Obviously it will be nice, probably if being 40 years old, it will be nicer if I can be able to achieve my goal, like World Champion, but at the same time it will be nice, I want to do my own thing that I want to do outside of racing. Kind of own a restaurant would be nice.
OP: Yeah, I've got 18 years until I get there. If I'm still driving race cars and loving what I'm doing at 40 years old, I think that's a pretty good 18 years of my life well spent. So yeah, when you've had the amount of success that Lewis has had, I can imagine why he loves it so much and I think we all start out racing because we love it. Of course, the higher up you get the more pressure there is, and other commitments and stuff like that, but I'd be quite happy if I'm racing at that age, I think.
EO: Time flies, but luckily I'm still young. I'm not as young as I used to be compared to these two on my left…
LH: How old are you?
EO: Twenty-six, almost 27. Thank you. It's been a while I've been around. Thank you. I look old, is that what you're saying? You look good, man. Tell me your skincare routine. I don't know where I will be when I will be 40 but obviously, yeah, if I don't drive a car for a week, I feel like I miss something and I need to get that adrenaline back and to get that rush again. I'm just passionate. No, I'm just addicted to driving. That's who I will be for the rest of my life.
AA: Yeah, very similar comments. I think to be able to be in Formula 1 until you're 40 you… realistically you have to be a generational talent to be able to do it. I don't think… we would like to, all of us would like to be 40 and still be in Formula 1, but it doesn't normally turn out like that. That's our goal, I'm sure we all would love to keep doing what we're doing. I'm sure you guys know, being on the road for so long and doing it, it takes a toll on you, so I'm sure that there's a lot of fire in Lewis's belly to be able to do that.
Ends