F1 - 2023 AUSTRALIAN GRAND PRIX - POST-RACE PRESS CONFERENCE TRANSCRIPT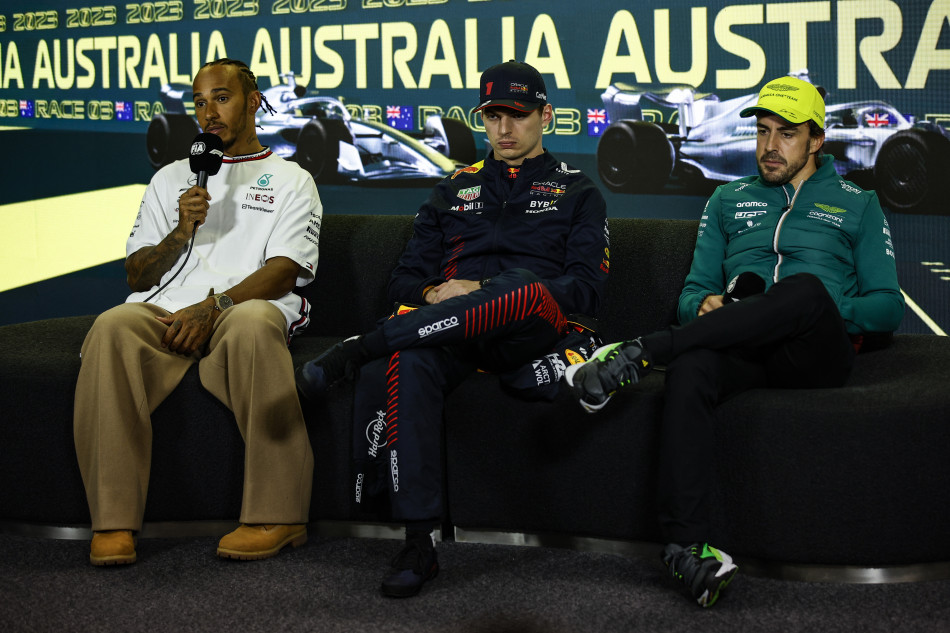 DRIVERS
1 – Max VERSTAPPEN (Red Bull Racing)
2 – Lewis HAMILTON (Mercedes)

3 – Fernando ALONSO (Aston Martin) 
TRACK INTERVIEWS
(Conducted by David Coulthard) 
Q: Fernando, what a Grand Prix. Have you ever experienced the likes?
Fernando ALONSO: Probably not. I mean, we had a roller coaster of emotions today. And yeah, many things going on at the beginning. But then also at the end now, you know, the last half an hour it was difficult to understand what's going on. But the race itself was good for us in terms of pace. I think Mercedes were very fast and Lewis did an incredible job today, so I could not match the pace or not get close enough. But we take P3.
Q: Yeah, that's what we were wondering, in the Grand Prix, whether you were just pacing yourself and saving your tyres, because early on it looked like it would be a straightforward run to the flag. But all of that changed. And then of course, I guess your heart was in the mouth at that red flag restart when you were spun around?
FA: Yeah, I mean, the first red flag did help us, because George and Carlos came in. So we took those places for free. And the second red flag probably didn't help, obviously, with the incident there. But then we got lucky again and we had another opportunity now to just see the chequered flag in P3 and as I said, P3, P4 for the team is just amazing Sunday.
Q: Well, you've started with three races and three podiums, what can the rest of the season bring you?
FA: I guess a little bit higher up on the podium, because three third places, let's go for a second place at least.
Q: Lewis, welcome back to the podium. That was a crazy race!
Lewis HAMILTON: It was! I've got to say a huge thank you to everyone here in Australia and Melbourne for having [us]. I've had the best week here, this week. And the weather has been amazing today and this track, this town continues to put on a great show. So yeah, it's very unlucky for George today and on our side we've got to look into… Our reliability has generally been really good, so that's really unfortunate. But otherwise, to get those points is really amazing today. I definitely didn't expect to be second. So I'm super grateful for it.
Q: There's so many questions, because you've been saying you feel a bit disconnected from the car but yet come race day that pace was good. Maybe not enough for Red Bull. But you looked 'fighty'. You really pushed Max into Turn 3 on that opening start and you looked up for it.
LH: Yeah, I still feel uncomfortable in the car, though. The car… I still don't feel connected to it. So I'm driving as best I can with that disconnect. And I'm working as hard as I can to try and create that connect. But I think it's a long project. But still, considering we've been down on performance, we're clearly down on end-of-straight pace compared to the Red Bulls, for us to be up here fighting with Aston is just amazing at this point in the season. And we've just got to keep on fighting. Big, big thank you to all the people back to the factory. Let's keep pushing. We can close that gap. It's going to be tough, but not impossible.
Q: I just want to pick up on a moment when you were on the radio quite early on the Grand Prix, saying that I don't think the tyres will make it. I wasn't sure if that was you kind of bluffing to put the opposition off?
LH: No, no. I definitely wasn't bluffing. I think, honestly, I was having to push a lot to keep… Right at the beginning, obviously, to keep Max behind. And then Fernando was pushing, you know, they're very, very quick. So I think ultimately, he was a little bit quicker today behind me, but I just managed to hold him off. So, for that I'm really grateful and also just… What a legend. We've got a World Champion up ahead. We've got two World Champions in the top three or three World Champions in the top three. That's pretty mega.
Q: Indeed, Formula 1 2023 is excellent. Well done on your second place. And finally, our race winner. Not really straightforward to get that victory, was it? 
Max VERSTAPPEN: No. We had a very poor start and then lap one, I was careful, because I had a lot to lose and they had a lot to win, you know. So, yeah, after that I mean I think the pace of the car was quick, you could see that straightaway. We were always there waiting for the DRS to open up, to have a chance to pass. But yeah with these red flags… I don't know, the first one maybe you can do it, but that second one, I don't really understand it. So, it was a bit of a mess. But yeah, we survived everything. We had good pace in the car today again, and we won, which of course is the most important [thing].
Q: The battle with Lewis at that first start, down at Turn 3. There was maybe a little bit of contact there. It was hard but fair?
MV: From my side, I just tried to avoid a contact. It's quite clear in the rules what is allowed to do, what you're allowed to do now on the outside. But clearly it's not followed. But that's OK, you know, we had good pace and we passed them anyway. But it's something for the next races to take into account. 
Q: OK, well, let's take it a little bit farther into the race and coming into the second-last corner you decided to go a little trip to the grass.
MV: Yeah, I think I did the city a favour. I just cut the grass a bit more so they don't need to do that anymore in that area. So yeah, I don't know. I locked up a bit and didn't want to flat-spot the tyre completely, so I ran a bit wide but we had a good margin.
Q: And in the end, you had to wait a little bit there before you could do that final lap to get your 37th victory in Formula 1.
MV: Yeah, I mean, it's great to win here. My first win [here] as well. It's been a while for the team as well. But yeah, very, very happy. But also, it's still great to see that the fans are having a good time even now. You know, they had a long wait, for the whole day. I'd like to say a big thank you to them as well, you know, for sticking around.
PRESS CONFERENCE 
Q: It was a long afternoon's work, just how do you reflect on everything that went on out there?
MV: I mean, of course, very happy to win the race. But I think the race itself towards the end was a bit of a mess with all the calls. Yeah, I don't think we needed that second red flag. I think that could have been done with a Virtual Safety Car or a Safety Car at worst. [To the others drivers] but yeah, OK… short. You see, he wants to leave. You need to go? But yeah, we'll talk about it. I think it left a lot of drivers confused, why we needed a red flag. Okay, well talk in Baku!
Q: Max, just in all of your racing career. Have you ever experienced a race like that one?
MV: Yes. I don't know, today was quite messy, yeah.
Q: Well, let's talk about your starts. Can we go in chronological order – that first start in particular?
MV: Yeah, the first one was not good. Just didn't really get well off the line. And I think, actually it just got better and better, my starts. So at least that's an improvement!
Q: And the run on that opening lap down to Turn 3 with Lewis. You touched on it a little bit earlier with David Coulthard. Do you feel Lewis overstepped the mark?
MV: I think I was also quite careful. I think I could have been a little bit more aggressive. But on the other hand, I didn't want to have any damage on my car, because I knew that we had a quick car, right? So even losing one or two spots was not the end of the world. 
Q: Final one for me. I'm sure there'll be plenty from the floor. But do you feel these guys were closer to you this weekend in terms of pace?
MV: I think it was also the nature of the track, with the very low deg. So, I think that all made it a bit closer. The warm-up was also quite tricky. Some teams probably nailed it a bit better than others. So yeah, difficult to say. I think we need to go to a few more tracks to have a full understanding.
Q: OK, very well done. Lewis, coming to you now. You seemed elated after that one. Just how unexpected was this result?
LH: It was very unexpected. Obviously just coming into the weekend, but obviously, also getting a second and third and qualifying yesterday really blew us all away and a huge boost of energy throughout the team. So that meant today we had a shot at, you know, trying to at least overtake Max for a second. And so, we both got ahead, which was amazing. To have a Mercedes one-two for a second. And obviously he came sailing by at one stage, but it was a really entertaining race and I had a really good battle with Fernando, which was awesome.
Q: Can we touch on that overtaking move with Max. Just talk us through the rundown to Turn 3.
LH: I thought it was pretty decent. I mean, he braked early and I braked late and I was fully up the inside and I think we both left space for each other. I didn't run him off the road and he didn't turn in on me. So we didn't touch and that's racing.
Q: All right, you touched on that battle with Fernando. It was real cat and mouse all afternoon between the two of you. Who do you feel had the faster car this afternoon, you or him?
LH: I think Fernando's a little bit quicker this afternoon. I mean, he was in my tow, so I think we were probably slightly quicker on the straight and he was quicker through all the corners. So I think we definitely have some performance to find. It definitely wasn't easy keeping him at bay, and keeping them out of the DRS zone. But it was really quite interesting, just to see where we were, where we were lacking, and where we were good. And so there's lots of positives to take from today but we do naturally need to add on some performance. I mean, they've been ahead the past two races but for us to somehow still finish ahead is pretty awesome. So I'll definitely take it.
Q: Fernando, coming to you now. Third race of the season, third podium for you. How satisfied are you?
FA: Yeah, very. I mean, incredible. And also for the team, third and fourth, 27 points out of this Sunday, I think. It really made me feel happy for the boys and girls in the team. And yeah, the race was not easy. For sure. I think at the beginning obviously we got lucky with the first red flag because George, and Carlos pitted, so we benefit from that, and then yeah, in terms of pace we were very close to Lewis, also through the race – but every time that I tried to get close, yes he seemed to pick up the pace. I try to put some pressure but, you know, he had an incredible race, no mistakes at all, as you probably expect from him, a champion. But only one lock-up, I think, Turn 13, in 58 laps. So I was trying to put pressure but nothing happened. So yeah, I will take P3.
Q: What state were your tyres in, because had this been a conventional end to the grand prix, how do you think it would have played out?
FA: They were good.
Q: And he's just said that he thought you had the faster car this afternoon. Would you agree?
FA: Probably. I think when you do 50 laps within two seconds of the car in front, it's normally you have a little bit more. If you have a little bit of clean air, probably you can get two or three tenths out of that lap time. But in the other end, I could not get any closer than that. So, I think we were very similar.
Q: Can you just talk us through the moment when you and Carlos touched at Turn 1 please. What's your view on what happened?
FA: Yeah, I mean, obviously I didn't know who touched me in that moment. I just felt in Lap One of the first start, someone touched me in Turn 3. And then in the last restart, Carlos apparently touched me in Turn 1. Yeah, I mean probably only Jeddah I had the normal start. In Bahrain also in Turn 4, Lance touched me, into T4, so, I'm very attractive out there! But our car is strong enough. So you know, it doesn't matter if they keep touching us.
QUESTIONS FROM THE FLOOR
Q: (Alex Kalinauckas – Autosport) Question to Max please. Obviously had everything under control, it seemed, once you've got past Lewis and pulled away – but there was that one off at Turn 13. Could just explain what happened there? And also, can you just talk us through the final restart before everything really kicked off behind you, when Lewis was alongside you. How did that go for you? Thanks.
MV: Yeah, just a tiny lock-up and they want to flat spot the tyres, so I ran a bit wide, cut the grass a bit, saved Melbourne a bit of money to cut the grass there. But I don't think Lewis was alongside me. I think my start was a little bit better than what I had before, so I was happy about that because the tyres were really, really cold. And then, of course, after Turn 1, I saw there were massive gaps behind me, so I thought already there was something going on, and then I saw the replays and it was just a lot of chaos behind. So yeah, how it goes sometimes.
Q: (Jesús Balseiro – Diario AS) Question to Fernando. After you've seen the incident with Carlos at the end, and what do you think of it? What do you think of the penalty?
FA: Yeah, I mean, probably the penalty is too harsh, I think because on Lap One, it is very difficult always to judge what the grip level, and I think we don't go intentionally into another car, you know? Because we know that we risk also our car and our final position, so sometimes you ended up in places that you wish you were not there in that moment. And it's just part of racing, but I didn't see the replay properly, but for me, it feels to hard.
Q: (Alex Kalinauckas – Autosport) Question to Lewis and to Fernando please. You changed tyres after the very first red flag and it looks like you were going to go to the end without stopping. How difficult was it balancing keeping those tyres alive whilst also chasing each other and it looking like the pressure was on? Thanks.
LH: Yeah, I think I had a lot more tyre than I thought that I did at the end. There was a moment where I thought the tyre was opening up and Fernando was applying pressure, then backing off and I had decent pace and then closing the gap again. He had two or three charges which I had to then really up the ante and try to match him, which was which was tough. I was able to be around a tenth or so off him, or sometimes ahead. But definitely, with 18 laps to go, I was thinking jeez, I don't know if these tyres are going go all the way. But then he had a moment where he backed off and I was able to save a bit and then got into a good rhythm and I was able to just keep that gap exactly the same for those last 10 laps or whatever. So was just counting it down, just hoping, hoping that it would just stick with it. And yeah, he was very, very consistent from what I could tell, didn't make any mistakes. Fernando doesn't make a lot of mistakes. So, it needed to be a good job.
FA: Yeah, similar comments. I think, at the beginning of the second race, let's say, there were some doubts that the tyre could make that distance, because we missed FP2 long runs and everything. But I agree that at the end of the race, the tyres were better than expected. They could keep going.
Q: (Fred Ferret – L'Equipe) Lewis and Fernando, when you go into a restart in a race like that, do you fear losing position? Or are you happy to try to be the first at the first corner?
LH: I was always trying to get to first, even when I was third. And then obviously up alongside Max at the end, I really was hoping for a better start than I got. We both got pretty much similar getaways and then he had a better second phase. And then it's just not to lose out to Fernando you know, he's having good starts as well. So it's all very, very close and all within a meter or so by the time you get to Turn 1. Initially, I was trying to get ahead and then otherwise we're just at the end not wanting to lose a position to the Aston.
FA: Yes, similar comments. For us, it's just an opportunity, so yeah, I was pretty sure that I could be second, to be honest, in the last start, because we've been very good, very strong on the starts and it was good again, I was side-by-side into Turn 1. But then yeah, you also sometimes realise that there are a lot of risks as well, every time there is this kind of restart, and maybe you end up with a DNF, which was very close for me this time.
Q: Max, how were you feeling prior to that final start?
MV: Yeah, I mean I had a terrible first one so I was actually not really looking forward to it. But luckily we seem to improve it a bit afterwards. But I think it was a bit more difficult because of how cold the tyres were so you also didn't really know what you're going to get off the line. 
Q: (Pedro Fermin Flores – TheGodFlores) Max, did you know that at the last time there were some discussions about your position inside the box of the grid in the 'real' start? Your tyres were finally on the limit on the line? How did you do it, because you have the magnificent sun of Australia in front of you? How did you did it, to put the tyres inside?
MV: To be honest with you I think I braked a bit late and then I lost my reference a bit but then I looked and I was like I still have a little bit more space. I actually moved a bit forwards and yeah, it was really on the limit. But on the limit is on the limit, it's not over the limit. Yeah, the sun was also quite difficult at the end, the visibility especially into Turn 1, Turn 3 was quite tough.
Q: (Phil Duncan – PA) Max, at the end, you said the end of the race was a mess and left drivers confused. Obviously this question is to you but to Lewis and Fernando as well. Do you think there needs to be a rethink of the rulebook to ensure that there's more clarity and also that the race doesn't end behind the Safety Car and there's obviously some fans as well saying that this drama has been created for F1's new Netflix audience. So, just wondering if that's something you guys…?
MV: I think it's quite clear, I just didn't understand why we needed a red flag. I think if you would have had a Safety Car and then just had a normal rolling start we wouldn't have had all these shunts and then you have a normal finish. So they created the problems themselves at the end of the day.
Q: (Andrew Benson - BBC Sport) I'm going to ask about that as well, guys. You could argue this is a problem that Formula 1 has created for itself, and Fernando, you were quite outspoken in the car about it. Do you think Formula 1 should be approaching races like this trying to get a green-flag finish? Do you think red flags should be thrown in these conditions? And also, what did you feel about the first red flag too? 
FA: You never know. I was surprised with all the red flags, to be honest, because the first one, I think, was [because of] a Williams in Turn 6, but we went through there one lap, I think, behind the Safety Car and there was a little bit of gravel, but nothing really too bad on track. But we never know in the car what's going on on the track itself. So apparently, maybe one barrier was not properly fit there, so I think the FIA has more information than us. So if there is a red flag, it has to be for a reason. We will ask probably in Baku what was the reason for the second? I know there was a piece of tyre debris in the first straight but the car itself was on the inside of Turn 4 so it felt quite safe there. And the safety car is for those kind of reasons so yeah, for us, maybe it was a different opinion. But as I said the FIA are the only ones that have all the cards on the table so in those kinds of situations, we trust them, and we try to keep them going.
Q: (Alex Kalinauckas – Autosport) Fernando, question for you: looking at the weekend, overall, this is your third third in a row, but the first time you're behind a car that isn't a Red Bull. Why do you think that was? The battle with Mercedes overall this weekend? And do you think it's going to fluctuate between the two teams going forwards?
FA: No more three Red Bulls on the podium, if Checo was here! But no, I think Mercedes they've been also strong in Jeddah, to be honest. I think all the race on Sunday, I was within one tenth of George, fighting to get this extra five seconds or whatever at the end so it was very, very close. It seems that qualifying is quite important now, because race pace is very similar and I think now we enter into a part of the season that is going to be very interesting: which team is developing the car faster? I think the first three races being away from Europe, it's difficult to bring upgrades and things like that. But from now on, maybe we see the level of the teams changing a little bit, race-by-race, depending on who brings an upgrade that is good enough. I don't know, for us, it's all happy days at the moment. We never expected to be on the podium, maybe even throughout the season and in three races we have three. So everything that comes now is a plus and as I said today, third and fourth is a lot of points so we take every opportunity and we need to learn and we need to grow as a team also maybe now off-track because we are racing against Red Bull, Mercedes, Ferrari, teams that are used to this kind of pace of development and things like that. And maybe we are just in a learning process. So we take this 2023 in a very humble manner and let's see how it's going.
Ends