This page contains archived information and may not display perfectly
F1 - 2022 SAO PAULO GRAND PRIX - SATURDAY PRESS CONFERENCE TRANSCRIPT
PART ONE - TEAM REPRESENTATIVES
Tom McCULLOUGH (Aston Martin), Paul MONAGHAN (Red Bull), François-Xavier DEMAISON (Williams) 
Q: Tom, we'll start with you. Three very strong races from Aston Martin in Singapore, Japan and the USA. Then the performance dropped away in Mexico. What have you learned since that race about the issues there?
Tom McCULLOUGH: Yes, you're right, we had three strong races in a row, we went to Mexico knowing that some of the compromises we're having to run on this year's car, the characteristics of Mexico would mean it was quite challenging. It did turn out to be the case, and when you're in a tight midfield bunch, you quickly go from one end to the other, as we found from Austin to Mexico. 
Q: What were the issues? Were they altitude-related?
TM: The characteristics of the track, it's dominated by a lot of low-speed content and how we're able to operate the car on track at the moment wasn't particularly strong for the compromises of that track. And in the end, that just makes it harder with the tyres as well. So it snowballs a bit from that. A few too many compromises, cooling, lots of other things everybody suffers with there – but it just knocked us the wrong side of the midfield pack. 
Q: What about here? We've had that one practice session yesterday, which looked promising. 
TM: Yeah, ultimately, we managed to get both cars into Q2, but we didn't get either car into Q3. Close. Small margins again, those changeable conditions. It's very tight in the midfield, it's such a low, grip-limited time at this track. The grids always really close. So yeah, we're a little bit disappointed not to be a bit more competitive or a bit further up the grid. But there's still a long way to go before Sunday evening.
Q: Now, Tom, this is the last time we're going to see you in an FIA press conference this year. So, can we just look at some bigger picture stuff now from the 2022 season? How would you sum up Aston Martin's year, first of all? 
TM: We didn't start the season as competitively as we wanted to at all. We struggled a lot with the porpoising, the bouncing of the cars at the start of the year, at the first two or three races in particular. And we realised from a development side of things that we'd sort of not gone down the path that was going to make a usable car trackside. We ended-up changing that, which was a pretty early decision. When we were going through all the initial races, initial testing. Obviously brought the heavily updated car to Barcelona. And since then, we've just been continuously trying to develop that car, that theory. Now we've made a lot of progress, but we started a bit too far back. So that's why we're still struggling hard where we are now. But I think we brought a lot of new people in and they are working well within the team. And we can… we're on a path, we're all developing the same way. We know where the limitations are. We know what we've got to do. It's just a matter of getting heads down and pulling the team together, as we grow, to try to continue to develop and produce a better car next year.
Q: As you say, 'we're all developing in the same direction'. Where have you made the biggest gains with this car? 
TM: At the end of the day, the margins are small. We had a car that was in a very narrow operating window and it was very hard when you go to a track with different grip-limited conditions. We're now a little bit more adaptable from track to track. Obviously Mexico was a tough one for us. But the car is a bit more usable than it was at the start of the year. Now, we were doing a lot of bouncing at the start of the year which thankfully we've got largely on top of, and overall the trackside group, with the support of more of the factory groups are able to go to a track, optimise the car, get the tyres working, and race while at the start of the year, we were just too many compromises within the car.
Q: Can we have a word on Sebastian Vettel who, of course, leaves the team after next week's Abu Dhabi Grand Prix. Can you describe the job that he's done for you guys over the past two years? 
TM: He's had a big impact on our team. As you say he's been here now two years. He came from two big teams with the experience of winning races, winning championships. So, he brought a lot of knowledge to our team, on a lot of small details, on how to operate and how to develop the car and what actually is important. The driver is one of the best sensors. We've got some very good tools and software but the driver input is key. He's very motivational, he's a lovely human being, you worked really hard, he pushes everyone in every area. And he's helped us lift our game. Unfortunately, we've not quite given him a car good enough for him to challenge further up the grid. But we've definitely learned a lot from him and improved. And I think, hopefully in the next few years, we're going to see the results of that.
Q: Paul, if we can come to you please. Max was confident that he could do well when he was coming into this weekend. Just how is the car performing? 
Paul MONAGHAN: In our little enclave, I'd say the car is performing reasonably well. We're a little bit unlucky with the Checo and Charles situation yesterday, which is going to be a bit more painful for those two, but Max seems reasonably settled with the car. It's not perfect, he will always seek improvement, we can see areas we would like to improve. Obviously we're bound by parc fermé regulations, so we will do our best to operate and get the most out of it. I think we're reasonably settled, find out later, won't we?
Q: Now, can I ask you a little bit about the qualifying session yesterday? Can you give us some insight into what it is like from an engineer's perspective, when there are so many unknowns? Do you relish that as an engineer? Or do you get frustrated by that? 
PM: Both. I think a lot of it… or shall we say, a lot of reflection will determine how well it went for you. So, if you take Q1 for example, clearly, you're going to start on wet tyres. And the lap times would suggest that we were close to a wet-dry crossover yet you can see the spray coming up the hill out of 12, through 13 was a little bit excessive, perhaps, for a dry tyres. I think it was Pierre Gasly that went to dry first? It looked pretty quickly as if he was going to be competitive. So then you're thinking: okay, we're near the top of the chart in Q1, do we need to run again? And then you see Pierre's times, you think, okay, if we don't make that step, we might get tripped up here. So, you follow the track. And if it's drying, you want to be running at the end, because your time at the beginning will easily be surpassed by your time at the end. So, you follow it in that way and, as long as you're clear-thinking and your decisions are logical, then you'll be fine. Similar deal in Q2, similar deal in Q3. Ferrari took a gamble, thinking it was going to rain, we took a gamble thinking we'll get a lap on a dry tyre. It paid off for us and not for those guys in this instance. Had it rained heavily, they might be thinking that they guessed correctly for the weather.
Q: Paul, can we talk about Max now? There have been some recent comments attributed to one of your colleagues at Red Bull Racing in which Max's technical ability has come under scrutiny. So, can I ask you about that? How good is Max technically and where, if anywhere, do you think he can still improve? 
PM: If we may just correct some things. It was a poor translation from an interview from a colleague of mine. So, it's a little bit misquoted. However, to answer your question. Max is technically extremely gifted. He did a lot of work as a youngster, often guided by his father. And you can see the legacy of that. He knows what he's talking about within the car. And he knows what he wants. And with his engineers, they know how to deliver a car that he finds nicely-balanced, easy to drive – well, not necessarily easy to drive but drivable – looks after its tyres well enough that he can manage a situation. And if you look at his record over the past seasons he's been with us, it's stunning. He wouldn't achieve that if he wasn't an exceptional driver. And can he improve? Yes, of course he can. He might not thank me for saying that. But I think there are areas he can get a little bit better. He'll dig into himself and think what could he do better for a season. And it's up to us to give him a car to go and demonstrate those skills next year.
Q: Fourteen wins, the team is going for its 20th consecutive podium here in Brazil this weekend. You've been at Red Bull since the beginning. Is this the best team performance you've witnessed during that time? 
PM: Perhaps most dominant? We could argue for that, given the success we've enjoyed – but with more races this year. 2009, when we were starting to be challenging, and 2010, obviously with our first titles. I'll say it's different. Because there's a confidence in the team. 2010 was a step into the unknown for us to some extent – at least that's how I viewed it. We're exceptionally lucky, we've had a good fight with Ferrari and some tussles with Mercedes this year. And we've managed to surpass those. So, is it the best year? I wouldn't say it's the best. I'll say it's one of our most satisfying years. And we're very privileged to have a car and the team that we have, whether it's trackside, factory-based, doesn't matter. Everybody's pulling in one direction. And the results speak for themselves.
Q: FX, thank you for waiting. Let's talk about your car. I mean, great effort from Alex in Qualifying yesterday to be so close to Q3. And of course, that came after a good race in Mexico as well. What kind of progress have you made with the FW44 in recent weeks?
François-Xavier DEMAISON: We had some good results recently. But I mean, the cars did not really change since the, let's say, the upgrade we did for Silverstone. I mean, for many reasons, we did not really concentrate our effort on this car, but more on the long transformation where we are doing in Grove. This is our priority. So I think we maximise the opportunity we have and then we concentrate on the longer term and improve our team and that's the main thing. So the results are… for sure I'm a racer, I'm not happy with being tenth in the Championship, but I think it's something we have to accept at the moment and really build for the future.
Q: Well tell us a little bit more then, about what's going on back at Grove. The transformation you refer to, how far have you got and where is there still more work to do? 
FXD: We've been investing for sure a lot of money and effort in the modernisation of the company. For many reasons, mostly financial, Williams have been stuck a bit in the past. So, that was the priority. Invest in the wind tunnel, invest in the factory and invest in people. So we are slowly getting to where we are but to build a team you need two to three years, and to get the maximum out of this team, it's another two to three years. So, it's a long journey. 
Q: In percentage terms, FX, how far have you got? Are you 50 per cent through the transformation? More? Less? 
FXD: An engineer is never happy with the speed of evolution. So, I will not give you a number because that will indicate where we are, but it's progressing well. I see a good dynamic. The team is working more and more together. I start to see the type of working atmosphere like, it's people exchanging, talking and having discussion. Sometimes difficult discussions. But the strength of a team is when, in the locker room, you can tell your team-mate that he did a bad job, and you need to be better the next time, and we're going that way. So I see the dynamic coming and I'm really looking forward to seeing a result in the future.
Q: Can we talk drivers now? Logan Sargeant, first of all. He's getting more and more mileage in the car. He'll be out in FP2 today, of course. How is he progressing in your eyes?
FXD: You should ask Sven Smeets, because he's in charge of the drivers and Academy. I think it's a difficult situation for him, because he has to… we put a lot of pressure on him. He has to get his licence, so it's difficult to judge him on this FP1 because the only target is for him to reach the 100km and then score points. So, I don't think it's really fair to judge him on this. We'll have to wait for maybe the next test in Abu Dhabi where he could drive without having this big pressure on him. But I think he's a fast driver. He's not stupid. So, I'm quite sure we can do something with him in the future. 
Q: And what about Alex Albon? The year he's had for you. 
FXD: It was a really good help for us, because we are only engineers and we need drivers to give us a direction. And because of his experience, thanks to Paul, it's helped us and given us the right direction. So, it's really a good help. And he's a nice person – sometimes too nice. He needs to be a bit more hard with the team and push us a bit more – but I'm working on this. 
Q: Is that what you mean by being too nice – he doesn't push you hard enough? 
FXD: Yeah. He does not, it's his nature – unless he has the helmet on, then he can be hard – but he should be a bit harder in the debrief. Every day I tell him, 'you have to be a…' a word I will not pronounce! If you want to be a World Champion, you have to be like this!'
Q: Final one from me.  It's been a long and tough season for Williams. Do you know where this car needs improving for next year? 
FXD: Yes, I think it was 22 races or 21 now, and we really identified what are the weak points of the car, where we need to improve and we have in place a solution and plans to get there. But I will not give you the list of this because I don't want… I'm an engineer and I will not give you the sort of details.
QUESTIONS FROM THE FLOOR
Q: (Scott Mitchell-Malm – The Race) Question to Paul, please, just on the job that the team has done this year. Even though you've racked up all of these wins, Championships, the one-two in the drivers is still on. You haven't had the most dominant car from the beginning. It's not like you've had a half second pace advantage from the first race. So operationally, do you think this is the best the team has been? Just to be able to have this kind of performance when you've had such a fierce fight, especially in the first half of the year? 
PM: I'm not sure I've put it down to purely operation. The team is more than what appears… or the collection that appears at the circuit on a regular basis. So, in terms of a factory effort to not only operate the car to its best levels, but also maintain the development rates against our opposition, has been a phenomenal effort. Again, I wouldn't want to say it's the best or worse, or anything like that. It's been enormously satisfying. But as you say, we've still got two to go. There's still an aim for us with Checo, so we will push along to do that. I'll stop at 'satisfying' for that one, I'm afraid.
Q: (Adam Cooper – Motorsport.com) For all three of you. We're at the end of the season, what's your overall take on these regulations? Have they done what they were supposed to do? Did we get better racing? Is there anything that could have been done differently? Or maybe you'd like to see change? Obviously not for next year? But for maybe '24?
TM: Yeah, obviously the FIA came up with a set of regulations with certain aims. Our jobs, as engineers, is to understand those regulations and try to make as fast a car as possible. The cars obviously can follow closer. The overtaking differences are also dependent on tyres and degradation and obviously the different circuits. The issues that we encountered at the start of the year – and I think most teams to certain levels did – with the porpoising and the bouncing, weren't ideal. But the FIA have looked to address that with a regulation change and the AOM metric they brought in this year as part of that too. So, overall, yeah, I think I think it has done what was set out to be achieved. It's been a challenge from an engineering side, it's actually been fascinating, I think you learn more with a big regulation change, especially when you're not as strong as you want to be, I think you learn even more. But the guy to the left of me here and the team that he's a part of, they've shown over the season, how it needs to be done. And that's a benchmark for us all to be chasing the job that Red Bull have done.
PM: Interesting question Adam. I wouldn't want to say that these regulations are good, bad or indifferent. Personally, I think they're a little constrained in that the cars are quite similar and our freedoms are curtailed, compared with previous years, perhaps. If the aim was to get the cars to run a little closer to one another, it appears to have achieved that, which was one of the aims, shall we say? It's not really whether we like the rules or not, it's how well we can work to them. And some very kindly said we've been fortunate perhaps and hit a rich seam of development from the outset of it, and drawn the benefits. So, in terms of exploiting the regulations, we appear to be… all the teams appear to be capable of doing so, as Tom noted, the porpoising is a feature of a ground effect car, and it bit everybody to greater or lesser extent, and circuit dependency. The FIA, as noted, brought in the AOM, and some regulation interpretations applied for Spa, which affected everybody. I think there would have been a natural convergence to eliminate it, perhaps it was accelerated. And that's where we find ourselves in Brazil, race 21, isn't it? There are some minor changes for next year, which everybody will have to learn and adapt, and try to exploit and on we go.
FXD: I'm a bit new in the sport, so to say that the result is achieved, I don't know. I mean, when we are looking at the technical data of the team, you look at your cars and don't really look at the old races. So I'm not really the right person to answer this question. I'm sure, I mean, we have to do everything we can to help the sport and make it more attractive. And so we're happy to discuss with the FIA and keep pushing and getting in that direction and ask if they're happy and if they're not, the FIA should come back to us and we can try to make better rules and make it more attractive for people, if it's the number one priority. An engineer will always try to use the rules as much as he can to make his car faster. But the FIA needs to then make sure we would go in the right direction in terms of the show. But that's not the technical director's responsibility normally.
Q: (Luke Smith – Autosport) A question for all three of you, following up on that question. Paul you said about the constricted nature of the regulations at the moment. Do you guys think we're going to end up in a situation where all of the cars do look kind of similar at the start of next year? I think people were pleasantly surprised at the beginning of this season that they didn't. But is that a fear you guys have going into 2023?
FXD: Well, when you see the speed of the blue car, I'm sure... I mean, already we've seen many cars try to go in that direction. So I'll be surprised if not more and more cars are heading in the same direction. You can't avoid it. It's motor sport. You always copy the fastest car. That's Formula 1.
PM: Simply put, no. I don't think the cars will have an identical appearance. I don't think we're at that point, yet. The regulations govern the shape more closely than they used to. But there are some differences, particularly if you look at the Mercedes, the Ferrari and the Red Bull Car. There are some significant differences. There are regulation changes coming along for next year, are we going to all have the same solution at race one? I doubt it. That doesn't seem to be the way of our sport. So I think there will be differences there. They will be smaller in magnitude to those we've seen in say, 2010, 2011, '12, and so on, and so forth. That's the evolution of the sport and so be it. 
TM: I think the cost cap has been really an interesting part of that this year. I know for sure at our team, and I'm sure a lot of the other teams as well, you've not been able to update, develop, change the car as much during the season as we have done in the past. Therefore, there's definitely… When I look at the wind tunnel model of our own car, it is quite different to what we have now. In past years, you'd have brought more of that to the track sooner. So I think other teams will be in a similar situation. As Paul mentioned, the regulation change is there as well. So I think the cost cap will mean that people have been working away on ideas that they've not been able to bring to the track and that people haven't seen, and therefore there will still be a few differences at the start of next year.
Q: (Scott Mitchell-Malm – The Race) To Paul, I want to ask you about Alex Albon, actually, because one of the things that he's talked about a few times this year is that his year on the sidelines in terms of racing in F1, but working really hard within Red Bull, really helped him understand what he needs from a car and maybe helped him pinpoint some of his weaknesses from 2020. And I just wondered if you could talk a little bit about how you saw Alex evolve, maybe from his time within Red Bull and what kind of driver left the Red Bull organisation to join Williams versus the one that you had before then?
PM: I don't actually work with Alex on a daily basis, so it's a rather difficult question to answer thoroughly. Thinking back to Alex's time with us, you came across a very conscientious, polite, gifted driver. And he had a pretty good idea of what he wanted from the car straight off. He knew when it wasn't to his liking and could tell you what was to his dislike. We didn't always manage to give him a car that was adequate for his wants. Obviously he had a pretty rapid teammate, which puts a little bit more pressure on him. And he handled that, I thought, exceptionally well for a young driver. In 2021, you saw a driver who was frustrated, yet able to deal with this situation. And you saw someone who was learning and worked with us, and by the sounds of what you've said, and excuse me, I haven't seen the article. But rather than being despondent for that year, he used that year and now he's come back with FX's team and it's nice to see him near the front of the grid, it's nice to see the progress and it's nice to see them scoring points. So full credit to Alex for enduring a reasonably tough time, learning, not being despondent and pushing himself on to achieve what his talents deserve. So many congratulations to him. And long may his growth in the sport continue.
Q: Tom, on the topic of a driver who's had to sit out a season. Nico Hulkenberg has been linked to the second Haas seat for next year. He was parachuted in for you guys at the start of the year. How long did it take for him to sort of knock the rust off, if you like?
TM: Not very long at all, you know. He was thrown right in at the deep end at a time that we were scratching our heads a bit with a car. He obviously turned up in Bahrain, you have to remind me now, just straight into FP3, I think. And not a lot of time, seat fit, compromises, straight in there. He's a very talented, naturally gifted driver. You put him in a qualifying or a race situation and ask him to go extract the most out of the car, he's pretty good at doing that, whatever he drives and has driven over the years. So yeah, I'm sure he'll tell you himself, his neck was a bit sore at the end. I think going to Jeddah was an interesting track when you've never driven at it before, especially at that time, when we were still struggling a bit with the porpoising thing and you've got some grip-limited corners at 280 kilometres an hour with a wall either side of you. I think his eyes were on springs a bit. But he is a class act. He's very talented. He's got solid experience. And that helps him jump in a car and drive quickly.
Q: You say he's a class act. You've worked with him a lot. What is his greatest strength as a driver?
TM: Yeah, back in the Williams days, when he was actually racing in Formula 3 and I was a test engineer and working on the young driver development programme. I followed him through Formula 2 and then through Formula 2, and then all his testing and ultimately race engineered him at Williams, as well. Our paths have crossed several times over the years. One thing he's always been able to do is drive very quickly right to the peak of a rear slip angle, really natural car control, whether it's in the wet, low grip, he straightaway can go to where the grip is. Over the years, he learned how to get on top of the Pirelli tires, which I think frustrated him a bit at the start. He's a driver who just wants to drive fast. You spend half your time trying to slow him down. In the earlier, higher degradation era of the Pirelli tires he had to get on top of that. I think working alongside Checo, the two of them helped each other I think with strengths and weaknesses. And, yeah, with experience, he learned how to handle race weekends well, you know. When he stepped back in our car, in particular in 2020, having never driven and you put him at somewhere like Silverstone, which has got low-, medium-, high-speed corners and he qualifies up at the front. You know, he's just a class act and a really solid driver.
Q: (Carlos Sanchez – Agencia EFE) My question is for Tom. What are the expectations for the next season, considering that Fernando Alonso told Marca, a journal from Spain, that he wants to fight for the Championship in 2023 or 2024? Thank you.
TM: I'm still getting to know Fernando, Carlos. I'll tell you one thing, he's a very motivated and competitive character. You can see that from the outside. I'm starting to see that a little bit when I talk to him. He is focused solely on doing well. He sees a good future with our team. He sees the journey we're on. Really happy to have him on board our team. He's going to push us in every area of the team. He's not going to be happy fighting in the midfield. He wants to be part of the step we're wanting to take, which is to start challenging the top three teams. I think fighting for World Championships next year is, let's be realistic, that isn't going to happen. We're on a journey. We are growing as a team. We're getting stronger as a team. I think Fernando is going to add significantly to that as well. And he's realistic, you know. He's on the journey with us. If we can fight the top three teams next year, I'm sure we'll be happy with that. And then from there, just carry on the journey we're on to try to catch the guys up at the front who are doing the best job at the moment.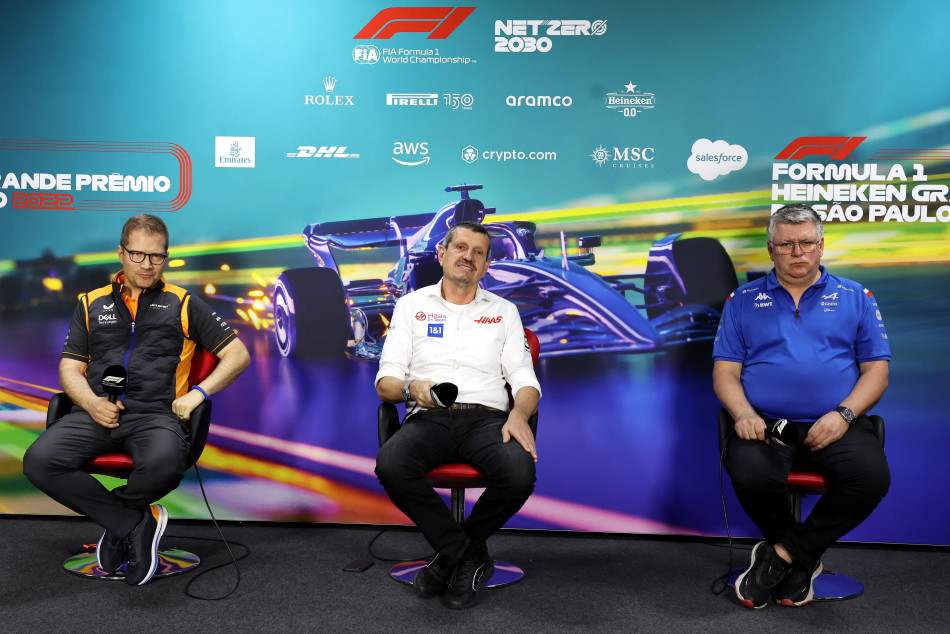 PART TWO - TEAM REPRESENTATIVES
Otmar SZAFNAUER (Alpine), Guenther STEINER (Haas), Andreas SEIDL (McLaren)
Q: Guenther, I feel we should start with you. You've slept on it. It really happened. After seven years in Formula 1, how sweet is this pole position for the team?
Guenther STEINER: Yeah, no, it's fantastic for the team and that for me is the most important thing. These guys believed in it. They always worked hard. And so we'll see. It's the same hard work when you have no success as when you have got success, so in the end we got the pole position, the first for Haas F1, hopefully not the last. So we want to make sure that that is not the last one. But no, everybody did a fantastic job yesterday. And I think it's a birthday present for Gene, it's his 70th birthday today, you know, so we anticipated today, but I think he still enjoys it today. But no, the team was very good. And I thanked him a lot for sticking in there and always trying hard until we get it.
Q: Can you just give us a word on what Gene has said about the performance yesterday?
GS: I mean, he was happy, obviously. It needed to sink in when I spoke with him yesterday. I had to talk him through how we did that, you know, because Gene is very analytical about this stuff. And I said, we didn't just get lucky, you know, we earned it. And I talked him through the decisions and stuff like this. But he was happy and appreciated that, you know. I think he had a good night of sleep.
Q: Talking about how you did it. Just how good was Kevin yesterday? Because eight of the 10 drivers had an opportunity to set a lap in Q3. And Kevin's was the fastest.
GS: Yeah, Kevin yesterday, I mean, this lap was fantastic. But the whole qualifying he always put a performance in each step of Q1, Q2, Q3. But I think the combination with Mark Slade, his race engineer, is coming together, they have got a good relationship and they trust each other, I would say. So Kevin just had to think about driving and nothing else. And I think he believed what he was told, which tyres to use. And he could see in Q1 and Q2 that we always picked the right tyre for him to go out there to be competitive. And then when he came to the money lap, he put it down there, you know. So, as you say, there were another eight drivers who could have done the same thing, because the distance between the drivers was not 10 minutes, it was seconds, you know, so he just delivered when it was needed.
Q: Now Guenther, this is the last time we're going to see you in an FIA press conference this year. So while we're talking about Kevin, can you please just sum up the job he's done this year and his comeback season with Haas?
GS: Yeah, I think when he came back in, he scored points on the first test, he had the team behind him. And then I would say, just after the summer break, he struggled a little bit and we don't really know why. But then he came back here, you know, so it's just a little bit that we need to get the ups and downs out of the team. I wouldn't say only of Kevin, you know. We need to analyse why we have so many ups and downs and we did some of this job. And hopefully next year we can come back more stable, you know, that you have got a good performance most of the time. You always have got a bad event or something, but we just need to stabilise everything. And for him, as well, coming back to the form. All of a sudden he's back in here, it's a long schedule, a lot of races, but he now handles it well. And I think I really look forward to next year now.
Q: Handles it well. Does he handle it better than before his break?
GS: Yeah, I think so. I mean, he's just matured, you know, by getting older. We all get calmer and see things sometimes a little bit differently, you know. He's most of the time very relaxed about things, you know, and now with the combination of Mark now with him I hope in the future we will see even a better Kevin.
Q: OK. And what about Mick Schumacher? Just if you could sum up his job this year?
GS: I mean, his job is a little bit up and down. And again yesterday, I really felt almost sorry for him, because he did a good job in Q1. Before he went out, the first two runs were very good. And then with the dry tyres, he just couldn't get the feeling. He lost a little bit of temperature when some people overtook him on his out lap and then couldn't get the temperature back in and then lost a little bit of confidence, started to slide and that is what is happening. It just didn't work for him yesterday. But otherwise., the whole season, I mean, we all know he had very good moments and very bad moments, you know, it's an up and down. 
Q: Where do you think Mick has taken a step forward from last year?
GS: I think he got more consistent. He obviously improved, you know, because the beginning of the season was very tough, when he was thrown in at the deep end, with a better car, with a very good team-mate. It was a little bit of 'OK, this is now Formula 1 for real', you know, but then he recovered and got better.
Q: Now, while we're talking Mick, what is the latest on your second seat for next year? Because there's increasing speculation that the decision has already been made internally. When can we expect an announcement?
GS: I mean, expect the announcement sometime next week. I'm not telling you a day because then everybody will be waiting for that day. It will be coming next week. 
Q: Well, best of luck for the rest of this weekend. Thank you. Now, Andreas, if we could come to you, please. Can we start by talking drivers with you, specifically, Oscar Piastri . There are some reports last week that he tested your 2021 car at Paul Ricard. Was that the case?
Andreas SEIDL: Yeah, I can confirm that. In the end, we reached a settlement agreement with all parties involved, which enabled us to put Oscar in an old car last week in Paul Ricard and do a private test, which will enable us as well to then officially start working with Oscar on Monday after the last race in Abu Dhabi, which enables us then as well to put him in in the current car at the young driver test in Abu Dhabi, which is something we are very much looking forward to. And yeah, which is great for us and for Oscar. 
Q: What are the first impressions from the guys running him at Paul Ricard last week? 
AS: To be honest, running an old car, alone on a track, there is not too much to read into it. In the end, it was a good start from Oscar, together with us. And that's pretty much it for the moment. The main thing is now, also within the team, to have full focus on these last two race weekends, together with Daniel, who is still committed on both sides to really try to finish our chapter together on a high before then we will switch full attention to Oscar and Lando, and get both ready again for next year's season.
Q: Well, Andreas, obviously we're still in the battle for P4 over these last two races, but it is the last time we're going to have you in this press conference this year. I would love you just to look back on this season as well. How do you feel it's gone for McLaren? Where is there room for improvement?
AS: Well, it's Formula 1, there's room for improvement everywhere. But when I look back at the season now, I obviously haven't forgotten the difficult start we had in Bahrain, the brake issues. Also, in terms of performance we haven't been where we wanted to be starting this new era of Formula 1 – we were running pretty much at the back of the field. But then obviously, I see a lot of positives, because looking at the reaction of the of the team, seeing how we were fighting back, looking at the developments we brought to the car, which then put us in a position again to get back into this fight for P4 against a very strong Alpine team is something which was very positive. And then also in parallel, let's say to pure car development, I think a lot of other very positive things were happening, which just give let's say the confidence that we made another step again as a team. If look at operational things like pit stops, we made a great step forward again. Back home, we were full steam ahead with all the infrastructure projects, which should all be finished at some point next year, which then hopefully will put us in this position to make this next big step that we're all aiming for, in order to get to the point that we fight these teams that are running in front of us at the moment.
Q: While we're talking steps forward, Daniel's issues are well documented. But what about Lando? Where have you seen him take a step forward this year compared to last year? 
AS: Also there were different things which were impressing me quite a lot, obviously, in terms of pure performance inside the car, even if it's not so visible in terms of results, because we simply were not that competitive compared to last year, he clearly made another step. If I see how he's approaching the weekends, how he's pulling off the qualifying sessions, how he's pulling off the races, it's just impressive, knowing that he's only in his fourth year in in Formula 1 which is obviously at the same time, which is obviously giving us a quite optimistic outlook because we know there's still a lot more to come and we know we still have him on board for many, many more years, which is great to know.  But also outside of the car, it was quite impressive how he was dealing with these challenges also of, let's say, being part of the team this year, where it was a bit more challenging compared to the last three years where we always made these steps forward and could score some great results.  Last year he was very important for me as well, especially at the beginning of the season when we had this difficult start to make sure he helped me also leading the team, staying positive, and keeping motivating everyone within the team in order to fight back as quickly as possible. Yeah, just happy to have him on board for many more years.
Q: Otmar, an agreement has been reached with McLaren with regards Oscar.  Can we just get your thoughts on that?
Otmar SZAFNAUER: Yeah,  the seasons nearly at the end and it was time to come to an agreement and we did and we're happy that Oscar can start his McLaren career after the last race in Abu Dhabi and do the test and we will be doing the same with Pierre; we will be putting Pierre in the car in Abu Dhabi and we'll get working on our driver pairing, driver lineup, get his feedback and get his initial thoughts on our car this year and start to understand the things he likes and dislikes and hopefully be able to make some changes on next year's car with Pierre's input in mind.
Q: Now, obviously, the intense battle with McLaren continues for P4, but I would love to just get your thoughts, Otmar, on how you feel this season has gone. Let's not talk about the midseason contractual dramas with Oscar,  more how you feel that the team has performed on track and back at Enstone, and your current drivers as well, Esteban Ocon and Fernando Alonso.
OS: Well, the current drivers that we have done an exemplary job all year. We set out at the beginning of the season, or even before, to improve the performance of the powertrain knowing that a freeze was coming. And I think  Viry in France did a very good job of that and we consciously told them to push the performance boundaries and that could potentially come at the expense of reliability, but reliability you are allowed to fix. And we've seen some of those little niggles, but we're getting on top of them. And I'm confident that in the next two races we'll be reliable but more importantly, for next year, we'll have a competitive power train. And then on the chassis side, we had a programme to improve the cars quickly and as often as we found improvements in the tunnel. And we worked hard to bring them to the car as quickly as we could. And it showed; we had great correlation between what we're finding in the tunnel and through our CFD experiments and actually putting them on the car. So a big thank you to all those back at Enstone. They've done a great job this year and improving the performance and we look forward to the same next year. So I think from that perspective, chassis, a decent job, power train a step up and then two good drivers, which means we're here fighting for fourth in the championship with two races to go.
QUESTIONS FROM THE FLOOR
Q: (Scott Mitchell-Malm – The Race) Andreas, getting Oscar in the car for Abu Dhabi is obviously not going to make or break his time with McLaren or next season but can you just talk a bit about the benefits of that? Is it just a case of buying back as much time at the start of next year as possible, whether it's like seat position, him learning the steering wheel,  getting used to working with a team, that kind of thing? 
AS: Well, as you know, kilometres nowadays in Formula 1 cars for race drivers are quite limited with the regulations that are in place, especially when it comes to running the current car. And therefore it's obviously a very important test for us to get an initial read from Oscar's side as well on our car and give him an initial feeling, which is then simply the starting point of making sure we get him ready for Bahrain next year. We have a good programme in place. I think we have a lot of experience as well in getting young drivers ready for the first race in Formula 1. That's obviously the objective. We want to try as hard as we can together with Oscar, that the first race in Bahrain next year actually doesn't feel like it's the first race for him in Formula 1. And the young driver test is obviously an important starting point, I would say.
Q: (Adam Cooper - Motorsport.com) We're at the end of this first season with these regulations. What's your take on them? Did they do what they were supposed to do? Was it worth all the effort and expense? And is there anything that could have been done differently or could be changed for full '24 for example?
OS: Well, I've been looking back. I think there are a couple of objectives, one of which was to bring the field a bit closer together and I think that's been partially achieved. I think  the racing is a little bit closer and then the other objective was to get most of the downforce or the predominant amount of the downforce from the floor, such that overtaking can be a little bit easier and I think overtaking is a bit easier. But it's still, at some circuits,  it's difficult, still requires DRS and sometimes even with DRS, we still struggle to overtake, but I think it's proved to be an entertaining season and I think from an entertainment standpoint the new formula has delivered.
GS: Yeah, I think the regulation  worked. We have to differentiate between financial regulations and technical.  I think financial worked. The teams are closer together, all the teams have scored points this year. There are two battles going on still, at the end of the season, when the World Championship has been decided, between fourth and fifth and eighth and ninth at the moment. So I think on that side, it worked. Obviously, as we saw, with the breach of the budget cap, we need to do some refinement, work on that regulation, penalties and so on but it's a completely new concept and we can't expect it to be too perfect the first time.  On the technical regulation, I think that it worked as well, it made the racing better. You can get, as Otmar said, you can get a  little bit closer car to car. It will never be perfect with a car with wings on, that you don't lose downforce when you're behind the car, but it went in the right direction and there are improvements, always, there's always margin to improve the technical regulations. So I think if we keep on working on it, we are on the right way, but in general, as Otmar said  again, the entertainment value is better, I think. A lot of people watch Formula 1, because there are always battles everywhere, and I think for that it was a very good step forward.
AS: Yeah, fully agree with what Otmar and Gunther said.  I think it was a very good starting point for these new technical, sporting and financial regulations. And I think now with time and with the budget cap, especially, let's say the effect of it washing out over the next few years, I think it will get even better. And I think one very positive aspect as well from this season is the job Pirelli has done as well because if we look at this season, I think not many times we actually had similar discussions compared to previous years where there was always a lot of criticism around the tyres, which is a very positive aspect as well, from my point of view of this season and shows that Pirelli really has done a great job.
Q: (Dieter Rencken – RacingNews365)  Two connected questions for Otmar. The first one is that when we originally asked whether Oscar was going to be released, we were told to watch this particular press conference yet you seem to have spoken about it previously. Was that some sort of breach?  And then normally when one signs a rookie driver, when there's a regulatory requirement to put a rookie into the car, one does that in the course of the season.  Unless you run Oscar in Abu Dhabi, that will not appear to be the case. So are you in some sort of contractual breach or were you in some sort of contractual breach with Oscar please?
OS: No, we're not in breach.
Q: (Mat Coch – Speedcafe.com) Otmar,  I guess the Oscar situation raises the question with Jack now given that you don't have a nominated reserve driver. What's his position? Will he be part of post season testing? Will you confirm him a reserve driver? 
OS: So Jack did a really good job for us in FP1 when he stepped in and he still has to do a little bit of work in Formula 2,  his season isn't quite over. Next year he'll be an F2  again.  We'll run them again in FP1 in Abu Dhabi and also at our test post-Abu Dhabi. So he'll be part of the Alpine family going forward but his focus for next year will be to win the F2 championship.
Q: (MattKew – Autosport) Otmar, here's been talk from Alpine throughout the season that you had the choice between performance and reliability. But after retiring in Mexico, Fernando specifically said the team, he felt , was unprepared for the season. Do you agree that these sort of breakdowns have been avoidable? Could more have been done? And if so, what?
OS: Well hindsight is a wonderful thing and had we known that some of these failures were to creep in, we would have  had a different more robust design, but I think the process of signing off the engines was correct. We did all the dyno testing and long run running that you would expect for a new powertrain design. And some of the conditions that produce some of the failures would be very, very difficult to replicate on a dyno and when we did have those failures, we quickly got on top of them, and corrected them. One of the failures was a minor failure that was an assembly error on the part of a mechanic putting the engine together and that kind of stuff is impossible to replicate when you're doing dyno work. However, when you learn from them, and you put the process in place, such that that can't happen again and it's exactly what we've been doing this year.
Q: (Christian Nimmervoll – Motorsport.com) Guenther, first of all, congratulations on pole. Guenther, when you say we can expect an announcement at some point next week, does that mean that Gene Haas has basically taken his decision about the driver and it's now just a matter of sorting out details and writing down the press release?
GS: First, thank you for the congratulations. Yes, and you're right, we are just sorting out details, how are we going to do, what we are going to do.
Q: (Adam Cooper – Motorsport.com) Ross Brawn is taking a step back at the end of this season. I just wondered if you could sum up the job he's done in the last five or six years?  Obviously an awful lot has gone on with the transition from the Bernie era to Liberty. 
AS: Yeah, I think as a team we can only thank Ross for everything he has done for us teams and for Formula 1,  not just in these years, he was working for Formula 1 but throughout this entire career, I would say. It was obviously, I think, important with everything that Formula 1 has put in place in the last years, be it on the regulation side being on the Concorde side,  that an experienced guy like Ross was helping, guiding Formula 1,  guiding the FIA, guiding the teams as well and I think in the end, we ended up with a great foundation for a great future of Formula 1 thanks to all his work as well and I simply wish him all the best for his next chapter in life and still looking forward to see him from time to time and have a good chat, because obviously, his views will always be welcomed and important for future decisions.
GS: I agree with everything what Andreas said and I think the proof was in what you asked us before: did the new regulations work or not and we all said yes and I think that is the biggest compliment we can give to Ross, because that was his child, basically, to put these regulations through and put us in this place before he moves on to what he's going to do next. And yeah, also from our side, thank you very much Ross, for what you have done for Formula 1, for all of us and all the best for the future. And, you know, I think, even if he was not as present as some people want it to be, he was present when it was needed, to make these things happen for Formula 1 and the success of Formula 1 in the moment is partly down also to him. It's a team effort, but he was a big part of the team, so thank you, Ross and all the best for the future.
OS: Yeah, I echo what my colleagues have said and we owe a lot to Ross and a big thank you to him. They're right, he had a big hand in these regulations. I think like I said before, we've achieved the entertainment value that we wanted and I wish him all the best in whatever he does next be it fishing or whatever he enjoys. We all work hard towards that day of retirement, and we should congratulate him on having a fabulous career in Formula 1 and getting to that retirement age and also thank him for all the efforts from being a team owner and winning a championship to winning with Ferrari and then taking all that experience and helping Formula 1 in general to shape it for the future so many thanks. 
Q: (Scott Mitchell-Malm – The Race) What's your preferred format for the sprint weekend? There's still discussions about next year. F1 has occasionally talked about making it a standalone event so it doesn't set the grid for Sunday's Grand Prix.  How would you like it to work because this FP2 session that's coming up, I don't think is anybody's favourite part of the weekend?
OS: I think there is good and bad in what we do. The sessions, as they are now, makes Friday much more meaningful than it does on a normal Grand Prix weekend. But yes, that does come at the expense of this free practice that's coming up. But I think in total the weekend is better. And I think we should deeply consider the changes that we're going to make, if any, to make sure we don't have any unintended consequences. But yeah, there are some things we could do to make it a little bit better but I think we should discuss all those amongst ourselves and come up with something but as a first start, I think it exceeded my expectations. I think the whole weekend is, is better and more entertaining.
GS: I agree. I think the sprint weekends, not all the races because it gives some extra boost to some races. In a calendar of 24, you need sometimes a little bit something different to attract people to come and see something special. Some of the races having it like this is very good. As well, FP2 or FP3 or whatever you want to call it, free practice this morning or this early afternoon, it's not very interesting to say the least, and with the discussion, not to have the grid set on Sunday by the race result from the sprint race, I think one of the ideas will be to make a qualifying instead of the free practice on Saturday to make the qualifying there for the Sunday race. Obviously there would be the need to make some detailed work on it. It's my idea.  I can throw it out there but I don't know the consequences, it's just an idea. They haven't looked into the detail if it is doable or not but I think that will be one of my proposals because as Otmar said, he says it makes it more meaningful the Friday. I think it makes it very exciting the Friday, and if you have got a race and qualifying on Saturday would make the Saturday even more exciting. So we would have three days a lot of excitement and that I think is what the spectators want to see. So let's see what we can do to make it even better. It's good already, you know. 
AS: For us as a team, we clearly welcome - let's say - the challenge of trying three or six times a year, a different format. We were very happy to be honest as well with the current format that we have, the sprint format, but at the same time, we are open for discussions to further, let's say, fine-tune it and further improve it. Most important thing for us is that we don't introduce something which would suddenly artificially change the pecking order, which I think everyone is in agreement with. That's the most important thing for us. And then if we find, let's say, some further changes over winter, we're fine with that. At the same time, I think we need to be careful also to not always introduce too many changes too quickly, because it's important as well that people actually understand what we're doing and that we don't start implementing new stuff every now and then. 
Ends