This page contains archived information and may not display perfectly
F1 - 2022 MIAMI GRAND PRIX - FRIDAY PRESS CONFERENCE TRANSCRIPT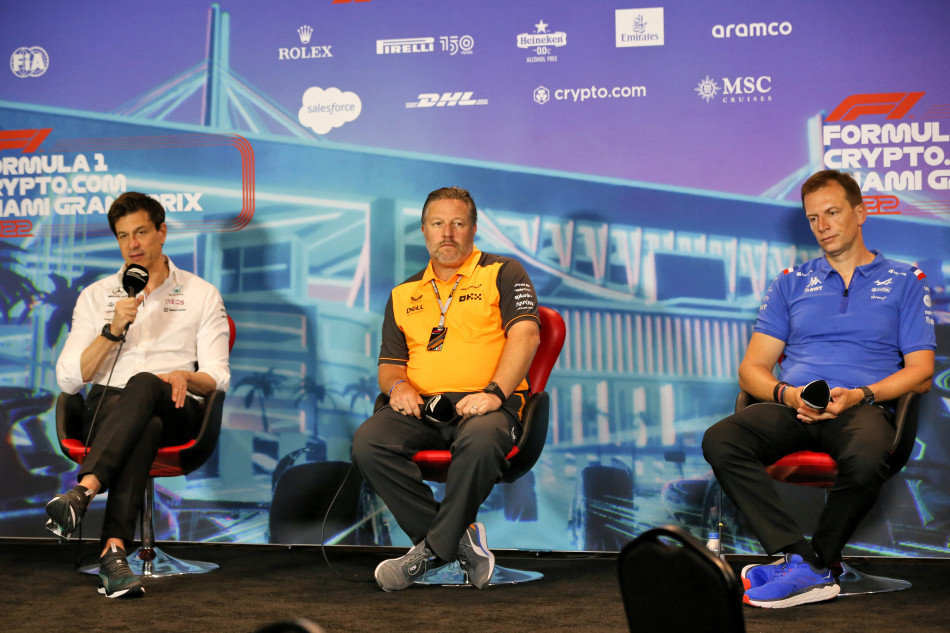 PART ONE - TEAM REPRESENTATIVES 
Toto WOLFF (Mercedes), Zak BROWN (McLaren), Laurent ROSSI (Alpine)
Q: Welcome to you all gentlemen. Let's go left to right, Toto, let's start with you, thoughts on the Miami Grand Prix please?
Toto WOLFF: Mega. I think it's a fantastic achievement by all of those involved: promoters,  Formula 1, and FIA to have come up with such an event and the city is hyped – is that how you say it? Formula 1 is all around, the amount of guest requests we have is amazing. I think we've finally landed in North America.
Q: Now what about on-track Toto? In terms of lap-time, it seemed like a good day yesterday. What conclusions did you draw? 
TW: I think we brought some parts that function. The lower-drag package generally has been good to us in the past. The track surface seems to be very smooth, so our bouncing problem isn't as articulated, like on some of the other tracks. And I think we've just managed to chip away at the lap-time and yesterday was good. But we need to be also honest with ourselves: it's not like that we have brought a ground-breaking solution but probably the circumstances favoured us yesterday. We haven't seen Max running properly. So, I would express caution at that stage. 
Q: Express caution – but do you think you now have a development path to follow with this car? 
TW: Yes, I think we have more clarity on where we need to go. But I would say if we were to put this car here on Imola at 10°C and rain, the picture would have been maybe a little bit better, but still not good enough. 
Q: And George Russell is 28 points ahead of Lewis Hamilton after four races. You always said George is good – but as he surprised you in any way this year? 
TW: When you look at George's track record in winning the title in F3, in his rookie year, and then an F2, we knew that he was very good. And then obviously the Williams school, added it's part, so we were never in any doubt that he would that he would be very good. And you can see that it's materialising on the track. I like his approach very much. He's very rational, whether he is fastest in P2, or whether he's eleventh, it's just about applying the science and trying to make the car faster. But at the same time, Lewis was obviously very unlucky, being stuck in a DRS train last time around, so I enjoy seeing them working together, the level is high from both of them. And that has put us in a decent situation in the Constructors' Championship, so I couldn't wish for any better pairing. 
Q: Zak, coming to you. Toto says this race is mega, what are your thoughts?
Zak BROWN: Mega mega! I'm American, so I gotta go bigger! It's an awesome venue. I think Tom Garfinkel, Formula 1, the Miami Dolphins, the promoter have done an outstanding job. It's a proper racing track. You know, I think when you first hear something's going to go around a stadium, people then start talking about Caesars Palace from what that, thirty-forty years ago? This is definitely a proper racetrack. The demand from sponsors and fans has been off the charts, unlike anything I've seen since my time in Formula 1. Great to see just the atmosphere. So, I think in America, you got to give a lot of credit to Austin, who also built a fantastic venue to get Formula 1 back in America. And now we have Miami, soon to have Vegas. So, I really like where we are in North America as far as Formula 1's popularity.
Q: You talk about the atmosphere, you've been high up in the atmosphere with your ride with the Blue Angels. Just tell us about that. 
ZB: That was awesome. It was terrifying. I'm really glad I did it. I got invited by one of the pilots. And most importantly, I didn't pass out or get sick, which was the two main goals. I got close! It was spectacular. Those pilots are amazing and the technology of those jets is amazing.
Q: And Zak, on track. Do you feel you're as close to the pace here as you were at Imola a couple of weeks ago? 
ZB: No, I think we're a little bit further off. I think the track, the conditions, the weather, maybe doesn't suit our car. I think we got disrupted yesterday – as it did everybody - in the second free practice. But from what we can see so far, I think we're going to be a little less competitive than we were in Imola.
Q: And you've got a full roster of drivers here, your IndyCar drivers, including Colton Herta. When are we going to see Colton in one of your cars? 
ZB: Later this year. We're getting our TPC test programme ready. Of course, all teams have to put a driver, or two drivers in, for two free practice ones. So we want to make sure who we put in, can be as competitive as possible, help contribute to the development of the car that weekend. And also make sure they bring the car back in one piece to have the next driver hop in for Free Practice Two. So, we have a couple of drivers that we'll be testing, and then ultimately Andreas will make the decision on who he wants to put in the car and we'll go from there. 
Q: Laurent,  thank you for waiting. We've had mega, we've had mega, mega, your thoughts on the track and the race here? 
Laurent ROSSI: Well, it's long overdue, obviously. I mean, given the fact that the US is half of the motorsports' cars market, it's big on racing, has been doing a lot for Formula 1 lately, through media, through investment, through management. It's a country of racing, a continent of racing even. So, it was normal, only normal, that we rebalance a bit with now two Grands Prix, next year three. Personally, I'm super happy because it's a bit of a second home. So, they know how to put on a show. They just did it. It's fantastic. Demands are through the roof. This is phenomenal. It's like mega, mega, mega! You wanted it!
Q:  On track, what's the mood in the Alpine camp at the moment? It seems you have a very quick car, but you don't have the championship points to show for it at the minute.
LR: Yeah, that's true. So the mood is we keep our head down and we work. We need to convert that decent qualifying pace into like a consistent, sustainable race pace that we didn't manage to get, to be honest, in the first few races. And that's why we didn't get the points. It's just a matter of trade-offs and setting your car differently. So, we've been trying a couple of things yesterday, it was disrupted quite a bit, the track is tricky. We still managed to get our programme through and we will learn a lot. So hopefully this will come into a good place today and tomorrow.
Q: Fernando Alonso said yesterday that he thinks he's had his best start from a personal point of view, since 2012. But it hasn't shown on the scorecard so to speak. Are you sensing a lot of frustration on his side of the garage? 
LR: Oh, yeah, of course. We are as frustrated as he is. I'm frustrated. He has only two points, I think, and it's always been like… if you ask people they probably think he's fourth in the championship because he's always up there. So, it's been fairly unlucky. All of the glitches that we encountered, and/or problems on the track were almost constantly on this side. So hopefully, the tables are going to turn a bit and he's going to show that, indeed he is in absolute brilliant shape.
QUESTIONS FROM THE FLOOR
Q: (Scott Mitchell – The Race) To all three of you, please. There was a recent discussion about increasing the number of Sprint events for next season. But publicly, the objection to that was put on the FIA side, and that it needed to be evaluated further. Were you surprised by that? That there was this lack of alignment between F1 and the FIA when that has been such a given in previous years? 
TW: I think that scrutiny needs to be given on the decisions we take. And I'm sure that between Stefano and Mohammed, we're going to come to a resolution. For Mohammed it was important to hear the FIA's members' opinion, and he wasn't against it, just that he needed more time for that decision.
ZB: We tried to get six Sprint races off last year, which obviously didn't happen for this year. I think all the teams voted in favour of the six Sprint races, now that we've seen the data, which tells us it does create more fan awareness, and that's what I think is most important in growing the sport, is how do our fans respond when we try new activities? And as Toto said, you know, Mohammed voiced he just wanted to do some more homework. I think maybe the FIA and Formula 1 in a forum like that, maybe should align on whatever position they have prior to those meetings, but I'm sure it'll be sorted out.
LR: Not much to add after that, indeed, it's good that all the governing bodies are making sure they're fully aligned – because once you get there, you cannot really pull back. So, I think it's nice that we are working properly, we will have a bit of a debate and a bit of homework until we get to an alignment, and we just go for it. So it's just a matter of time, I guess.
Q: (Jeff Gluck – The Athletic) For all of you, please. Obviously, you're not wrong about this being mega, how does that this race in particular maintain its position, with so much hype going for it. Once Vegas comes on in future years, it's going to be here for a while. What are the keys to making sure this remains a top event?
LR: Well, I guess first it's the show on the track. So if the race is good, if they take care of the track, of the surface, if they address any issues, if we find some, in terms of like accident-prone areas, you know, all the things,  if they make sure that the track is consistently providing a good show, that's already the first important parameter. And then it's all the amenities, facilities, everything that enables a good organisation around the event. And finally, it's the entertainment around the whole show, because it's a show: that's what it is. And so far, they're doing an amazing job, they are raising the bar. I trust they will be capable of keeping on doing this in the next year. So, I actually think this is going to take everyone one notch up.
ZB: I think, as Laurent said, putting on a good first year event, which is a challenge to get everything right, given the size and scale and newness to it. But if you look at Austin, 10 years on, they had record attendance last year, Silverstone has been around for 50-plus years and is already a sellout. So, I think putting on a great event, and then having it be sustainable over decades, is… I don't say it's easy to do but clearly it can be done. If you look at the grand prix calendar, the Italys of the world, they've been popular for decades and decades. So I think let's just get it right, put on a good show for the fans, and I think there's a tremendous amount of runway here.
TW: I think there's so many things that already work in favour of Miami: the city, the entertainment that it's provided outside of the racing track. But I think one major factor will be how entertaining the race will be. These are great expectations from fans and partners that come to Miami, and I think whatever needs to be done for the track to provide that real entertainment factor will be important to consider for the future. We have a very long straight, hopefully that can provide for some overtaking and if not, I'm sure that the team around Tom here will eventually come up with great solutions if it needs to be tweaked, which we don't know yet.
Q: (Jonathan Noble – motorsport.com) This weekend, there's been some dialogue between some teams and the FIA regarding Ferrari running two different specification floors at the Imola tyre test. First of all, are you comfortable with what took place there and the explanation of the FIA? And are there any concerns that teams can now exploit the regulations to use these Pirelli tests to test different components? 
TW: I haven't followed that in detail. I've seen, obviously, the Tweet with the two pictures. But the FIA just needs to be on top of these things. It can't be that any team runs a component in an environment it shouldn't be doing. And I guess if the FIA was not 100% on it, I'm sure they will be now.
ZB: Yeah, I'm not close to the details other than I've heard the story. I think just what's important is that we do have total trust in the FIA to police the sport, whether it's at a test or a race weekend. But then, we also need total transparency. It's been suggested – or so I've heard – that maybe it was on an older floor. Maybe that was the case. But I think what's important is that if that's the case, demonstrate that to the teams. Just give us confidence that it's been policed appropriately, and total transparency. We've had in the past, not long ago, an engine violation a few years back, and then there was a significant fine. We don't know how much and we also don't know exactly what was done, and I think in today's day and age, total transparency will help the sport understand what happened, why it happened, and what's been done about it.
LR: Yeah, I think what Zak just said is clearly very important. I don't know what the details are either. I know of the suspicion, but I wouldn't say… I wouldn't point a finger yet, because I don't know the details. So that wouldn't be fair. But at the end of the day, all we need is transparency. We need to know if there was something wrong or not. And if there is, what's the outcome? That's it. All we need is transparency. I wouldn't point fingers at a moment. I don't know. But really, the most important thing is that we leave that under a veil and then we don't know what's going on. So…
Q: (Adam Cooper – motorsport.com) Zak addressed this yesterday, but for Toto and Laurent. Greg Maffei said yesterday that Formula 1 is spending $240 million dollars to basically buy a block of Las Vegas to service the paddock. As stakeholders, what do you think that says about Liberty's commitment to that event, and what do you think about Formula 1's move into full-on race promotion, which is obviously a new thing?
TW: I'm not in the details, Adam, about how that's going to pan out. I think, first of all, it's exciting that we're going to Las Vegas. And promotion generally happens without our intense involvement. So ,whether you do it with an external promoter, the model that we know, or whether they do it themselves, I think they have great expertise with Live Nation. So yeah, I'm looking forward to the event, and clearly having an American shareholder, it's very beneficial hosting a race in a city like Las Vegas.
LR: Yeah, same for me. I mean, doesn't matter too much to me, if it's done by the governing body, or the promoter, actually – or someone else. I mean, as long as it's fair to everyone else, obviously, same kind of criteria for selection. But it's clearly helping in growing the sport in territories that needed it. Here, the US again. So, I think that's good. I mean, if it facilitates the expansion of the F1 Circus, that's good for us.
Q: And Zak, for people who didn't hear your comments yesterday, can we just get your thoughts please?
ZB: Yeah, I think Liberty has done an outstanding job with Formula 1. And they're trying to build their business, our business, and the fact that they're making investments to build Formula 1 I think you can only applaud them for that. Take a look at what they've done. You know, the revenues are growing, the race markets are growing, so they're putting their money where their mouth is, and I think it's great. We all benefit from it. 
Q: (Phil Duncan – PA) Toto, Lewis yesterday said that he was against removing the jewellery but ahead of practice he took the earrings out. So I just wanted to know what changed in that period. What did Mohammed say, and do you expect that he'll remove the other… the nose stud for the Monaco Grand Prix, which I think it's a two-race exemption?
TW: I think what was needed was a dialogue between Lewis and Mohammed. It is clear that regulations are here to protect the drivers; on the other side, we need to keep the possibility on diversity and the means of expression and expressing yourself. And we know that this is important for Lewis,  so yesterday without going into detail where the piercing stayed, and we're not… yeah, I'm sure they will come to a good resolution.
Q: (Jordan Bianchi – The Athletic) Toto, Michael Andretti's group is here this weekend and Michael has said numerous times he would like to buy into Formula 1 and have an 11th franchise. What are your thoughts on that? Are you in favour of that? And would you like to see an 11th team granted to Michael Andretti?
TW: Yeah, I just got a WhatsApp this morning for Mario. And I think, so many things have been said around an American entry. So, on the pluses. I'm sure that if we have a true American team, with an American driver, that would be very beneficial. But, we have had 10 entries today, we divide the prize fund among those 10 entries. We have invested considerable amounts over the last 10 years. I mean, each of the organisations that's sitting here on the podium has probably put more than a billion into the Formula 1 projects over the years, so it needs to be accretive. If a team comes in, how can you demonstrate that you're bringing in more money than it's actually costing: because then 11th team means a 10 per cent dilution for everybody else. So, if one is able to demonstrate that, then we should all be sitting on the table, and cheer for such an entry. But that hasn't been demonstrated yet. And that may sound a bit dry, because it comes down to the numbers, but the value of Formula 1 is that it's a limited amount of franchises. And we don't want to dilute that value by just adding teams.
Q: Zak, can we just get your thoughts on that? Have you had much dialogue with Michael about this?
ZB: Yeah. I agree with Toto. You know, we've got 10 great teams, and 11th and the 12th team need to add value to the sport. Obviously, the Andretti name has a huge history, in Formula 1, in various forms of motor sport, and I think would add a lot of value. So as long as it's a team that helps build the sport, unlike some of the other entries that we've seen, over the years that have come and gone in year two or three, I think we can't accept teams like that. But a very credible racing team with a credible brand, with the right resources, I think is additive to the sport. And that appears to be what Michael has put together. So, on that basis, we are supportive.
LR: It's a bit of a deja-vu moment? Right? We had the same kind of questions, and Christian was actually sitting here instead of Zak saying exactly the same thing. So nothing really new here. It needs to be accretive. I'm very favourable, I've talked to Michael as well. It goes along with the expansion in the US. I think that will contribute to the show, an American team will directly generate, I guess, interest in the US. And therefore, revenue. then we need to demonstrate that it's enough to compensate for the dilution that Toto was mentioning. Gut feeling? I think he would – but let's do the job properly and we'll see. 
Q: (Chris Medland – Racer) It's a question for all three again but Netflix has been widely credited with F1's growth and popularity recently but obviously you need the drivers to be characters that people can relate to or warm to make that happen too.  For Toto and Laurent, you have very experienced guys in your teams that maybe are more confident themselves but for all three of you, you've seen the young drivers really come in and instantly be themselves and be honest kind of characters for people to get kind of behind and do you think that's helped in recent years?
LR: Not sure I fully understood the question about the youngsters but obviously  Netflix helped because it showed a different side of the sport, like the more human side of it, not just the drivers who are younger and closer to the audience obviously, but also the team members, mostly the team principals, but not just so that's interesting. I have to say, it's not just that,  I mean it's also the show on track, the effort that has been made for the competition to be more intense, because you can have the audience if nothing is happening, they will still not be that interested. So it's nice work done on all fronts. Obviously, we need to be careful with the editing licence that one can take when given pictures, footage and recordings. So far, so good. But I think this is indeed good for the sport. 
ZB: Yeah, I think Netflix has been outstanding for Formula 1. I'm happy we've renewed another couple of years. You know, our whole ecosystem starts with the fan and when you get the fan, you have countries that want to hold races, you have broadcasters that want to spend money and broadcast our event, which then all trickles down to the racing teams, which then allows us to pay all the salaries of the men and women that work at our racing teams, drivers included. And I think sometimes there's a disconnect by various people in the sport and I'm not just saying drivers,  that don't kind of piece together and when they say I don't want to race here, I don't want to do this or I don't want to be on that that the ecosystem ultimately all feeds down to all of us making a living out of this great, great sport. So I think we need to stay fan focused, recognise what Netflix has done for our sport to Laurent's point I think we can maybe tighten up some of the way they show the show the content that is made for television, so it's to be expected it's going to have some dramatisation to it as long as they keep the theme accurate and I think we've given them that feedback. So I don't think we'd be sitting here at this racetrack realistically probably without what Netflix has done.
TW: I think at the core is the  DNA of the sport. We are credible and around that, like Zak said we've built an ecosystem and the interesting part is that with that fix coming in it put an emphasis on the personalities that maybe weren't so much in the spotlight before;  obviously Lewis and the top guys out there, but people got interested in the people that participate in the sport, and this is how you can relate to them. And I think the stories in the first few episodes around the drivers, they weren't as known, got many people hooked and, interestingly, that got them watching the Grand Prix well because they could relate to the personality, they knew who Esteban Ocon was and how his background was. So I think, how is reality TV working? That's our own little reality show around the core DNA of the sport. And that's motor racing, and that shouldn't be diluted. 
Q: (Dexter Bridgeman – MI Media Group) To all three of you, but in particular, Zak.  As I look at the sport, it's an incredible sport, it's actually my first experience, and it's just been overwhelmingly positive. But as you're planning to grow the sport throughout the United States, how are you planning to be more inclusive? How do you plan to reach out to your non-traditional fans, people who look like me? I don't see a lot of people here that look like me, not in this room, the drivers as such, how are you planning to grow the sport throughout this country?
ZB: I think the first thing we need to do is expose it to a new, more diverse youthful fan base. I think, again, coming off the Netflix conversation, I think they've been a huge contributor. If you look at the fan base that they brought in, they brought in a lot of female fans, a lot of youth. I think we as teams, I think what Mercedes did this week, was really great downtown, just kind of bringing the sport we had, and have an event every day called Speed Shop so I think getting our drivers out there, our teams out there, coming to new markets like Miami, and then looking for, you know, not just great race broadcasts, but side and shoulder programming.  We have James Corden out here this weekend who's  obviously very well known and has a great audience. And he's doing some fun stuff with us, which I think will bring a lot of attention not only to McLaren, but just Formula 1 and the event. So I think with all of these, it's about making incremental gains in all of these areas. And so it's great to hear your story that, you know, you're out here, it's your first Formula 1 race, and you're really enjoying it. So we just need to continue to expose our great sport to people that are new to the sport and then let the sport work its magic on everyone like it has us for many years.
TW: There's not much to add to what Zak said. As teams, we are trying to be more inclusive and more diverse. We have… all of us have our own initiatives, we have something that's called Accelerate 25, where over the next years, we want to hire at least 25% from underrepresented groups in our team. Because what it needs is role models, not only the top driver, obviously, who is the biggest role model the sport has, but we need you, talking about the sport, we need to change that room, there needs to be a more diverse group of people talking about Formula 1. And like Zak said, it's just we just need to take one step at a time, we would love to have a very diverse group of fans and audiences and whatever we can do we are prepared to do. 
LR: Yeah, I concur. I mean, there's no magic recipe. It's simple contamination, if you will, there's no barrier to entry to anybody. I take women as an example. There's nothing preventing women from being representatives, probably there's no role model. We don't really help people believe that it's feasible. It's just like, no, it's not for women, but that's not true. And so, like to say, we all have our programmes,  we are trying to push on the inclusion, not just women, everyone especially in France, because we also have underrepresentation in all areas. The idea being it's based on meritocracy. It is not based on who you are, where you come from, whatever your beliefs are, and we tried to push that and say, look, this is not a sport for just engineers that are coming from this area. This is for everyone. There is no barrier really not. So it's good you hear, talk about it to all the people, whoever and they'll come, they'll share the show with us, they want to do a job out of it and we'll work on them. That's as simple as that really.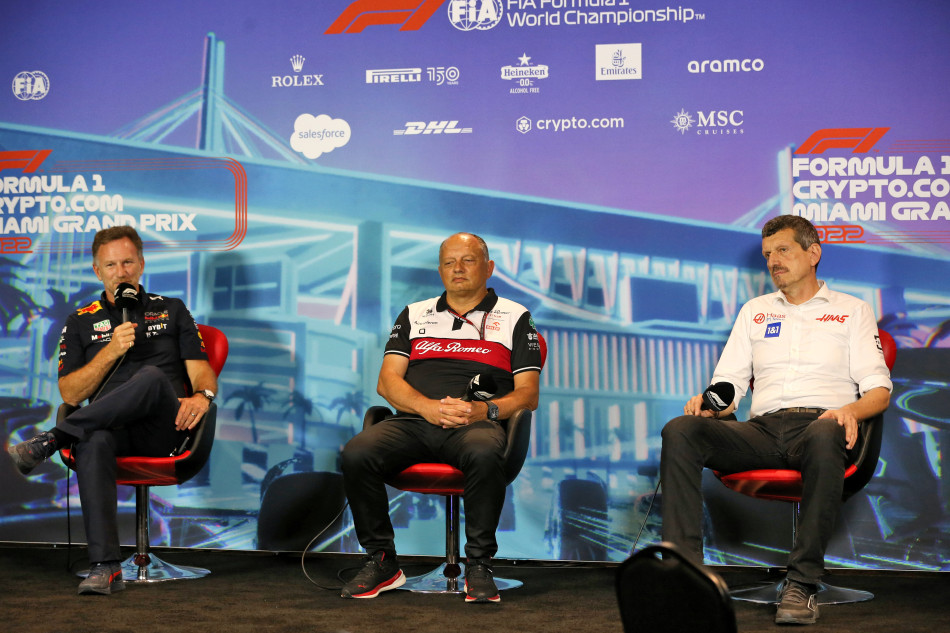 PART TWO - TEAM REPRESENTATIVES
Christian HORNER (Red Bull Racing), Frédéric VASSEUR (Alfa Romeo), Guenther STEINER (Haas) 
Q: Welcome to you all. Let's go left to right. So Christian, we'll start with you, please. So Miami, how's it been for you so far?
Christian HORNER: The town, the reception, that we've had has been amazing. I mean, being back in the US racing in Miami is, I think, is very special for Formula 1. I think the reception that we've had, the interest that there is in the sport is fantastic. We had a horrible day with Max yesterday on track, but I think we've understood those issues. And we had a pretty decent day with Checo. So the circuit, you know, it's challenging, I think it'll provide a decent race. So yeah, it's good to be here. 
Q: Not tempted to do any swamp Buggy Racing with Max during the build-up to the race? 
CH: Well, I have a complete phobia of snakes. So you know, going to go into the Everglades probably not a good idea for me, but they had a great time. You know, they obviously had a lot of fun. There's been an awful lot of activations going on in the build-up to this race and, you know, it's great to see, as I say, Formula 1 and all the teams busy out there doing an awful lot and engaging with a fan base. 
Q: Quick question on Sergio Perez. Max has his long term deal with the team. What are your thoughts on Checo's long term future with Red Bull? 
CH: Checo's doing a great job. He's driving at a very high level. He's more comfortable in the team this year. I think the car suits him better this year. It doesn't have some of the peculiarities that the previous probably three cars of ours had. And I think that, you know, we're happy with the job he's doing. However, we've only seen a sample of four races so it's still early in the year. But everybody within the team is, you know, is very pleased with the job that Checo's continuing to do. 
Q: So Fred, Miami, your thoughts so far?
Frederic VASSEUR: Outside of the track, it's a mega event, it's probably the best one for the F1 so far, and it was already very impressive to have 1000s of spectators on Wednesday evening that it's a mega great feeling for all of us. On track, it was a bit more difficult for us, but we have to split the two aspects but I think we are more speaking about the show. And the infrastructure is mega. The show is there, we have tons of requests from the guests and I think the F1 is going in the right direction. 
Q: Now, Fred, how high is your team aiming right now? Because without the pit lane drama at Imola, you might have had a shot at the podium? Is that where you are now? 
FV: I'm not sure that the pit-stop changed something because I think it was quite impossible to overtake and we spent ten laps behind Russell, but without the pit-stop issue, we would have spent thirty laps behind Russell. No, but it's good for us for sure. We are going in the right direction but we are more and more performant.  At one stage probably that we will struggle with the development and the budget. But we have to take the points when the points are on the table. And so far, we did pretty well. 
Q: And what about Valtteri? You've known him for years, of course, but this is the first time you've worked with him in Formula 1. Has he surprised you in any areas?
FV: Honestly, no, because that if I say yes, that I would have been stupid to take him. No, no, he's doing a good job, he's quick into the car, that with the team outside of the car, he's doing also a fantastic job in terms of motivation and input. And collaboration with Zhou is more than good, also that they are working very well together. And they are really team-oriented and it's part of the result today. 
Q: Guenther coming to you now, your thoughts on this inaugural Miami Grand Prix? 
Guenther STEINER: I think as the guy said, this was just fantastic here, what they put in place. And I think also racing-wise, it's not only a show, it's also a good race, it will be a good race with the track they put in place. Obviously, as Fred said, 1000s of people coming on Wednesday to see him is fantastic. You know, so we all like that.  They come and see Fred! But no, on the other side it's just like, I mean, they did more than I ever expected can be done, you know, but it's not only about the show, we all talk about Miami, everything, which is fantastic. But I think they really tried to put on a good race as well, you know, the sport is still the most important thing of this show. So that is important for Formula 1 I think and they really understood that. So the race track obviously is new, and we complain always if we go to a new track that we should be doing this differently. And in one or two years, it will be perfect, like everywhere else. So hopefully we can have everything that we expect for the race.
Q: Guenther, it's a home race for you guys. What kind of reception have you had from the fans? 
GS: Yeah, it's amazing how they react. I think it feels much more Haas F1 being the American team here than it ever felt in Austin. But I think it's just a completely new market for F1. And they just joined the American team and obviously with us doing better this year, that helps a lot as well. 
Q: On track, how's the car looking so far? 
GS: We are still working on it, you know, with the new track, we are trying to find things that we can go faster. But otherwise yesterday was not a bad day. You know, we still have work in front of us. But otherwise, it's just like a normal Friday. And hopefully we have got a good Sunday, Saturday, sorry. 
Q: Now Guenther,  Kevin Magnussen has 15 points from the opening four races,  Mick has still yet to score. Have you seen Mick take a big step over the winter?
GS: I wouldn't say a big step over the winter. I think when he got in this year, he had a reference and we there was a reason why we took Kevin back because otherwise we would feel stupid as well, why did you take him back? You know, we know what he can do and obviously Kevin is a good driver and for Mick now he has got a reference and he just needs to come up to that level. But he knows that and he has got a good opportunity to do that and he will take it at some stage hopefully rather sooner than later because we would like him to score points as well, you know, like a lot of other people, but he's maturing and this year I always told him, higher up we get thinner the air is getting you know, it's getting more and more difficult, higher up in the standing you are, you know, getting into the points it's not easy, you know, because there is a lot of good people there and a lot of good teams there. So hopefully we can get his first point soon. 
QUESTIONS FROM THE FLOOR
Q: (Stuart Codling - GP Racing) Christian, could you explain to us how significant it is for you to be facing a very different enemy this year? Has it resulted in a change of mindset in the team to be fighting Ferrari again? Just how big is it? I mean, obviously the Netflix viewers will be bereft next season at not seeing you fulminating about Toto, but what, what creative annoyance can you bring to bear against Mattia and his crowd?
CH: Well, Mattia is a nice guy. So I mean, it's just a different kind of competition. But you're writing Toto off, we're only four aces in and his car was quickest yesterday, so there's plenty of time for him to get himself back in the show. But, look, I think we're very much focused on ourselves. All nine teams are our competitors. And I think, you know, last year, there was a lot of needle, there was a lot going on off track, as well as on track, whereas this season, this year seems much more focused about what's going on on track. And I think the racing has been great between Charles and Max. And, you know, the first four races have been epic. And if that continues through the season, inevitably, it's going to boil over at some point as it gets more competitive and the stakes get higher in the second half of the year. But certainly, what we've seen so far has been, you know, very respectful racing, hard racing, but fair racing. And as I said, I think you're going to see your Mercedes joining that party fairly soon. 
Q: (Alex Kalinauckas – Autosport) Christian, you've previously said that it would be natural for Red Bull to hold discussions with Porsche or Audi about a future engine deal. I just wondered, have you started any kind of evaluation process to understand the viability of a possible partnership with one of those brands? 
CH: Well, look, it's obviously great, the commitment, particularly that VW stated, as the parent company to both Porsche and Audi, that both have got the intent of coming into Formula 1. And, you know, we're just starting a new journey as a power unit manufacturer for 2026. So of course, it would be logical for us to look at and hold discussions about a potential co-operation, but it's still very early days, there's nothing to report and you know, when there is, you guys will naturally be the first to know.
Q: (Tom Cary – The Telegraph) Another one for Christian. Obviously, it's W Series' opening weekend. I just wanted to know your thoughts on that series. We've seen Jamie win a couple of championships. She's not made it to the next step, yet. How do you think that championship is getting on? And what is Formula 1 doing to accelerate the pathway for women drivers, and why, for instance, aren't Red Bull sponsoring the most talented young women through their junior driver programme to accelerate that pathway? 
CH: Okay, I think the W series is a great initiative, it's still very young, it's evolving, it's growing. And hopefully it's going to attract more and more girls into racing. And what really needs to happen is more girls coming into the grassroots of racing. And I think as we see things like the Netflix effect that it's had on the sport, we're seeing the demographics of the followers of Formula 1 changing, and a lot more young females becoming aware and interested in Formula 1, which will hopefully encourage them to, to get involved. And if that's through driving, you know, obviously, karting is, is the entry point to motor sport and I think that, of course, there's always going to be that debate, you know, should the girls, you know, race with the boys, should it be like other sports where you have to separate competitions. I think there shouldn't, and there aren't barriers, and if the talent is strong enough, it will permeate its way into Formula 1, because, you know, we're all very selfish individuals that we want the best drivers, regardless of background, gender, you know, etc. And I think that if the W series can help to develop young talent that finds its way across into Formula 3, or Formula 2 and ultimately Formula 1, then that's certainly a positive thing. And as far as Red Bull's involvement, you know, we've sponsored girls and backed girls in the past and will do so again in the future. It's just a matter of identifying, you know, through our scouting systems the talent that we want to support.
Q: (Jon Noble – Motorsport.com) To all three of you. There's been some dialogue this weekend between teams and the FIA regarding Ferrari running two different specification floors at the Imola Pirelli test. I just wondered if you are comfortable with the situation? Do you share some concerns from some teams that this could lead to teams exploiting the Pirelli tests to test different parts now? 
GS: I actually don't know the details of it, what happened there, but it was cleared by the FIA. So I cannot comment on what the detail was, what was different and how they solved it, because it seemed to be that all have been clear. So I was not getting involved in it. So for me, if the FIA saw what they did and they could explain it, it's OK.
FV: Yeah, we were not in Imola but we were not aware of the spec that they were running. And it's quite impossible for the team to have an opinion on this. It's up to the FIA to do the job and to make a decision if there is but I would be surprised.
CH: Yeah, ultimately, it's up to the FIA to police because the understanding of the regulations regarding tyre testing is you have to run in a fixed format of car specification. And if you need to replace a part, it can only be to an older specification of part that has previously run. I think the excitement about the Ferrari floor was that it appeared to have, it was certainly different between the morning and the afternoon, and appeared to have some new components. The FIA have subsequently confirmed that Ferrari ran that floor in preseason testing, so therefore, it complies. And I think, as I say, it's for the FIA to do that police work and due diligence. Because what we certainly want to avoid is, because these cars are so immature, it's still very early in the development stage, that tyre tests don't turn into aerodynamic or performance development tests. That is not the purpose of those tests. 
Q: (Scott Mitchell – The Race) To all three of you. There's a lot of interest from entities outside of Formula 1 at the moment that wants to come into the championship, whether it's Porsche and Audi or Andretti, for example, but the emphasis from F1, the FIA, and some of the teams, very much seems to be encouraging these entities to partner with existing teams on the grid rather than adding a new team to Formula 1. What's your position on that? Because I guess just purely from a selfish business interest, it's much better if there are only 10 teams and you can basically dictate terms if someone wants to get involved with one of you. 
CH: Well, obviously, you know naturally for the current signatories to the Concorde agreement, it makes total logical sense to say that the 10 teams or 10 franchises have an intrinsic value and you dilute that by increasing the number. You know, theoretically, it should be a Liberty issue to address if they want new teams to come in. And to expand the number beyond 10, then fiscally, it was always going to come down to a question of how does that affect the distribution of the prize fund? So, money is ultimately going to be a significant factor. Ultimately, I see a question really for, you know, for the promoter, that if they want more teams, they're obviously going to have to dilute their share of the fund, because it would be unfair to expect the other teams to pay for the additional new entrants to come in indirectly. So that's always going to be the conflict you have. I think it's great that there's the interest from both OEMs and a brand and a team like Andretti, you know, it's a great name… Be better if Mario came back driving, but, you know, I think it's something that really Liberty, it's their business model that they need to work out for the future.
FV: If we have a new team coming in, with mega added value for the championship, this could make sense. But as Christian said before, that we don't have welcoming someone new, to put at risk two or three teams on the grid, and to stay at the same thing, the same situation. I think that by the Concorde agreement we are touching these points, and at the end of the day, it will be up to the FOM to decide what they want to do. I think that we have enough space to find partnership with the team existing on the grid, more than to welcome another one.
GS: I think Christian and Fred explained it very well. And just to adapt on that one, as businesses, I think, first of all, we have got in the moment 10 stable teams, which for a long time was not possible in F1, or was not happening in F1. Now, since five years, everything is pretty stable. Very good. And why would the 10 team say we dilute our value to bring somebody new in, you know, what's in it for us? You know, we have been here a long time. So as they said, I mean, if FOM wants to distribute more money or something that is another discussion, but just to have more teams, more doesn't mean being better. So I fully agree with Fred and Christian, what they said.
Q: (Chris Medland – Racer) Just to follow up on those exact answers, I believe the latest Concorde Agreement included a $200 million anti-dilution fund, which being anti-dilution, I assume was meant to address diluting the value of your existing teams. Is that a pointless addition then to the latest Concorde, if you'll say 'actually, a new team would dilute our values to an extent that that doesn't do the job that it was intended to do'.
CH: What that essentially does, it puts an intrinsic value or minimum value on any entrant, you know, from P10 upwards, I think that you've got to look longer term. And I think, as Guenther was just saying, it's the first time in memory that we've got 10, healthy franchises, 10 healthy teams. There was always a team, you know, the last couple of teams would always be fighting to survive, whereas now they're in a position where they can actually plan for the future, they can look forward rather than just being in the present. And I think that, you know, the 200 million is a significant amount of money. But you know, in this business, and when you divide it by the participants, it doesn't go a long way. And it's a one shot, it's not 200 million every year. So, you know, at the end of the day, a conversation like this will always come down to economics, 
FV: For sure, it will come down to economics and as Christian said, it's not a one-off. When you spoke about the 200 million, it's the fee to join, but then you have to think about the factory, you have to anticipate the project two or three years before without incomes and so that we are speaking about a huge amount. And it's true also that even if the 10 teams today are sustainable, and we are going in a very good direction, with the F1 today, perhaps it won't stay like this over the next five years or 10 years and that we have just to take care to avoid to be in the situation that it was before the COVID and during the COVID that you are the last third of the grid just on the survival mode. 
GS: I think there's not a lot more so I think that and…. Yeah, it's always the same. Yeah, they're all saying the same between them. So nothing more to add.
Q: (R J O'Connell – racefans.net) This is for all three of you leaders, Thursday going into the weekend, drivers expressed that they were confident that there would be plenty of overtaking because of the abundance of DRS zones and the long straightaways. Coming out of Friday's practices there were concerns because of the lack of grip off the track that there would be not just less overtaking but barely at all. From your observations do you share those concerns about the quality of racing going into Sunday? 
GS: Yeah, our drivers had the same comment yesterday, but I think you've got another day of practice today. Let's see if that line where you have got the grip widens up today and see if it can be done better. But in the moment, like it was yesterday, it was a new track, it was completely green, nothing run on it. So normally, these tracks development and let's hope that happens. Because otherwise it will be challenging to overtake because you need to be on the good line. Otherwise, you're offline and off the track it looks like, but I think it will be getting better as more running is done.
FV: I'm sure that would be OK, that the track will improve drastically between yesterday and Sunday. And with the three zones of DRS, it won't be for me a big issue to overtake. The show will be I hope, a good one, that the layout of the truck is good and everything will work perfectly.
CH: Yeah, look completely agree with the guys. I think that you've got quite a few support races going around. I think the braking areas will widen as those support races happen, there'll be plenty of action in those as well, I'm sure. I think probably a bigger factor as well as the weather, potentially tomorrow. Maybe there's a few showers around as well. And then you'll definitely see some overtaking. 
Q: (Adam Cooper – motorsport.com) For all three of you. Yesterday, Greg Maffei said that Formula 1 is buying a site in Las Vegas to serve as a permanent paddock for $240 million. What do you think that says about Liberty's commitment to that event? And as stakeholders, what do you think about Formula 1's move into full-on race promotion, which kind of started with this race and Vegas is another step?
CH: Well, I think it's an interesting model. And you can see it's a route that the ownership wants to go down. They also own Live Nation that puts on some of the biggest concerts and shows in the world. So it's a natural evolution and I think it's almost a litmus test for them to try this model where they control and they own everything, and they promote the event. And therefore they control all the revenues coming into the event. And it's probably less of a question for the teams, because we're, again, always going to be quite selfish about what if it generates more revenue, and it puts on a great show, there's no downside. Whereas probably for the promoters, it's a different model than for example, Silverstone have, so it's probably something that they're more conscious about than certainly we as teams are.
FV: For sure the model is completely different. But if they can secure the organisation for the next 10 years, and it's the best option to do it, I think it makes sense. So far, they are doing a very great job. And we have to trust them because they are really on it. And if they decided that it was a good move for them, and for us, I would be fully supportive. 
GS: Yeah, I think the same. I mean, Liberty did a great job over the last five years. What they created out of what they got, that was a good Formula 1 and now it's a very good Formula 1. And I think if that is the next step they think they want to take to get more revenue or get better or get more control or just be bigger, I think we need to trust them, as teams, because up to now they have to live up to what they said they're going to do when they took over Formula 1 from the previous owner. So it's their business plan, which up to now it worked for them. So I have my full trust in that what they are doing will be the next step to make it even better than it is now.
Q: (Luke Smith – Autosport) Linked to race promotion, we've got the Monaco Grand Prix coming up quite soon. Zak Brown said yesterday that Monaco is still a crown jewel event and very important to F1, but maybe there does need to be a bit of a rethink in terms of its model and how it operates. What are your thoughts on that? Do you think there are any changes needed for Monaco and how that's staged as an event?
GS: Yeah, obviously, as we just said before, things are changing, you know, in Formula 1, and nothing stays across you know, we always need to evolve and develop, we need to stay current and if current means the model has to change, I think it needs to change. We cannot live in the past. So I think what Liberty is trying to do there, again, it's the right thing to do. But they will sort it out and obviously Monaco is very important to Formula 1 and is a very good event, so hopefully it can stay on the calendar. But you know at the right circumstances.
FV: I think the F1 had a big change last year in Zandvoort. Not just in terms of show. In terms of the show Zandvoort was a mega change but from these dates I think all the events were more into this direction and everybody will have to follow the move. But in the end, not just the show, but everything else around the Grand Prix. And I think Monaco will have to do the same. For sure Monaco is important for us. We know perfectly that it's an historical Grand Prix. But at the end of the day, it will, it will come from them, I'm sure, because they can't stay old fashioned. And I'm not just thinking about Monaco. But it's a good lesson for all Grands Prix.
CH: Yeah, I mean, it's unimaginable to think of Formula 1 without Monaco, it is the jewel in the crown. But you know, everything does evolve over time. And, you know, when you look at Wimbledon, they now have a roof when it rains. So, you know, they've got to move as the sport continues to grow. And I think that if Monaco was a new circuit coming on to the calendar now and they said, 'Well, you're going to have the lowest fee of every single circuit, you're going to go there you can't overtake' it would never be accepted onto the calendar. So we accommodate Monaco because of its heritage and because of its history. That's it. And I think that you've got to evolve, you've got to continue to, go with… If you stand still, then you're going backwards, and I think that applies to all aspects of the sport.
Q: (Christian Nimmervoll – Motorsport.com) Question is for Christian. With the budget cap kicking in also in the engine area as from 2026. And with Mr Rausing having reportedly declined a $350 million offer from Andretti to buy the team. Do you think the value of modern Formula 1 teams, top teams, is heading north of a billion dollars at the moment?
CH: Look, I think with the regulations we have in place with the costs being contained, I think with the incomes and the revenue is coming into the sports, both through the promoter and through more sponsors getting involved, the profitability of teams, that simply wouldn't have been there previously, is now there. As franchises, each of these teams have an intrinsic value. And I think the value is always going to be dependent on the willingness of a buyer and a prospective seller. So, in terms of specific values, valuing a Grand Prix team is always going to be something very difficult to do. 
ENDS