This page contains archived information and may not display perfectly
F1 - 2022 AUSTRALIAN GRAND PRIX - SATURDAY PRESS CONFERENCE TRANSCRIPT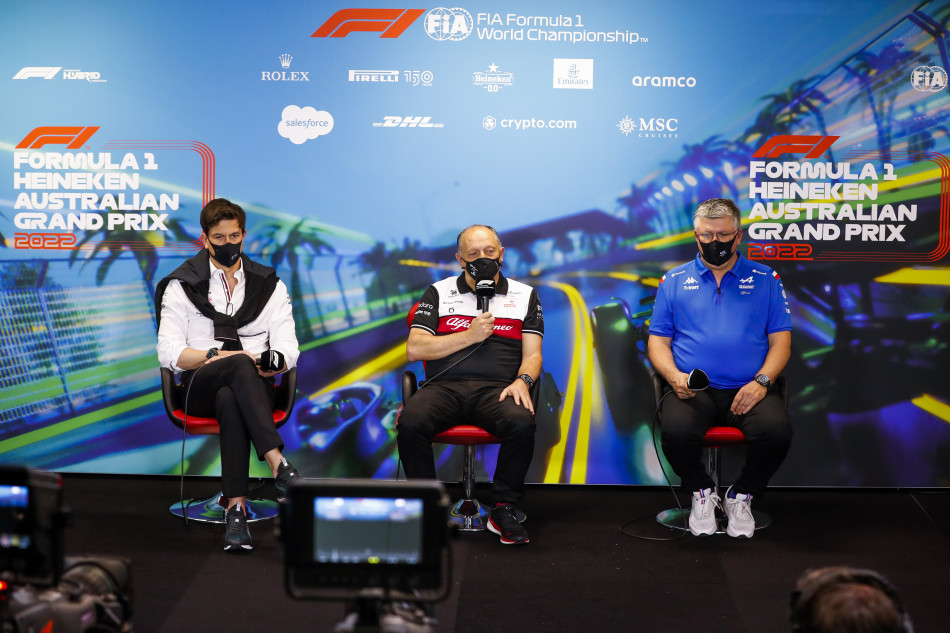 PART ONE - TEAM REPRESENTATIVES 
Toto WOLFF (Mercedes), Frédéric VASSEUR (Alfa Romeo), Otmar SZAFNAUER (Alpine)
Q: Welcome to you all. We're back at Melbourne, racing for the first time since 2019. Can we start just by getting all of your thoughts on being back here in Albert Park. Toto, perhaps we could start with you?
Toto WOLFF: Yeah, it's nice to be back in Australia. Since we left last time around without even driving the cars – but the fans are tremendous, the sport is big here, you can see that, and yeah, for me it's always enjoyable to come to the other side and stand upside down for a while. 
Frédéric VASSEUR: Yeah, as Toto said. It's very nice to be back. The fans are amazing, that we have a long queue in front of the gates, and we know also that, when we left two years ago, it was the beginning of the chaos. I really enjoyed the race in Australia, and the show is mega always, but it's good for F1 and it's good for everybody. 
Otmar SZAFNAUER: Yeah, just to echo what's been said already, plus I hope we put on a good show for the fans, they deserve it and the track layout is a bit more exciting, and also, the new Tarmac will make some differences from before. So, really looking forward to qualifying and then having a good race for all of them tomorrow.
Q: Otmar, let's stay with you now, talking about having a good race. You guys at Alpine have had a very strong opening day, yesterday. It seems the more you run this car, the faster it gets. How much more is there to come? 
OS: That's a good question. We're still learning. We're not quite at optimal yet. And there will be more to come in developments as well, but actually learning the car that we have, that's still happening. So, there's still more potential in it.
Q: And what about the challenge of the new layouts here at Albert Park? What are the drivers saying? How different is it from a setup point of view? 
OS: Not terribly different from a set-up point of view, but the cars are so new, so the set-up was definitely different for that reason. And the drivers seem to like it. They like the changes.
Q: Now we saw your drivers racing hard two weeks ago in Saudi. Have you asked them to turn down the dial a little bit this weekend? 
OS: Well, it's not really turned down the dial, it's to make sure that we don't lose time while they're racing each other and allow people like Bottas to catch us. So, for sure they can race each other, but not at the cost of total time.
Q: And Otmar, final one for me. You've now been at the team for a few weeks. How are you settling in and how much potential does Alpine have, in your opinion? 
OS: A very good potential. I'm still learning everybody and the personalities and, yeah, it's great. I really enjoy it and I love working with the people, both here and at the factory. It's a great team. Enstone's won some World Championships in the past, and there's potential to do that.
Q: Fred, let's come to you now. Two races so far this season, two competitive showings from the car. How much potential have you guys got?
FV: Well, we will see at the end of the season, because I think the race will be based on development this season. And so far, it went pretty well for us but it's also true that the fight is quite tight between P5-P6 to P15-P16, and from one weekend to the other one, you can stop in Q1 or be the hero of the Q3. I think it's a good challenge. We are more than pleased with the performance so far, and we have to continue to develop and to perform.
Q: More than pleased with the performance. After a tough few years for everyone in Hinwil, how much of a lift is this current show of form? 
FV: For sure, part of the motivation as a racing team is coming from the results. And it's working on both sides and that means that when you start to struggle, it's more difficult. But honestly, I think that for us, we put a lot of energy over the last 18 months, when we decided to stop the 2021 project at the end of 2020. And that it was crucial for the company and for the team to be successful, or to achieve that and to improve. And I think it's a good step forward that now everybody is much more motivated, much more focussed. And we know that every single detail will pay, because each time that we are fighting for hundredths, with big teams, and for this, I think regarding the job done at the factory, I think it's a great achievement for everybody.
Q: Quick word on Valtteri, you've known him for a long time since you ran him in GP3. Has the 2022 version of Valtteri Bottas surprised you in any way? 
FV: I don't know if I have to be surprised or not, but he's doing the job that I think… If you have a look at the last couple of years, he did a very good job in terms of pure performance. He was always in the shadow of Lewis, but I think everybody would be in the shadow of Lewis, and that what we discussed, during the last season, was to take a different position, different role, to be the leader of the team. And I was convinced that he will be able to do it, and he's doing a great job. I'm not [only] speaking about when he's in the car but at the factory, with the engineers. He's kind-of showing the path for the development, for the right way to improve the car, how to improve the team on every single detail. For sure, he's coming from Mercedes with a mega huge experience – and this is helping us a lot. 
Q: Toto coming to you now, it's been a difficult start for you guys in 2022. And for you as team boss, it's uncharted territory, really. I just wanted to start by asking you, how hard are you finding the current performance level? 
TW: I've been in this situation before in life, and you just need to be humble about it. When I said last year with the new regulations, how things were set up, that we could have a different pecking order. And this is exactly what's happened. Like Fred said, the midfield is very, very compressed and we're just not quick enough, full stop. There are so many areas where we know we can improve, others where we don't comprehend the car yet. And we just need to concentrate on ourselves and chip away, the performance. The team is still the same, that won many of the Championships.
Q: Do you still believe in the potential of the W13? 
TW: Yes, I do. Because what is the other solution? To dial back and go back many months and then put that car on the track? I don't think this is feasible. Because it wouldn't bring us forward in terms of performance compared to the other ones. It's a relative game. So we have, at that stage, no choice than to understand. And whatever the outcome may be, from our understanding, we may change or tweak the car.
QUESTIONS FROM THE FLOOR
Q: (Adam Cooper – motorsport.com) For all three of you, just wanted your reaction to the Las Vegas confirmation. And also, more generally, your thoughts on the challenge of getting the right balance between the new big-paying tracks and the classic venues in Europe? Are you worried that we might lose a few of them? 
OS: Well… I was going to say from a young age, I've enjoyed Vegas, but I guess you can't really enjoy Vegas unless you're 21 or older. But it's a fabulous place I used to visit when I lived in America, at least once a year. And it'll be great racing around midnight on this Strip with all the lights, and I really look forward to it. It will be a great venue, and I hear the hospitality will be second to none. Maybe to the level of Miami – although we haven't been there yet, we saw some great videos and depictions of what that's going to be like. So, I really look forward to going to Vegas. And I think we do need to strike a good balance between tradition and where the sport started, and some of the tracks in Europe and the new ones, but I think F1 will do that job, do it well, and I think we'll have a good balance in the end.
FV: Yeah, first, I think we have to enjoy that the F1 is appealing, that we have more and more demands and I think Las Vegas is a mega one. And we don't have to oppose it. I think the newcomers, and the show, it's not because we are going to Las Vegas that it won't be proper racing. We are done on some events like Baku, for example: it's a new street circuit but races over the last 10 years were always mega. I think that we don't have to oppose these too. I am more than pleased to have this kind of event, for sure, for the F1 it's a mega push on the sponsorship side. I think if they pay attention to the layout of the track, it could be also a mega sporting event.
TW: I think Stefano is doing a brilliant job, between balancing out new, interesting venues, not only from a financial standpoint, but also for tapping new audiences. And I think being in the years now with a second and third is fantastic, especially in Miami and Las Vegas – doesn't go any better. The truth is that I don't think that most of the fans that are watching Formula 1 through TV or social media, they don't really mind where we're racing. It's my opinion. Like Fred said. Baku isn't a traditional race, but it's fantastic content. So, racing in those iconic places is important for the fans, for the local fans. And you can see it here: great audiences. So, getting that balance right is not trivial. But Stefano, so far, has done that really well.
Q: (Frédéric Ferret – L'Equipe) Question to the three of you. It looks like some teams have sought clarification with the FIA, according to the Haas car. I would like to know your thoughts about the Haas car. Is it too similar to the Ferrari? 
TW: Oh, difficult question! I mean, Haas has made a huge jump from being last, the way they were into being… having been solid and into Q3, I think, in Bahrain. So that's an interesting step. For us, it's a learning exercise, because as an organisation, we have 2000 people and we've been successful in the past, and suddenly you're fighting a team that's much smaller in size. So, they must have done a super job.
FV: It's a good question. It's like the old and new regulations about financial, for example, that the most important is to be able to control everything, that we have restrictions on the wind tunnel, we have a restriction on the budget. But we have to trust the FIA, they are doing a good job. And for sure, there will be on every single case.
OS: It's a small team that's done well over the winter, from last to sometimes third fastest team. And it's a bit surprising. I thought – although Toto didn't – that the pecking order would stay almost the same because generally, in a big regulation change, over the years that I've been in Formula 1, the bigger the regulation change, the more it favours those with knowhow and the infrastructure and the tools to actually exploit the new rules. So, it's a bit surprising that the Haas are where they are for a small team – but I trust the FIA will investigate and come to the right conclusion between how similar the two cars are. 
Q: (Scott Mitchell – The Race) It's a question about the Volkswagen Group and maybe the Porsche and Audi brands entering Formula 1. They had a meeting this week, no final decision yet, but they do seem to be inching closer, however slow that progress might be. I just wondered, as representatives of engine manufacturers and teams, there has already been a concession made in dropping the MGU-H to try and make it more attractive to engine manufacturers. Would you be willing to make any more concessions in terms of added resources, extra dyno time, that sort of thing? Or would you be concerned about the impact that would have on those manufacturers, and any teams that use those engines? 
FV: As a team, it's a bit different, as I think the biggest change in the regulation is on the engine supplier, to know if they have to be considered as a newcomer or not. But it's not on the team side. For me, it's more on the engine supplier side. For sure, it will be a mega huge push again for the F1. With newcomers that, if you have a look, that three years ago we were worried about the future, because we didn't have enough engine suppliers, that if now you have one or two new brands coming in, and so it would be mega at the end of the day. I think that the engine suppliers, they did already all the effort to find the deal with them. And I hope that it will work.
TW: Yeah, it's great if the Volkswagen Group joins Formula 1. Fantastic brand increases the credibility of what we do. And they are racers. But as far as I understand, there is no firm commitment yet. They've been sitting on the table for the regulations but before that commitment isn't actually confirmed, we can't really know what the plans are.
OS: While it's an indicator that our sport is attractive, which is great. And it's fabulous for a brand like the Volkswagen Group to consider coming into Formula 1, like was said, and once that decision is made, I'm sure the FIA will make sure that the playing field is level with the engine manufacturers that are here and have been here for a long time.
Q: (Roger Byron – Beyond the Racing Line) Otmar, Fernando Alonso said that he wants to be in the sport for a few years yet to come. And with the talent of Oscar Piastri sitting in the ranks, how do you ensure that he continues to develop as a driver through this year and then into next year?
OS: Well, it's great that Fernando wants to continue. And we also have Oscar on our books. Oscar is a wonderful young man. He's very well prepared. He's really, really hungry. One of the most competent young men coming through, and we're working hard with him to… if there's a possibility to stick him in the Formula 1 car, we've given him that opportunity. Later on in the year he'll do some FP1s as well for us. He's doing a lot of simulator work for us, too. An upcoming talent to watch.
Q: Do you feel there's pressure to find him a race seat in 2023?
OS: No, not as we sit here in April. I think the pressure and the silly season will be upon us in July. So yeah, no pressure.
Q: (Luke Smith – Autosport) A question for all three of you about Australia's placement on the calendar this year. Normally, it runs either as the season opener or as a back-to-back. What are your thoughts on having it as a standalone event? How much pressure is that created from a logistical point of view and on your personnel? 
OS: Well, it's always great to come here. And the fans make it a lot easier. I mean, for all of us, it's on the opposite side of the world. We travel, I don't know 12,000 miles to get here. However, it's well worth it. And we enjoy coming. We do have to in the future, though, look at logistics and how to make it a bit easier on the teams as the races increase, the number of races increase. So next year I'm sure we'll take that into consideration. And the last couple of years, you know, the calendar was very COVID influenced as well. So, you know, we had to make some extraordinary decisions as to where we go, based on what the different countries allowed. So I think in the future, once we're past the pandemic, we'll have a smoother calendar.
FV: Yeah, it's true that with more and more races on the calendar one of the key aspects of our business will become the freight quite soon, not just for us, but I think it's already the case in MotoGP or some other events. And we'll have to take care about the circuits that we are doing and the way that we are the organising the race, because at one stage it will become tricky to be on time on every single event but to be first or second or third races in the championship, I'm not sure that it making a big difference because before race one we have testing and it's even more challenging for us to do race one in Australia, because very often we are not ready for race one.
TW: I'm sure that Stefano is going to streamline that for next year, to make it easier with logistics. At the end, we love coming here, but it puts strain on the people that isn't yet felt so much because we're just at race three in the calendar. But certainly it takes a toll on us, on our people.
Q: So when you say streamline, do you mean run this race back to back with another one?
TW: Yeah, I think this is an idea we are all on. You know, the Middle East is on the way to Australia and on the way back and I think like it has been in the past.
Q: (Scott Mitchell – The Race) Just to come back to Fred's question from earlier about Haas, this is to all three of you. Presumably what Haas is doing at the moment is within the regulations, whether it's what used to be called the listed and non-listed parts, and the restrictions around shared facilities, that kind of thing. Is your issue that we might be moving to a point now where the regulations need to change and those relationships aren't necessary anymore where we have an F1 that is more cost efficient? Teams can compete with fixed prices, that kind of thing. You don't necessarily need that level of assistance to be competitive and to be a proper F1 team.
TW: I think it needs reform, because we want to avoid these kinds of discussions that we have now, the polemic around the last few days or last few weeks, everybody deserves to perform well, and people should get credit when they've done a good job. But some of the job-hopping or entity-hopping on the same premises is just creating arguments that are not necessary for the sport. So definitely for us, you know, we have Aston Martin in the wind tunnel that we had two years ago. Quite a shitstorm about that. We have been handling them with the utmost diligence. But going forward, if we were to need to compromise our, let's say, income ability, we need to do this, because none of the teams should be able to cooperate in a way that we're seeing today, with some of the teams.
FV: I'm not sure that we have to change the regulation, it's exactly the same story on the financial one also that we have to apply the rule. And the rule is strict enough to make it fair that at the end of the day, that the financial regulation, a good example, you just have to stick to the rule. And if you stick to the rule, it's more than OK. And it's why I think that we are trusting the FIA, because they have to do the job of the regulator and they are doing it, they are on it. And for me, it's OK like this.
OS: I tend to agree with Fred, in an ideal world, the rules are pretty clear. And the difficulty is policing. So if the policing of the rules is impossible, then I think we should change the rules that are able to be policed such that the playing field is even. So I think there's more discussion to be had with the FIA, and perhaps a bit of reform on the rules such that they can be policed.
Q: (Luke Smith – Autosport) For all three again, following on from Adam's question about Vegas. From a commercial standpoint, we've seen a big influx of big US tech companies into F1. Over the past few months, how much do you think a third race in the US is going to help accelerate that? And from a commercial point of view, just how much of a feather in F1's cap is it to have such a race?
OS: Well, the US tech companies continue to do well. You know, I always said the biggest mistake of my life was not buying Apple and Microsoft and some of the others when I was younger…
TW: That's quite a mistake. 
OS: It was a big mistake, don't remind me! But you know, we, for example, have Microsoft, and they're enjoying our relationship, and they want to do more with us. And I think going to Miami and going to Vegas, and having the sport popular in the United States, will only help with attracting more of the tech companies. 
FV: Yeah, and we have to consider if F1 wants to be worldwide, to have five or six, seven races in America, South and North America. It's quite normal on 24 or 25 races, it's something like 20%. It's not mega. And we are now quite well balanced between Asia, the Middle East, Europe and America. And I think it's the right way to develop the business also. The exposure of the F1 is ramping up like hell and I think that it's a very good move from FOM.
TW: Look, I think that if what I heard is correct, the Austin race last year was the biggest single sport event in the US, which is a great testimony that Formula 1 has finally arrived in America. The iconic venues that we're going to race in, Miami and Las Vegas, in addition to Austin, which has become one of the traditional circuits, is great. It's tapping these new audiences. And you can see that it's been translated into a serious interest from big, great corporations in the US and it's almost like you're seeing a transition from the traditional partners into big tech players. And that's good.
Q: (Christian Nimmervoll – motorsport.com) Toto, there is speculation linking the Aston Martin Formula 1 team with Audi from 2026 onwards. Now you are a shareholder in Aston Martin Lagonda, the sports car company, as well as the Mercedes group. Is that something you would even allow to be evaluated? And Fred, similar question to you. Your team is being linked with Audi as well. Have you had any discussions with your main shareholder about this?
TW: You sound like C3PO, but appreciate the time at home. We only hear these things through the news, as you do. The relationship we have with Aston Martin is beyond the racing team. It is deeply ingrained in the car company. So this is where we stand. We really enjoy having the partnership. But I haven't got any information beyond that. 
FV: No, I have absolutely no information about the discussion between the Sauber Group and the Volkswagen Group and so far we are focused on our current business and nothing else.
PART TWO - TEAM REPRESENTATIVES
Franz TOST (AlphaTauri), Christian HORNER (Red Bull Racing), Andreas SEIDL (McLaren)
 
 
Q: Can we start by talking about Melbourne. Just give us your thoughts of what it's like to be back racing here in Australia. Let's go left to right. Franz, please?
Franz TOST: It's really very nice to be back here. Because for me, this is one of the most interesting races, it's a highlight of the year. And if you go here, through the back, the organiser did a fantastic job, or this year, you can see different cars, new cars, historic cars, then they renewed the racetrack, the layout is now really very, very good. And also the new surface. And if you look to the schedule, every minute there is a race out there. That's good. There's not a big break between different classes. There are many fans, and they are really excited, and therefore, it's fantastic to be back here in my room. 
 
Q: Christian, how much have you missed Melbourne? 
Christian HORNER: Yeah, I mean, somebody told me it was over 1100 days since we last ran a car here before yesterday. And it's been a long time. Obviously, when we came here in 2020 It was briefly and we didn't do anything. So you know, the fans here love sports and it's great to see. I think there's a record crowd here this weekend. The reception that they give all the teams is remarkable and it's a great atmosphere as Franz says. It's a great event. There's wall to wall action. You can sniff petrol the whole weekend. And it's an amazing event.
 
Q; Andreas? 
Andreas SEIDL: Yeah, every single member of the team is really looking forward to each year. Going back to Melbourne here. I think the promoter here together with the city is putting up such a great atmosphere for us teams as well. Each year it's great to see how engaged the city is as well. And you just see what's happening already here on a Thursday when we do not even go on track is fantastic. And for us as the McLaren team coming here for the first time with Daniel, as an Aussie driver is very special as well. It's great to see, it's different to Zandvoort in that there's actually a lot of real papaya orange around here, which gives a lot of extra motivation for everyone in the team to do well.
 
Q: Andreas, let's stay with you. Now, a lot of those Daniel Ricciardo fans will be keen to know can you maintain the performance of yesterday for the rest of the weekend?
AS: Obviously we need to see today what we can do in qualifying. But definitely yesterday was another good step forward compared to Jeddah as well for us as a team. I guess we simply manage at the moment after the challenging start in Bahrain for us, being on the backfoot after the challenging test to extract more and more out of the current package in parallel to being flat out back home in order to deliver more performance to the car. But very happy with how it went yesterday. We're very happy with how Lando and Daniel also felt within the car. And hopefully we are back in the top 10 today with both cars.
 
Q: Is there anything new on the car this weekend or are you just unlocking more potential through setup?
AS: I think it's a mix of three things. Yes, we have some small upgrades on the car for here but then I think again, the track layout here with the grip also is suiting our package more than Bahrain, for example, plus, I think we're still learning as well how to extract maximum performance from the current package. And if you put that all together, I think that simply made us do that step again that you saw yesterday. 
 
Q: Do you see Daniel Ricciardo making a step himself? I mean, a lot of his fans here will want to believe that he's happier in this car than he was last year.
AS: From my point of view, he doesn't need to make a step. He made a big step last year in the second half of the season, after the, let's say, initial challenges simply to adapt our car and to the team. And now it was simply important over the winter to keep building on that foundation and momentum as well. He had a great start straightaway in this new car in Barcelona at the test, then obviously the COVID infection, missing the test didn't help for the Bahrain race weekend. But in Jeddah he was fully back up to pace. Also here so far, so no worries at all. It's important for me to have two strong drivers, which we have, because that's important for the fight you're in the Constructors' Championship.
 
Q: Christian, coming to you. Very close between yourselves and Ferrari again, it looks this weekend. What's your read of the situation as we head into qualifying?
CH: I think exactly that. I think it's going to be very close. It's going to be about getting the perfect lap together. Getting the most out of these tyres. Going with the circuit, because as a non-permanent circuit its evolution is significant during the course of the weekend. Hopefully we've managed to improve the car overnight and it'll be fascinating to see, you know, this next practice session. But, you know, hopefully we're close with Ferrari again.
 
Q: Just with Ferrari or do you think someone else can join that battle at the front?
CH: Alonso's time yesterday looked at one point in practice, pretty impressive. But yeah, I don't think everybody's showed their hand fully yet in terms of engine modes and power mode and fuel loads and weights. So you'll start to get a clearer picture, probably in this next practice session.
 
Q: You've had nigh on three races now to observe Max as a World Champion. Do you see any differences in him this year compared to last year, both in and out of the car?
CH: In all honesty, not really. I mean, he's very relaxed. He's still racing with the same vitality that he's always had. But I think, you know, having that first world championship on his CV now, having the number one on the car, in many ways it releases you from pressure. So, you know, that expectation for that first title is always obviously very high. But now he has that, obviously, achieved already, I think, you know, we saw it with Sebastian in many respects, it relieves a pressure. And I think he's just continuing to evolve, continuing to develop, and you have to remember that he's still only 24 years of age.
 
Q: Christian, final one for me. Can you just clarify a story about your engineering team? With Rocky? What's his future? And what does impact does that have on the engineers?
CH: Yeah, the engineering team is continuing to evolve, and especially as we have to look at efficiencies, you know, with the budget cap, and so on. And I think that Rocky has done an amazing job trackside for us over the last 15 or 16 years in race engineering Sebastian to all of his race victories and World Championships, and obviously, leading the engineering team to last year's success as well. He is going to evolve into and take on a new role working with our plethora of young drivers, where we'll be looking to utilise all his experience from working with so many drivers and with so much engineering background to continue to develop, you know, the Red Bull Junior drivers and very much take a leading role in that project and how they integrate obviously into Red Bull Racing and applying scientific tools to that as well. So it's an exciting new challenge for Rocky. It will be his last race weekend here before he moves on to that role and the restructure will see GP taking a step up to become the lead engineer trackside, while still maintaining the role as Max's race engineer. So it's evolution, it's great to see that within the team, and I think that both of the both of the guys are going to excel in their next roles.
 
Q: Franz, coming to you now. A lot of work done on the car in yesterday's practice sessions. Do you feel you've taken a step forward here?
FT: This we'll see today in the qualifying I hope. I must say that both drivers were quite confident with the car. And we changed something from yesterday to today. I hope that the engineers went into the right direction, because the midfield is very, very close together, it will be tight. But nevertheless, I go optimistic into the qualifying and to the race, 
 
Q: Optimistic for pace but what about reliability? You've had problems or both of the opening to races? 
FT: Yeah, it was a big shock for us because we did tests in Barcelona as well as in Bahrain without any problems, did thousands of kilometres and now the season starts and in every race, we have real big reliability issues. In Bahrain the battery of the car of Pierre caught fire and in Saudi Arabia we managed to lose two engines and this is really a big shock for us, because as a result Yuki had to start from the back of the grid, and this is of course not how you want to start the season.
 
Q: What are the drivers saying about the new layout here at Albert Park?
FT: Our drivers like it, I must say. Yuki is here the first time but he likes the track and also Pierre says that this new layout is better than the old one and he enjoys to drive here.
 
QUESTIONS FROM THE FLOOR
 
Q: (Scott Mitchell – The Race) To all three please: to help the smaller teams mainly the rules for a few years now have allowed things like listed parts, now transferable components, sharing wind tunnels, that kind of thing. But there have been some suggestions that it might have gone a bit too far this year with direct personnel transfer from Ferrari to Haas, for example, I just wondered, as F1 continues to evolve, especially that we're now in a position where it should be more sustainable for teams becoming profit-making centres and that kind of thing, do those regulations need to evolve as well? Are you all happy with where that's at? And what's still possible? Or do you think there could maybe be a push now to make teams a bit more independent in areas like wind tunnels and that kind of thing?
FT: We have a regulation and this regulation is quite good. If the FIA controls everything, and this is what they do, I don't think it's necessary to make a regulation change. For me, it's a good way to work together with another team because we did it in the past, for example, to design our own gearbox. We had our own wind tunnel and for me, this is a waste of money. If you can work together with another team to use these synergies and to go into the direction that every team has now has to have his own wind tunnel, in my eyes, it's absolutely a waste of money, and also not balanced with the sustainability. Because we must also think into this direction. A wind tunnel needs a lot of energy, just for a limited number of hours you are allowed to be in there. I can only talk now from Scuderia Alpha Tauri side. We respect to 100% the rules. We share a wind tunnel with Red Bull Technology but there is absolutely no exchange from technique information. Nothing. We are there three days: Saturday, Sunday, Monday, and other days Red Bull Racing is in there. And that's it. We respect the rules. And if someone thinks that is not the case, then they should send us the FIA, no problem, we can prove that we respect everything.
CH: Yes, well, as you heard from Franz, we are effectively his landlord, and he gets all the preferable days for his wind tunnel testing, but I think it makes logical sense with a wind tunnel to share the asset. I think many… you know, pretty much every team on the grid does that now and I think it's a very tricky one because when you look at personnel, I mean, the big teams have had to downsize, so in our own team, we've probably had to, unfortunately, say goodbye to close to 100 people in order to meet the budget cap and of course, what the FIA don't have the ability to do is to tell where somebody should or shouldn't work. You end up in all kinds of employment issues and tribunals with that. So it would only be natural as we have to say goodbye to some very long serving staff within the group to, for example, mention to Franz that there's some technical staff that we're going to have to say goodbye to; would you be interested so, inevitably that has happened and I think the teams have had to readjust and rescale, to cut their cloth to suit the budget cap scenario. Now, what doesn't happen in that scenario is the transfer of any IP which would obviously be a total breach of the regulations. Now that happens whether engineers, technicians moved from team to any team in the pit line. They can only take what with them what they have in their head, not on a on a piece of paper or any physical data or IP. So it's a tricky one, obviously for the FIA to police, but I think that the balance that we have is actually reasonably sensible. I think the question that Franz raised about the pertinence of wind tunnels longer term, we've raised, that we've discussed that and unfortunately, that's been rejected, that the feeling is that tunnels are part of the future of Formula 1 whereas personally, I would have liked to see more of an emphasis go on to CFD and some of the emerging simulation tools that we see very much the future but no issues with the current regulations, certainly regarding personnel.
AS: Yeah, before I answer, just want to make it crystal clear that our view is not depending on our current sporting situation, or the sporting situation of a team like us, for example. It's a matter of principle for us since many, many years. And it's clear for us that Formula 1 should be a championship of 10 constructors, or 11 or 12, which means there should be no transfer happening of any IP which is related to core performance. For us, it's clear Formula 1… the maximum that should be allowed to share is the power units and the gearbox internals. That's it, there should be no sharing of any infrastructure and so on, because as soon as you allow that, IP transfer is happening on the car side and we know also from FIA, as Christian also said it's difficult to police and if something is not possible to police, you need to ban it. And for two reasons: because it makes B teams overly competitive compared to teams like us and at the same time, there's the A teams also benefiting from this which is even more worrying for us. And we just hope with all the dialogue which is happening also with F1, with the FIA between several teams also, that we finally see some action in the next years in order to correct this situation.
 
Q: (Luke Smith – Autosport) Christian, I'd like to ask you about Checo's start to the season. We know he came into the team last year and it always takes a driver a bit of time to get up to speed. But how impressed have you been by his early performances this year? And have you seen a change in him? You said you haven't really with Max, but what about with Checo?
CH: Yeah, I think… look, it's always going to be easier for Checo coming into his second season. He knows the team, he knows the infrastructure and I think we've also had a reset, obviously in terms of regulations so the car has been a complete reset. And I think he's done very well so far. I think that the gap between he and Max has obviously converged. And yeah, he was very unlucky in Bahrain. He did a stunning job in qualifying in Jeddah, he was unlucky in the in the race and then on a sample of two races, we've been delighted with his performance so far.
 
Q: (Scott Mitchell – The Race) Christian, it's about Red Bull Powertrains, obviously a very exciting project for you guys, building up, lots going on there. I just wondered… we know that there has been broad agreement on a few things for the '26 rules, including dropping the MGUH, which is an element of complexity that Red Bull Powertrains won't have to worry about. Still an awful lot to do, though, to build your first F1 engine. Is there anything else you'd like to see as concessions or anything like that for new manufacturers, whether it's slightly increased dyno time… is that stuff that's been discussed? And is that something that you think will be resolved?
CH: I think the framework that actually exists within the power unit regulations is reasonable from a newcomer status perspective, which obviously Red Bull Powertrains will be for 2026. I think that it's modest hours and it's modest… I think there's $10 million in the first two years and $5 million in the third year as an allowance for a newcomer. I think the thing that is the most restrictive, that needs to be looked at is, from a CapEx perspective because essentially, there's only $15 million worth of capital expenditure allowed on equipment as from when the cap comes in. Now, when you look at our competitors, that in some cases have obviously had 70 years of investment on the engine side, to think that you can have a facility fully operational and equipped within the next nine months or eight months is unrealistic. So I think that's something that needs to be looked at but as far as our own preparation, we are on target. We will move into our new facility in May and the first Red Bull engine will run on the dyno by the end of the year. So they're making great progress. It's exciting times, it's a super exciting project. We've attracted some phenomenal talent from all corners of industry and, yeah, it's a new chapter. But 2026, whilst it seems a long way away, it's actually a lot closer than you think.
 
Q: (Christian Nimmervoll – motorsport.com) Christian, you said yesterday that it would only be natural for you to hold discussions with Volkswagen Group if they were to enter F1. Now their supervisory board has approved the entry for both brands, Audi and Porsche. Do you have a personal preference if it is happening?
CH: Well, I think, firstly it's great news for Formula 1, that brands such as Porsche and Audi are looking at entering the category. And it's great to hear that there is that clear intention, subject to regulations, to enter the sport. Now, as I've just mentioned, where we are on our journey, it's non-dependent on an OEM coming in and partnering with the team but of course it would be it would be logical to hold those discussions and now that we have that clarity from VW's side it will be obviously sensible for us to engage in more detailed discussions and it's exciting for Formula 1, it's exciting for Porsche and for Aldi and potentially a link up with Red Bull would be eye- wateringly exciting.
 
Q: (Luke Smith- Autosport) To all three of you; it's about the freight situation we've got at the moment. It does seem to become more and more of a headache, both financially and actually getting parts to races now. We saw with MotoGP, there was a practice day had to be cancelled because of it. How much of a headache is it becoming for you guys? And what do you think can be done to try and ease the situation?
AS: Yeah, it's obviously a challenging situation, not just for us, for everyone in the world at the moment with depending on logistics. But in the end, we have to deal with the situation, I think together with all the other teams, together with Formula 1, everyone trying to do his best, and still making sure everything is arriving in time. And I think we simply have to accept the situation is challenging at the moment. And yeah, just can thank and want to thank also Formula 1, Steve Nielsen, Ross and Stefan for all the help on this as well, in order to make sure that all teams, let's say, get treated equally as well, which is obviously important also from a sporting perspective.
CH: Yeah, it's a big challenge. We have a very complicated calendar and there's very tight timescales, and with some of the triple-headers, and double-headers coming up late in the year, obviously losing freight for a period of time could wreak havoc. So that's one issue that we're working, obviously, very closely with the logistic guys and Formula 1 with, but then, of course, there's the cost element and I think freight is close to doubling this year, we see that in all the cost of living, we see inflation throughout the world and I think that's… again, when you consider that freight is something that is currently within the cap, we need to find a sensible allowance that takes into account these inflationary costs because it has a one-on-one effect on parts and people at the end of the day, that your only compensatory place to offset that so… Formula 1 are acutely aware of that, FIA are acutely aware. I think the teams by and large are looking to find a workable solution but it is a concern, it's something that we need to address sooner rather than later.
FT: It's a big challenge, of course, because of our tight schedule, but we are aware about this, which means that we have to manage it, we have to be prepared for this. Last minute activities are not possible any more, and as Christian already mentioned, as a competitor the costs which are increasing dramatically. That means from the logistics side, we have a lot of problems to sort out and I hope that all the teams will have, in time, the cars and the equipment at the track, that we don't have any delay as it was with the MotoGP.
 
Q: (Adam Cooper – motorsport.com) For all three of you: just want your first impressions on the new race directors? Do you have any concerns that they're following the rulebook a bit, too, literally? We've had this sudden run of impeding reprimands on Fridays, which we didn't really have before. And then we've had the big discussion with the drivers over the wearing of jewellery. And the latest thing is the use of fireproof underwear and so on. Just wanted your thoughts on that.
CH: Well, I certainly won't be checking our drivers underwear for compliance. I see that as a team manager role although I'm reliably informed that our drivers go commando, so hopefully, it won't be an issue for them. But I've yet to meet the race director. Obviously, they're doing the best job they can with the rules that they have. But yeah, I understand it was an entertaining drivers' briefing yesterday, but in the interests of weight saving, whether you're losing jewellery or underwear at the moment is quite helpful for us.
 
Q: Christian, just a few thoughts on the reprimands that Adam was referring to?
CH: Well, I think it's actually something that the drivers actually requested. But I think, again, there needs to be an element of common sense. Too many penalties in the practice one is… the biggest thing, I think, as a deterrent for the drivers, is a fine. That tends to be what hurts them the most so maybe we should look at fines rather than reprimands and potential grid penalties. But yeah, you don't want to be too overzealous, I wouldn't think in FP1 on a circuit that's relatively new and so on. But as I say, it's something that gets discussed at great length in the various meetings, but I think we just need to come up with and simplify some of these regulations.
AS: Yeah, in the end, we want race directors and stewards to apply and enforce the rules that are in place in a consistent way. And I think so far everything I've seen from Niels and Eduardo, that's what they are doing. So I think both had a good start into this season together with us teams and drivers. I've worked with Eduardo before and with Niels in a very good and constructive way. I think we appreciate a lot the open dialogue we're having also with them going into this season, and therefore I'm very happy with the current situation.
FT: Race directors are new, they their benchmark. They applied 100% the rules. We know it, the drivers know it. And then you have to deal with this and if in FP1 or FP2 you are not allowed to impede anyone because you get a reprimand then you have to accept this and do it in a way that you don't come into trouble. It's how it is and they apply the regulations and that's it.
 
Q: (Scott Mitchell - The Race) Franz, it's about Yuki. He's been very open about what he underestimated about F1 last year on the… particularly on the physical preparation side and how much harder he's worked to improve his strength for this year. And he actually said that you were a big part of that, not only with his move to Italy, but also just he realised that he lacked maybe your motivation for physical fitness. He said that he couldn't match your desire to get up for long runs in the morning and that kind of thing. I just wondered how happy have you been with how much more, I guess, professional and focused he has become? I guess part of that is down to just a general improvement in maturity as he gets a bit older, but what have you seen from him that's impressed you in that regard?
FT: First of all, Yuki was not in such a bad physical condition as maybe he thinks. All the time, if a young driver comes into Formula 1, he is forced by all this power which is in the car, by the forces and so on and so on and every driver thinks that he is not fit enough and then of course he has to increase his physical training and it's also difficult to do a physical training for Formula 1 driving. The best training is always driving the car but of course, coming back to Yuki, he maybe underestimated some training sessions which he should have done but he did it and then he improved a lot. He took it seriously. He was training twice a day, he had a lot of lessons with the engineers to learn also the technical side. And it's a very, very good step from Red Bull to bring a rookie into this young driver programme, that there's an engineer on the site from the very beginning on that sort of… Formula Four, Formula Three and Formula Two, and so on, to learn all these technical basics And Yuki improved a lot and we could also see yesterday, although he is here the first time, that he showed a very good performance, and he's on a really good path, I must say. He is absolutely within schedule, and I expect a very good season from him especially then the second half. If we provide him with a fast and reliable car, and Yuki is doing a really good job and we are happy with him.
 
Ends